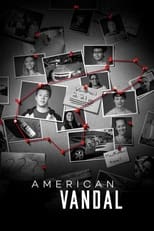 General Information
Glossary: A
First Air Date: September 15th, 2017
Last Air Date: September 14th, 2018
Created By: Tony Yacenda, Dan Perrault
Star Casts: Tyler Alvarez, Griffin Gluck
Aired On: Netflix
Episode Runtime: 35 minutes
Total Seasons: 2 Seasons
Total Episodes: 16 Episodes
Type: Scripted
Status: Canceled
Homepage: Netflix - American Vandal

Last Updated: Sun, 26 Nov 2023 22:30:30 +0000
Sponsored Links
Ratings
User Rating:
Backdrops Gallery (17 Images)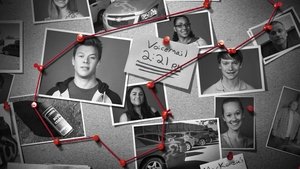 American Vandal
A true-crime satire that explores the aftermath of a costly high school prank that left twenty-seven faculty cars vandalized with phallic images.
Seasons and Episodes
Season 1 (8 Episodes)
1: Hard Facts: Vandalism and Vulgarity - Aired: 2017-09-15
When senior class clown Dylan Maxwell is expelled for vandalism, sophomore Peter Maldonado begins an investigation that questions Dylan's guilt.
2: A Limp Alibi - Aired: 2017-09-15
Key witness Alex Trimboli's account of the incident comes under fire when other students doubt his boasts of drunkenness and sexual exploits.
3: Nailed - Aired: 2017-09-15
Peter scrutinizes the motives of Ms. Shapiro, the Spanish teacher who testified against Dylan. Another teacher makes a surprising accusation.
4: Growing Suspicion - Aired: 2017-09-15
Peter takes a close look at the "Morning Show Nine," a group of students -- including Peter and Sam -- who had access to the missing security footage.
5: Premature Theories - Aired: 2017-09-15
After the documentary goes viral, Peter deals with publicity and sorts through various fan theories. Video evidence from a party provides new clues.
6: Gag Order - Aired: 2017-09-15
As Peter and Sam continue to gather information, they run afoul of the school administration and could lose access. Dylan prepares for his trial.
7: Climax - Aired: 2017-09-15
Peter and Sam follow a lead that could reveal the vandal's primary target, and a new theory gives them hope that they may finally solve the case.
8: Clean Up - Aired: 2017-09-15
Peter is forced to reckon with his actions and attempts to learn lessons in the aftermath of the documentary. But the investigation might not be over.
Season 2 (8 Episodes)
1: The Brownout - Aired: 2018-09-14
Peter and Sam travel to a prestigious private high school in Bellevue, Washington, to document the story of a filthy vandal called the "Turd Burglar."
2: #2 - Aired: 2018-09-14
Peter and Sam highlight Kevin McClain and his friendships as they start to break down the version of events supported by the school and police.
3: Leaving a Mark - Aired: 2018-09-14
As Peter learns more about basketball star DeMarcus Tillman, he uncovers evidence of athletes getting preferential treatment at St. Bernardine.
4: Sh*t Talk - Aired: 2018-09-14
As Sam and Peter comb through digital clues, they hope a technology glitch might open up some new leads. But a low-tech discovery leaves them reeling.
5: Wiped Clean - Aired: 2018-09-14
A former janitor becomes a potential key witness, but Peter and Sam struggle to track him down. Meanwhile, they examine a student trip to Costa Rica.
6: All Backed Up - Aired: 2018-09-14
An interview with a former St. Bernardine student gives the guys confidence that they're on the right track with their most recent theory.
7: Sh*t Storm - Aired: 2018-09-14
A student's sudden lack of cooperation slows the investigation, but an incident in the school parking lot sends Peter and Sam down a new path.
8: The Dump - Aired: 2018-09-14
Who is the Turd Burglar, and why did they do it? Are Peter and Sam still chasing the truth, or has it been right under their nose the whole time?