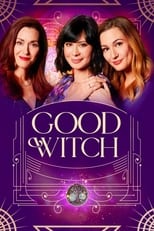 General Information
Glossary: G
First Air Date: February 28th, 2015
Last Air Date: July 25th, 2021
Created By: Sue Tenney
Star Casts: Catherine Bell, James Denton, Catherine Disher, Sarah Power, Rhys Matthew Bond
Aired On: Hallmark Channel
Episode Runtime: 43 minutes
Total Seasons: 7 Seasons
Total Episodes: 68 Episodes
Type: Scripted
Status: Canceled
Homepage: Hallmark Channel - Good Witch

Last Updated: Tue, 12 Jul 2022 22:30:57 +0000
Sponsored Links
Ratings
User Rating:
Backdrops Gallery (18 Images)
Good Witch
Cassie Nightingale, Middleton's favorite enchantress, and her young-teenage daughter Grace, who shares that same special intuition as her mom, welcome Dr. Sam Radford and his son to town. When the New York transplants move in next to the Grey House, they are immediately spellbound by the mother-daughter duo next door, but Sam and Cassie quickly find they may not see eye to eye. With her signature charm, Cassie attempts to bring everyone together, ensuring all of Middleton is in for new changes, big surprises and, of course, a little bit of magic! "Good Witch" is based on Bell's beloved character Cassie, the raven-haired enchantress who kept audiences spellbound for seven installments of Hallmark Channel's longest-running and highest-rated original movie franchise of all time.
Seasons and Episodes
Specials (5 Episodes)
1: Good Witch Halloween - Aired: 2015-10-24
With Halloween fast approaching, Cassie and the town of Middleton are hard at work preparing for the annual Harvest Festival. This year, Cassie is transforming Grey House into a delightful haunted house, and when a handsome stranger checks in, the family suddenly find themselves on edge.
2: Secrets of Grey House - Aired: 2016-10-22
The author of a series of magic-and-romance-filled novels comes to Grey House to celebrate the release of her newest book, titled "The Enchantress Unites." But it's Cassie who ends up doing the uniting, bringing together the people of Middleton to put on the special event while also coming to a special realization about Sam.
3: Spellbound - Aired: 2017-10-22
A long-forgotten prophecy is unearthed and when the things that were predicted to happen start to come true, the people of Middleton begin to fear this might be the sign of a horrible curse.
4: Tale of Two Hearts - Aired: 2018-10-21
Cassie and Sam puts their energy into the bicentennial Halloween Harvest Festival. Everyone in town prepares for the festival's competition with rival town Blairsville. When a 100-carat ruby known as The Heart of Middleton is stolen from the museum where the festival's gala is to be held, Cassie suspects a Grey House guest is the culprit.
5: Curse From a Rose - Aired: 2019-10-19
The Good Witch meets her match when Cassie's long-lost college roommate, Autumn Delaney, makes an unexpected visit to Grey House on a mission to disrupt Middleton's Halloween festivities.
Season 1 (8 Episodes)
1: Starting Over… Again - Aired: 2015-02-28
When Cassandra Nightingale moves into a small town's supposedly "haunted house" and opens an aromatherapy shop, she changes the lives of the local residents with her magical ways.
2: Running Scared - Aired: 2015-03-07
Middleton's Heritage Festival gets everyone talking; Cassie is back to her bewitching ways as she welcomes a scared young woman to the Grey House but she realizes she's being followed.
3: Do the Right Thing - Aired: 2015-03-14
Trouble is brewing after Cassie's mystery guest Ashley goes missing, and another pair of visitors to Middleton shake things up just in time for the town's annual heritage ball.
4: All in the Family - Aired: 2015-03-21
Cassie's mischievous cousin Abigail returns to Middleton, forcing Cassie to attempt tough love as Sam and Grace are swept up in Abigail's spell.
5: The Truth About Lies - Aired: 2015-03-28
Cassie's magic can't keep her away from Abigail's scheming when the truth becomes too hard to hide and Abigail continues to stir the pot in Middleton.
6: The Storm - Aired: 2015-04-04
Cassie tries to convince Sam to follow her intuition in order to help a young couple survive a blizzard.
7: Together We Stand... - Aired: 2015-04-11
A storm continues to threaten the lives of the people in Middleton and Cassie and Sam work together to help.
8: True Colors - Aired: 2015-04-18
Cassie receives devastating news regarding the future of Bell, Book and Candle; the whole town comes together.
Season 2 (10 Episodes)
1: Second Time Around - Aired: 2016-04-17
Cassie and Sam decide to take a step forward, but his pushy ex-wife stalls them at the starting gate. Grace preps for the teenage rite of passage -- her driving test.
2: Driven - Aired: 2016-04-24
The arrival of a man from Cassie's past may complicate her burgeoning relationship with Sam, but that isn't the only bump in the road - Sam's intrusive ex-wife Linda is still trying to keep Cassie out of the picture in a desperate attempt to repair their fractured family.
3: Out of the Past - Aired: 2016-05-01
As Cassie's old friend John attempts to unearth their shared college memories, the Good Witch receives another visitor from her past when Ryan returns to Middleton seeking closure.
4: The Trouble with Love - Aired: 2016-05-08
Cassie can't help but feel upset after Grace admits she's been spending more time with Sam to replace the hurt she feels from the loss of her own late father.
5: Surprise Me - Aired: 2016-05-15
Cassie is surprised with adventurous outings by both Sam and John as she works on sorting out her conflicted feelings.
6: Risk - Aired: 2016-05-22
Cassie could be ready to take a chance on her feelings for Sam. Grace goes on a magical mission to fix a broken confidence.
7: What's Your Secret? - Aired: 2016-05-29
Cassie decides to host a surprise party for Martha, but after she enlists the help of Stephanie and Abigail, she finds out her secret might not be kept.
8: Truth - Aired: 2016-06-05
Cassie attempts to work her magic to help Sam make a difficult decision and is suddenly faced with a difficult choice of her own.
9: A Perfect Match Pt. 1 - Aired: 2016-06-12
Just as Cassie begins to move in a new direction with Sam, Middleton's annual Lights Festival brings illuminating changes.
10: A Perfect Match Pt. 2 - Aired: 2016-06-19
After Cassie reaches a decision about her future, Middleton needs a touch of her magic when the Lights Festival threatens to go dark.
Season 3 (10 Episodes)
1: A Budding Romance - Aired: 2017-04-30
The whole town anxiously awaits the impending blooming of the Middleton Merriwick, but when the plant is cut, it has dramatic impact upon the Merriwick women. Grace begins to suspect Nick is going to ask her out.
2: Without Magic for a Spell - Aired: 2017-05-07
The Middleton Merriwick is still not in bloom, and the effects are being felt around town. An old friend and colleague of Abigail's checks into Grey House claiming to want a relationship. With help from Cassie, Ben stumbles upon the old Middleton Theater and is motivated to get the place running again.
3: Day After Day - Aired: 2017-05-14
Two guests at Grey House are immediately at odds, so Cassie uses her magic to bring them together. Sam tries to plan the perfect date for Cassie, but various nuisances keep getting in the way.
4: How to Say 'I Love You!' - Aired: 2017-05-21
Cassie helps Ben find an old romantic film to showcase at the refurbished Middleton Theater's opening night. Martha's promises to the town are in jeopardy when she overextends herself with the Middleton budget.
5: A Birthday Wish - Aired: 2017-05-28
A visiting chef can't relax, so she follows Cassie's advice and spends a day stirring a recipe in order to quiet her mind. Grace is presented with the Merriwick Wish Book for her birthday and is encouraged to make an entry.
6: Say It With Candy - Aired: 2017-06-04
Abigail, jealous of all the attention Cassie gets from helping her customers, decides to sell "special" Venezuelan chocolates at her flower shop.
7: In Sickness and in Health - Aired: 2017-06-11
Cassie gives a withdrawn traveling artist a new paintbrush and invites him to stay at Grey House, then she arranges for her and Sam to organize the Tri-Cities Healthfest, something that Cassie usually does by herself.
8: Somewhat Surprising - Aired: 2017-06-18
Cassie decides to plan a surprise party for Sam to celebrate the anniversary of his move to Middleton.
9: Not Getting Married Today, Part 1 - Aired: 2017-06-25
Sam's sister shows up for an unexpected visit and he is very happy to see her, though she does not seem like herself…
10: Not Getting Married Today, Part 2 - Aired: 2017-07-02
After learning that Sam doesn't plan on getting married again, Cassie goes to Chicago to clear her head. Michael and Vanessa get fed up with their mothers while planning the wedding.
Season 4 (10 Episodes)
1: With This Ring - Aired: 2018-04-29
Cassie gives those around her pieces of jewelry that magically turn out to be just the thing each needed. Abigail helps Sam search for the perfect engagement ring for Cassie -- a legendary Merriwick heirloom thought to be lost forever.
2: In 4/4, With Emotion - Aired: 2018-05-06
An unpublished song written by a past guest at Grey House magically spreads throughout the town, hightening the emotions of those who hear it. Affecting each in a different way, Cassie and Sam learn to communicate about their future together.
3: Daddy's Home - Aired: 2018-05-13
Abigail's father comes to Middleton in hopes of making amends. Cassie helps an expecting couple accept how different their lives, and family, will be once the baby comes. Grace is forced to think about her future and what path she'll follow as she realizes her affinity for math might not be a passion.
4: Family Time - Aired: 2018-05-20
Cassie, Sam, Nick and Grace "play house" as they spend a night away at the family lake house. Hoping to bring everyone together, Cassie faces a few obstacles before they start acting like a family again.
5: Written Like a Merriwick - Aired: 2018-05-27
Grace finds herself under the spell of Elizabeth Merriwick after Cassie discovers an old trunk filled with her vintage clothing. Inspired by its history, and tapping into her Merriwick heritage, Grace finds a passion for storytelling. Meanwhile, Cassie helps a mother and daughter reconnect over their past at Grey House.
6: Match Game - Aired: 2018-06-03
A secretive dating app developer on the verge of a breakthrough checks in at Grey House, capturing the entire town's interest-- especially Abigail's. Cassie and Sam play detective matchmaker to ensure a perfect couple used for app research find each other.
7: Til Death Do Us Part - Aired: 2018-06-10
Cassie has to confront what "'til death do us part" means for her relationship as Sam travels to South America as additional medical aid during a tragic time. Grace digs up some of Middleton's earliest history while revising the town's website, and Abigial shares the same history with her budding romance, Phil.
8: All Dressed Up - Aired: 2018-06-17
Cassie sets out to track down Elizibeth Merriwick's original wedding dress, learning a bit from every woman who wore it. Grace and Noah hit a snag in their relationship as Abigail and Phil start to ramp up theirs, leading to a potential future where Phil makes Middleton his home.
9: How to Make a Middleton Quilt - Aired: 2018-06-24
Grace, in a true Middleton tradition, enlists the help of the town in making a magical quilt that's said to grant the wishes of the recipient-- and seemingly all that contribute to it. Cassie and Sam learn even more about each other as secrets are revealed at their bachelor/ette parties-- with a special Middleton twist!
10: Tossing the Bouquet - Aired: 2018-07-01
After a series of unfortunate events, Sam and Cassie have to accept that their wedding might not be as perfect as planned. In light of her almost-romance with Phil, Abigail's quest to put down roots lands her a new job-- the Mayor of Middleton.
Season 5 (10 Episodes)
1: The Forever Tree Pt. 1 - Aired: 2019-06-09
Cassie and Sam's wedding is just days away and as the town of Middleton prepares for this highly anticipated event, Grace is troubled when wedding related hiccups keep occurring. Abigail opens up to the idea of handing her mayor responsibilities over to Martha, but a handsome stranger puts a wrench in her plans. Meanwhile, Stephanie finds herself smitten.
2: The Forever Tree Pt. 2 - Aired: 2019-06-10
Cassie and Sam's wedding day has arrived and Sam doubles his efforts to find the Forever Tree. He gets a magical assist from Grace, who's nostalgic for her late father. Mayor Abigail makes a surprising ally while Martha finds a new passion. Nick takes a step toward finding his calling.
3: The Honeymoon - Aired: 2019-06-16
While honeymooning, Cassie and Sam help a new friend reconcile with her brother. Grace attempts to speed up time after a break-up. Sparks fly between Abigail and Blairsville's mayor. Martha freezes at her TV audition. Nick ghost hunts at Grey House with a friend, who's looking for more than spirits.
4: The Prince - Aired: 2019-06-23
Cassie hosts a guest with a surprising secret. Sam's visiting friend needs medical expertise but the cure may lie in Cassie's intuition. Grace interns for Martha at City Hall and faces competition from a fellow intern. Martha prepares the first episode of her show, and Stephanie considers her romantic options.
5: The Tea - Aired: 2019-06-30
Cassie uses her enchanting powers — and tea — to help Abigail open up to Donovan. Mayor Martha critiques an artist painting her portrait. Sam's new resident needs a lesson in bedside manner. Grace is disappointed after being rejected by her top college choice, while Nick's confidence wavers after his acceptance.
6: The Road Trip - Aired: 2019-07-07
Cassie's being honored by her alma mater and visits with Grace, who's considering enrolling. Grace bonds with her weekend host, while Cassie reconnects with her college friend. Needing a break from Donovan, Abigail joins. At Grey House, Sam tries to channel Cassie while helping his father-son guests communicate better.
7: The Grey-cation - Aired: 2019-07-28
Cassie and Sam welcome the Tinsdales at Grey House but a friendly game highlights how much the newlyweds still don't know about each other. Grace dates her fellow intern, who has ulterior motives. Abigail meets Donovan's mother, who believes a curse should keep them apart.
8: The Treasure - Aired: 2019-08-04
Cassie encourages Sam to look for mysteries to unlock as Martha unearths a long-lost town charter and treasure map. Vincent searches for the treasure but he faces competition. Grace is hurt when she learns what Luke's been up to. Abigail reassesses her relationship with Donovan.
9: The Comet - Aired: 2019-08-11
Middleton prepares to wish upon Posner's Comet but Cassie worries wishing won't help when Sam's offered a dream job across the country. Grace prepares her valedictorian speech, while Nick becomes nostalgic. Abigail plans a trip to forget about Donovan, who tries to win her back.
10: The Graduation - Aired: 2019-08-18
Cassie and Sam prepare to send Grace and Nick to college, but Nick's mom worries about his move. Grace uncovers her true passion. A curse may keep Abigail from reciprocating Donovan's feelings. The hunt for Middleton's treasure leads Sam and Martha to a surprising discovery.
Season 6 (10 Episodes)
1: The Anniversary - Aired: 2020-05-03
Now empty-nesters, Cassie and Sam celebrate their first wedding anniversary. Abigail and Donovan's relationship continues to be challenged by their families' curse. Cassie's Grey House guest has intentions for visiting Middleton that are different than she claims.
2: The Chili - Aired: 2020-05-10
Cassie judges Middleton's chili cook-off, which brings out fierce competition among residents, including Sam. Martha receives unexpected competition in her once-uncontested run for re-election. Cassie unearths a time capsule that reveals information about her current Grey House guest's background.
3: The Clock - Aired: 2020-05-17
Cassie, Abigail and Joy browse an estate sale, where Joy hopes to find a clock for Martha's renovation. Stephanie's ex-husband, Wes, comes to town to pack up their shared cabin.
4: The Dinner - Aired: 2020-05-24
Martha fills in as the local Dear Debbie advice columnist, getting an anonymous letter that adds intrigue to a progressive dinner attended by all of the Middleton couples.
5: The Mandala - Aired: 2020-05-31
Cassie pursues a temporary art history professorship while Sam diagnoses Adam. Abigail and Donovan realize that the missing diamond from the Middleton treasure may help break the curse.
6: The Dream - Aired: 2020-06-07
Cassie gives her art history students a lesson on perspective. Sam performs surgery on Adam, who worries about his recovery. Joy's troubling dream about Abigail and Donovan may not be what it seems. Martha courts a French delegation to secure Middleton's status as its sister city.
7: The Tableau - Aired: 2020-06-14
As Cassie gets ready for Grey House's 225th birthday Martha leads the group in a tableau vivant recreating a Nathaniel Merriwick painting, leading to new clues surrounding the Merriwick-Davenport curse. Joy experiences life differently when her intuition suddenly takes a holiday.
8: The Chocolates - Aired: 2020-06-21
Cassie welcomes a chocolate festival to Grey House where the confection has a special, sweet effect. Sam and Donovan discover a new clue surrounding the Merriwick-Davenport curse, while now-single Abigail gets an unexpected visit from a college friend for a surprising reason.
9: The Loft - Aired: 2020-06-28
When Cassie and Sam's weekend in Chicago gets canceled because Sam has to stay behind for work, she and her book club friends hit the road instead. While the ladies recharge the weekend also comes with surprises, including a potential clue about the Merriwick-Davenport curse.
10: The Bird - Aired: 2020-07-05
Cassie's teaching position winds down and Sam is forced to take vacation time so they try out different hobbies together. Joy's faced with a decision when Donna accepts a job for them in Vermont. Abigail and Donovan make one last stand against the curse.
Season 7 (10 Episodes)
1: The Party - Aired: 2021-05-16
Cassie and Sam's much overdue date doesn't go as planned, and they end up stranded on an island.
2: The Shell - Aired: 2021-05-23
Cassie, Abigail and Joy learn the origins of the pouches of soil but have more questions than answers. Cassie and Sam's double date with hospital administrator Grant and his girlfriend, Monica, doesn't go quite as planned. All of Middleton flashes back to the '50s when Martha organizes a "Grease" themed movie night in the park that ends with a surprise romantic gesture.
3: The Delivery - Aired: 2021-05-30
Cassie, Stephanie and Abigail help Martha throw Claire a baby shower, sparking memories of Cassie's own baby shower.
4: The Exchange - Aired: 2021-06-06
Sam is excited to perform surgery on a star basketball player. Joy makes a discovery and decides to revive the Middleton Exchange tradition.
5: The Kite - Aired: 2021-06-13
Joy's dream sends the three Merriwicks on a search for Phillip Harper, Joy's father.
6: The Wishes - Aired: 2021-06-20
When Cassie, Abigail, and Joy toss coins into the historic wishing well, wishes old and new start coming true.
7: The Magic - Aired: 2021-06-27
As the Merriwicks delve into the images on Joy's vision board, Cassie accompanies Sam on a trip to his childhood home to care for his sister.
8: The Sprint - Aired: 2021-07-11
Cassie and Sam are disagreeing about his return to work after his shoulder surgery. Flower Universe is trying to undercut Abigail's business, but she won't go down without a fight. Martha and Tom's special anniversary celebration brings all their friends together.
9: The Search - Aired: 2021-07-18
The pressure is on because strange things start happening to Cassie, Abigail and Joy's abilities, adding urgency to finding a Merriwick family heirloom.
10: The Wedding - Aired: 2021-07-25
Cassie, Abigail and Joy get ready to face the mysterious force that threatens the Merriwick family legacy. Series finale.