General Information
Glossary: P
First Air Date: September 12th, 2013
Last Air Date: September 22nd, 2019
Created By: Steven Knight
Star Casts: Cillian Murphy, Paul Anderson, Sam Claflin, Finn Cole, Anya Taylor-Joy, Helen McCrory, Sophie Rundle, Kate Phillips, Harry Kirton
Aired On: BBC One, BBC Two
Episode Runtime: 60 minutes
Total Seasons: 6 Seasons
Total Episodes: 30 Episodes
Type: Scripted
Status: Returning Series
Homepage: BBC One - Peaky Blinders

Last Updated: Sun, 16 Jan 2022 22:31:02 +0000
Sponsored Links
Ratings
User Rating:
Backdrops Gallery (30 Images)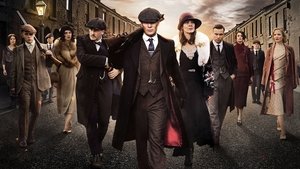 Peaky Blinders
A gangster family epic set in 1919 Birmingham, England and centered on a gang who sew razor blades in the peaks of their caps, and their fierce boss Tommy Shelby, who means to move up in the world.
Seasons and Episodes
Specials (17 Episodes)
1: Making Peaky Blinders
No overview available.
2: The Story So Far (Series 2) - Aired: 2014-09-23
Get ready for series two with this handy recap of the first series.
3: The Story So Far (Series 3) - Aired: 2016-04-28
All you need to know ahead of series 3 of the epic gangster drama set in the lawless streets of 1920s Birmingham. Starring Cillian Murphy and Tom Hardy.
4: The Story So Far (Series 4) - Aired: 2017-11-03
The biggest moments of Tommy's story.
5: The Making Of Peaky Blinders Series 2
No overview available.
6: Return to Watery Lane
Introduction to Series 4 by the writer/Producer Steven Knight, aired on BBC FIRST
7: The Peaky Blinder World
Go behind the scenes with the cast and crew of Series 4 of Peaky Blinders
8: The Shootout
Go behind the scenes of the thrilling shootout between Tommy and Luca in episode 5
9: The Rise Of Tommy Shelby - Aired: 2019-08-21
Ahead of Peaky Blinders Series 5, actor Cillian Murphy discusses the rise of lead character Tommy Shelby, who has evolved from war hero, to gangster, to MP.
10: The Ballad Of The Peaky Blinders - Aired: 2019-08-15
Get reacquainted with key moments from Series 1-4, through an epic, lyrical recap performed by Birmingham spoken word artist Casey Bailey.
11: Bonus Scene: Finn calls a meeting - Aired: 2019-09-23
From Episode 1: Finn is concerned about the Irish tinkers camped nearby. He reminds them that he's a Shelby.
12: Bonus Scene: Tommy wants information - Aired: 2019-09-23
From Episode 2: Tommy shows Polly the remains of the land mines. He wants Polly to find the truth.
13: Bonus Scene: Aberama shows Polly his land - Aired: 2019-09-23
From Episode 3: Aberama tells Polly of the plans he had, and suggests plans he may have.
14: Bonus scene: Polly and the Swan - Aired: 2019-09-23
From Episode 5: Polly takes a message from Mosley to the dancer who played the swan, and reflects with Aberama on Tommy's current activities.
15: Bonus Scene: Arthur & Charlie - Aired: 2019-09-23
From Episode 5: On the boat back from their mission in London, Charlie makes a suggestion to Arthur.
16: Bonus Scene: Tommy and Polly - Aired: 2019-09-23
From Episode 5: Matters come to a head when Polly questions Tommy's recent behavior and suggests that soon she may resign.
17: Bonus Scene: Pollys Gypsy Thing - Aired: 2019-09-23
From Episode 6: Michael and Gina reveal their plan. Polly warns them of the possibilities they have to consider.
Series 1 (6 Episodes)
1: Episode 1 - Aired: 2013-09-12
Birmingham, 1919. Thomas Shelby controls the Peaky Blinders, one of the city's most feared criminal organisations, but his ambitions go beyond running the streets. When a crate of guns goes missing, Thomas recognises an opportunity to move up in the world.
2: Episode 2 - Aired: 2013-09-19
Thomas fixes a horserace, provoking the ire of local kingpin Billy Kimber. He also starts a war with gypsy family the Lees. Meanwhile, Inspector Campbell carries out a vicious raid of Small Heath in search of the stolen guns.
3: Episode 3 - Aired: 2013-09-26
Thomas Shelby plans to go to Cheltenham races in order to get closer to Billy Kimber. Knowing the gangster's appetite for beautiful women, Thomas invites Grace to accompany him. Meanwhile some IRA sympathisers approach Thomas with an offer to buy the stolen guns.
4: Episode 4 - Aired: 2013-10-03
Thomas Shelby's war with the Lee family of gypsies escalates, and Campbell puts further pressure on him to deliver the stolen guns. Meanwhile Thomas's brother John plans to marry a former prostitute, but Thomas suspects that she's still on the game.
5: Episode 5 - Aired: 2013-10-10
Thomas Shelby has to deal with an IRA chief who has come to Small Heath to avenge his cousin's death. Meanwhile Campbell gets closer to the stolen guns, and Grace has to decide whether her loyalties lie with him or with Thomas.
6: Episode 6 - Aired: 2013-10-17
As Thomas Shelby prepares to oust Billy Kimber, hidden secrets are revealed and the family have to face up to the problems that have divided them. Meanwhile, Campbell, obsessed with taking down the Peaky Blinders, unleashes one last plan to destroy them.
Series 2 (6 Episodes)
1: Episode 1 - Aired: 2014-10-02
Business is booming for the Peaky Blinders, as Shelby starts expanding both his legal and illegal operations. He plans for the future, looking at managing a race track in the South. He soon comes across some new adversaries, testing him in very different ways. Back in Birmingham, Shelby's home town is challenged by members of his family reacting to the upturn in their fortunes. A enemy from his past also returns hoping to exact their plan of revenge of biblical proportions.
2: Episode 2 - Aired: 2014-10-09
Tommy offers to help Polly by searching for her children, who long ago were taken from her. In London, Tommy risks his life by meeting enigmatic leader Alfie Solomons. Meanwhile Arthur continues to feel the devastating effects of the Great War.
3: Episode 3 - Aired: 2014-10-16
Tommy hatches a plan to take control of the southern racecourses. He also meets the aristocratic May Carleton, and sees an opportunity to move up in the world. Meanwhile both Major Campbell and London gangster Darby Sabini plan Tommy's downfall.
4: Episode 4 - Aired: 2014-10-23
Arthur leads the Peaky Blinders takeover of London's Eden Club. Sabini decides to put old feuds to one side, convincing Alfie to one side to get rid of the Peaky Blinders. Tommy hires May Carleton to train his race horse, and the pair become fast friends. In Birmingham, Michael joins the family firm, hoping to help Tommy's businesses become more legitimate. Whilst Tommy's insecurities are intensified as he discovers what Major Campbell wants him to do.
5: Episode 5 - Aired: 2014-10-30
Arthur and Michael both end up arrested and imprisoned. As Tommy's base in London is obliterated. Major Campbell has Tommy and his family under his thumb. Polly compromises herself hoping to secure Michael's freedom, but their relationship may be beyond repair at this point. Someone from Tommy's past pays him a visit, opening old wounds and leaving him to make a impossible decision.
6: Episode 6 - Aired: 2014-11-06
As derby day arrives, Tommy is faced with impossible decisions as he plans to strike back at his enemies and take the family business to another level. Meanwhile, Major Campbell has one final card to play - one that he is certain will bring about Tommy's demise.
Series 3 (6 Episodes)
1: Episode 1 - Aired: 2016-05-05
Thomas Shelby's wedding day has arrived at last, but while his guests enjoy the celebrations he has important business to conduct, as a mysterious stranger makes their presence known.
2: Episode 2 - Aired: 2016-05-12
Tommy goes to London to meet the wildly eccentric and volatile Duke Leon and soon discovers the extreme lengths his new paymasters are willing to go to in their quest for power. In Birmingham a personal dispute with the Italians threatens to explode into a devastating war.
3: Episode 3 - Aired: 2016-05-19
Responding to the Italians' actions, Tommy is set on a path of deadly vengeance that could take him to his darkest place yet, and threatens to splinter the family. As Arthur struggles with his conscience, Linda implores him to stop his illicit work with the Peaky Blinders.
4: Episode 4 - Aired: 2016-05-26
Tommy takes his brothers on a hunting expedition and shares some important family news. He also outlines his intentions for the most daring criminal act the Peaky Blinders have ever undertaken.
5: Episode 5 - Aired: 2016-06-02
As the Russians test the Peaky Blinders men in their own distinctive and debauched way, Tommy realises that he is being seriously outmanoeuvred. Desperate for help, he rekindles a business relationship with a dangerous former acquaintance.
6: Episode 6 - Aired: 2016-06-09
As Tommy prepares to commit the most audacious crime of his career, an unexpected blow is struck, putting him under unbearable pressure. As he faces his worst fears he needs help more than ever, but is increasingly uncertain about whom he can trust. In a nerve-shredding race against time, Tommy is forced to confront hard truths about himself and his family that could change the Peaky Blinders forever.
Series 4 (6 Episodes)
1: The Noose - Aired: 2017-11-15
December 1925. When Tommy receives a mysterious letter on Christmas Eve, he realises that the Shelbys are in danger of annihilation.
2: Heathens - Aired: 2017-11-22
As the Shelbys come to terms with the shocking events of Christmas Day, Tommy endeavours to unite his family and a bold new enemy makes his move.
3: Blackbird - Aired: 2017-11-29
Tradition weighs upon Arthur as Changretta finds a chink in the Shelby armour and Changretta continues to plan ways to continue the vendetta in the most devastating way possible.
4: Dangerous - Aired: 2017-12-06
The Peaky Blinders are lured by the Italians into a cat-and-mouse chase on the streets of Birmingham. As his factory lies idle, Tommy confronts the possibility that the Communists might win and he will be deemed a traitor to his class.
5: The Duel - Aired: 2017-12-13
Tommy finds himself engaged in bloody battle with Luca Changretta and his gang. Lizzie has even greater news to break. Meanwhile, an army colonel has questions for Ada about her past as a communist, and Jessie Eden confirms just how far she is prepared to go in pursuit of her cause.
6: The Company - Aired: 2017-12-20
It is the night of the big fight - Bonnie Gold versus Goliath. But as the bell rings and the crowd goes wild, dangers lurk in the shadows for Tommy Shelby and his family. When Changretta plays his final ace, he sets in motion a series of events that will change the Peaky Blinders forever.
Series 5 (6 Episodes)
1: Black Tuesday - Aired: 2019-08-25
1929 – While his family deals with the repercussions of the Wall Street Crash, Tommy Shelby MP faces new dangers from unexpected quarters.
2: Black Cats - Aired: 2019-08-26
The Peaky Blinders come under fire when Tommy finds danger on his doorstep and a friend is brutally attacked. Could there be a traitor in the Shelby family's midst?
3: Strategy - Aired: 2019-09-01
As the charismatic Mosley shows his hand, Tommy prepares to make a treacherous new alliance.
4: The Loop - Aired: 2019-09-08
Tommy agrees to dangerous new partnerships when a golden opportunity presents itself, and a Shelby party promises fireworks.
5: The Shock - Aired: 2019-09-15
As Tommy reveals his intentions for Mosley, someone close to the Shelbys is targeted.
6: Mr Jones - Aired: 2019-09-22
News of Tommy's activities have reached Winston Churchill. At a family meeting, Tommy lays out his plans for Mosley, which will take place at a rally Sir Oswald is leading. Tommy is surprised by another strategy, coming from an unexpected corner. Meanwhile, Tommy has his own secrets to reveal.
Series 6 (0 Episodes)