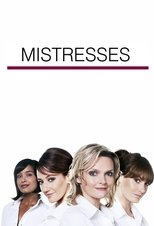 General Information
Glossary: M
First Air Date: January 8th, 2008
Last Air Date: August 26th, 2010
Created By: ---
Star Casts: Sarah Parish, Sharon Small, Shelley Conn, Raza Jaffrey, Orla Brady, Patrick Baladi
Aired On: BBC One
Episode Runtime: 60 minutes
Total Seasons: 3 Seasons
Total Episodes: 16 Episodes
Type: Scripted
Status: Ended
Homepage: BBC One - Mistresses

Last Updated: Tue, 07 Sep 2021 10:33:37 +0000
Sponsored Links
Ratings
User Rating:
Backdrops Gallery (1 Image)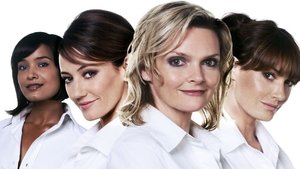 Mistresses
Follows the lives of four female friends and their involvement in an array of marital and extramarital relationships.
Seasons and Episodes
Specials (2 Episodes)
1: Sex, Lies & Infidelity
No overview available.
2: Lives, Loves & Laughter
No overview available.
Season 1 (6 Episodes)
1: Men Behaving Badly - Aired: 2008-01-08
Katie keeps her affair with a patient secret. Lawyer Sioghan is tired of trying to become pregnant by her husband, and is instead interested in a work colleague.
2: Episode 2 - Aired: 2008-01-15
Siobhan is wracked with guilt following her passionate liaison with Dominic and confesses all to Jessica. She claims it won't happen again, but the chemistry between them is undeniable and Siobhan finds it hard to ignore. Richard asks Trudi out to dinner, but it doesn't go to plan and they have an awkward, stilted date. Overcome by nerves, Trudi spends dinner talking about her husband, Paul. Hari and Siobhan consult a doctor regarding their inability to conceive, but are distraught to learn that Hari is infertile. Meanwhile Katie takes Sam to see an exhibition of architectural designs in an effort to convince him to return to college
3: Episode 3 - Aired: 2008-01-22
After spending a passion-filled night together, Alex suggests she may cancel the wedding, but Jessica's reaction forces her to keep her plans. Katie struggles to fight her attraction to Sam, and though Trudi discovers the source of her nuisance phone calls, she is left just as confused as ever about her relationship with Richard when Sally arrives with a revelation
4: Episode 4 - Aired: 2008-01-29
Trudy and Sally fight, while Richard tries to persuade Trudi to slept with him. Hari accepts his condition and goes out to get help. Katie tells Sam the truth about her love life, but how will he react?
5: Episode 5 - Aired: 2008-02-05
Siobhan hopes she can get her boss to promote Dominic to another branch. Katie tries to contact Sam, who shows up in the middle of the night. Trudi tells Richard that she wants to stay together with him.
6: Episode 6 - Aired: 2008-02-12
Four friends find their lives interwined when they are all touched by infidelity.
Season 2 (6 Episodes)
1: Series 2, Episode 1 - Aired: 2009-02-17
The girls get together to celebrate Jessica's impeding marriage to a rich playboy. Siobhan is keeping a secret. Katie manges to catch the eye of a colleague.
2: Series 2, Episode 2 - Aired: 2009-02-24
One of her former conquests ends up being one of Siobhan's new clients. She becomes worried that her secret night time life is going to be exposed. Richard's continued spending makes Trudi suspicious.
3: Series 2, Episode 3 - Aired: 2009-03-03
Trudi is determined to discover the truth after confronting Richard. When Hari refuses to forgive her for her affair with Dominic, Siobhan ends up in Tom's bed again.
4: Series 2, Episode 4 - Aired: 2009-03-10
Jessica is reminded of what happened after she got drunk but still makes up with Mark. An unexpected visitor upsets their happiness. Trudi gives Richard a chance to explain what has been going on. Kate is surprised by Jack. Siobhan tries to sort out her marriage problems.
5: Series 2, Episode 5 - Aired: 2009-03-17
Jessica and Mark attempt to be exclusive with one another following their wedding. Trudi turns to Lucas for comfort. Katie thinks about leaving England with Dan for a new life in Australia.
6: Series 2, Episode 6 - Aired: 2009-03-24
Katie gets used to being single again now that her affair has been found out. Jack pleads with Dan not to his wife about his affair with Katie. When his wife Megan sees them arguing she finds herself turning to Katie for help in finding out what is going on. Trudi finds it hard to forget Lucas. Siobhan finds it hard to escape Tom's control. Mark asks Jessica to take him back after he discovers her secret.
Season 3 (4 Episodes)
1: Series 3, Episode 1 - Aired: 2010-08-05
Two years have passed and the once-unbreakable bond between best friends Katie, Trudi, Jessica and Siobhan has been shattered. As the girls gather it's clear their relationship has changed dramatically: there's tension in the room and no happy greetings. What could have happened to bring them to this?
2: Series 3, Episode 2 - Aired: 2010-08-12
Katie is forced to take a trip down memory lane as she visits the house she grew up in when her interfering mother, Vivienne, unexpectedly announces that she's planning to sell the property. But Katie finds more than she bargained for and unearths a disturbing secret that threatens to destroy her fond childhood memories.
3: Series 3, Episode 3 - Aired: 2010-08-19
Trudi is guilt-stricken, having spent the evening with Chris, and confides in Katie to seek guidance on whether she should reveal all to Richard. Katie advises her to focus on the future and forget about it, but will Trudi be able to live with her conscience?
4: Series 3, Episode 4 - Aired: 2010-08-26
The tension mounts as Mistresses concludes. Trudi, Jessica, Katie and Siobhan are united in grief following the death of a loved one. However, emotions run high at the funeral and, with so many questions left unanswered, grief turns to anger and a bitter row ensues, causing a huge rift between the friends.