General Information
Glossary: B
First Air Date: January 18th, 2018
Last Air Date: August 24th, 2021
Created By: Jez Butterworth, Tom Butterworth, James Richardson
Star Casts: Kelly Reilly, David Morrissey, Nikolaj Lie Kaas, Zoë Wanamaker, Stanley Weber, Eleanor Worthington-Cox, Hugo Speer, Annabel Scholey, Julian Rhind-Tutt, Ian McDiarmid
Aired On: Sky Atlantic
Episode Runtime: 50 minutes
Total Seasons: 3 Seasons
Total Episodes: 27 Episodes
Type: Scripted
Status: Canceled
Homepage: Sky Atlantic - Britannia

Last Updated: Sat, 30 Sep 2023 10:30:24 +0000
Sponsored Links
Ratings
User Rating:
Backdrops Gallery (36 Images)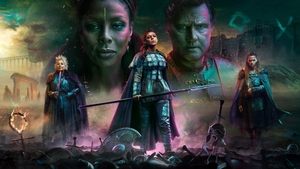 Britannia
An epic drama set in 43AD as the Roman Imperial Army – determined and terrified in equal measure - returns to crush the Celtic heart of Britannia - a mysterious land ruled by warrior women and powerful druids who can channel the powerful forces of the underworld. Or so they say.
Seasons and Episodes
Season 1 (9 Episodes)
1: Woe to the Vanquished - Aired: 2018-01-18
In 43 AD, a nation is rocked by the arrival of an Empire.
2: Secret Alliances - Aired: 2018-01-18
Having marked Rome's arrival with blood, Aulus sends envoys to parlay with the tribes of Britannia, while also looking to learn more about the Druids.
3: Honor and Betrayals - Aired: 2018-01-18
Aulus is reborn, but his destiny remains unclear. Cait is able to locate her father, but she can't free him from the Roman camp alone.
4: Judgment of the Gods - Aired: 2018-01-18
King Pellanor disowns Kerra and leaves her life in the hands of the Druids. But the gods' judgement is not what he expected.
5: Tractations - Aired: 2018-01-18
The gods have spoken, but Kerra must decide if she will accept their ruling. Antedia seals an alliance with Rome - on one condition.
6: The Chosen One - Aired: 2018-01-18
After their long ordeal, Cait and her father finally arrive at the safety of the Cantii citadel, but a demon is on her trail.
7: Alone in the World - Aired: 2018-01-18
Cait and her father seek shelter in the ruins of their old home, where she is visited by someone she never expected to see again.
8: Initiation - Aired: 2018-01-18
The battle of wills between Kerra and Antedia intensifies, as the Regni play their trump card. Aulus enlists deadly exiles to find Cait.
9: Pax Romana - Aired: 2018-01-18
The end appears to be close for the Cantii, and Aulus unveils how the Roman Empire truly conducts business.
Season 2 (10 Episodes)
1: Imperial Visit - Aired: 2019-11-07
Two years after the invasion, a dead man awakens who could spell the end of everything.
2: May the Gods Speak - Aired: 2019-11-07
The Dead Man sends Hella on a mission. Phelan's new life comes crashing down and Rork's suspicions about Veran lead him into a duel.
3: Genesis - Aired: 2019-11-07
Veran gives Ania a terrible choice. Harka brings Phelan under his spell and the next stage of Cait and Divis's prophecy begins.
4: Dark Game - Aired: 2019-11-07
Hella makes Aulus an offer she knows he can't resist. Phelan fulfils his mission and Cait and Divis's dreams spell new danger.
5: My Sister, the Queen - Aired: 2019-11-07
A dream causes tension between Cait and Divis. Harka sends Love on a heart-breaking mission and Veran commits the ultimate betrayal.
6: The Eagle's Arms - Aired: 2019-11-07
Philo and Brutus play a prank, but their timing couldn't be worse. Harka sends Veran a message.
7: Alliance of Dark Forces - Aired: 2019-11-07
Vitus returns with a message for Aulus. Ania is placed in an impossible situation and The Traveller tracks down Lucius.
8: A Painful Truth - Aired: 2019-11-07
Aulus outrages Domitius with a confession and Andra discovers the truth about her family. Divis tries to use his powers on Love.
9: The Crossroads - Aired: 2019-11-07
Divis gets one last chance to prove himself. Meanwhile, Cait's newfound happiness is cut short as Phelan tries to right his wrongs.
10: The Challenge - Aired: 2019-11-07
Veran and Harka face each other in a challenge only one of them can survive. Cait is forced to face her destiny.
Season 3 (8 Episodes)
1: The Return of the chosen one - Aired: 2021-08-24
In the wilds of Britannia, Cait considers her next move, while Ania and Willa broker a meeting between Veran and Aulus.
2: The Moon Tree - Aired: 2021-08-24
Aulus struggles to remain in control now that Hemple is on the scene. The Druids are splintered by the betrayal of the Chosen One.
3: War Chest - Aired: 2021-08-24
Aulus hears Widicus's concerns about the behaviour of the new arrivals. Cait and Antedia continue their partnership.
4: The Big Vision - Aired: 2021-08-24
Aulus returns from his trip to the Underworld. Willa reveals that if Cait secures the Spear of The Silver Dawn then the tribes will be united.
5: Hemple's Machinations - Aired: 2021-08-24
Cait and her band of travellers strike a deal with Hella. Still under Hemple's hex, Ania returns and leads the gang on a dangerous path.
6: A precious Asset - Aired: 2021-08-24
Cait is shocked by the revelation that a traitor is in their midst. Hemple, still with Amena at the Villa, plans another feast to satisfy Lokka's hunger.
7: The Viaduct - Aired: 2021-08-24
Cait and her band continue their quest to reach Lucius because of his knowledge of the Spear. Hemple is furious that Veran seems to have got the better of her.
8: Vae Victis - Aired: 2021-08-24
Still searching for Lucius and his knowledge of the Spear, Cait takes the fight to the redoubt, and to all those who are waiting for her.