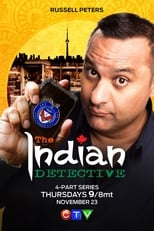 General Information
Glossary: T
First Air Date: November 23rd, 2017
Last Air Date: December 14th, 2017
Created By: Frank Spotnitz, Smita Bhide
Star Casts: Russell Peters, Mishqah Parthiephal, Christina Cole, Anupam Kher, William Shatner, Hamza Haq, Meren Reddy
Aired On: CTV
Episode Runtime: 40 minutes
Total Seasons: 1 Season
Total Episodes: 4 Episodes
Type: Miniseries
Status: Ended
Homepage: CTV - The Indian Detective

Last Updated: Wed, 22 Mar 2023 10:30:50 +0000
Sponsored Links
Ratings
User Rating:
Backdrops Gallery (1 Image)
The Indian Detective
A Toronto police officer gets involved in a homicide investigation while visiting his father in Mumbai.
Seasons and Episodes
Season 1 (4 Episodes)
1: Episode 1 - Aired: 2017-11-23
When a suspected heroin shipment that Doug and Robyn were secretly investigating turns out to be children's bikes, Doug's dream of becoming a detective fades into oblivion. Coerced into going to Mumbai to visit his father, Doug meets Priya Sehgal, a beautiful, passionate legal-aid lawyer. Together, they fight to uncover the truth behind a false murder confession, and while finding his stride in the busy city of Mumbai, Doug realises his failed case back home might have its roots in his homeland.
2: Episode 2 - Aired: 2017-11-30
Priya introduces Doug to the case of a missing Canadian traveller with connections to the drug-smuggling gangster, Gopal Chandekar. When Doug learns that Gopal knows the location of the missing girl, he must race to prevent Gopal from achieving the next big piece in his master plan.
3: Episode 3 - Aired: 2017-12-07
The violent death of an innocent man at the hands of one of Gopal's henchmen allows Doug and Priya to infiltrate his inner circle. This enormous risk could prove fatal. Doug uncovers a vital piece in the puzzle and, in alerting Robyn, threatens to put her in serious danger. Doug is forced to make an immediate decision that has disastrous consequences.
4: Episode 4 - Aired: 2017-12-14
In a desperate race against time in order to save the lives of thousands in Mumbai, Doug is reunited with Robyn and together they embark on the most dangerous of missions. Doug struggles to finally put the nail in the coffin of Gopal's plans, and Priya uses her legal brain to try to put him behind bars.