General Information
Glossary: C
First Air Date: March 9th, 2009
Last Air Date: May 16th, 2016
Created By: Andrew W. Marlowe
Star Casts: Nathan Fillion, Stana Katic, Molly C. Quinn, Jon Huertas, Seamus Dever, Susan Sullivan, Tamala Jones, Toks Olagundoye
Aired On: ABC
Episode Runtime: 45 minutes
Total Seasons: 8 Seasons
Total Episodes: 173 Episodes
Type: Scripted
Status: Canceled
Homepage: ABC - Castle

Last Updated: Wed, 06 Dec 2023 10:31:25 +0000
Sponsored Links
Ratings
User Rating:
Backdrops Gallery (67 Images)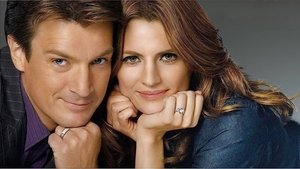 Castle
After a serial killer imitates the plots of his novels, successful mystery novelist Richard "Rick" Castle receives permission from the Mayor of New York City to tag along with an NYPD homicide investigation team for research purposes.
Seasons and Episodes
Season 1 (10 Episodes)
1: Flowers for Your Grave - Aired: 2009-03-09
Author Richard Castle joins NYC Detective Kate Beckett to help solve the case of a serial killer who is reenacting murders from Castle's novels; Castle becomes very intrigued with the murders and continues to shadow Beckett, much to her chagrin.
2: Nanny McDead - Aired: 2009-03-16
When a body of a young woman is found inside the dryer at a laundry room, Castle and Beckett uncover that the young woman worked as a nanny in the upscale building. Meanwhile, as Castle works on his "Nikki Heat" novel series he watches Beckett's actions as she works the murder case.
3: Hedge Fund Homeboys - Aired: 2009-03-23
When a teenaged boy whose family has recently fallen on hard times is found dead in a boat in Central Park, Castle and Beckett must piece together the mystery behind the boy's final moments. Meanwhile, Castle mulls over leaving Martha home while he chaperones Alexis' trip to Washington, D.C.
4: Hell Hath No Fury - Aired: 2009-03-30
The investigation behind a body found wrapped in a rug on the sidewalk leads Castle and Beckett deep inside the world of New York City politics. The partners discover a world of expensive escorts, arrogant tycoons, corrupt investigators, and the effects of betrayal.
5: A Chill Goes Through Her Veins - Aired: 2009-04-06
Castle and Beckett investigate the murder of a women found frozen and tangled in steel bars at a construction site. The case leads them to look into an old case and also has Beckett thinking about some memories of her past.
6: Always Buy Retail - Aired: 2009-04-13
A man is killing people and posing them in Vodun (Voodoo) tradition. Castle's ex-wife announces her plans to move back to New York.
7: Home Is Where the Heart Stops - Aired: 2009-04-20
After discovering a young woman's body stuffed awkwardly into a jewelry safe, Beckett and Castle investigate numerous cases involving murders and home invasion jewel heists.
8: Ghosts - Aired: 2009-04-27
Castle and Beckett investigate the murder of a woman found drowned in motor oil in a motel bathtub. They seek the help of a true crime journalist who might have a connection to the victim.
9: Little Girl Lost - Aired: 2009-05-04
When a two-year-old girl is discovered missing from her home, Beckett is called in to assist with the investigation only to discover that the FBI agent in charge is, in fact, her ex-boyfriend. The two of them try to put aside their unresolved feelings as they race to find the girl, but when Castle inserts himself into the investigation, competition quickly heats up for Beckett's attention.
10: A Death in the Family - Aired: 2009-05-11
Castle and Beckett investigate the murder of a missing plastic surgeon who is found dead in the front seat of his car after a week of being parked curbside. As they delve into the twisted world of surgery obsessed patients and secret operations, Castle experiences a fatherly rite of passage as Alexis attends her first prom. And while looking into Beckett's past, he unearths information that could end his relationship with her forever.
Season 2 (24 Episodes)
1: Deep in Death - Aired: 2009-09-21
When the new season begins, Castle is wrestling with how to repair his relationship with Beckett, while struggling to finish his soon-to-be-published bestseller, Heat Wave. But circumstances force the pair back together to investigate the mysterious murder of a man found dead, tangled in the limbs of a tree.
2: The Double Down - Aired: 2009-09-28
When two separate murders are committed on the same night, Castle wagers Ryan and Esposito that he and Beckett will solve theirs first. The frenzied race to catch their respective killers and win the bet leads each investigative duo to a likely suspect, only to find that they both have airtight alibis. But bizarre twists in both cases force the two teams to work together to unravel the mind-bending mystery behind each murder.
3: Inventing the Girl - Aired: 2009-10-05
Castle and Beckett get an inside look at the cutthroat world of the New York fashion industry when they investigate the brutal murder of a young model during Fashion Week.
4: Fool Me Once - Aired: 2009-10-12
When an Arctic explorer is killed during a polar expedition, the mysterious circumstances of his death take Castle and Beckett from the penthouses of Park Avenue to the halls of the CIA. But Castle's delight at the case's many twists and turns soon turns to frustration as he realizes that their elusive killer might just be fooling them all.
5: When the Bough Breaks - Aired: 2009-10-19
Castle has a new book agent, Paula Haas, but she talks with him when he has gotten an opportunity that may change his career. The downside is that taking the opportunity would mean the end of his relationship with Beckett. Meanwhile, an unidentified woman is found dead in a manhole.
6: Vampire Weekend - Aired: 2009-10-26
As Halloween approaches, Castle and Beckett are called to a graveyard where the body of a young man sporting vampire fangs has been discovered with a wooden stake driven through his heart. Their investigation takes them deep into the heart of New York's underground vampire fetish community, where they learn that the motive for the victim's murder may be hiding within the pages of the graphic novel he was writing before his death.
7: Famous Last Words - Aired: 2009-11-02
An up-and-coming rock star's body is found in a scene that appears staged from her recent music video.
8: Kill the Messenger - Aired: 2009-11-09
After a bike messenger, carrying a package with content that is able to free a wrongly convicted man from prison, is brutally murdered, Castle and Beckett need to investigate the case. But they are surprised to find out that the tragic death is linked to another murder case previously investigated by Captain Montgomery. Now, in order to solve the new murder, Castle and Beckett must dig deep and discover all the secrets of a prominent New York family.
9: Love Me Dead - Aired: 2009-11-16
Castle and Beckett are thrust into the world of ex-cons and escorts. Meanwhile, Alexis has a private chat with Beckett about something that she's keeping from her father.
10: One Man's Treasure - Aired: 2009-11-23
When a murdered man is found stuffed in the garbage chute of an apartment building and two women arrive to ID his body — one his wife and the other his fiancee — Castle and Beckett have their hands full keeping the women from killing each other as they work to peel back the layers of the victim's double life. Was it a jilted woman, corporate espionage, or a much darker secret that led to his demise?
11: The Fifth Bullet - Aired: 2009-12-07
Castle and Beckett uncover that a bullet is missing from the crime scene while investigating what happened when an art dealer was gunned down in his own gallery. However, when it turns out there was a witness to the murder, they need to refresh the man's memory, only to find out that he suffers from amnesia and can't even remember who he is.
12: A Rose for Everafter - Aired: 2010-01-11
When Castle and Beckett are called to a wedding to investigate the death of a bridesmaid, Castle is stunned to discover that the soon-to-be bride is his old flame, Kyra, "the one that got away". Complications ensue as Kyra, caught off-guard by Castle's reappearance in her life, wonders if she's marrying the right guy. With the nuptials forestalled and the entire wedding party under suspicion, Beckett questions Castle's ability to be objective about the case. But when it looks to Beckett like Castle and Kyra might rekindle their romance, her judgment may be compromised as well.
13: Sucker Punch - Aired: 2010-01-18
While investigating the death of an Irish mobster, Beckett and Castle uncover a local turf war that may be connected to both a late-night infomercial guru and an international drug smuggling operation. But the case turns agonizingly personal when evidence emerges that the killer they're chasing may have had a hand in Beckett's mother's murder.
14: The Third Man - Aired: 2010-01-25
Mysteries abound when a family returns from vacation to discover a dead man in their daughter's bed. Thinking they're investigating the murder of a squatter, Castle and Beckett soon find themselves unraveling a multi-million dollar heist. Meanwhile, Castle tries to keep Beckett from finding out that they've been romantically linked when he's featured as one of New York's 10 most eligible bachelors.
15: Suicide Squeeze - Aired: 2010-02-08
A beloved former major league baseball player is found dead after a goodwill trip to Cuba. The investigation, which includes running into Joe Torre, leads the detectives into New York's Cuban community to solve the murder. Meanwhile, Alexis' genealogy project forces Castle to consider the identity of his unknown father.
16: The Mistress Always Spanks Twice - Aired: 2010-03-08
When a half-naked woman is found covered in caramel sauce and hanging by bondage cuffs in a public park, Castle and Beckett's investigation takes them into New York's underground world of sexual domination. Naturally the case serves as sexy fodder for their already charged relationship banter.
17: Tick, Tick, Tick... (1) - Aired: 2010-03-22
Federal Agent Jordan Shaw, an insightful and accomplished Federal investigator teams up with Castle & Beckett to hunt down a cunning and elusive serial killer.
18: Boom! (2) - Aired: 2010-03-29
In the second part of the story begun in "Tick, Tick, Tick," the serial killer remains at large and is taunting Castle, Beckett and Jordan Shaw to catch him
19: Wrapped Up in Death - Aired: 2010-04-05
The investigation into the shocking death of a museum curator, crushed by a falling gargoyle, takes a bizarre turn when Castle and Beckett learn that he isn't the first member of a recent archeological expedition to die. It turns out there was a legend inscribed over the burial chamber the team unearthed warning that "all who gaze upon the face of the mummy are doomed." Was the curator just the latest victim of "The Mummy's Curse"? And if so, what does that mean for Castle, who snuck a peek at the mummy when no one was looking?
20: The Late Shaft - Aired: 2010-04-12
When Castle appears on a late-night talk show to promote his book, Heat Wave, legendary host Bobby Mann leans in during a commercial break and whispers, "They want me dead." When Mann dies later that night, seemingly of natural causes, Castle has to convince Beckett that there was foul play. During the investigation, Castle is seduced by a Hollywood hottie, who was the other guest on Bobby Mann's show the night he died.
21: Den of Thieves - Aired: 2010-04-19
Investigating the murder of a thief, Castle and Beckett are surprised to learn that Esposito has a personal connection to the suspected killer. Another surprise is in line for Castle when Beckett hits it off with the handsome Robbery detective assigned to the case, Tom Demming. Now this romantic triangle must work together to solve the case
22: Food to Die For - Aired: 2010-05-03
A high profile chef is found frozen to death in the kitchen of a hot New York restaurant. Complications ensue when Castle and the restaurant owner, an old high school girlfriend of Beckett's, share an attraction. Meanwhile, Beckett's relationship with Det. Demming continues to grow.
23: Overkill - Aired: 2010-05-10
A robbery-homicide prompts Beckett to invite Demming to assist on a case, giving Castle a ringside seat to their budding romance. When it becomes clear that the two men have very different ideas about how to proceed, the investigation becomes an unspoken competition for Beckett's attention, one in which each man races to solve the case, as Beckett referees between her two admirers.
24: A Deadly Game - Aired: 2010-05-17
Nothing is as it seems when Castle and Beckett investigate what appears to be the assassination of an intelligence operative. Meanwhile, Beckett's romance with Demming threatens her relationship with Castle, forcing them to confront their feelings for each other.
Season 3 (24 Episodes)
1: A Deadly Affair - Aired: 2010-09-20
When Beckett and her team burst into an apartment on a murderer's trail, they see Castle standing over a dead woman's body holding a gun; Beckett arrests Castle as he asserts his innocence.
2: He's Dead, She's Dead - Aired: 2010-09-27
Beckett and Castle search for a psychic's killer while debating the existence of extrasensory abilities.
3: Under the Gun - Aired: 2010-10-04
When a coded document attracts Castle's attention, Beckett must steer the case back to the violent felons who populated their victim's world; when Beckett's ex-partner arrives, Castle must watch the relationship become romantic.
4: Punked - Aired: 2010-10-11
Castle and Beckett look into the murder of a young mathematician gunned down with a 200-year-old bullet, sparking some wild theories by Castle about a time-traveling killer. When their investigation uncovers a tricked-out DeLorean and a suspect in Victorian clothing, is it possible Castle's crazy idea has some validity? This winding tale twists through the towers of Wall Street and into the world of a secret steampunk society that embraces the romance and simplicity of the past, while coupling it with the hope and promise of the future.
5: Anatomy of a Murder - Aired: 2010-10-18
An unknown woman falls out of a casket along with the original deceased when pallbearers lose control of the casket at a funeral; the investigation takes Beckett and Castle into the world of amorous, bed-hopping physicians.
6: 3XK - Aired: 2010-10-25
When a beautiful woman is found dead in an alley, all clues point to her being a victim of the notorious Triple Killer. The Triple Killer, or 3XK, terrorized New York City four years ago, then mysteriously disappeared. Now he's back. In a deadly battle of wits, Castle and Beckett race against time to stop 3XK before he claims his next victims.
7: Almost Famous - Aired: 2010-11-01
An "Officer Down" call turns out to be a male stripper dressed like a cop. Castle and Beckett explore the world of male strip clubs and struggling actors, all people in pursuit of fame. They need to determine if the murder was because of the victim's dreams of stardom or something more sinister.
8: Murder Most Fowl - Aired: 2010-11-08
Castle and Beckett investigate the murder of an NYC subway worker found shot in Central Park. But, while investigating the murder they uncover the abduction of a young boy as well. The team must determine the motives behind the high stakes kidnapping in order to save the young boy's life.
9: Close Encounters of the Murderous Kind - Aired: 2010-11-15
Castle's latest theory is alien abduction after an astrophysicist's death is found to be from explosive decompression. A well know alien abduction expert gets involved in the case. To complicate things more, a government agent wants to shut down their investigation.
10: Last Call - Aired: 2010-12-06
Castle and Beckett investigate the murder of a dockworker turned bar owner who's body is found floating in the East River. In the process of the investigation they uncover a secret buried since the days of Prohibition.
11: Nikki Heat - Aired: 2011-01-03
When Castle's novel ''Heat Wave'' becomes a movie, actress Natalie Rhodes accepts Beckett's invitation to visit and learn about the character she will play; Natalie observes Castle and Beckett's investigation of the murder of a matchmaker.
12: Poof! You're Dead - Aired: 2011-01-10
Castle and Beckett investigate the murder of the owner of a historic magic shop found dead in a Houdini's water torture tank.
13: Knockdown - Aired: 2011-01-24
When the detective who investigated Beckett's mother's murder is shot before Beckett's eyes before he can give her new evidence in the case, Beckett's old wounds are reopened. The investigation of the detective's death leads the team to an old scheme which may provide the answer to why Beckett's mother was murdered and who ordered it. Beckett and Castle's relationship takes a new turn.
14: Lucky Stiff - Aired: 2011-02-07
The brutal murder of a lottery winner has Castle and Beckett up to their eyeballs in suspects, envious and angered by the victim's sudden move from the poorhouse to the penthouse. As the precinct buzzes with fantasies of what our cops would do if they won the lottery, Martha struggles with the reality of such a decision when she suddenly inherits money she feels she doesn't deserve.
15: The Final Nail - Aired: 2011-02-14
Castle and Beckett find themselves on opposite sides of the case when Castle's old school friend emerges as the prime suspect in his own wife's murder. As they work to solve the crime, Castle comes to realize that one of two terrible things must be true... Either Detective Beckett is about to arrest an innocent man for murder, or his old friend is a cold-blooded killer.
16: Setup (1) - Aired: 2011-02-21
Castle and Beckett investigate the apparent robbery-homicide of a New York cab driver, only to discover that the victim was involved in a mysterious conspiracy with unimaginable consequences. As the stakes continue to rise, hard-charging federal agent Mark Fallon takes over the investigation. Together, Fallon, Beckett and Castle must race to unmask the truth about the victim before it's too late.
17: Countdown (2) - Aired: 2011-02-28
With time running out, Castle and Beckett must put aside their differences with Agent Fallon to avert a city-wide catastrophe.
18: One Life to Lose - Aired: 2011-03-21
A murder has been committed on the set of "Temptation Lane", one of New York's longest running soap operas.
19: Law & Murder - Aired: 2011-03-28
During the high profile trial of a murdered socialite, a juror tumbles out of the jury box....dead.
20: Slice of Death - Aired: 2011-04-04
When a reporter is found dead inside a restaurant's pizza oven, Beckett and Castle go to work on solving the case. They must figure out if his story "The Pizza Wars" is what got him killed or if there's something more to the story.
21: The Dead Pool - Aired: 2011-04-11
When a champion swimmer and Olympic hopeful is found dead in a training pool, Castle & Beckett dive in to investigate his murder, and uncover myriad secrets that might have led to his death.
22: To Love and Die in L.A. - Aired: 2011-05-02
While investigating the shooting death of her ex-partner in New York, Beckett comes to believe the suspect has fled to Los Angeles. Against orders, she travels to L.A., going renegade to track down the killer, with Castle unexpectedly along for the ride. As they dig deeper into the motives, they uncover a trail that leads from a rooftop pool in Hollywood to the sandy beach of Santa Monica. Along the way, they visit the set of the "Heat Wave" movie (based on Castle's book) and enlist the cast to help break the case. But as they get closer to apprehending the killer, Castle begins to wonder whether Beckett is out for justice or revenge.
23: Pretty Dead - Aired: 2011-05-09
During rehearsal for "Baron's All-American Beauty Pageant," the contestants are shocked to discover the body of Miss Illinois - strangled, but by whom? As Castle and Beckett delve into the cut-throat competition of the pageant world, they learn that a number suspects had motive for murder, including jealous fellow contestants, the pageant's larger-than-life millionaire sponsor, Victor Baron, and the show's host -- hedonistic TV personality, Bobby Stark.
24: Knockout - Aired: 2011-05-16
Kate Beckett's investigation into her mother's death is reactivated when Hal Lockwood - a professional hitman with knowledge of Beckett's mother's murder - stages a spectacular escape during a court hearing. As police launch a manhunt for Lockwood, Castle and the team uncover evidence of a deeper conspiracy involving a mysterious figure with law enforcement connections who is linked to both Lockwood's escape and the killing of Johanna Beckett. The search for Lockwood and the quest to identify his co-conspirator leads to a shocking and deadly conclusion.
Season 4 (23 Episodes)
1: Rise - Aired: 2011-09-19
Detective Beckett fights for her life as Castle, plagued by guilt over his role in the events, struggles to uncover who's behind her brutal shooting. Meanwhile, back at the precinct, Ryan and Esposito have to adjust, as Victoria "Iron" Gates becomes the precinct's new uncompromising Captain.
2: Heroes & Villains - Aired: 2011-09-26
When an ex-con is mysteriously slain in an alley, Castle and Beckett believe a vigilante is behind the murder. But efforts to identify their suspect are thwarted when they discover that he roams the city in a Superhero costume – and may indeed be a Superhero. Can they capture and unmask the killer before he strikes again?
3: Head Case - Aired: 2011-10-03
A murder scene complete with lots of blood but no victim and high tech life-extension science are all part of the investigation as Castle and Beckett try to solve a murder without a body. Meanwhile, Alexis waits to hear news about her application to Stanford
4: Kick the Ballistics - Aired: 2011-10-10
While investigating the mysterious shooting death of a young woman, Castle and Beckett face a cop's worst nightmare when they discover that the gun used in the killing is Det. Ryan's old service weapon - the one that was stolen by the serial killer, 3XK. Now with the clock ticking, the team must work to solve the murder, track down 3XK and retrieve Ryan's gun before the killer strikes again.
5: Eye of the Beholder - Aired: 2011-10-17
A wealthy museum patron is a suspect when a valuable sculpture is stolen. Castle and Beckett investigate the theft with the help of an insurance investigator who sets her sights on Castle.
6: Demons - Aired: 2011-10-24
While doing some investigative work at a New York mansion, a prominent ghost hunter is murdered. Castle and Beckett must figure out if paranormal activities are to blame.
7: Cops & Robbers - Aired: 2011-10-31
A crew of bank robbers disguised as classic television doctors take hostages which include Castle and Martha. But things are complicated by the fact that Beckett's on the outside having her every move scrutinized by a hostage negotiator and Castle's on the inside with information that the hostages are just a distraction for a more ominous plan.
8: Heartbreak Hotel - Aired: 2011-11-07
During the investigation of the murder of an Atlantic City casino owner at an abandoned warehouse, strong leads emerge for the team in both New York and Atlantic City. As Beckett and Capt. Gates work the New York leads together, Castle naturally chooses to join the detectives for the road trip to "America's Playground," hoping to help solve the case while throwing an impromptu bachelor party for Ryan.
9: Kill Shot - Aired: 2011-11-21
A sniper on a killing spree is terrorizing New York City. With the clock ticking down to the next murder and nothing to go on except a killer with no apparent motive but to instill terror, this could prove the team's toughest case yet. The hunt is made even more complicated when Beckett begins to experience increasingly strong moments of PTSD - moments she tries hard to hide from Castle and the detectives.
10: Cuffed - Aired: 2011-12-05
When Castle and Beckett wake up in bed, handcuffed together, in a locked room with no memory of how they got there, they must piece together the mystery of where they are and why, all while trying to escape. But as the two of them adjust to being shackled together, what's the biggest threat they face... the people who abducted them or each other? Meanwhile, Ryan, Esposito and Gates are left to investigate their disappearance in a case where all is not what it seems.
11: Till Death Do Us Part - Aired: 2012-01-09
When a lothario is killed, Castle and Beckett suspect that the victim's mysterious double life holds the key to his murder. Their investigation leads to a shocking twist that threatens to disrupt Ryan's wedding with Jenny
12: Dial M for Mayor - Aired: 2012-01-16
It was longtime Castle friend Mayor Weldon's political clout that allowed Castle to partner up with Beckett. But now, when a woman is found dead in a car that traces back to the Mayor's motor pool, that partnership comes under fire as the scandal surrounding the investigation threatens to bring down Weldon's administration.
13: An Embarrassment of Bitches - Aired: 2012-01-23
When a famous dog trainer is killed, the investigation keeps coming back to charismatic reality TV star Kay Cappuccio. Kay, a favorite of tabloids and gossip websites the world over, has achieved stardom without possessing any discernible skill or talent. But there seems to be more to her story than she is letting on -- does that include murder?
14: The Blue Butterfly - Aired: 2012-02-06
When Castle and Beckett investigate the killing of a treasure hunter, they discover the case is linked to a mysterious homicide from 1947 involving a hard-boiled private detective. Castle realizes the only way to solve the present-day murder is to solve the murder from the past. The 1947 case comes to life through stylized flashbacks, featuring Castle as the private eye and Beckett as a femme fatale.
15: Pandora (1) - Aired: 2012-02-13
Castle and Beckett pursue a ruthless killer who, they discover, is part of a sinister, international conspiracy. Castle and Beckett are joined on the case by Sophia Conrad, a smart, sexy CIA operative who has a complicated past with Castle.
16: Linchpin (2) - Aired: 2012-02-20
Castle & Beckett race to find the "Linchpin" in order to stop the first domino in a chain of events which will plunge the United States into war. Their efforts continue to put Castle in contact with Sophia Conrad - a smart, commanding and sexy CIA operative who was Castle's inspiration for Clara Strike in the "Derrick Storm" series of books; and intelligence officer Martin Danberg is back.
17: Once Upon a Crime - Aired: 2012-02-27
When a woman dressed as Red Riding Hood is found dead in the woods with claw marks covering her body, and soon after a murdered Snow White is discovered with a poison apple in her hand, Castle & Beckett find themselves on a Grimm hunt to catch a fairytale killer before he kills again. But nothing is as it seems in a case filled with deceit, betrayal, secrets and murder
18: A Dance with Death - Aired: 2012-03-19
When Odette Morton, a contestant on the hit competition show "A Night Of Dance," is found murdered in her dressing room, Castle and Beckett must navigate the case's many twists and twirls without stepping on each other's toes. But as they delve into Odette's past, they discover that this reality starlet was harboring a shocking secret that may have led to her death
19: 47 Seconds - Aired: 2012-03-26
When a bomb explodes at a protest rally killing five people, Castle and Beckett realize the key to solving the case is to reconstruct the 47 seconds prior to the explosion. Using video and witness accounts, they uncover the shocking truth about who planted the bomb.
20: The Limey - Aired: 2012-04-02
A devilishly handsome detective from Scotland Yard, Simon Hunt, teams up with Castle & Beckett to find the person responsible for the murder of his friend's daughter. Also, Nigel Wyndham, the Deputy General at the British Consulate whom Castle & Beckett suspect is up to more than just ambassadorial balls and diplomatic luncheons. Meanwhile, Lanie convinces Beckett that she needs to make a move on Castle before it is too late.
21: Headhunters - Aired: 2012-04-16
With tensions rising between Castle and Beckett, Castle finds himself a new partner -- Detective Ethan Slaughter (guest star Adam Baldwin, "Firefly"), a tough and colorful cop from the city's gang unit. But Castle gets more than he bargained for when Slaughter shows him a grittier side of police work that puts Castle in the line of fire like never before
22: Undead Again - Aired: 2012-04-30
When Castle and Beckett investigate the murder of a man with human bite marks on his body, Castle's wild theories start flying. But none are as wild as what their only witness insists happened - a Zombie attack. As the evidence pointing towards an undead assailant piles up, the team plunges into New York's Zombie subculture to find the killer and bring him in -- dead, undead or alive
23: Always - Aired: 2012-05-07
When the murder of an Army veteran puts Beckett on the trail of the man who shot her, Castle must decide how much he's willing to sacrifice to keep her safe. As secrets are revealed and feelings are put on the table, the lives of the detectives at the 12th Precinct may never be the same.
Season 5 (24 Episodes)
1: After the Storm - Aired: 2012-09-24
Picking up the morning after, Castle and Beckett now have to decide if they're a couple or was it just a onetime deal. But before they can tackle that, they must deal with those responsible for Kate's mother's death who are now a threat to Beckett.
2: Cloudy with a Chance of Murder - Aired: 2012-10-01
On Beckett's first day back from her suspension, she and Castle are thrown into the salacious world of local TV news when WHNY's veteran weather girl is found dead. As if navigating an industry full of backstabbing and ruthless ambition weren't difficult enough, they have to do it while hiding their new relationship from their coworkers
3: Secret's Safe with Me - Aired: 2012-10-08
A repossessed storage unit, treasure seekers and Manhattan socialites all come together in the case of a woman inexplicably murdered. Castle decides to enter the storage unit auction to see if anything inside might have led to her killing.
4: Murder, He Wrote - Aired: 2012-10-15
Castle and Beckett's plans for a romantic weekend in the Hamptons are interrupted when a dying man stumbles into Castle's backyard, collapsing into his pool. Unable to escape the lure of the investigation they join up with the small town's well-intentioned, but inexperienced sheriff to find the killer,
5: Probable Cause - Aired: 2012-10-29
While investigating a shocking ritualistic murder, Beckett and her team uncover surprising evidence linking Castle to the killing. As the evidence against him mounts, loyalties are tested. And when surprising revelations come to light, Beckett begins to wonder how well she really knows her new lover and partner of four years
6: The Final Frontier - Aired: 2012-11-05
When a body is found at a sci-fi convention, Castle and Beckett are warped into the heart of fandom -- a world of egotistic celebrities, diehard costumed fans and enough drama for two galaxies.
7: Swan Song - Aired: 2012-11-12
A documentary crew follows Castle, Beckett and the team as they investigate the murder of a rock band's lead guitarist.
8: After Hours - Aired: 2012-11-19
In the aftermath of a disastrous "Meet the Parents" dinner, a bickering Castle and Beckett are sent to retrieve the only witness to a murder, but they get ambushed and are forced to take the witness on the run. Stranded in the middle of the night in a bad part of town, with no phone, badge or gun, Castle and Beckett must find a way to protect him from a team of mobsters -- that is, if they don't kill each other first.
9: Secret Santa - Aired: 2012-12-03
Castle and Beckett investigate when a bearded man named Kris Kringle falls from the sky in Central Park; Beckett and Castle work on a Christmas list together.
10: Significant Others - Aired: 2013-01-07
When a powerful divorce attorney who only represented women is murdered, Castle and Beckett are confronted with a plethora of angry ex-husbands, any one of whom could be the murderer. Meanwhile, Castle's ex-wife (Darby Stanchfield), Meredith, moves into the loft to take care of Alexis while she recovers from Mono, and to make matters worse, Beckett is also forced to move in while her apartment is being fumigated, causing tension, humor and more than a little awkwardness
11: Under the Influence - Aired: 2013-01-14
When an up and coming DJ is killed at a pop star's album release party, Beckett and Castle must dive into the raucous world of New York's music industry. Then, when the investigation leads to a troubled teenager, Esposito takes the kid under his wing, hoping to put him on the right track before it's too late.
12: Death Gone Crazy - Aired: 2013-01-21
When Beau Randolf, the founder of hit adult video franchise "College Girls Gone Crazy," is murdered, Castle and Beckett are confronted with a lengthy list of husbands, fathers and ex-college girls who all have motive. So to find the killer, they must delve deep into the victim's life, where they find surprises at every turn. Also Alexis starts a video blog, but Castle is not happy that personal and intimate details about her life are being made public.
13: Recoil - Aired: 2013-02-04
While investigating the murder of a young woman, Castle and Beckett find evidence that links her death with Senator William H. Bracken (Jack Coleman), the man responsible for Beckett's mother's murder. Determined to finally bring Bracken to justice, Beckett soon realizes that things are far more complicated than they seem.
14: Reality Star Struck - Aired: 2013-02-11
Castle & Beckett get an up-close-and-personal view of a "Real Housewives"-esque reality TV series, "The Wives of Wall Street," when they investigate the murder of the show's rising young star. Meanwhile, Castle's attempt to give Beckett a Valentine's Day gift goes horribly wrong.
15: Target (1) - Aired: 2013-02-18
In the first of a two-episode story arc, Castle and Beckett begin a murder investigation that also exposes a plot to kidnap the daughter of a wealthy Middle Eastern businessman. FBI Agent Harris, an even-keeled professional is brought in to help find the kidnappers.
16: Hunt (2) - Aired: 2013-02-25
In the powerful conclusion of a two-episode story arc, when the FBI fails to get his daughter back, Castle takes matters into his own hands, reaching out to a shadowy fixer to help him recover Alexis. But Castle soon learns that his daughter's kidnapping may be part of an even more sinister agenda.
17: Scared to Death - Aired: 2013-03-18
When a young woman appears to have literally been scared to death three days after watching a "haunted" DVD, Castle and Beckett delve into one of their creepiest cases yet. To make matters worse, Castle becomes convinced that he too is marked for death when he accidentally watches the cursed video.
18: The Wild Rover - Aired: 2013-03-25
When a man is found dead in an industrial cake mixer, Castle and Beckett trace the murder to an Irish gang in Staten Island and a beautiful bar owner named Siobhan O'Doul. Much to everyone's surprise, Detective Ryan has a complicated history with Siobhan and the Staten Island crime family from his days working undercover in narcotics. When the case hits a dead end, Ryan must go back undercover to expose the killer, complicating his relationship with his wife.
19: The Lives of Others - Aired: 2013-04-01
In the show's 100th episode, Castle finds himself in the unfortunate position of NOT being able to work a case. While he's holed up in the loft with a broken leg, Beckett goes off to investigate the death of an IRS agent without him, leaving Castle miserable and bored. But when he thinks he witnesses the murder of a young woman in the apartment across the street, he is thrown into a "Rear Window"-esque murder mystery that hits much too close to home.
20: The Fast and the Furriest - Aired: 2013-04-15
When Castle and Beckett find giant footprints at the site of a vicious murder, the team is forced to confront the unlikely theory that Bigfoot is the killer. But as they trek into the world of primate research, big game hunting and mythological creatures, they realize that finding the man (or beast) responsible may put them on the endangered species list.
21: The Squab and the Quail - Aired: 2013-04-22
When Beckett is assigned to protect Erik Vaughn, a charming billionaire entrepreneur whose life is in danger, she's forced to reflect on her relationship with Castle which has begun to plateau. Meanwhile, consumed with jealousy, Castle goes to extraordinary lengths to solve the case and separate the two of them.
22: Still - Aired: 2013-04-29
Beckett's life is on the line when she steps on a pressure sensitive bomb. While the team searches for a way to disarm the explosive, Castle distracts Beckett by arguing with her about who fell for whom first.
23: The Human Factor - Aired: 2013-05-06
When Homeland Security inexplicably seals the crime scene of a car bombing, Castle and Beckett find themselves with two mysteries on their hands: who murdered the victim, a government whistleblower, and why are federal agents trying to take over the case? The plot thickens when they discover that the victim wasn't killed by a car bomb but by a missile from a military drone.
24: Watershed - Aired: 2013-05-13
In the season finale, an interview with a high-profile federal law enforcement agency forces Beckett to reconsider what she wants out of her job and out of her relationship with Castle. Meanwhile, the body of a young woman is found floating inside the water tank of a skid row flop house, but as the team investigate, they discover that her final resting place is just one of many strange things about her death.
Season 6 (23 Episodes)
1: Valkyrie (1) - Aired: 2013-09-23
Last season ended with Beckett wrestling over whether to take a high-profile job in DC -- a dilemma made more complicated when Castle proposed to her. In the Season 6 Premiere of "Castle," Castle and Beckett will deal with the consequences of their decisions against the backdrop of a high-stakes investigation.
2: Dreamworld (2) - Aired: 2013-09-30
Continuing from the season premiere episode, Beckett races against time to find a stolen toxin capable of killing tens of thousands of people. To make matters worse, Castle was exposed, leaving him with less than 24 hours to live.
3: Need to Know - Aired: 2013-10-07
With Beckett still in D.C., Castle and the boys investigate the murder of former child star Charlie Reynolds, who rose to fame playing the lovable nerd on an early 90s High School sitcom. But the case takes a turn for the strange when Agents Beckett and McCord arrive from Washington to take over the investigation, creating competitive tension in the precinct. But why would a washed-up actor's death warrant Federal scrutiny? Whatever the reason, Beckett and McCord aren't telling. Meanwhile, Castle has to contend with a new face at the 12th, NYPD Detective Frank "Sully" Sullivan.
4: Number One Fan - Aired: 2013-10-14
A desperate young murder suspect, Emma Briggs, takes hostages at gunpoint then mysteriously insists that she will only negotiate with one person: Richard Castle.
5: Time Will Tell - Aired: 2013-10-21
A grisly murder investigation leads Castle and Beckett to a suspect who claims he's traveled back in time to stop terrible events from unfolding, events that will change the course of human history. Is he simply a deluded killer, or is it possible that he's telling the truth?
6: Get a Clue - Aired: 2013-10-28
As Castle and Beckett investigate the ritualistic murder of a young woman, they find strange symbols in the victim's apartment; Castle struggles with Alexis' decision to move in with Pi.
7: Like Father, Like Daughter - Aired: 2013-11-04
Alexis enlists Castle's help on an Innocence Review case to prove that a death row inmate, Frank Henson, was wrongly convicted. With only 72 hours left before his execution, Castle and Alexis (with help from Beckett) urgently investigate the original murder, only to uncover explosive secrets that may seal Frank's fate.
8: A Murder Is Forever - Aired: 2013-11-11
When a famed relationship therapist is murdered, it appears that her access to the secrets of her elite and powerful clients led to her death. But when Castle and Beckett discover the victim was in possession of a rare object worth millions of dollars, they realize that this case may be even more complicated – and dangerous – than they thought.
9: Disciple - Aired: 2013-11-18
Castle and Beckett arrive at a crime scene to discover that the female victim bears a shocking resemblance to Medical Examiner Lanie Parish. As the team tries to make sense of this mystery, they realize the killer may be targeting detectives of the 12th Precinct. Dr. Kelly Nieman, an exclusive Manhattan cosmetic surgeon who draws Castle and Beckett's interest because of her connection to the victim.
10: The Good, The Bad & The Baby - Aired: 2013-11-25
Before dying, he hands a mysterious bundle to the priest. When the bundle turns out to be a smiling baby boy, Castle and Beckett find themselves accidental nannies to the newborn. But when they determine the baby and the victim were not related, they discover that finding his rightful parents may be just as hard as solving the murder.
11: Under Fire - Aired: 2014-01-06
When Castle and Beckett discover that the victim of a building fire was actually shot to death, they get on the trail of a serial arsonist turned murderer. Meanwhile, Ryan's wife, Jenny, goes into labor, but disaster threatens to ruin the joyous moment.
12: Deep Cover - Aired: 2014-01-13
The murder of a young video store clerk takes a strange turn when the team discovers his past history as a high-level hacker. But it's nothing compared to the shock Castle receives when their investigation leads them straight to his father, Jackson Hunt.
13: Limelight - Aired: 2014-01-20
When a pop star is found dead in an alley, Beckett and Castle look into her hard-partying lifestyle; a shocking revelation rocks the investigation.
14: Dressed To Kill - Aired: 2014-01-27
When the assistant to Modern Fashion Magazine's dictatorial editor Matilda King is found murdered, Castle and Beckett are thrust into the glitzy, ruthless world of high fashion in their search for the killer. Meanwhile Beckett's history in the modelling world gets her access to a very special wedding surprise.
15: Smells Like Teen Spirit - Aired: 2014-02-17
The murder of a high school mean girl draws Castle back to one of his many alma maters, where he is giddy to learn that the evidence points to a surprising perpetrator - a teenage telekinetic, throwing he and Beckett into a real-life "Carrie."
16: Room 147 - Aired: 2014-02-24
When a guilt-ridden young woman confesses to the murder of a struggling actor -- knowing details only the killer could know -- Beckett and Castle seem to have an open-and-shut case, until they uncover proof that their suspect couldn't possibly be the killer. When a second person confesses, equally convinced they committed the murder, the team realizes the case is far more mysterious than they thought.
17: In the Belly of the Beast - Aired: 2014-03-03
Beckett is recruited to assist on a Narcotics investigation, but a routine mission turns deadly when an undercover operation goes array. To survive, Beckett must engage in a battle of wits against some of the most dangerous men in the New York underworld – including a powerful enemy from her past.
18: The Way of the Ninja - Aired: 2014-03-17
When a Japanese ballet dancer is mysteriously murdered, Castle and Beckett's investigation into her secret life uncovers evidence that she was killed by a ninja, and now that ninja is coming after them.
19: The Greater Good - Aired: 2014-03-24
Castle and Beckett investigate the murder of a Wall Street trader, but the case takes a shocking turn when the they discover the victim was an undercover informant for the U.S. Attorney's office. To complicate matters further, the U.S. attorney involved is Elizabeth Weston, Captain Gates' estranged sister.
20: That '70s Show - Aired: 2014-04-21
When construction workers find the body of an infamous New York mobster who disappeared in the seventies, Beckett and Castle try to solve this three decade-old mob hit. Unfortunately, their only witness is a man who thinks it's still the 1970's, so to uncover what he knows, they must play into his delusion, and party like it's the last days of disco.
21: Law & Boarder - Aired: 2014-04-28
Castle and Beckett delve into the world of extreme sports when a mysterious motorcyclist shoots an up-and-coming professional skateboarder.
22: Veritas - Aired: 2014-05-05
A secret investigation conducted by Beckett related to her mother's murder goes awry when a man she has been surveilling is killed. When evidence links Beckett to the victim, she and Castle become the targets of a manhunt that puts both of them in grave danger.
23: For Better or Worse - Aired: 2014-05-12
Castle and Beckett's long-awaited wedding is almost here, but when a shocking surprise threatens to ruin the big day, they are sent on a wild mission filled with masked men, angry bikers and a charming ne'er-do-well from Beckett's past.
Season 7 (23 Episodes)
1: Driven - Aired: 2014-09-29
Beckett is called to an accident scene to find Castle's car in a ravine, engulfed in flames.
2: Montreal - Aired: 2014-10-06
While the team investigates the murder of a toy company CEO, Castle uncovers a lead to his mysterious disappearance, launching him into a dangerous investigation of his own.
3: Clear & Present Danger - Aired: 2014-10-13
When a pool shark is murdered by an unseen force, Castle and Becket uncover evidence that the killer may have paranormal powers. Meanwhile, Castle and Beckett attempt to get their lives back to normal following his disappearance.
4: Child's Play - Aired: 2014-10-20
When an ice cream vender is shot, evidence leads Beckett and Castle to believe that an unknown second-grader may have vital information about the case. Castle goes undercover at an elementary school to try and identify the second-grader but nothing goes as planned.
5: Meme is Murder - Aired: 2014-10-27
When a web celebrity is murdered, Castle and Beckett explore the flashy world of internet fame. But when the killer posts pictures from the crime scene on a photo-sharing site, they realize they are up against a social media sociopath who may strike again.
6: The Time of Our Lives - Aired: 2014-11-10
A murder investigation launches Castle into what seems to be an alternate universe where he's never met Kate Beckett. Castle has to convince Beckett, Esposito and Ryan -- now complete strangers -- to let him participate in their investigation so he can find his way back to his own world. This inspires Castle & Beckett to finally take a trip to the altar.
7: Once Upon a Time in the West - Aired: 2014-11-17
When Castle and Beckett learn that a murder victim may have been poisoned at an Old West-style resort, they visit the resort posing as newlyweds to uncover the truth.
8: Kill Switch - Aired: 2014-11-24
When subway passengers, including Detective Esposito, are taken hostage by a mysterious gunman, Castle, Beckett and the team must uncover the gunman's agenda before it's too late.
9: Last Action Hero - Aired: 2014-12-01
When the star of Castle's favorite '80's action movie is mysteriously murdered, Castle and Beckett delve into the victim's secret past and pursue his killer with help from a team of aging action heroes.
10: Bad Santa - Aired: 2014-12-08
When an ER physician is gunned down in the street, Castle and Beckett soon discover that the victim was a mob doctor to a Mafia family run by an old friend of Castle's. Also, against this backdrop of Christmas, Esposito and Lanie reach a defining moment in their relationship.
11: Castle, P.I. - Aired: 2015-01-12
After being banned from the 12th precinct, Castle works his first case as a private investigator.
12: Private Eye Caramba! - Aired: 2015-01-19
When a young actress is murdered, the investigation leads Beckett and Castle into the flamboyant world of a telenovela.
13: I, Witness - Aired: 2015-02-02
Castle takes on a routine P.I. case, but the investigation turns deadly when he witnesses a murder.
14: Resurrection (1) - Aired: 2015-02-09
When clues in a murder implicate Castle and Beckett's nemesis, Dr. Kelly Nieman, Castle is called in to consult on the case.
15: Reckoning (2) - Aired: 2015-02-16
Stakes rise as the 12th Precinct matches wits with serial killers Jerry Tyson (3XK) and Dr. Kelly Nieman. With the clock ticking, Castle and the team must crack the case before the killers claim their next victim.
16: The Wrong Stuff - Aired: 2015-02-23
When an astronaut, training for a trip to Mars, is mysteriously killed inside a Mars simulation, Castle and Beckett don spacesuits to investigate. But when they discover no one inside the sealed simulation could have committed the murder and no one from the outside could get in, the case takes a shocking turn
17: Hong Kong Hustle - Aired: 2015-03-16
After a man is mysteriously murdered in a park, Castle and Beckett team up with a competitive, high-powered female detective from Hong Kong, who has information about the victim. But as Beckett digs deeper into the case, she realizes neither her Hong Kong colleague nor the victim may be quite who they seem.
18: At Close Range - Aired: 2015-03-23
Detective Kevin Ryan is on the security detail of a charismatic congressman attending a charity event when shots suddenly ring out. Driven to apprehend the killer, Ryan must revisit the events that led up to the shooting, with the help of Castle and Beckett.
19: Habeas Corpse - Aired: 2015-03-30
When Richie "The Pitbull" Falco, a larger-than-life personal-injury attorney is found dead, Beckett and Castle investigate the many clients and competitors who had motive to kill him. But the mystery deepens when they discover a shocking secret that may be linked to Richie's murder.
20: Sleeper - Aired: 2015-04-20
A mysterious recurring dream drives Castle and Beckett to seek answers about the two-month period when he went missing. But their search for the truth has deadly consequences.
21: In Plane Sight - Aired: 2015-04-27
As Castle and Alexis travel to London, their routine flight turns deadly when the plane's Air Marshal is found murdered. With the help of Beckett on the ground, Castle and Alexis race against time to find the killer before he carries out his fateful plan.
22: Dead From New York - Aired: 2015-05-04
When Sid Ross, the powerful creator of a long-running sketch comedy show is killed, Castle and Beckett are called to investigate. But as they delve into the victim's life and the colorful world of "Saturday Night Tonight," they uncover a shocking secret that may explain Sid's murder.
23: Hollander's Woods - Aired: 2015-05-11
A death in the woods draws Castle back to a terrifying and defining event in his childhood. Investigation leads to obsession, as he attempts to unearth answers that have eluded him for decades, all while Beckett faces a crossroads of her own.
Season 8 (22 Episodes)
1: XY (1) - Aired: 2015-09-21
After passing the Captain's exam last season, Beckett was surprised with an offer to run for State Senate. In the action packed season premiere, Castle and Beckett are adjusting to Beckett's career change, when a call from a mysterious stranger sets off an explosive chain of events. There are two sides to every story, and this unique two-parter will explore the same story from each of their perspectives, first from Castle's side as he searches for Beckett.
2: XX (2) - Aired: 2015-09-28
Beckett's side of her abrupt disappearance is revealed. After receiving a mysterious tip from her past, Beckett is launched into a fight for her life, with a team of mercenaries hot on her trail. While Castle investigates why his wife is on the run, Beckett must figure out who wants her dead, before they can finish the job.
3: PhDead - Aired: 2015-10-05
When the body of a local college fraternity student is found gruesomely murdered, Castle has to go undercover as a professor in order to gain access to the victim's world. However, he and Beckett soon discover that behind the fun and games of college are some darker secrets the university wants to keep hidden.
4: What Lies Beneath - Aired: 2015-10-12
When Castle's idol, a famously reclusive author, turns up dead, Castle is determined to solve his hero's murder. But as he and Beckett dig deeper, they discover that truth is stranger than fiction.
5: The Nose - Aired: 2015-10-19
When a priceless work of art is stolen and its transporter murdered, Castle and Beckett must work with the key witness to track down the painting and sniff out the killer.
6: Cool Boys - Aired: 2015-11-09
Detective Slaughter returns to enlist Castle's help in solving a high-stakes robbery case. But when a body is found linked to the crime, Slaughter becomes the number one suspect in the heist turned murder, while Castle has to determine whether he's guilty or help to prove he's innocent.
7: The Last Seduction - Aired: 2015-11-16
In order to hunt down the brutal murderer of a grifting seducer, Castle & Beckett must investigate New York's elite. Meanwhile, Castle plans to surprise Beckett on their one-year wedding anniversary.
8: Mr. & Mrs. Castle - Aired: 2015-11-23
Castle and Beckett investigate the murder of a cruise ship entertainer, only to find themselves trapped at sea with the killer.
9: Tone Death - Aired: 2016-02-08
When a body is found in the theater of Martha's latest show, Castle and Beckett's investigation leads them into the unexpectedly dangerous world of competitive a capella.
10: Witness for the Prosecution - Aired: 2016-02-14
Castle finally gets his day in court when he takes the stand as the key witness to a murder from five months ago. But when new information suddenly arises, he and Beckett must race against the clock to prevent a miscarriage of justice.
11: Dead Red - Aired: 2016-02-15
When the son of a Russian diplomat turns up murdered, Beckett and Castle find themselves in a dangerous game of international crime and punishment, with Castle having to entertain a jovial Russian security officer who winds up more involved than anyone planned.
12: The Blame Game - Aired: 2016-02-22
Castle is captured and forced to work with strangers to solve deranged puzzles and mind games, while Beckett and the 12th Precinct must race against time to rescue Castle and catch a killer.
13: And Justice for All - Aired: 2016-02-29
Beckett and the 12th Precinct look into the murder of an English as a Second Language student. But when the victim's class won't talk to the police, Castle goes undercover as a French Canadian immigrant and learns that the victim was more than he seemed.
14: The G.D.S. - Aired: 2016-03-07
Castle returns to the City of Angels in search of answers about his missing time. But things take a deadly turn when he's recruited by the legendary Greatest Detective Society to help solve a murder.
15: Fidelis Ad Mortem - Aired: 2016-03-21
When a recruit officer at the NYPD Academy is killed, Beckett and the team go back to their old training ground to investigate. Meanwhile, Castle must reckon with a decision with profound consequences for him and Beckett.
16: Heartbreaker - Aired: 2016-04-04
A clue at the scene of the death of an armored-car driver leads Beckett and Castle back to an old case solved by Esposito. But complications arise when they learn that Esposito might not have been telling them everything about his past with the culprit.
17: Death Wish - Aired: 2016-04-11
The murder of a man connected to smuggling Turkish relics sends Castle, Beckett and the 12th Precinct on a search for a stolen antique believed to be Aladdin's lamp, in hopes that it can lead them to the killer.
18: Backstabber - Aired: 2016-04-18
After Hayley does a favor for an old friend, she finds herself implicated in a killing and cyber-terror attack. Now, Beckett and Castle must rush to solve the case and clear Hayley's name.
19: Dead Again - Aired: 2016-04-25
When a mild mannered safety inspector for the city miraculously survives a poisoning, it might be luck; but when he survives another, it's a mystery Castle and Beckett will have to solve.
20: Much Ado About Murder - Aired: 2016-05-02
After a movie star turned theater actor is mysteriously killed, Castle and Beckett go backstage and learn the star had more to worry about than just his lines.
21: Hell to Pay - Aired: 2016-05-09
When an axe-wielding, escaped psychiatric inmate drops dead in Castle's P.I. office, Castle and Beckett's investigation leads Castle to suspect the victim's death could be the work of the Antichrist.
22: Crossfire - Aired: 2016-05-16
With their best lead in hand, Castle and Beckett are ready to take on LokSat. But an unforeseen twist puts their case – and their lives – in jeopardy.