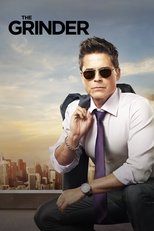 General Information
Glossary: T
First Air Date: September 29th, 2015
Last Air Date: May 10th, 2016
Created By: Jarrad Paul, Andrew Mogel
Star Casts: Rob Lowe, Fred Savage, Mary Elizabeth Ellis, William Devane, Hana Hayes, Connor Kalopsis, Steve Little, Natalie Morales
Aired On: FOX
Episode Runtime: 21 minutes
Total Seasons: 1 Season
Total Episodes: 22 Episodes
Type: Scripted
Status: Canceled
Homepage: FOX - The Grinder

Last Updated: Fri, 10 Mar 2023 10:30:51 +0000
Sponsored Links
Ratings
User Rating:
Backdrops Gallery (3 Images)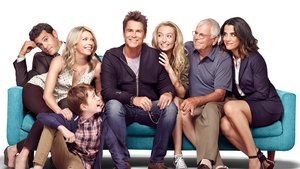 The Grinder
Television lawyer Dean Sanderson moves back to his small home town after his hit series, "The Grinder," is canceled thinking his time on TV qualifies him to run his family's law firm.
Seasons and Episodes
Season 1 (22 Episodes)
1: Pilot - Aired: 2015-09-29
When his long-running hit series comes to an end, Dean finds himself at a crossroads in life and decides to move back to his small home town thinking he has the experience to take over his family's law firm, where he butts heads with his brother, Stewart.
2: A Hero Has Fallen - Aired: 2015-10-06
After the exciting and victorious Krantz case, Sanderson & Yao gets flooded with cases. Dean, in his usual fashion, wants them to pick the next big case. Stewart disagrees, but he realizes that telling Dean he can't do something only will make him want to do it more. Soo Stewart decides to encourage Dean and the plan backfires. Meanwhile, Dean inspires Debbie to go for a promotion at work using a "big dog" approach, which puts her job in jeopardy
3: The Curious Disappearance of Mr. Donovan - Aired: 2015-10-13
Convinced that the only explanation for Claire's non-interest in him is that she's a mole, Dean tells Stewart that Claire is sharing secrets with a rival firm. Although Stewart dismisses the accusation, Dean is set on proving his brother wrong. Meanwhile, Deb and Claire strike up a friendship, the gossipy nature of which propels Stewart to question whether Claire can be trusted after all.
4: Little Mitchard No More - Aired: 2015-10-20
When a new couple, Lyle and Vanessa Gerhart, comes into their life, Stewart and Deb deal with "The Dean Effect" - people liking you only because you have a famous brother. Meanwhile, Dean finds himself in a similar situation with Claire, the first person he's ever met who isn't affected by his celebrity
5: A Bittersweet Grind (Une Mouture Amer) - Aired: 2015-11-03
Just as Dean prepares to give up on what he thinks is a hopeless search for love, he is reunited with Gail, an old flame who restores his belief in romance. Meanwhile, Deb encourages Stewart to change his strict ways and let Lizzie have a supervised date with Joel Zadak.
6: Dedicating This One to the Crew - Aired: 2015-11-10
When Ethan chooses to audition for the school play instead of following in his father's footsteps by joining the tech crew, it highlights the differences between those who seem destined for the spotlight and those who live their lives in the shadows. Meanwhile, Stewart confronts Dean Sr. about how he gave his two sons very different life advice.
7: Buckingham Malice - Aired: 2015-11-17
Stewart convinces Dean he can't keep using his celebrity if he really wants to be a "regular guy." But when the brothers find themselves in serious trouble, Dean's fame might be the only way to bail them out. Meanwhile, Debbie gets an assistant, and ends up being more of an assistant to her.
8: Giving Thanks, Getting Justice - Aired: 2015-11-24
After spending several holidays away from the family, Dean is thrilled to be reunited with them for his first real Thanksgiving celebration in a long time. But his overexcitement and meddling brings a major, unexpected family secret to light. Meanwhile, a series of flashbacks reveal the chain of events that led to Dean's departure from his hit TV drama.
9: Grinder Rests in Peace - Aired: 2015-12-01
"The Grinder: New Orleans" -- a spinoff of the original hit series, asks Dean to film a scene giving closure to his beloved character, Mitch Grinder. Not surprisingly, Dean struggles with being replaced by his TV brother, Rake. Meanwhile Stewart, who has also been feeling replaced by his brother in Ethan's eyes, jumps at the opportunity to get Dean back into acting and out of his hair.
10: The Olyphant in the Room - Aired: 2016-01-05
After Dean catches Timothy Olyphant making out with Claire, he thinks he can "win her back" by taking the lead on a case - and using very questionable tactics - representing a friend of hers. Meanwhile, Stewart is excited that a reporter is writing a story on him, but becomes upset when Dean steals the spotlight.
11: Exodus (Part 1) - Aired: 2016-01-19
Stewart and Deb tell Dean it's time for him to find his own place. Meanwhile, a rival law firm attempts to poach Dean from Sanderson & Yao. Also, Deb becomes reliant on Andre, Dean's former stand-in, who's crashing with the family
12: Blood Is Thicker than Justice (Part 2) - Aired: 2016-01-26
After their fallout, Dean and Stewart find themselves on opposing sides during a divorce case. Meanwhile, back at home, Ethan and Lizzie are seeing the impact of life without Uncle Dean, and Stewart and Debbie quickly take notice.
13: Grinder v Grinder - Aired: 2016-02-02
Timothy Olyphant is back in Boise and the rivalry between Dean and him continues when Stewart invites Olyphant to spend more time around Sanderson & Yao. After getting into an argument about who is closer to being a real lawyer, the two "Grinders" decide to go head-to-head in a mock trial.
14: The Retooling of Dean Sanderson - Aired: 2016-02-09
When Dean scares off a big prospective client by being too dramatic, Stewart tells him maybe it's finally time to let go of his "Grinder" persona and come down to earth. He tries to convince Dean he should go to therapy. Dean reluctantly agrees, but in typical Dean fashion, he overcorrects and begins "therapizing" the whole family, including Debbie, who is now tempted to quit her grueling job.
15: The Ties That Grind - Aired: 2016-02-16
Dean's therapist, Jillian, encourages him to, once and for all, shed his Grinder persona and find out who the real Dean is. Through his therapy exercises, he ends up making others around him evaluate their own issues, much to Stewart's frustration.
16: Delusions of Grinder - Aired: 2016-02-23
Stewart becomes certain there's a larger conspiracy against the firm. It's the first time Sanderson & Yao has ever been involved in a truly dramatic situation, but Dean has shed his "Grinder" persona and refuses to listen to Stewart's "paranoia." Instead, Dean decides to focus on being the office intern, so Stew has to take matters into his own hands.
17: From the Ashes - Aired: 2016-03-01
As the conspiracy surrounding Sanderson & Yao reaches a boiling point, the only man who can get to the bottom of it has abandoned the "grind" and enrolled in law school. Stewart, desperate for Dean's help, will go to any lengths to turn his brother back into "The Grinder".
18: Genesis - Aired: 2016-03-15
Post-therapy, Dean finds that he has lost the ability to grind. To get it back, he decides to crack the case of the office being ransacked. Meanwhile, in flashback, we see a younger, struggling Dean Sanderson as he must decide whether to embrace a simple life, or pursue his destiny and become the Grinder he was always meant to be.
19: A System on Trial - Aired: 2016-04-12
Stewart is concerned about Dean Sr.'s anger issues complicating their case, so Dean arranges some focus-group testing to see what the masses really think.
20: For the People - Aired: 2016-04-19
Dean and Stewart receive a surprise visit from their mother. Stewart attempts to get reservations to a hot restaurant for his and Deb's anniversary dinner.
21: Divergence - Aired: 2016-05-03
When Stew learns that his father is guilty, he wants to settle, but Dean tries one of his old "Grinder" tricks to solve the case. Meanwhile, Stew is concerned that he is now "infected" by "The Grinder".
22: Full Circle - Aired: 2016-05-10
Stewart becomes sidelined at Dean Sr.'s malpractice trial, causing the rest of the Sanderson & Yao team to try and save the firm.