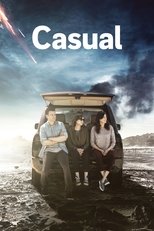 General Information
Glossary: C
First Air Date: October 7th, 2015
Last Air Date: July 31st, 2018
Created By: Jason Reitman, Zander Lehmann
Star Casts: Michaela Watkins, Tommy Dewey, Tara Lynne Barr
Aired On: Hulu
Episode Runtime: 30 minutes
Total Seasons: 4 Seasons
Total Episodes: 44 Episodes
Type: Scripted
Status: Ended
Homepage: Hulu - Casual

Last Updated: Thu, 06 Jul 2023 23:49:11 +0000
Sponsored Links
Ratings
User Rating:
Backdrops Gallery (6 Images)
Casual
A dysfunctional family tries to help each other navigate the modern dating scene. Recent divorcee Tara and her bachelor brother coach each other through the crazy world of dating (on-line and off), while living under the same roof again for the second time and raising her teenage daughter.
Seasons and Episodes
Season 1 (10 Episodes)
1: Pilot - Aired: 2015-10-07
Newly-divorced Valerie and her teenage daughter, Laura, move in with Valerie's younger brother, Alex. A committed bachelor and casual dater, Alex sets Valerie up via his popular dating website.
2: Friends - Aired: 2015-10-07
Alex hangs out with Valerie's new friend, Leon. Valerie parties with a group of 20-somethings. Laura gets in over her head at a house party.
3: Animals - Aired: 2015-10-14
Valerie decides to make a major move, but financial realities get in the way. Alex adopts a new friend. Laura fantasizes about an older man.
4: ... - Aired: 2015-10-21
Valerie breaks Alex's rules on casual sex. Alex is interviewed about his dating website. Laura takes things up a notch with an older man.
5: Mom - Aired: 2015-10-28
Valerie and Alex's mother shows up unannounced. Valerie receives sound advice from an unlikely source. Laura and Michael share a moment.
6: Biden - Aired: 2015-11-04
Alex's secret leads to a pleasant surprise. Laura bonds with Michael after things spin out of control at school. Valerie opens up with her ex-husband.
7: Home - Aired: 2015-11-11
Alex, Emmy, and Leon get adventurous. Laura is devastated by news involving her mother, Valerie.
8: Bottles - Aired: 2015-11-18
Laura invites several unwelcome guests to Alex's house for Thanksgiving dinner they'll all never forget.
9: Mars - Aired: 2015-11-25
Tensions run high at Dawn and Charles' rehearsal dinner. Laura attends an art exhibition. A discovery shocks Alex to his core.
10: Dave - Aired: 2015-12-02
Alex leans on Leon for emotional support. Laura contemplates a new life. Valerie, Alex, and Emmy reach an impasse.
Season 2 (13 Episodes)
1: Phase 3 - Aired: 2016-06-07
Alex's troubling new obsession leads Valerie to take matters into her own hands. Laura investigates switching high schools.
2: Trivial Pursuit - Aired: 2016-06-07
Alex embraces his new role as Laura's teacher but his methods are questionable. Valerie reaches out to old friends and makes an unsettling discovery.
3: Such Good Friends - Aired: 2016-06-14
Valerie tries to take her friendship with fellow therapist Jennifer to the next level. Alex considers an offer from a venture capitalist to keep Snooger from going under. Laura considers joining a homeschool study group.
4: Big Green Egg - Aired: 2016-06-21
Alex hosts a dinner for his new business partner Jordan, only to be confronted with someone from his past. Valerie joins Jennifer for Game Night with her friends. Laura gets to know one of the girls from her home school group.
5: Bicycle Thieves - Aired: 2016-06-28
Valerie considers her fertility options after a visit with her doctor. Alex reexamines a relationship with an ex-girlfriend. Laura and Aubrey bond over a secret.
6: 100 Cows - Aired: 2016-07-05
Valerie is set up with Jennifer's friend, but her mind is on another person; Alex hopes to impress Sarah with an engagement present; Laura's friendship with Aubrey gets personal.
7: Threesomes - Aired: 2016-07-12
Valerie must choose between two very different men; Alex's relationship with a young co-worker draws attention; Laura and Aubrey present an irresistible offer to Spencer.
8: The Magpie - Aired: 2016-07-19
After Sarah and Jordan's engagement party, Alex's personal and professional lives collide; Valerie reconsiders her decision; Laura's interest in Spencer results in complications.
9: The Lake - Aired: 2016-07-26
Alex and Jordan battle over the future of Snooger; drama at home overshadows Valerie's trip with Jack; Laura wants to visit Spencer in the hospital, but encounters a problem.
10: Reunion - Aired: 2016-08-02
Valerie and Jack indulge their fantasies at a hotel. Alex adjusts to his new life with Sarah. Laura and Spencer screen a series of teen romance films.
11: Death and Taxes - Aired: 2016-08-09
Valerie must spend time with Drew and their accountant; Alex turns to therapy; Laura helps Spencer with tough decisions.
12: 40 - Aired: 2016-08-16
Alex makes plans for Valerie's 40th birthday; Drew and Valerie revisit a place that is special to them; Laura makes a decision regarding Spencer.
13: The Great Unknown - Aired: 2016-08-23
A family crisis brings Valerie, Alex and Laura together.
Season 3 (13 Episodes)
1: Ashes To Ashes - Aired: 2017-05-23
In the wake of Charles' death, Alex and Valerie adjust to their new lives apart. Laura schemes to remove her tattoo. Dawn makes an unexpected announcement.
2: Things to Do in Burbank When You're Dead - Aired: 2017-05-23
After the memorial, Alex and Valerie spend one last night roaming the streets of their old neighborhood and discussing where to scatter Charles' ashes.
3: The Table - Aired: 2017-05-23
Valerie enlists Leon's help to accept delivery of a new dining room table. Alex pitches his business idea to investors. Laura participates in a sex study.
4: The Sprout - Aired: 2017-05-30
Alex reconnects with Emmy. Valerie upgrades her wardrobe before the first day of a storytelling class. Laura starts a new job collecting signatures for a ballot proposition.
5: Look At Me - Aired: 2017-06-06
Valerie's fling with her classmate gets more complicated than she had hoped. Laura uncovers troubling information about her ballot proposition. A date inspires Alex to consider his future.
6: Troubleshooting - Aired: 2017-06-13
Alex reacquaints himself with the demands of working full-time. Valerie catches up with Jennifer and learns an intriguing secret about Jack. Laura goes door-to-door collecting signatures, while interning for a new environmental group.
7: The Rat King - Aired: 2017-06-20
Rae's discovery of a rat in the bathroom sparks a hunt through Alex's house. Leon and Leia's relationship escalates.
8: Venus - Aired: 2017-06-27
Alex makes an unlikely friend at work while trying to unearth the identity of Valerie's brother. Laura's relationship with Casey intensifies. Valerie finds her new arrangement with Jack maddening.
9: Fresno - Aired: 2017-07-04
Valerie and Jack drive to Fresno to meet Valerie's half-brother. Laura considers whether to speak at a town council meeting. Alex's plan to impress a co-worker backfires when his house is taken over by a YouTube celebrity's photo shoot.
10: Cake Walk - Aired: 2017-07-11
Alex searches for answers after losing his sexual powers. Valerie obsesses over Jack's choices while planning a double date with Alex and Judy. Laura finds herself lost after a hard goodbye.
11: Firesale - Aired: 2017-07-18
Valerie is roped into being a bridesmaid for a wedding she thinks is ridiculous. Alex and Judy revel in their new romance. Laura raises money for a move to Sacramento.
12: 99 - Aired: 2017-07-25
It's 1999. A young Valerie and Alex prepare for an unexpected pregnancy. In present day, Laura visits Casey in Sacramento and Valerie's relationship with Jack reaches a breaking point.
13: The Hermit & the Moon - Aired: 2017-08-01
Valerie tries to repair her relationship with Laura while confronting resentments she harbors towards Dawn. Alex resolves to embark on an epic camping trip - but is epically derailed.
Season 4 (8 Episodes)
1: Carrie - Aired: 2018-07-31
When Laura returns following an extended period abroad, Valerie quickly discovers that restoring their fractured relationship might prove more difficult than she had hoped. Meanwhile, Alex's attempts at controlling his new family order are thwarted when an unwelcome presence enters the equation.
2: The Missing Piece - Aired: 2018-07-31
A sudden death has Val questioning her life choices, while Alex struggles with Jeff's intrusion in his family. Laura finds it difficult to balance her relationship with her new career and Leon and Leia receive unexpected news.
3: Virtual Reality - Aired: 2018-07-31
The realities of Valerie's impulsive decision begin to take hold as Laura endures the fallout from her fight with Tathiana. Alex navigates the bizarre world of virtual dating and makes a surprising connection.
4: Dreams Stay With You - Aired: 2018-07-31
Alex embarks on a psychedelic getaway only to encounter anunpleasant figure from his past, while Valerie runs into an old flame during a night out with John. Laura maneuvers a new career opportunity around an inscrutable boss.
5: The Last Super Bowl - Aired: 2018-07-31
During Alex's Last Super Bowl party gone awry, Valerie introduces John to the gang as Alex processes Rae's decision to move out. Laura has a chance run-in with Tathiana. And Leon and Leia are at an impasse after Leia's recent revelation.
6: Polytropos - Aired: 2018-07-31
Following a day of misguided decisions, Alex, Valerie, and Laura begin their overdue pilgrimage to Dawn's. But when their road trip takes an accidental turn, each faces an obstacle that tests their willpower in different ways.
7: All About You - Aired: 2018-07-31
Alex's "first date" with Rae goes less smoothly than planned, while a stubborn John tries Val's patience. Laura returns to Tathiana with a newfound resolve, and Leon and Leia begin the process of mediation.
8: Finale - Aired: 2018-07-31
Alex and Valerie grapple with an unexpected death in the family and put big life decisions on hold to go on a double date. Laura finds clarity in her love life. Series Finale.