General Information
Glossary: H
First Air Date: April 4th, 2013
Last Air Date: August 27th, 2015
Created By: Bryan Fuller
Star Casts: Mads Mikkelsen, Hugh Dancy, Laurence Fishburne, Caroline Dhavernas, Gillian Anderson
Aired On: NBC
Episode Runtime: 43 minutes
Total Seasons: 3 Seasons
Total Episodes: 39 Episodes
Type: Scripted
Status: Ended
Homepage: NBC - Hannibal

Last Updated: Mon, 04 Dec 2023 10:31:22 +0000
Sponsored Links
Ratings
User Rating:
Backdrops Gallery (39 Images)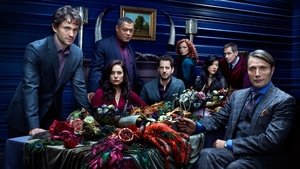 Hannibal
Both a gift and a curse, Graham has the extraordinary ability to think like his prey—he sees what they see, feels what they feel. But while Graham is pursuing an especially troubling, cannibalistic murderer, Special Agent Jack Crawford teams him with a highly respected psychiatrist – a man with a taste for the criminal minded – Dr. Hannibal Lecter.
Seasons and Episodes
Specials (13 Episodes)
1: Œuf (NBC Web Version) - Aired: 2013-04-24
Two families are found murdered, with both mothers killed last. The only link between the families is that they both have sons who have been on the missing persons list for approximately a year. NBC decided not to air the full episode and instead offered this web only version that was approximately 20 minutes long.
2: A Taste for Killing - Aired: 2015-12-08
Season 1
3: The FX of Murder - Aired: 2015-12-08
Season 1
4: A Symphony for the Slaughter - Aired: 2015-12-08
Season 1
5: This is my Design - Aired: 2015-12-15
Season 2
6: The Style of a Killer - Aired: 2015-12-15
Season 2
7: Bodies of Lies - Aired: 2015-12-08
Season 2
8: Killer Intentions (Season 2) - Aired: 2015-12-15
Season 2
9: Getting the Old Scent Again: Reimagining Red Dragon - Aired: 2015-12-08
Season 3
10: Beyond the Mind Palace - Aired: 2015-12-08
Season 3
11: Killer Intentions (Season 3) - Aired: 2015-12-08
Season 3
12: Avid Fannibals - Aired: 2015-12-08
Season 3
13: Hannibal on the run - Aired: 2015-12-08
Season 3
Season 1 (13 Episodes)
1: Apéritif - Aired: 2013-04-04
When the FBI takes on a case of disappearing college girls, Jack Crawford recruits Will Graham, a gifted criminal profiler with a unique view into the psyche of serial killers, to consult. Jack also seeks the help of Dr. Hannibal Lecter, a brilliant psychiatrist. After a copycat strikes, Will and Hannibal join forces to track down the culprit.
2: Amuse-Bouche - Aired: 2013-04-11
Will and Jack race to apprehend a serial killer using humans as fertilizer.
3: Potage - Aired: 2013-04-18
Abigail Hobbs comes out of her coma with new information about her father.
4: Œuf - Aired: 2013-04-24
A series of family murders takes place.
5: Coquilles - Aired: 2013-04-25
Jack and Will search for a killer who turns his victims into angels.
6: Entrée - Aired: 2013-05-02
The Chesapeake Ripper taunts Jack Crawford with guilt from the past.
7: Sorbet - Aired: 2013-05-09
Will races to stop a rogue surgeon extracting organs from his victims.
8: Fromage - Aired: 2013-05-16
A deadly symphony hall killing forces Will to hunt a defiant killer.
9: Trou Normand - Aired: 2013-05-23
Will, Jack and the BAU team hunt for a serial killer who creates a totem pole out of his victims' bodies.
10: Buffet Froid - Aired: 2013-05-30
Will tracks a killer with mental instability similar to his own.
11: Rôti - Aired: 2013-06-06
When Dr. Gideon escapes to terrorize Alana and Dr. Chilton, Hannibal and Will go on the hunt. Eddie Izzard guest stars.
12: Relevés - Aired: 2013-06-13
Hannibal convinces Jack and Alana that Will could be the copycat killer.
13: Savoureux - Aired: 2013-06-20
Hannibal frames Will, convincing Jack and Alana that Will's the copycat killer.
Season 2 (13 Episodes)
1: Kaiseki - Aired: 2014-02-28
With Will Graham in prison, the FBI investigates his claims against Hannibal. A new serial killer emerges.
2: Sakizuke - Aired: 2014-03-07
As the FBI seeks Will's help in tracking a killer who turns his victims' bodies into art, Will plots to reveal the truth about Hannibal.
3: Hassun - Aired: 2014-03-14
As Will's murder trial begins, a copycat killer sends a gruesome message. Jack is under pressure to wrap up Will's case while Hannibal hopes for his friend's exoneration.
4: Takiawase - Aired: 2014-03-21
Emboldened after drug therapy from Dr. Chilton, Will sets a deadly plan in place to expose Hannibal. A new killer is turning victims into beehives.
5: Mukōzuke - Aired: 2014-03-28
The BSU investigates Beverly's death after her body is found displayed in a gruesome tableau. Abel Gideon returns to the Baltimore Hospital for the Criminally Insane. Will seeks a horrific revenge for Beverly's death.
6: Futamono - Aired: 2014-04-04
Jack suspects Hannibal might be the Chesapeake Ripper as two more victims turn up. Hannibal and Alana distance themselves from Will.
7: Yakimono - Aired: 2014-04-11
As Miriam Lass begins her recovery, Will is released from prison and resumes his pursuit of Hannibal.
8: Su-zakana - Aired: 2014-04-18
Will resumes his therapy with Dr. Lecter. The FBI investigates the murder of a woman whose body was found sewn inside a dead horse.
9: Shiizakana - Aired: 2014-04-25
Margot Verger seeks out Will as she tries to understand Hannibal. The FBI searches for an animalistic killer who tears his victims' bodies apart.
10: Naka-Choko - Aired: 2014-05-02
Will's readiness to go to dark places strengthens his bond with Hannibal.
11: Kō No Mono - Aired: 2014-05-09
Will and Margot hide her pregnancy from Mason. After Freddie's gruesome murder, Alana's doubts about Will and Hannibal grow stronger.
12: Tome-wan - Aired: 2014-05-16
Bedelia returns and accepts immunity to testify against Hannibal. Mason Verger plots revenge after learning of Hannibal's manipulations.
13: Mizumono - Aired: 2014-05-23
Springing their trap, Jack, Will and Alana face off with Hannibal in a bloody final showdown, but the doctor has a few surprises of his own.
Season 3 (13 Episodes)
1: Antipasto - Aired: 2015-06-04
After the devastating bloodbath at Lecters home Hannibal establishes a new life for himself in Italy along with the company of his own psychiatrist Bedelia.
2: Primavera - Aired: 2015-06-11
With his wounds now healed, Will Graham heads to Europe eight months after the horrific event that almost took his life, in search of closure with Hannibal Lecter. Meanwhile an Italian inspector thinks that Lecter and a killer he pursued 20 years earlier are the same person.
3: Secondo - Aired: 2015-06-18
Will Graham continues his search for Hannibal Lecter, making his way to Hannibal's childhood home in Lithuania. Meanwhile, Jack Crawford arrives in Italy, hoping to find Will and intervene before tragedy strikes again, and Bedelia warns Hannibal against unraveling his new life.
4: Aperitivo - Aired: 2015-06-25
After surviving a disfiguring gunshot, Dr. Fredrick Chilton is now focused on rallying support to capture Hannibal, using Will as bait. Jack is distracted by Bella's failing health, but he implores Will to abandon the risky idea of finding Hannibal. Meanwhile, Alana Bloom entertains a different approach, potentially partnering with Mason Verger to utilize his vast resources.
5: Contorno - Aired: 2015-07-02
The hunt for Hannibal begins. Will travels via train with Chiyoh to Florence, as Alanna and Mason use Hannibal's fine tastes to track his whereabouts. Pazzi tries to get in close to find out if Hannibal is the man he's looking for, but his greed may get the better of him.
6: Dolce - Aired: 2015-07-09
With Bedelia securing her alibi, Hannibal prepares to leave Florence just as Jack and Will begin to track him down. With Pazzi murdered, Mason and his cohorts consider a different course of action. However, Chiyoh has arrived in Florence with her own agenda.
7: Digestivo - Aired: 2015-07-16
Captured in Italy by police on Mason Verger's payroll, Will Graham and Hannibal Lecter are delivered to Muskrat Farm to await Mason's revenge. Alana, distressed that Will has been endangered along with Hannibal, plots a rescue. And Hannibal, once again in contact with his old patient Margot, finds it irresistible to remind her that Mason will never make good on his promises. Meanwhile, Jack informs Chiyo of Hannibal's location.
8: The Great Red Dragon - Aired: 2015-07-23
Dr. Hannibal Lecter has been under lock and key for three years at the Baltimore State Hospital for the Criminally Insane, when a new villain arises in Francis Dolarhyde, also known as "The Tooth Fairy." As the investigation unfolds Jack Crawford approaches Will Graham to help catch this vicious serial killer who is targeting families.
9: And the Woman Clothed with the Sun… - Aired: 2015-07-30
The FBI's search for elusive serial killer Francis Dolarhyde intensifies as Will Graham begins envisioning himself in Dolarhyde's tormented psyche. Wading deeper into dangerous territory, Will enlists the help of Hannibal Lecter to assist with the killer's profile. Meanwhile, Alana Bloom reminds Will that the last time that he and Hannibal worked together things didn't end well, but Will sees no other option. Elsewhere, a new woman comes into Dolarhyde's life.
10: And the Woman Clothed in Sun - Aired: 2015-08-06
Carvings symbolizing the Great Red Dragon, retrieved from crime scenes, help Will Graham and the FBI shed light on Francis Dolarhyde's disturbing psychology. Meanwhile, Dolarhyde finds ways to communicate directly with Hannibal Lecter regarding his "becoming." Will feels his bond with Hannibal growing uncomfortably stronger, and seeks out Bedelia Du Maurier, the only other person who fully understands the complexities of such a relationship.
11: And the Beast from the Sea - Aired: 2015-08-13
Convinced that the Red Dragon will strike at the next full moon, Jack and Will grow desperate, and Alana turns to Hannibal for help.
12: The Number of the Beast is 666 - Aired: 2015-08-20
Will Graham and the FBI enlist the expertise of Dr. Fredrick Chilton in the hopes of luring Francis Dolarhyde into an ambush, using Freddie Lounds as their mouthpiece. As Will's empathy for Dolarhyde begins to affect his fragile psyche, Bedelia Du Maurier warns that the killer Will should be most concerned about at the moment is himself. Meanwhile, Dolarhyde senses that the FBI is closing in and launches a horrifying endgame.
13: The Wrath of the Lamb - Aired: 2015-08-27
In a desperate bid to slay Francis Dolarhyde, Will Graham engineers a cunning ploy utilizing Hannibal Lecter. Upon learning of his plan, Bedelia Du Maurier voices concerns that Will's actions may not only put his life in peril, but the lives of those around him. As the end draws near, Will remains unflinching in his game with Hannibal-even when it means coming face-to-face with his own darkest fears?