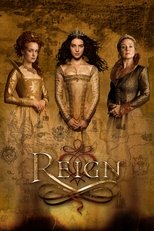 General Information
Glossary: R
First Air Date: October 17th, 2013
Last Air Date: June 16th, 2017
Created By: Laurie McCarthy, Stephanie Sengupta
Star Casts: Adelaide Kane, Megan Follows, Celina Sinden, Craig Parker, Jonathan Goad, Rachel Skarsten, Spencer MacPherson, Ben Geurens, Will Kemp, Daniel Matmor, Manolo Cardona
Aired On: The CW
Episode Runtime: 42 minutes
Total Seasons: 4 Seasons
Total Episodes: 78 Episodes
Type: Scripted
Status: Ended
Homepage: The CW - Reign

Last Updated: Tue, 28 Feb 2023 22:32:06 +0000
Sponsored Links
Ratings
User Rating:
Backdrops Gallery (27 Images)
Reign
Mary, Queen of Scots, faces political and sexual intrigue in the treacherous world of the French court.
Seasons and Episodes
Season 1 (22 Episodes)
1: Pilot - Aired: 2013-10-17
Mary arrives in France to formalize her arranged marriage to Prince Francis, but complications arise when she meets his attractive half brother and skeptical mother in the series premiere of this historical drama about young monarchs.
2: Snakes in the Garden - Aired: 2013-10-24
Mary and Francis play up their romance after an English envoy expresses doubts about their union. Elsewhere, Catherine seeks to eliminate an individual who's aware of her scheme to destroy Mary.
3: Kissed - Aired: 2013-10-31
A Portuguese prince offers much-needed aid to Scotland if Mary accepts his marriage proposal and break things off with Francis. Elsewhere, Francis' feelings for Mary lead him to put Bash in a risky situation.
4: Hearts and Minds - Aired: 2013-11-07
Mary has a chance to get out of her engagement, but it requires lying and sentencing a man to death. Meanwhile, Francis and Bash suspect that Tomas may be disguising his real motives.
5: A Chill in the Air - Aired: 2013-11-14
An ex-lover of Francis' arrives and brings danger with her, so an uneasy Mary turns to Bash for comfort. Meanwhile, Queen Catherine persuades Aylee to snoop on Mary; and Bash lands in hot water with heretics, who accuse him of disrupting a sacred ritual.
6: Chosen - Aired: 2013-11-21
Francis observes the growing bond between Mary and Bash, so he turns to Olivia. Meanwhile, Catherine wants to ensure that whoever threatened Mary is captured; Bash seeks to repay his debt; and Kenna tells her friends about her affair with Henry.
7: Left Behind - Aired: 2013-12-05
Mary and Francis are taken hostage when the castle falls under siege, and Catherine makes a shocking suggestion in an effort to save them. Meanwhile, Diane reveals to Bash that she's plotting to have him declared legitimate.
8: Fated - Aired: 2013-12-12
Nostradamus shares with Mary his prophecy about a death, which leads Mary to make a big decision concerning Francis. Meanwhile, Clarissa gets brazen as she pursues her goals; and Kenna tells Catherine about Diane's intentions regarding Bash.
9: For King and Country - Aired: 2014-01-23
Mary and Bass return to the castle, where Catherine remains resolved to keep Francis safe from Mary. Meanwhile, Francis learns of the dark prophecy, but it does not dissuade his desire to marry Mary.
10: Sacrifice - Aired: 2014-01-30
An assassination attempt is made on Bash's life, and Catherine appears to be responsible for it. Meanwhile, Mary offers assistance to a jailed peasant who has a curious link to Bash; and Lola tries to stop Catherine from meddling with Bash and Mary.
11: Inquisition - Aired: 2014-02-06
Henry claims Catherine has committed treason and adultery, so she attempts to save herself by shedding light on a dark part of Bash's past, and Bash and Mary then try to even the score. Meanwhile, Nostradamus discloses the truth about the castle's ghost.
12: Royal Blood - Aired: 2014-02-27
Clarissa kidnaps Henry and Catherine's youngest sons, so Catherine turns to Mary and Bash for help. Elsewhere, Lola tries to assist her brother with a debt, but when she gets in over her head, Francis comes to her aid.
13: The Consummation - Aired: 2014-03-06
Mary must decide whether to marry Bash or Francis, who returns accompanied by Lola. Meanwhile, Mary's mother visits and pushes her own agenda, and her mere presence in the castle troubles both Henry and Catherine.
14: Dirty Laundry - Aired: 2014-03-13
Mary's honeymoon ends and she returns to the castle. Meanwhile, Lola displays some odd behavior, which leads to a secret being exposed; Bash finds a bewildered Olivia and asks Nostradamus to assist her; and Henry seeks help from Catherine.
15: The Darkness - Aired: 2014-03-20
A matchmaking event is held for the women in the castle, but Lola doesn't want to take part in it. Meanwhile, Kenna grows frightened when Henry flies into another rage, so she turns to Catherine; and Bash learns firsthand about the horrors of the woods.
16: Monsters - Aired: 2014-03-27
Bash saves Francis' life while they're in the woods exploring the latest ominous threat. Meanwhile, Henry becomes obsessed with a servant who won a contest; Greer is seen kissing a kitchen servant; and Henry forces a new couple into a union.
17: Liege Lord - Aired: 2014-04-10
Mary uncovers her marriage contract's secret clause, which was added by Catherine and her mother, so she and Francis attempt to persuade the people of Scotland to renounce her mother.
18: No Exit - Aired: 2014-04-17
Mary's brother visits and asks her to return to Scotland, but Francis is suspicious of his motives. Meanwhile, Penelope takes command as Henry's mental instability progresses; and Lola is skeptical about Julien's marriage proposal.
19: Toy Soldiers - Aired: 2014-04-24
Mary's uncle arrives at the castle and brings dire news about her mother, forcing Mary and Francis to make a tough choice about priorities. Meanwhile, Henry devises a destructive plan; and Bash and Kenna grow closer as they strengthen their forced union.
20: Higher Ground - Aired: 2014-05-01
Mary hires a mercenary to help her save Scotland. Meanwhile, Francis prepares France to wage war on England, and Leith becomes his ally in this endeavor; and Lola and Julien's bond deepens, but she fears he will betray her.
21: Long Live the King - Aired: 2014-05-08
Mary teams up with Catherine to deal with Henry, whose deranged behavior puts Francis at risk. Elsewhere, Bash resolves to destroy the Darkness after meeting a boy who survived the horror; and a devoted Lola tries to protect Julien.
22: Slaughter of Innocence - Aired: 2014-05-15
Mary and Francis take drastic action in response to Henry's madness. Meanwhile, a terror in the woods puts everyone in peril; and Mary makes a bold choice when she discovers Lola is in the midst of a life-threatening labor.
Season 2 (22 Episodes)
1: The Plague - Aired: 2014-10-02
Francis and Mary's new rule is threatened when a plague ravages the land. Kenna's life is at risk. Greer discovers something shocking about Leith.
2: Drawn and Quartered - Aired: 2014-10-09
A powerful and dominating Lord learns Mary was responsible for his son's death, he demands retribution. Francis and Lola return to the castle with their new son.
3: Coronation - Aired: 2014-10-16
Mary searches for a way to feed the people of France; Francis is haunted by suspicions about his dead father's spirit; Catherine plans a lavish coronation ceremony.
4: The Lamb and the Slaughter - Aired: 2014-10-23
Shadowy riders have attacked a shepherd, Lord Conde and Bash investigate. Mary reconsiders her relationship with Lola. Leith returns to court.
5: Blood for Blood - Aired: 2014-10-30
Tension rises between the Catholics and the Protestants. Francis receives a gift from his dead father. Kenna is shocked by a discovery.
6: Three Queens - Aired: 2014-11-06
Mary and Catherine have to hide their identities when they meet a mob of angry peasants. Lola wants to become independent.
7: The Prince of the Blood - Aired: 2014-11-13
Princess Claude makes a surprise visit home. The princess is known to be a provocative and reckless young woman. Greer's wedding tour ends earlier than expected.
8: Terror of the Faithful - Aired: 2014-11-20
Some Vatican inquisitors punish those believed to be a Protestant. Lord Condé ends up being abducted.
9: Acts of War - Aired: 2014-12-04
Bash and Francis come up with a daring plan whilst Mary has a surprising proposal for Claude.
10: Mercy - Aired: 2014-12-11
Francis comes to a surprising decision. Mary takes part in a treacherous mission with Lord Condé.
11: Getaway - Aired: 2015-01-22
Mary attempts to help Condé after finding out that the Vatican is after him.
12: Banished - Aired: 2015-01-29
Mary ends up doing something unexpected. The rivalry between Francis and Condé increases.
13: Sins of the Past - Aired: 2015-02-05
As they prepare for a feast, King Antoine tells Francis and Mary about England's plans for revenge.
14: The End of Mourning - Aired: 2015-02-12
As Mary and Francis investigate who was behind the poisoning of King Henry (Alan Van Sprang), they unearth secrets of the past which force Mary to confront her feelings for Conde as she attempts to move forward. Catherine finds herself in the middle of a romantic triangle when the Duke of Guise (guest star Gil Darnell) returns, which forces Narcisse (Craig Parker) to commit a hideous act out of desperation. Meanwhile, Greer (Celina Sinden) finds herself in a situation she never fathomed in order to survive.
15: Forbidden - Aired: 2015-02-19
Mary's mother (guest star Amy Brenneman) returns to advise Mary that her throne is in jeopardy. Mary makes a shocking proposition to Conde, along with a bold move to reclaim her throne. Francis moves closer to Lola after a setback with Mary, while King Antoine (guest star Ben Aldridge) makes Kenna an interesting offer. Megan Follows, Craig Parker, Rose Williams, Celina Sinden, Torrance Coombs and Jonathan Keltz also star.
16: Tasting Revenge - Aired: 2015-03-12
Francis makes a surprising move after being threatened by King Antoine; Bash and Kenna's marriage is in trouble; Leith makes a discovery about Greer's new career path.
17: Tempting Fate - Aired: 2015-03-19
Catherine is suspicious that Mary and Condé are having an affair; Francis becomes ill; Bash's life is in peril; Leith is forced to guard Claude.
18: Reversal of Fortune - Aired: 2015-04-16
Mary becomes the temporary leader of France; Catherine asks Narcisse for help beating Mary at her own game; Bash sees a familiar face in the village.
19: Abandoned - Aired: 2015-04-23
Mary aligns herself with France as the threat of England looms; Condé makes an audacious move; Kenna and Gen. Renaude grow closer.
20: Fugitive - Aired: 2015-04-30
Mary takes extreme measures as she tries to stop Francis from catching Condé; a jealous Catherine wants Narcisse to prove himself; Greer makes a decision that could end her relationship with Leith.
21: The Siege - Aired: 2015-05-07
Francis and Mary are forced to set aside their differences and determine the extent of Condé's betrayal; Catherine teaches Narcisse a lesson; Bash brings Delphine to the castle.
22: Burn - Aired: 2015-05-14
As Francis thinks Mary is turning against France, she risks everything to take Condé down; Catherine meets with Queen Elizabeth; Kenna's secret will seal the fate of her relationship with Bash.
Season 3 (18 Episodes)
1: Three Queens, Two Tigers - Aired: 2015-10-09
Queen Mary struggles to hold on to her power in Scotland amidst Queen Elizabeth's campaign to sabotage her with the help of a new ally in Queen Catherine. Meanwhile, with Francis' fate at odds and Elizabeth distracted by temptation in her first love, Robert Dudley, both queens struggle to rule.
2: Betrothed - Aired: 2015-10-16
Elizabeth must deal with the political backlash of harboring Catherine in England, while Catherine is imprisoned upon her return to France. Mary is forced to make some difficult decisions about securing Scotland's future and Lola is conflicted in her feelings for Narcisse.
3: Extreme Measures - Aired: 2015-10-23
When King Antoine unexpectedly returns to Court, Mary must help Francis hide his weakening condition long enough to secure his family's future. With the Throne in jeopardy and time running out, they must turn to an unlikely ally in need of redemption.
4: The Price - Aired: 2015-11-06
After Mary receives an urgent message from her ailing mother about the dire situation in Scotland, she finds herself looking to Francis for aid. Catherine finds herself up against Narcisse as she fights to become the regent to Charles. Meanwhile, Elizabeth faces continued pressure to wed.
5: In A Clearing - Aired: 2015-11-13
Grateful for a future with a revived Francis, Mary considers signing away her claim to the English throne, and staying in France forever. Catherine learns that Nostradamus has returned -- with a new vision involving Francis' fate.
6: Fight or Flight - Aired: 2015-11-20
Mary realizes she must help Catherine in her quest to become regent, even at the risk of hurting the alliance with Scotland. Claude is determined to help Leith marry while Elizabeth struggles with the prospect of losing Dudley.
7: The Hound and the Hare - Aired: 2015-12-04
Mary unearths a dark secret being kept by a Spanish prince, so she seeks Catherine's counsel. Meanwhile, suspicion surrounds a new ambassador from English court; and Bash's quest to find a mysterious murderer takes him to Greer's tavern.
8: Our Undoing - Aired: 2016-01-08
Mary must marry again in order to help Scotland, whose welfare she has to prioritize over her heart. Meanwhile, Catherine is accused of poisoning Francis, but Mary believes Catherine is being framed by Narcisse, who's angling to become regent of France.
9: Wedlock - Aired: 2016-01-15
Claude is forced to marry someone selected by Narcisse. Meanwhile, a surprising discovery is made by Elizabeth, and it could alter her reign; and Mary asks Gideon to help her confirm her suspicions about Prince Don Carlos.
10: Bruises That Lie - Aired: 2016-01-22
Mary's feelings for Gideon are hard to suppress, but she does her best as she seeks political allies. Meanwhile, Elizabeth and Greer face gut-wrenching scenarios; Claude is in danger on her wedding night; and a power struggle over the regency continues.
11: Succession - Aired: 2016-04-25
Charles' coronation nears, forcing Mary to find a suitor who will be her ally. Meanwhile, Lola discovers who's been poisoning Elizabeth; and the castle's serial killer has special plans for Catherine.
12: No Way Out - Aired: 2016-05-02
Mary must prioritize her life over her cousin's. Meanwhile, Lola and Elizabeth unexpectedly join forces; Catherine can't escape her past; and Mary and Gideon begin to see each other in a new light.
13: Strange Bedfellows - Aired: 2016-05-09
Mary, in order to protect Elizabeth, unknowingly puts Gideon's life in danger. To save him, Mary turns to another Englishman for help – Robert Dudley. Meanwhile, Bash is determined to track down the men behind the threats to Catherine
14: To the Death - Aired: 2016-05-16
Mary realizes she must return to Scotland and raise an army to save her throne; Lola gets caught while trying to help Elizabeth find information about her mother.
15: Safe Passage - Aired: 2016-05-23
Mary learns from Lola that she has a chance to get to Scotland safely, but she must act quietly and quickly. When Catherine is framed for murder, Mary must decide if she should stay to protect her, which would jeopardize her safe passage to Scotland.
16: Clans - Aired: 2016-06-06
When Mary arrives in Scotland, she is stunned by the treacherous world it has become and is forced her to keep her royal identity a secret until she learns who she can trust. When Elizabeth jeopardizes her standing with an unbearable new suitor, Lola steps in to help, which causes the Queen to question Lola's ulterior motives.
17: Intruders - Aired: 2016-06-13
When Mary is presumed dead, Elizabeth asks for Lola's help in taking the Scottish crown for herself; James must defend Mary's throne from John Knox; Mary faces Francis's killer.
18: Spiders in a Jar - Aired: 2016-06-20
Mary makes a bold move to defend her reign in Scotland, which results in a battle royale with her cousin, Elizabeth. Lola is accused of a heinous crime and suffers the drastic consequences. Meanwhile, back in France, Catherine finds that Charles has returned a changed man after paying a price for his mother's relentless quest for power.
Season 4 (16 Episodes)
1: With Friends Like These - Aired: 2017-02-10
Queen Mary, unsure who to trust, tests her brother James to ensure his loyalty after hearing of his meeting with John Knox. Queen Elizabeth agrees to help Lord Darnley, in an attempt to sabotage the powerful suitor's relationship with Mary.
2: A Grain of Deception - Aired: 2017-02-17
Queen Mary discovers there is a leak amongst her advisors and sets out to uncover the traitor. Queen Elizabeth enlists Narcisse to further her quest for supremacy. Catherine takes desperate measures to regain some of the power she has lost.
3: Leaps of Faith - Aired: 2017-02-24
Gideon shows Mary what life could be like if she chose love over country. Catherine fights to cover King Charles' increasingly erratic behavior, while Claude finds an enemy in her sister Leeza.
4: Playing with Fire - Aired: 2017-03-03
When Lord Darnley surprises Mary with a visit in Scotland, Mary sees a glimmer of a union that could be more than just political. Elizabeth fights to gain allies in her favor and Catherine must work to get Claude back on track by finding her a new husband.
5: Highland Games - Aired: 2017-03-17
In order to get Mary to agree to a marriage, Lord Darnley must demonstrate his loyalty when she voices her concerns about his true intentions. Catherine and Narcisse work to repair King Charles' reputation after rumors spread about his strange behavior and threaten the throne.
6: Love & Death - Aired: 2017-03-24
Mary must deal with the political repercussions of a potential marriage to Lord Darnley and King Charles disappears, leaving Catherine to pick up the pieces. Elizabeth comes to Gideon's aid, while Claude receives an interesting proposition.
7: Hanging Swords - Aired: 2017-03-31
When Darnley gets a surprise visitor, his marriage to Mary hangs in the balance. Elizabeth learns her attempt to stop Mary backfired. Meanwhile, Catherine and Narcisse find King Charles and must convince him to return to the castle.
8: Uncharted Waters - Aired: 2017-04-07
As Mary's upcoming wedding looms, a terrible tragedy pushes Mary and Darnley apart, forcing Mary to enlist in Catherine's help. Elizabeth encounters a traitor to Spain, who petitions her to support an expedition to the New World.
9: Pulling Strings - Aired: 2017-04-14
Mary and Darnley wed in a lavish affair, which proves to be a successful decision in regards to her political standing. James makes an interesting discovery about Greer, while Elizabeth frantically tries to salvage England's power.
10: A Better Man - Aired: 2017-04-28
Mary contemplates how to take over the English throne; Elizabeth struggles to find an appropriate suitor to marry. James gets caught up in a scheme orchestrated by John Knox.
11: Dead of Night - Aired: 2017-05-05
Mary and Darnley are at odds as their plan to seize England is put into action. Elizabeth is conflicted about her feelings for Gideon. Catherine's son Henri tries to claim the throne from Charles.
12: The Shakedown - Aired: 2017-05-12
After a tragic earthquake hits Scotland, Mary must face John Knox amidst claims that she isn't coming to the aid of her people. Elizabeth takes drastic measures after she is discovered with Gideon, while Charles makes a decision that backfires.
13: Coup de Grace - Aired: 2017-05-19
Darnley teams up with John Knox to strip Mary of her throne, which will leave a close friend of Mary's dead. Elizabeth must banish Gideon from court at the request of her future husband, while Charles takes a bold stance against his brother Henri.
14: A Bride. A Box. A Body. - Aired: 2017-06-02
Mary pursues justice by launching a counterattack on her conspirators. Elizabeth suffers a major setback, and it turns her world upside down.
15: Blood in the Water - Aired: 2017-06-09
Mary's life hangs in the balance — Childbirth threatens to take Mary's life, which leaves her and her unborn child's safety in jeopardy. Elizabeth discovers that someone in her inner circle was the cause of the death of someone close to her.
16: All It Cost Her - Aired: 2017-06-16
In the series finale, Mary changes the course of history with a decision she makes, and her perilous move for survival causes her to have a stunning realization. Meanwhile, Elizabeth steadies herself for war and becomes the instigator in Mary's demise.