General Information
Glossary: T
First Air Date: January 11th, 2015
Last Air Date: April 10th, 2016
Created By: Jay Duplass, Mark Duplass
Star Casts: Mark Duplass, Melanie Lynskey, Steve Zissis, Amanda Peet
Aired On: HBO
Episode Runtime: 30 minutes
Total Seasons: 2 Seasons
Total Episodes: 16 Episodes
Type: Scripted
Status: Ended
Homepage: HBO - Togetherness

Last Updated: Thu, 16 Sep 2021 10:30:44 +0000
Sponsored Links
Ratings
User Rating:
Backdrops Gallery (8 Images)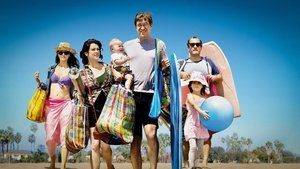 Togetherness
Four adults nearing 40, living under the same roof, struggle to keep their relationships and their individual dreams alive.
Seasons and Episodes
Season 1 (8 Episodes)
1: Family Day - Aired: 2015-01-11
After Alex, a struggling actor, is evicted from his apartment, his best friend, Brett, a sound designer who's married and has two young kids, tries to convince him to stay in LA. Meanwhile, Brett's wife, Michelle, deals with her directionless big sister, Tina, who's visiting from Houston. Following a group outing at the beach, Michelle and Brett clash while Tina confronts an ex, with Alex's help.
2: Handcuffs - Aired: 2015-01-18
Tina tries to shake Alex out of his funk by enlisting him to help with her business and vowing to help him get the career of his dreams. Brett gets in trouble at work when his creative instincts rub co-workers the wrong way. Tina convinces Michelle to spice things up in the bedroom.
3: Insanity - Aired: 2015-01-25
Brett's invite to a movie premiere leads to an impromptu night on the town for everyone. Tina and Alex engage in a personal "mission," Brett looks to mend a work relationship, and Michelle meets David, a divorced dad who wants to start a new charter school. Brett finds a way to cheer up Alex.
4: Houston, We Have a Problem - Aired: 2015-02-08
Alex and Tina fly back to Houston to pack up her things. During a night of drinks and dancing, Tina finds herself unexpectedly jealous of Alex. Back in LA, Brett whisks Michelle away for some much-needed intimacy.
5: Kick the Can - Aired: 2015-02-15
After an intense therapy session, Michelle organizes a day of fun with old friends, despite Brett's lack of enthusiasm. When a group of hipsters looks to sour their plans, Michelle challenges them to a brutal game of "kick the can."
6: Ghost in Chains - Aired: 2015-02-22
During a morning hike, Brett meets Linda, a new-age believer who encourages him to get in touch with himself. Tina tries to make up with Alex by getting him an audition, Michelle helps David with the charter school and Brett takes a stand at work and opens up about his feelings.
7: Party Time - Aired: 2015-03-01
Michelle throws a fundraising party for the charter school while Brett enters a new state of mind at Linda's house. Still at odds with Alex, Tina struggles with her bouncy-castle business; later, a conversation with Larry makes her rethink the future. Brett has a chat with David and an honest conversation with Michelle.
8: Not So Together - Aired: 2015-03-08
When Alex gets big career news, he seeks out Tina, who is busy planning her future with Larry. On a trip to Sacramento, Michelle steps up to the plate in a big way. After a day at the beach with the kids, Brett decides to share his feelings with Michelle.
Season 2 (8 Episodes)
1: Hotels - Aired: 2016-02-21
Alex receives a surprise birthday visit on the set of his new film in New Orleans.
2: Everybody Is Grownups - Aired: 2016-02-28
Michelle attempts to make the charter school a reality. Tina falls out with Alex's new girlfriend at his welcome home party.
3: Advanced Pretend - Aired: 2016-03-06
Brett and Alex get out of town while Michelle and Tina juggle the kids, and Christy. 
4: Changetown - Aired: 2016-03-13
Brett and Alex are busy with a new passion project. Michelle manages to bond with Anna. Alex does not like the major changes at work.
5: Just The Range - Aired: 2016-03-20
Brett struggles with the challenges and unexpected perks of a new side gig. Tina and Larry discuss life goals. Alex bristles over an unstable new director but softens to him and finds the two have common ground. Anna proves herself indispensable to Michelle.
6: Geri-ina - Aired: 2016-03-27
Alex decides to bring in somebody from Brett's past to help with their project. Tina feels proactive.
7: The Sand Situation - Aired: 2016-04-03
Facing pressure to build the school she envisioned, Michelle turns to Brett and Alex for help. A midnight trip to the beach puts Brett in an awkward situation, while Alex worries about Tina's behavior. 
8: For The Kids - Aired: 2016-04-10
Michelle is inspired by the kids as the foursome makes a last-ditch effort to save her charter school plans.