General Information
Glossary: T
First Air Date: October 3rd, 2013
Last Air Date: July 18th, 2015
Created By: Greg Garcia
Star Casts: Will Arnett, Beau Bridges, Margo Martindale, Nelson Franklin, Jayma Mays, J.B. Smoove, Lulu Wilson, Sean Hayes
Aired On: CBS
Episode Runtime: 22 minutes
Total Seasons: 2 Seasons
Total Episodes: 34 Episodes
Type: Scripted
Status: Canceled
Homepage: CBS - The Millers

Last Updated: Sun, 28 Nov 2021 22:31:36 +0000
Sponsored Links
Ratings
User Rating:
Backdrops Gallery (1 Image)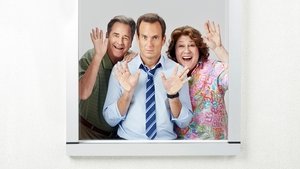 The Millers
A divorced reporter, looking forward to the single life, finds his parents' marital problems derail his plans.
Seasons and Episodes
Season 1 (23 Episodes)
1: Pilot - Aired: 2013-10-03
Nathan and his sister, Debbie, are upset when their parents announce they're divorcing after 43 years of marriage. However, that's nothing compared to the panic they feel when Carol, their intrusive mother, announces that she's moving in with Nathan, while Tom, their easily distracted father, is moving in with Debbie.
2: Plot Twists - Aired: 2013-10-10
When Carol dictates that it's time to rearrange the family's positions in the Millers cemetery plot because of the two divorces, Nathan needs to approach his ex-wife, Janice, to ask her to sign back her space to the family.
3: The Phone Upgrade - Aired: 2013-10-17
Nathan and Debbie trade parents when they each think the other sibling has it easier.
4: The Mother is In - Aired: 2013-10-24
When Carol finds out that Nathan is seeing a therapist, she secretly makes an appointment for herself in order to find out what's going on.
5: Giving the Bird - Aired: 2013-10-31
It's Halloween, and Nathan, Debbie and Adam take Mikayla trick-or-treating to the house of an old woman who everyone in the neighborhood thinks is a witch. Meanwhile, Nathan and Debbie are furious when they discover Carol lied about what really happened to their pet parrot they thought flew away when they were kids.
6: Stuff - Aired: 2013-11-07
Nathan hatches a plan to get his parents back together by showing them all of their sentimental family possessions in the hopes it will make them remember the good times they've had.
7: The Talk - Aired: 2013-11-14
When Carol finds out that Tom never had "the talk" with Nathan about the birds and the bees, she insists it's not too late to gather the family together and do it now.
8: Internet Dating - Aired: 2013-11-21
When Nathan helps Carol set up her profile on an Internet dating site, he and Ray get so excited about one of her potential suitors, they start corresponding with him, pretending to be Carol.
9: You're in Trouble - Aired: 2013-12-05
When Nathan learns why Debbie is Tom's favorite child instead of him, he decides it's time to fill his parents in on some of Debbie's childhood secrets.
10: Carol's Parents are Coming to Town - Aired: 2013-12-12
When Carol's overbearing mother and father announce they're coming to visit for Christmas, Carol recruits Nate and Tom to cover up their failed relationships and present a happy facade. However, Nate begins to believe the lie, and considers getting back together with his ex, Janice.
11: Dear Diary - Aired: 2014-01-02
When Debbie suspects Nathan and Carol of secretly reading her diary, she and Adam plant a fake entry about Tom in order to prove it.
12: Miller's Mind - Aired: 2014-01-09
Nathan learns to appreciate Carol's incessant rants after he mimics one of them at work and is rewarded with his own news segment to complain on the air. But when his tirades lack the flair and fervor of his mother's, he secretly devises ways to keep her irritated in order to get new material.
13: Driving Miss Crazy - Aired: 2014-01-30
When Nathan gets frustrated after he's forced to drive Carol around town for errands once again, he demands that she either learn how to drive or find another chauffeur. But when Debbie volunteers Adam to drive Carol, everyone's surprised when they form an unexpected bond.
14: Carol's Surprise - Aired: 2014-02-06
Nathan is determined to finally, just once, surprise the "unsurpriseable" Carol on her birthday.
15: You Betcha - Aired: 2014-02-27
Nathan asks Tom to spend the weekend with him in the hopes of finding something they have in common. Also, while Debbie and Adam are out of town at a vegetarian convention, Carol stays with Mikayla and accidentally turns her upraising upside-down.
16: Bahama Mama - Aired: 2014-03-06
Just as Nathan begins to unwind on his vacation in the Bahamas, Carol's surprise appearance gets him riled up all over again until they meet Ganja Pete. Meanwhile, Debbie is upset with Adam when she learns that he used to write love songs for the special girls in his life when he was younger
17: Plus One - Aired: 2014-03-13
Nathan's excitement at scoring a ticket for himself and a guest to a dinner with President Obama turns to dread when he has to pick one of his family members to be his "plus one".
18: Walk-n-Wave - Aired: 2014-04-03
Nathan gets more than he bargained for when he befriends a hapless coworker. Meanwhile, Tom and Adam argue over who is smarter and take an online test to settle the matter.
19: Cancellation Fee - Aired: 2014-04-10
Nathan tries to hide his relationship with his mother's dentist, who angered Carol with a $75 charge for being late to an appointment; Tom keeps waking up with gum in his hair.
20: Tomlandia - Aired: 2014-04-24
Nathan pitches a Saturday morning children's program inspired by Tom's imagination to his station manager.
21: 0072 - Aired: 2014-05-01
When Tom proudly tells the family he's dating a much younger woman, Nathan goes undercover to spy on him and make sure his father isn't being scammed by a gold digger.
22: Sex Ed Dolan - Aired: 2014-05-08
Nathan introduces his boss, Ed Dolan, to Tom in hopes they'll hit it off and hang out together, but surprisingly, Dolan only has eyes for Carol.
23: Mother's Day - Aired: 2014-05-15
Carol has the worst Mother's Day ever when Nathan forgets to get her a present.
Season 2 (11 Episodes)
1: Movin' Out (Carol's Song) - Aired: 2014-10-20
Nathan and Debbie try to help carol find a new apartment--as far away from them as possible; Carol makes a new friend named Kip Finkle.
2: Reunited and It Feels So Bad - Aired: 2014-10-27
Debbie and Nathan fear that their parents are reuniting when Carol and Tom feel hesitant about formally ending their marriage.
3: Give Metta World Peace a Chance - Aired: 2014-11-03
Nathan lands the biggest interview of his career with pro basketball player Metta World Peace.
4: You Are the Wind Beneath My Wings, Man - Aired: 2014-11-10
When Ray discusses Nathan's history of being a terrible wingman, Nathan tries to become less self-involved so he can be a better friend.
5: CON-Troversy - Aired: 2014-11-17
Nathan is assigned to cover a Sci-Fi Fest for his workplace and runs into a famous book author who has hated him since grade school. Meanwhile, Adam has an identity crisis when he learns that much of what he was taught on the commune was based on the mythology of Star Wars.
6: Diggin' Up Bones - Aired: 2015-07-04
Kip encourages Carol to be bolder by confronting her former nemesis, Miss Pam, at Pam's retirement party.
7: When The Pope Comes Marching In - Aired: 2015-07-04
When the Pope is scheduled to come to town, Nathan's planned week-long series of reports hits a snag when Ray gets a job offer to become the cameraman for a rival field Reporter.
8: Papa Was a Rolling Bone - Aired: 2015-07-11
The Millers decide to spend Thanksgiving apart for the first time ever, but they rethink the new family tradition when each of their individual Turkey Day plans hit snags.
9: Louise Louise - Aired: 2015-07-11
When The Millers get a visit from their elderly Aunt Louise, they rally to help her figure out what her legacy will be when she worries that she hasn't left her mark on the world yet.
10: Highway to the Manger Zone - Aired: 2015-07-18
When staging their church's annual living nativity scene does not go as planned, Kip urges the Millers to stage their own rival show. Also, Carol asks Nathan and Kip to put aside their differences as a Christmas gift to her.
11: Hero - Aired: 2015-07-18
When Nathan decides he should have a better relationship with his niece Mikayla, he agrees to use his celebrity status to help Debbie and Adam get her into a popular school. Meanwhile, when Kip develops side effects from his sleeping pills, Carol and Tom agree to help him kick the habit by sleep-training him.