General Information
Glossary: R
First Air Date: January 15th, 2013
Last Air Date: December 13th, 2016
Created By: ---
Star Casts: Duane Martin, Cynthia Kaye McWilliams, Nick Cannon, Dondre Whitfield, Nelly, Kevin Hart
Aired On: BET
Episode Runtime: 22 minutes
Total Seasons: 5 Seasons
Total Episodes: 60 Episodes
Type: Scripted
Status: Ended
Homepage: BET - Real Husbands of Hollywood

Last Updated: Thu, 16 Sep 2021 10:31:09 +0000
Sponsored Links
Ratings
User Rating:
Backdrops Gallery (4 Images)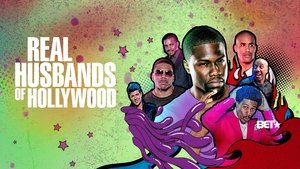 Real Husbands of Hollywood
Comedian and actor, Kevin Hart teams up with BET Networks to bring viewers one of the funniest shows on television "Real Husbands of Hollywood". The semi-scripted series is the fakest reality show ever following these men of Hollywood along their surreal lives. Enjoy the ride as these guys take on all things, from the husband's point of view. You may recognize some situations or characters from those other reality shows.
Seasons and Episodes
Season 1 (11 Episodes)
1: Easy Bake Kevin - Aired: 2013-01-15
Kevin Hart headlines an all-star cast of Hollywood husbands in this semi-scripted reality show spoof. In the opener, Kevin kicks fellow hubby Nick Cannon out of a weekly poker get-together with the remaining husbands. Invited by Nelly, Robin Thicke begins a long-standing feud with Kevin, who has developed a strong crush on Robin's wife, Paula Patton.
2: Thicke and Tired - Aired: 2013-01-22
In the aftermath of the poker game incident, Nelly tries to play mediator between Kevin and Robin after their one-sided feud. Meanwhile, J.B. and Boris grow suspicious after discovering that Duane's new clothing factory has questionable labor practices.
3: It's Gettin' Hot in Herrre - Aired: 2013-01-29
In attempt to make more money, Kevin tries to get in on Nelly's investment in an exercise video, but Nelly wants only the other guys to join.
4: Karma's a Mitch - Aired: 2013-02-05
After flirting with boxer "Sugar" Shane Mosley's girlfriend, Kevin fakes an ailment to avoid getting clobbered by the champ during a charity fight.
5: Hart vs. Mosley - Aired: 2013-02-12
Kevin Hart squares off in the anticipated chairty fight with professional boxer "Sugar" Shane Mosley.
6: Auf Wiedersehen, Mitches - Aired: 2013-02-19
Kevin tries to start a music career and upsets one of the husbands, and Duane's latest scheme causes Boris to run into an ex -- and into trouble.
7: Trick'd - Aired: 2013-02-26
J.B. gets a spot on a hidden-camera prank show, and Kevin receives some unexpected news from a heartless friend with benefits.
8: Hollyhood Scuffle - Aired: 2013-03-05
Kevin writes a tell-all book about the other husbands and his own ex-wife, but he doesn't exactly tell the complete truth.
9: Blackstabbers - Aired: 2013-03-12
A mysterious blackmailer threatens to reveal incriminating "boys' night out" photos unless the guys perform a series of outrageous stunts.
10: Retreat from Couples - Aired: 2013-03-19
In the first season finale, it's a double date night for Boris and Duane with their wives, and Kevin's special "double" date night with a pair of twins gets interrupted by Nick.
11: The Reunion Special - Aired: 2013-05-28
Tensions are high as the entire cast reunites in the middle of filming Season 2 to discuss the fun, the fights and craziness surrounding the inaugural season of "the fakest reality show on television"
Season 2 (13 Episodes)
1: Fund Raising Hell - Aired: 2013-10-15
In the second season premiere, Kevin shows off his upgraded celebrity digs while Wanda Sykes hijacks his new home for a star-studded fundraiser.
2: Hell of a Fund Raiser - Aired: 2013-10-15
Wanda's fundraiser at Kevin's house continues, as Nick's donated Smart Car is auctioned off by J.B. Kevin impulsively lands the winning bid on the car (with a little help from Khloé Kardashian and Kris Jenner). Meanwhile, Kevin discovers that Selita E. Banks has left her cellphone behind, which Kevin decides to use to his advantage.
3: Frauditions - Aired: 2013-10-22
Kevin decides to hold a series of fraudulent auditions for a non-existent movie in hopes of meeting an actress worthy of his rising stardom. Meanwhile, Trina convinces Boris to star in a musical stage play with Kelly Rowland as his co-star.
4: Tisha & Duane - Aired: 2013-10-29
Duane and his wife, Tisha, are thrilled to attend a table read for a proposed television series named after them for Nick's network. The last laugh is on Duane as he performs poorly with test audience, prompting Nick to offer Kevin the role as his replacement. Meanwhile, Nelly reluctantly agrees to work with Eric Benét to help Bobby Brown stage a comeback record.
5: Rock, Paper, Stealers - Aired: 2013-11-05
Chris Rock is in town and Kevin invites him to Oliver's comedy routine. But Kevin learns that he has a propensity for shoplifting.
6: Hook, Lie & Sink Her - Aired: 2013-11-12
Looking for love, Kevin joins a celebrity online dating service and manages to win a date with actress Nadine Velazquez. Her aggressive tactics become too much for Kevin to handle. Meanwhile, J.B. and Faizon Love have a physical grudge match.
7: Outdated - Aired: 2013-11-19
Kevin appears on Wayne Brady's late night talk show in efforts to win Selita Ebanks' heart. Elsewhere, Bobby Brown tries another shot at stardom, despite Nelly rebuking him.
8: Doing the Bump - Aired: 2013-11-26
Now appearing exclusively as a couple and crowned "Kevlita" by the media, Kevin and Selita start a new relationship/ The buzz generates a lot of hype especially once it is revealed that Selita is pregnant. Meanwhile, Boris must prepare for the stage play despite the fact that he cannot sing. Duane learns of Selita's peculiar pregnancy.
9: Scattered Shower - Aired: 2013-12-03
Tisha and Nicole reluctantly join forces with Bridgette, Eva Marcille and Nadine Velazquez to plan a baby shower for the expecting Selita.
10: Storm Showers - Aired: 2013-12-10
A red carpet kicks off the events of Kevin and Selita's baby shower during a television special with questionable, bad behavior from all involved.
11: The Bump Stops Here - Aired: 2013-12-17
Duane arranges a public appearance sponsored by Gymboree for Kevin and Selita's baby bump promotional tour. He soon learns that Selita's "baby bump" was fake and used as a scheme to get back at him. He, Duane and Selita conspire to keep the news under wraps of the public finding out. Meanwhile, Trina tries to get Kevin to host the Oscars.
12: The Harter They Fall - Aired: 2013-12-17
After the debacle surrounding the Kevlita baby bump, Selita agrees to go candid with Katie Couric in order to win back her image. Things don't go so smoothly for Kevin as he tries to redeem himself with little success.
13: Season 2 Reunion - Aired: 2014-10-07
The cast reflect on Season 2 dramas.
Season 3 (12 Episodes)
1: Falling Legend Part 1 - Aired: 2014-10-14
Kevin's roasted by the guys; Nick enters politics; Trina and Bridgette's new boyfriends are Kevin's old frenemies.
2: Falling Legend Part 2 - Aired: 2014-10-14
After last season's finale, Season 3 was picked up to where it was later revealed that Kevin fell off the ledge and suffers from Amnesia. Also, Kevin's roasted by the guys; Nick enters politics; Trina and Bridgette's new boyfriends are Kevin's old frenemies.
3: No New Friends - Aired: 2014-10-21
Kevin finds new friends; Duane sees monetary gain in Boris' spiritual quest.
4: Don't Vote for Nick - Aired: 2014-10-28
Kevin disrupts Nick's press conference; Trina and Wayne are tested by scheduling conflicts.
5: A Blurred 47 1/2 Hours - Aired: 2014-11-04
The shooting of 47 1/2 Hrs
6: Rolling With My Roomie - Aired: 2014-11-11
Regina Hall recovers at Kevin's; Nick hires a PI for campaign opposition research.
7: Bad Sport - Aired: 2014-11-18
Kevin's son plays baseball; Duane revamps Boris' message.
8: Black Is The Same Old Black - Aired: 2014-11-25
Tisha is arrested on a warrant, and the girl protests against it.
9: The Fight for Duane - Aired: 2015-01-06
Duane moves in with Kevin; Nelly writes a song for Bridgette.
10: Model Behavior - Aired: 2015-01-13
Jackie forgets to pick-up Kevin at the airport, which enables him to be picked up by supermodel, Jessica White, who takes Kevin on a wild and hilarious night… Along the way he als...
11: Vote for Kidney - Aired: 2015-01-20
Nick needs a new kidney
12: One in a Bazillion - Aired: 2015-01-27
Boris has a charity event; Kevin schemes to get out of donating his kidney. Guest stars Bobby Brown and Jennifer Freeman.
Season 4 (14 Episodes)
1: Suck My Trick - Aired: 2015-08-18
No overview available.
2: When Kevin Met Sally - Aired: 2015-08-25
Kevin invites Salli Richardson to the poker game and her husband ends up challenging him to a joke-off.
3: Hart Medication - Aired: 2015-09-01
No overview available.
4: Hart Medication Part 2 - Aired: 2015-09-08
No overview available.
5: Cabin Pressure - Aired: 2015-09-15
The guys embark on an annual pilgrimage to the NBA All-Star Weekend.
6: The Great American Hero - Aired: 2015-09-22
Kevin meets with Paramount President, Doug Howard to help put his dream into development for his next vehicle.
7: Kevin Davis Jr. - Aired: 2015-09-29
Kevin is offered the lead in a biopic role that takes his career to a new level.
8: Broad Talk - Aired: 2015-10-06
The Real Housewives and girlfriends must audition for a chick chat show.
9: Walk of Shame - Aired: 2016-01-06
No overview available.
10: Bazillion Dollar Arm - Aired: 2016-01-12
No overview available.
11: Don't Cross That Bridgette - Aired: 2016-01-19
Kevin agrees to give his life-rights to Bridgette when she gets her own reality show.
12: Claire and Present Danger - Aired: 2016-01-26
Kevin flirts with a "cougar," who surprisingly returns his attention.
13: Trina Sister - Aired: 2016-02-02
Kevin Hart, JB Smoove, Robin Thicke, Boris Kodjoe, Nick Cannon and Duane Martin deliver a hard dose of reality as they make a mocumentary of the lifestyles of the men. Hollywood style.
14: Easy as 1-2-3 - Aired: 2016-02-09
Kevin's six-week poker winning streak may be disrupted by Arsenio Hall and Craig Robinson, who had a role in sabotaging Kevin's pilot.
Season 5 (10 Episodes)
1: Keep Coming Back - Aired: 2016-10-11
In the fifth-season premiere, Robin Thicke is back and wants Kevin to be his sponsor; Nia Long respires her role as a sex addict and continues to pursue Kevin; J.B's aunt moves into Kevin's neighborhood.
2: Baaack to School - Aired: 2016-10-18
Kevin goes back to high school to get his degree. Trina and Wayne compete in the game of Let's Make a Deal and Wayne pops the big question.
3: Fifty Shades of Brown - Aired: 2016-10-25
LeToya Luckett tries to make Kevin the face for her skin-cafe/make-up line. The guys compete to be the next James Bond. Boris goes bald.
4: The Suitor - Aired: 2016-11-01
Kevin dates a young actress Keke Palmer.
5: Kevin and Nick are Wack - Aired: 2016-11-08
Kevin and Nick compete against each other in a rap war; Jackie and Bridgette appear on a game show called "Spouse Smarts".
6: Hart in the Hood - Aired: 2016-11-15
Kevin moves back in the hood to find his funny mojo; Nelly and the rest of the guys becomes interrogated by some "men in black". Tyga guest stars.
7: Raising a Negro in the Sun - Aired: 2016-11-22
Kevin trains to audition for Broadway; and Nelly owes his mentor Luggy.
8: Everyday I'm Hustlin - Aired: 2016-11-29
Kevin searches for his limited-edition sneakers to give his son for his birthday. While doing so he encounters a ghost from his past.
9: #Hollywoodtooblack Part 1 - Aired: 2016-12-06
The guys begin to be the subject of the controversy when they are nominated for the Oscars for a slave movie.
10: #Hollywoodtooblack Part 2 - Aired: 2016-12-13
The guys become torn about whether to support the boycott of the awards show.