General Information
Glossary: M
First Air Date: November 17th, 2017
Last Air Date: January 18th, 2019
Created By: Steve Lightfoot
Star Casts: Jon Bernthal, Ben Barnes, Amber Rose Revah, Josh Stewart, Jason R. Moore, Floriana Lima, Giorgia Whigham
Aired On: Netflix
Episode Runtime: 53 minutes
Total Seasons: 2 Seasons
Total Episodes: 26 Episodes
Type: Scripted
Status: Canceled
Homepage: Netflix - Marvel's The Punisher

Last Updated: Wed, 27 Sep 2023 22:30:26 +0000
Sponsored Links
Ratings
User Rating:
Backdrops Gallery (47 Images)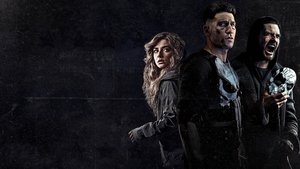 Marvel's The Punisher
A former Marine out to punish the criminals responsible for his family's murder finds himself ensnared in a military conspiracy.
Seasons and Episodes
Season 1 (13 Episodes)
1: 3AM - Aired: 2017-11-17
Former Marine Frank Castle takes the law into his own hands while struggling to come to terms with his traumatic past.
2: Two Dead Men - Aired: 2017-11-17
A mysterious phone call forces Frank's hand. Meanwhile, Madani goes digging for suspects and Curtis delivers a message.
3: Kandahar - Aired: 2017-11-17
Frank skips the subtlety while interrogating Micro. Brutal memories of top-secret missions shed light on Frank's past.
4: Resupply - Aired: 2017-11-17
Madani and Sam plan a delicate operation, Curtis tries to connect with Lewis, and Frank encourages Micro to get his hands dirty.
5: Gunner - Aired: 2017-11-17
Frank and Micro go looking for answers from a reluctant witness. Madani and Sam learn of a looming investigation. Rawlins sees a ghost.
6: The Judas Goat - Aired: 2017-11-17
With Frank in bad shape, Micro calls on Curtis for help. Madani and Russo continue to mix business with pleasure. Lewis stands up for his rights.
7: Crosshairs - Aired: 2017-11-17
Lewis struggles with the ramifications of his actions. Frank and Micro pursue another face from the past. Madani and Sam go bug hunting.
8: Cold Steel - Aired: 2017-11-17
Russo opens up to Madani about his past, Sarah shares her concerns about her son with Frank, and a decoy operation takes a turn.
9: Front Toward Enemy - Aired: 2017-11-17
Following a deadly explosion, Karen lands in a bomber's crosshairs -- and Frank isn't happy about it. Meanwhile, Curtis makes a grisly discovery.
10: Virtue of the Vicious - Aired: 2017-11-17
An attack on a high-profile politician is examined (and reexamined) through different perspectives. Madani faces a painful truth.
11: Danger Close - Aired: 2017-11-17
As danger knocks on Sarah's door, Frank takes his quest for vengeance to the next level with some help from an unexpected ally.
12: Home - Aired: 2017-11-17
Frank makes a damning confession. A shootout leaves Sarah wondering what to believe. Rawlins goes in for the kill, once and for all.
13: Memento Mori - Aired: 2017-11-17
As the authorities close in, an exhausted but unbroken Frank vows to put an end to the war that has consumed his life.
Season 2 (13 Episodes)
1: Roadhouse Blues - Aired: 2019-01-18
While driving through Michigan, Frank stops for a beer at a roadside bar. But staying out of trouble has never been his strong suit.
2: Fight or Flight - Aired: 2019-01-18
Frank and a reluctant Rachel go on the run as a menacing adversary gives chase. Meanwhile, Madani pays Russo an unwelcome visit.
3: Trouble the Water - Aired: 2019-01-18
As Pilgrim's past comes into focus, Frank and Rachel find themselves in police custody, where they're anything but safe.
4: Scar Tissue - Aired: 2019-01-18
Rachel recalls the night everything changed and lets Frank in on the truth about her name. Russo sits down with a face from his childhood.
5: One-Eyed Jacks - Aired: 2019-01-18
It's not a trap if you know it's coming: That's Frank's philosophy. Madani opens up and Pilgrim plans a visit to an unholy land.
6: Nakazat - Aired: 2019-01-18
Amy (formerly Rachel) develops photographs that point to a conspiracy. Russo reads his own report. Madani's story about Russo comes under fire.
7: One Bad Day - Aired: 2019-01-18
Madani's quest to ID Pilgrim hits a wall. Russo and his crew put their plan into action. Frank encounters someone from the past.
8: My Brother's Keeper - Aired: 2019-01-18
Painful memories take ahold of Russo. Frank's frustration frightens those closest to him. Madani receives a visitor bearing a warning.
9: Flustercluck - Aired: 2019-01-18
A big bounty inspires New York's worst to pursue the Punisher. A restless Amy seeks help from a fellow grifter. Russo and Krista consider the future.
10: The Dark Hearts of Men - Aired: 2019-01-18
As Madani and Krista debate who's worth saving, Frank prepares to storm Russo's territory. A brutal encounter pushes Pilgrim back into old habits.
11: The Abyss - Aired: 2019-01-18
Amy rushes to protect Frank, who lies defenseless in a hospital. Pilgrim gets some crushing news, and Karen Page calls in a favor.
12: Collision Course - Aired: 2019-01-18
Buckle up -- Mahoney and Frank are about to take a ride to remember. Amy makes an entrance, Russo cashes out, and Madani comes clean to Krista.
13: The Whirlwind - Aired: 2019-01-18
Frank, Pilgrim, Madani, Russo, Amy, Curt and the Schultz family. No bullet is left unspent as season two comes to an explosive conclusion.