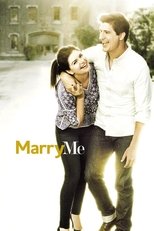 General Information
Glossary: M
First Air Date: October 14th, 2014
Last Air Date: February 17th, 2015
Created By: David Caspe
Star Casts: Casey Wilson, Ken Marino, John Gemberling, Sarah Wright, Tymberlee Hill, Tim Meadows, Dan Bucatinsky
Aired On: NBC
Episode Runtime: 22 minutes
Total Seasons: 1 Season
Total Episodes: 14 Episodes
Type: Scripted
Status: Canceled
Homepage: NBC - Marry Me

Last Updated: Wed, 30 Sep 2020 22:32:39 +0000
Sponsored Links
Ratings
User Rating:
Backdrops Gallery (0 Images)
Marry Me
Six years ago, Annie and Jake bonded over their mutual love of nachos and they've been inseparable ever since. Now, after returning from a romantic two-week island vacation, Jake's all set to pop the question. Before he can ask, though, Annie lets loose on Jake for his inability to commit. She was expecting him to "put a ring on it" in paradise and now Jake's perfect proposal is ruined. Not wanting to spend the next 60 years talking about that mess of a proposal, Jake and Annie decide to hold off on the engagement until they can do it right. Yet if history tells us anything, it's when we really want things to go right that they all tend to go wrong. The only thing we know for sure is these two are destined to be together whether they can get it together or not.
Seasons and Episodes
Specials (4 Episodes)
1: Date Me - Aired: 2015-04-23
Gil tries to salvage Jake's bachelor party when the arrangements go awry. Annie discovers Jake's mum has been flirting with a guy online so she tries to engineer a face-to-face meeting between them.
2: Mom Me - Aired: 2015-04-30
Gil is persuaded to do whatever it takes to win a wedding cake making contest. The unexpected return of Annie's biological mother Pam, the egg donor used by her two dads, creates family tension.
3: Wake Me - Aired: 2015-05-07
Annie hears that her ex-boyfriend Lee is in a coma and realises he will never find out she's engaged to somebody else. Kay sends heartfelt final messages to the gang when turbulence hits her flight.
4: Surprise Me - Aired: 2015-05-14
Annie discovers that she was born in Canada and is not a US citizen. As her family and friends help her to revise for a citizenship test, Jake takes over responsibility for planning their wedding.
Season 1 (14 Episodes)
1: Pilot - Aired: 2014-10-14
Annie is furious about Jake's inability to commit just as he's about to ask her to marry him.
2: Move Me - Aired: 2014-10-21
Annie is stressed over sharing her apartment with Jake. Gil camps out at a all-you-can-eat restaurant.
3: Scary Me - Aired: 2014-10-28
Jake and Annie get a haunted house ready for the children in their building but run into trouble with one of the mothers. Dennah decides to wear a skimpy costume to an exclusive party.
4: Annicurser-Me - Aired: 2014-11-04
A huge storm hits Chicago, forcing the friends to look for shelter in the basement and ruining Jake and Annie's first-date anniversary.
5: Thank Me - Aired: 2014-11-18
Annie decides to host a Thanksgiving dinner, but clashes with Jake's mother, who's always hosted in the past. Gil finds out that he has a skill for fine-cheese tasting.
6: Bruges Me - Aired: 2014-11-25
Jake attempts to get to know Annie's father better. Annie helps Gil get ready for a special musical production at the annual Flemish Pride Parade.
7: Win Me - Aired: 2014-12-02
After Annie and her newly engaged dads discover that their cousin "Scooby" can only attend one of their weddings, they battle it out over whose wedding will win out.
8: Stand by Me - Aired: 2014-12-09
Annie, Kay, and Dennah are able to convince Jake that Gil has become too reliant on him. Jake wants Gil to take charge of his own life but things end up changing the balance of the entire group.
9: Test Me - Aired: 2015-01-06
The gang prepares to attend a baby shower party together and Annie and Jake consider their own family planning.
10: Spoil Me - Aired: 2015-01-13
Jake and Annie fall out over the season finale of a TV show they usually watch together. Which of them took a sneak peek?
11: Friend Me - Aired: 2015-01-27
Jake reunites with long lost friends while Gil ropes Dennah into his latest business venture.
12: F Me - Aired: 2015-02-03
After a rousing night out, Annie and Jake deface a sign at their building and find themselves embroiled in a hate-crime investigation in their building. Meanwhile, Gil, Dennah and Kay compete for the one remaining "plus one" spot on the wedding guest list.
13: Change Me - Aired: 2015-02-10
Jake is irritated by some of Annie's quirks, so he secretly enlists Kay in an attempt to modify her behaviour. In return, Jake helps Kay organise a Valentine's Day celebration for her new girlfriend.
14: Dead Me - Aired: 2015-02-17
When Kay rejects her casual date Brianna in favour of new girlfriend Hailey, Brianna takes out her frustration by using her hacking skills to wipe out Jake's identity. Gil chases a job opportunity.