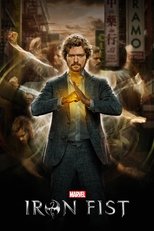 General Information
Glossary: M
First Air Date: March 17th, 2017
Last Air Date: September 7th, 2018
Created By: Scott Buck
Star Casts: Finn Jones, Jessica Henwick, Jessica Stroup, Tom Pelphrey, Sacha Dhawan, Alice Eve
Aired On: Netflix
Episode Runtime: 55 minutes
Total Seasons: 2 Seasons
Total Episodes: 23 Episodes
Type: Scripted
Status: Canceled
Homepage: Netflix - Marvel's Iron Fist

Last Updated: Sun, 26 Nov 2023 10:30:55 +0000
Sponsored Links
Ratings
User Rating:
Backdrops Gallery (40 Images)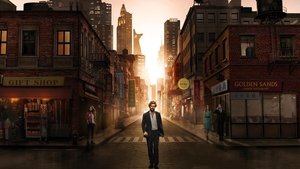 Marvel's Iron Fist
Danny Rand resurfaces 15 years after being presumed dead. Now, with the power of the Iron Fist, he seeks to reclaim his past and fulfill his destiny.
Seasons and Episodes
Season 1 (13 Episodes)
1: Snow Gives Way - Aired: 2017-03-17
After being declared dead 15 years earlier, Danny Rand returns to New York. But his welcome is a far cry from what he'd hoped.
2: Shadow Hawk Takes Flight - Aired: 2017-03-17
Danny struggles with his new surroundings, Colleen dishes out a harsh lesson, and Joy sends an unconventional message.
3: Rolling Thunder Cannon Punch - Aired: 2017-03-17
Joy proves herself a shrewd businessperson, Danny recalls a painful memory, and Colleen puts her talents to good use.
4: Eight Diagram Dragon Palm - Aired: 2017-03-17
Danny makes a shocking discovery and a radical pricing proposal. Colleen's extracurricular activities goes viral, and Ward issues a stern warning.
5: Under Leaf Pluck Lotus - Aired: 2017-03-17
An insidious new drug hits New York. Danny recruits Colleen for the fight, and Claire discovers that credit cards can have many uses.
6: Immortal Emerges from Cave - Aired: 2017-03-17
Danny receives an invitation like no other. Colleen and Claire face a difficult choice. A worried Joy confronts her brother.
7: Felling Tree with Roots - Aired: 2017-03-17
Ward's loyalty is tested. Danny discovers a rogue division, and the mysterious Bakuto visits Colleen's dojo unannounced.
8: The Blessing of Many Fractures - Aired: 2017-03-17
Danny faces his fear, and Colleen meets her match. Joy makes a hasty decision while Ward struggles to accept his sister's admiration.
9: The Mistress of All Agonies - Aired: 2017-03-17
Madame Gao plays mind games. Ward's old habits catch up with him, and Danny discovers that he still has much to learn about being the Iron Fist.
10: Black Tiger Steals Heart - Aired: 2017-03-17
Exhausted from fighting, Danny tries to recharge with Bakuto's help. Meanwhile, Rand's management gets another shakeup.
11: Lead Horse Back to Stable - Aired: 2017-03-17
Claire uses her improvisational skills, and Colleen gets conflicting information. Danny years to be more than just a destroyer.
12: Bar the Big Boss - Aired: 2017-03-17
Ward receives an offer with strings attached. Davos advocates for an extreme solution, and a deadly duel gets personal.
13: Dragon Plays with Fire - Aired: 2017-03-17
In a desperate search to clear his name, Danny learns a terrible truth that places him on a new path.
Season 2 (10 Episodes)
1: The Fury of Iron Fist - Aired: 2018-09-07
While rival gangs battle for the soul of New York, Danny and Colleen cross paths with an old acquaintance. Joy embarks on a new adventure.
2: The City's Not for Burning - Aired: 2018-09-07
Danny and Colleen strive to broker a badly needed peace. Ward crashes his sister's auction, and Joy plays matchmaker -- with a twist.
3: This Deadly Secret... - Aired: 2018-09-07
In an effort to ease the tension between Ward and Joy, Danny and Colleen switch gears and host a dinner party. Mary delivers a warning.
4: Target: Iron Fist - Aired: 2018-09-07
Joy's interrogation of Mary takes a turn. Misty gives Danny an earful. Ward extends an olive branch. Davos makes a crucial discovery.
5: Heart of the Dragon - Aired: 2018-09-07
There's a new Iron Fist in town, and he's itching to make his presence felt. Meanwhile, Ward calls in a favor, and Joy considers her options.
6: The Dragon Dies at Dawn - Aired: 2018-09-07
Misty and Colleen's trip to the tattoo parlor turns painful -- but not for them. As Davos crosses names off his list, Mary makes Danny an offer.
7: Morning of the Mindstorm - Aired: 2018-09-07
As Danny steps up his training, Davos ramps up recruitment. Ward falls prey to old demons, and Misty butts heads with a captain.
8: Citadel on the Edge of Vengeance - Aired: 2018-09-07
Joy offers Davos tips on appealing to the masses, Danny begins to understand his limits, and Mary seeks the truth about her past.
9: War Without End - Aired: 2018-09-07
Facing a life-changing decision, Danny and Colleen debate their next move. Meanwhile, Davos's contempt for mercy grows stronger.
10: A Duel of Iron - Aired: 2018-09-07
In the season finale, Iron Fists collide as the fate of New York City hangs in the balance.