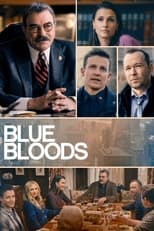 General Information
Glossary: B
First Air Date: September 24th, 2010
Last Air Date: March 10th, 2023
Created By: Robin Green, Mitchell Burgess
Star Casts: Tom Selleck, Donnie Wahlberg, Bridget Moynahan, Will Estes, Len Cariou, Vanessa Ray, Andrew Terraciano, Gregory Jbara, Robert Clohessy, Abigail Hawk, Marisa Ramirez, Steve Schirripa
Aired On: CBS
Episode Runtime: 45 minutes
Total Seasons: 13 Seasons
Total Episodes: 270 Episodes
Type: Scripted
Status: Returning Series
Homepage: CBS - Blue Bloods

Last Updated: Fri, 24 Mar 2023 10:32:34 +0000
Sponsored Links
Ratings
User Rating:
Backdrops Gallery (42 Images)
Blue Bloods
A drama about a multi-generational family of cops dedicated to New York City law enforcement. Frank Reagan is the New York Police Commissioner and heads both the police force and the Reagan brood. He runs his department as diplomatically as he runs his family, even when dealing with the politics that plagued his unapologetically bold father, Henry, during his stint as Chief.
Seasons and Episodes
Season 1 (22 Episodes)
1: Pilot - Aired: 2010-09-24
Tom Selleck stars as Frank Reagan, the New York Chief of Police. Frank's eldest son Danny is a seasoned detective, family man, and Iraqi War vet who on occasion uses dubious tactics to solve cases.
2: Samaritan - Aired: 2010-10-01
A good Samaritan with a police record takes action against a terrorizing subway criminal, forcing the Reagans to weigh the rights and wrongs of vigilantism.
3: Privilege - Aired: 2010-10-08
Danny, Erin and Frank work together to seek justice when the main suspect in a rape case is protected by diplomatic immunity.
4: Officer Down - Aired: 2010-10-15
The entire NYPD is mobilized to find the killer of an off-duty police officer murdered during a diamond heist.
5: What You See - Aired: 2010-10-22
The Reagans argue the advantages and disadvantages of profiling; Danny, Frank and the rest of the NYPD search for a homemade bomb about to detonate in the city.
6: Smack Attack - Aired: 2010-10-29
Danny tries to find the source of a deadly narcotic after three teenagers die from an overdose.
7: Brothers - Aired: 2010-11-05
When Erin tries to take down a gang leader using his law-abiding brother as bait, the family debates her methods.
8: Chinatown - Aired: 2010-11-12
After meeting with federal agents in a dark edge of Chinatown, Jamie witnesses a crime in progress and his suspect is killed while in pursuit. Now, Danny must solve the case in order for Jamie to avoid an Internal Affairs investigation.
9: Re-do - Aired: 2010-11-19
The life of a Reagan is put in danger when three dangerous criminals are released from prison.
10: After Hours - Aired: 2010-12-03
Danny investigates when a doorman at a nightclub is murdered; Frank makes a decision about a former partner's future.
11: Little Fish - Aired: 2011-01-19
A high-end escort's body is found in the river; Frank vows to get justice in a 25-year-old case.
12: Family Ties - Aired: 2011-01-26
Danny must delve into the family politics of the Russian mob while investigating the death of a gangster's son; Erin becomes involved in a high-profile corruption case.
13: Hall of Mirrors - Aired: 2011-02-02
Danny investigates the shooting of an undercover counter-terrorism agent who was involved with infiltrating a sleeper cell.
14: My Funny Valentine - Aired: 2011-02-09
When a girl is kidnapped, Jackie and Danny suspect her drug-addicted boyfriend is responsible; Erin's relationship with her boss takes a step forward.
15: Dedication - Aired: 2011-02-18
When an assassination attempt is made on Frank's life, Danny goes on a hunt to track down the shooter and find out if the attack was random or by someone with a vendetta against the Commissioner.
16: Age of Innocence - Aired: 2011-02-25
When an unidentified young girl is found murdered at a debutante ball, Danny and Jackie look to the prostitute found giving her a hard time on the hotel's surveillance camera for clues. Meanwhile, Nicky gets a glimpse of her first murder victim as she rides along with Danny when he gets the call to investigate.
17: Silver Star - Aired: 2011-03-11
When a former U.S. Marine and war hero-turned-homeless man is found murdered, Danny, a former Marine himself, feels a personal connection and is determined to find the killer. Meanwhile, erroneous information about Frank running for mayor is leaked to the press.
18: To Tell the Truth - Aired: 2011-04-01
Just before Danny is to give witness testimony at a Peruvian drug lord's murder trial, Linda is kidnapped. This drug lord has a history of intimidating witnesses.
19: Model Behavior - Aired: 2011-04-08
Danny and Jackie investigate the cut-throat world of fashion after Linda's runway model niece and a reporter are poisoned at a fashion show.
20: All That Glitters - Aired: 2011-04-29
Frank's frustrations rise when the media sensationalizes the murder of a tourist shot and killed outside a trendy Lower East Side restaurant.
21: Cellar Boy - Aired: 2011-05-06
Neighbors of the Reagans are murdered and their son becomes the prime suspect. Jamie is convinced he's being pursued by the Blue Templar when his gun goes missing.
22: The Blue Templar - Aired: 2011-05-13
In his attempt to expose the Blue Templar, Frank chooses to bypass Internal Affairs after a drug bust indicates dirty cops are involved.
Season 2 (22 Episodes)
1: Mercy - Aired: 2011-09-23
Frank is put on the spot when a supporter for the mayor is found dead and the mayor wants Frank to position it as a random act of violence to the public. Meanwhile, Jamie goes on his first undercover assignment at a bar where meets and bonds with a suspicious patron.
2: Friendly Fire - Aired: 2011-09-30
When Danny is put on modified assignment after an incident in which a cop--who failed to identify himself--is shot, he faces Internal Affairs investigators, who are looking to his state of mind on that day for further implications.
3: Critical Condition - Aired: 2011-10-07
Three men attempt to rob a bank and Danny discovers that one of attempted robbers is a former cop. Also, Jamie works with Luisa Sosa, his new partner.
4: Innocence - Aired: 2011-10-14
Erin has to re-open a 18yr old rape case in which Frank was the arresting officer. Danny and Jackie have to deal with the murder of three teenagers for which there appears to be no motive.
5: A Night on the Town - Aired: 2011-10-21
Even while on a case, Danny tries to swing a romantic weekend with Linda. Jamie's undercover assignment involves a crime family.
6: Black and Blue - Aired: 2011-11-04
Frank deals with a political crisis after Jamie and Renzulli are injured by a church security team that refuses to let them enter a religious center in response to a 911 call.
7: Lonely Hearts Club - Aired: 2011-11-11
Jackie goes undercover as an escort when she and Danny track down a serial killer who is murdering prostitutes in hotel rooms. Meanwhile, Erin meets a potential suitor at an art gallery who shares her interests.
8: Thanksgiving - Aired: 2011-11-18
Henry's heart attack on Thanksgiving eve leaves the family contemplating a future without him. While Danny and Jackie look into a suicide that may not be what it seems, Frank and the mayor disagree about a threat to the city.
9: Moonlighting - Aired: 2011-12-02
Danny accompanies a dangerous ex-mobster who is helping him find bodies on cold cases in exchange for leniency for his son on grand theft auto. Meanwhile, Jamie works undercover in a boiler room operation, looking for a secret about the Sanfino family.
10: Whistle Blower - Aired: 2012-01-06
When Erin's informant is murdered, she blames herself and works to help Danny discover who killed him.
11: The Uniform - Aired: 2012-01-13
Danny and Jackie investigate a murder scene at a diner, where a witness claims a uniformed officer fled the scene after shots were fired.
12: The Job - Aired: 2012-02-03
On the way home with his family, Danny hits a man with his car who is fleeing from a gunman, and his family gets caught in the crossfire when Danny fires his weapon at the gunman. Frank deals with 9/11 guilt from impending loss of a friend whom he worked alongside at Ground Zero.
13: Leap of Faith - Aired: 2012-02-10
When a rich woman dies of a heart attack, her eccentric daughter claims that she received a message from God, who told her that her stepfather actually murdered her. Meanwhile, the archbishop wants Frank's support for the canonization of a local priest, but a reluctant Frank takes it upon himself to investigate a rumor that the priest went too far when protesting the Vietnam War.
14: Parenthood - Aired: 2012-02-17
When a man's family is robbed and beaten in front of him, and the assailant is shot and killed, the Reagan's debate about how far they would go to protect their family. Meanwhile, when a college student is arrested at a rally, Frank wrestles with her sentence due to her identity.
15: The Life We Chose - Aired: 2012-02-24
Danny and Jackie investigate the murder of a Reagan family friend who was an undercover detective. Danny's family starts to worry as the persistent search takes an emotional toll on him.
16: Women With Guns - Aired: 2012-03-02
When Frank's close friend, a high-profile reporter, is almost assaulted while in town investigating a story, Danny and Jackie attempt to track down her would-be attacker. Meanwhile, Jamie's undercover case comes to a head.
17: Reagan V. Reagan - Aired: 2012-03-09
As Erin prosecutes a woman accused of killing her husband, the defendant's attorney is murdered and Danny is assigned to the investigation. When Danny is put on the stand to be questioned, things get heated between the brother and sister.
18: No Questions Asked - Aired: 2012-03-30
Danny is put in a difficult position when a gun linked to a robbery is brought in to the NYPD's gun buyback program. He must decide to either arrest the suspect or follow the no questions asked rule.
19: Some Kind of Hero - Aired: 2012-04-06
Danny causes waves in the department when he investigates a closed case, the suicide of a firefighter, at the insistence of the man's 12-year-old son. Meanwhile, Jamie saves a baby from a burning building but worries it will jeopardize his undercover work when he is billed a hero in the press.
20: Working Girls - Aired: 2012-04-27
Danny and Jackie are assigned to protect a key witness in a Russian mob trial, but when an attempt is made on her life, they realize there is a leak on the task force. Meanwhile, Erin is offered a job as deputy mayor, which would have her working directly with her father.
21: Collateral Damage - Aired: 2012-05-04
Danny and Jackie investigate the suspicious murder of a high rolling investor, who had injuries from a fight, but no marks on his hands. Meanwhile, Frank puts Jamie under house arrest, when the Sanfino family put out a hit on "Jimmy Reardon".
22: Mother's Day - Aired: 2012-05-11
Frank must race to stop a biological weapon attack on New York City, while keeping it a secret from his family during their most sentimental holiday, Mother's Day. Meanwhile, a long-standing conflict between Danny and Jamie comes to a head.
Season 3 (23 Episodes)
1: Family Business - Aired: 2012-09-28
A dangerous criminal from Danny's past comes back to seek revenge and kidnaps Jackie. Meanwhile, Jamie meets his new partner, while a young officer is shaken after he accidentally shoots an innocent man.
2: Domestic Disturbance - Aired: 2012-10-05
A woman recants a domestic-abuse claim, but Danny and Jackie continue to investigate the situation. Soon they uncover the woman's secret affair with a powerful politician who's friends with Frank. Meanwhile, Linda returns to the workforce, causing chaos at home.
3: Old Wounds - Aired: 2012-10-12
Danny believes a serial killer is on the loose when two separate murder victims are identified as members of a group charged with a gang rape. Meanwhile, Erin's ex-husband, attorney Jack Boyle, resurfaces in her life as they face off in court.
4: Scorched Earth - Aired: 2012-10-19
Danny and Jackie set out to investigate the murder of a bride on her wedding day in a drive-by gang shooting. However, they are pulled off the case and assigned to the protection detail of a Central American president, who they believe is a target for assassination. Meanwhile, Jamie questions his partner Vinny's methods when he performs an unjustified stop.
5: Risk and Reward - Aired: 2012-10-26
Shortly after Frank awards a detective with the Medal of Valor for his undercover work for the NYPD in Malaysia, the detective is taken hostage by a Malaysian drug lord whose brother he helped put in prison. Meanwhile, Henry goes on a ride-along with Jamie and has a different method of getting the job done.
6: Greener Grass - Aired: 2012-11-02
When Erin's key witness, an infamous photographer, is nearly killed in a hit and run, she arranges for Danny to work protection detail to safeguard him. Meanwhile, Jamie and Vinny bust a drug operation.
7: Nightmares - Aired: 2012-11-09
When a knife-wielding attacker dressed as Baron Samedi, the Spirit of Death, stabs a man in costume on Halloween, Danny enters the world of voodoo. Meanwhile, DCPI Garrett opens up to Frank about a dark secret, and Erin and Nicky take Jack and Sean trick-or-treating.
8: Higher Education - Aired: 2012-11-30
Danny arrives at a college campus to find a murdered student, who was thought to be dealing drugs. Meanwhile, Jamie has a life crisis when he reconnects with a former law school classmate and Erin must learn to give Nicky some freedom.
9: Secrets and Lies - Aired: 2012-12-07
When Danny and Kate come up empty-handed with leads for a shooting, Linda helps make a break in the case when she overhears the victim telling his priest who is responsible. Meanwhile, Henry is mugged at an ATM, which sends Jamie into a rage as he tries to track down the assailant.
10: Fathers and Sons - Aired: 2013-01-04
When two motorists driving gas-guzzling cars die at the hands of a sniper, Danny and Kate are put on the case of what the city believes is the work of a radical environmental serial killer. Meanwhile, a bicycle accident sends Danny's son Sean to the hospital with a life-threatening injury.
11: Front Page News - Aired: 2013-01-11
Jamie must deal with the emotional consequences of his actions on the job. Meanwhile, Erin questions Mayor Poole on the witness stand.
12: Framed - Aired: 2013-01-18
Danny's car matches an NYPD description of a car involved in a drug deal and taken into custody when a bag of cocaine is found in his trunk.
13: Inside Jobs - Aired: 2013-02-01
When a man with multiple rat bites is thrown from a moving car, Danny works the case to find out why and who was trying to send a message. Meanwhile, Frank must be diplomatic when dealing with a bigoted radio host who will be broadcasting from New York City.
14: Men in Black - Aired: 2013-02-08
Before a Hasidic Grand Rebbe passes away, he chooses his youngest son to succeed him. But when the new appointee dies suddenly, Danny investigates the oldest son and others within the Hasidic community. Meanwhile, Henry reveals a family secret to Frank.
15: Warriors - Aired: 2013-02-15
When a 10-year-old boy is the victim of an incident in the projects, Danny's heated approach to the case lands him in anger management class. Meanwhile, Frank navigates the politics of the State Department and the Turkish Government in order to help a young Turkish woman avoid persecution.
16: Quid Pro Quo - Aired: 2013-02-22
Erin and Danny investigate a cold case of a girl who was attacked by her rich and powerful boyfriend, who was never convicted. Meanwhile, Jamie's friend brings a lawsuit against Danny's friend after an injury at a pick-up basketball game.
17: Protest Too Much - Aired: 2013-03-08
When an off-duty cop tries to stop a bank robbery, he is disarmed by the "Bonnie and Clyde" robbers who take his gun and wound an innocent bystander. Meanwhile, Frank considers getting romantically involved with a woman from the ACLU who happens to be Erin's acquaintance.
18: No Regrets - Aired: 2013-03-15
When the same tragedy occurs to people who don't appear connected, Danny must find what they have in common and who is responsible. Meanwhile, Frank helps an old friend come to terms with his alcoholism.
19: Loss of Faith - Aired: 2013-04-05
When a devoutly religious young woman is found murdered in a cemetery, Danny questions her family who is shocked to learn that she had a secret relationship.
20: Ends and Means - Aired: 2013-04-12
When two Wall Street brokers are killed in drug deals, Danny looks to question a wounded accomplice at the hospital but he is stopped by Linda, who won't let Danny see him until after surgery. But when the accomplice dies during the procedure, Danny and Linda battle over the judgment call.
21: Devil's Breath - Aired: 2013-04-26
When Danny finds a disoriented man in a park covered in his girlfriend's blood, he finds it hard to believe that the man has no recollection of the night's events until they find a strong narcotic in his bloodstream. Meanwhile, Jamie gets into trouble when he helps an off-duty officer cover up his intoxication after he apprehended an armed robber.
22: The Bitter End - Aired: 2013-05-03
Danny blames himself when a young woman commits suicide because he had made a promise to her in the wake of her parents' deaths. Meanwhile, violence involving a gang at a housing project erupts and affects the Reagans.
23: This Way Out - Aired: 2013-05-10
As the Reagans rally together to take down the leader of the gang responsible for the murder of someone close to them, Danny looks to the gang leader's girlfriend to lead them to him. Meanwhile, Frank is left reeling from a second loss.
Season 4 (22 Episodes)
1: Unwritten Rules - Aired: 2013-09-27
When an armed robbery ends with the death of a police officer, Frank makes it a mission for the NYPD to bring the suspect to justice. However, tensions run high in the Reagan household when Erin drops the charges and releases the suspect due to lack of evidence.
2: The City That Never Sleeps - Aired: 2013-10-04
When a famous movie star, Russell Berke, who shadowed Danny for research on his next role, is stabbed, Danny goes to his aid, but must keep the crime on the down-low due to Russell's celebrity status.
3: To Protect and Serve - Aired: 2013-10-11
Danny becomes the lead hostage negotiator when a prime informant in a large drug case holds Erin at gunpoint inside the courtroom.
4: The Truth About Lying - Aired: 2013-10-18
A teen girl dies after she is seemingly pushed in front of a subway car by a homeless man; Frank is irritated by having to meet with the new inspector general (Bebe Neuwirth).
5: Lost and Found - Aired: 2013-10-25
When Danny and Baez suspect a little girl might be the victim of a kidnapping, the girl's mother denies it, but her story doesn't add up. Meanwhile, Frank pays a visit to a priest, a counselor to the NYPD, who was arrested on a DUI charge.
6: Growing Boys - Aired: 2013-11-01
Jamie's conduct is questioned when a suspect he was pursuing is fatally injured; Baez goes under cover to investigate a drug dealer -- the fiance of Danny's ex-girlfriend (Charisma Carpenter).
7: Drawing Dead - Aired: 2013-11-08
When an officer is accused of using excessive force on a suspect, Frank finds his department under scrutiny from the community and the mayor. Meanwhile, Danny and Baez investigate the murder of a Wall Street securities trader who was deep in debt due to a gambling addition.
8: Justice Served - Aired: 2013-11-15
Frank is put in danger when his dinner companion, mob lawyer Angelo Gallo, is shot; Danny is a juror in a murder trial.
9: Bad Blood - Aired: 2013-11-22
Danny and Baez investigate a homicide in which Baez's estranged brother, a former drug addict, is the lead suspect. Meanwhile, Frank learns one of his most highly decorated officers, a German Shepherd in the K9 unit, is being accused of police brutality, and Henry investigates the widow of a former NYPD pal who might have had a hand in her husband's death.
10: Mistaken Identity - Aired: 2013-12-13
Danny and Baez investigate a local bombing, but meet with tension and resistance from the community during the investigation. Meanwhile, Frank must deal with the political fallout when a man punches an officer who was overly aggressive in his questioning.
11: Ties That Bind - Aired: 2013-12-20
Danny's loyalty is tested when he is assigned to the case of a childhood friend, Mickey, who is under investigation for having ties to an infamous mob family. Meanwhile, Frank gets word that crime is on the rise due to a recent judicial ruling about the legality of the "stop and frisk" policy.
12: The Bogeyman - Aired: 2014-01-10
Danny is after the distributor of a deadly new street drug.
13: Unfinished Business - Aired: 2014-01-17
Danny and Baez search for a Marine veteran who may have PTSD; a woman seeking justice for her murdered daughter catches Frank off-guard during a press conference.
14: Manhattan Queens - Aired: 2014-01-31
A popular drag queen and reality-TV star is found dead in a park; the mother of an accused man abducts Erin.
15: Open Secrets - Aired: 2014-02-28
A kidnapping investigation brings back bad memories for Danny, who worked a similar case years ago; Frank and Inspector General Peterson butt heads.
16: Insult to Injury - Aired: 2014-03-07
When Danny takes a call from a woman who is threatening to kill herself along with the man who killed her parents in a drunk driving accident, he rushes to find her. Meanwhile, Frank accompanies his grandson, Sean, on a class field trip and struggles to get the lead chaperone to loosen the reigns so the kids can have fun.
17: Knockout Game - Aired: 2014-03-14
Danny and Baez search for teenager who have been randomly punching unsuspecting people in the head, including a pregnant woman; Frank worries that promoting an officer will be viewed as favoritism.
18: Righting Wrongs - Aired: 2014-04-04
A woman dies after undergoing a secret plastic surgery, so Danny and Baez try to figure out what happened. Elsewhere, Frank asks Jamie to solve a cold case; and Erin explores the world of speed dating.
19: Secret Arrangements - Aired: 2014-04-11
A college professor involved with a questionable scholarship program is murdered; Danny is investigated for ethical and procedural violations.
20: Custody Battle - Aired: 2014-04-25
Erin investigates a case involving a police officer accused of killing a suspect in custody; Jamie encourages Eddie to forgive her father.
21: Above and Beyond - Aired: 2014-05-02
After a detective from Danny's precinct is killed while working undercover, Frank goes above and beyond to find the killer only to discover that the victim held a big secret; Jamie and Eddie help Nicky track down a homeless former classmate.
22: Exiles - Aired: 2014-05-09
Danny uncovers shocking information while investigating a case against orders.
Season 5 (22 Episodes)
1: Partners - Aired: 2014-09-26
Danny tries tracking down the drug cartel who's attacked a convoy of drugs been transported to be incinerated. Baez is left injured. Frank treads carefully.
2: Forgive and Forget - Aired: 2014-10-03
Jamie stands up for a fellow officer, ostracized for testifying against their partner. Frank is given a difficult request by Boomer.
3: Burning Bridges - Aired: 2014-10-10
Eddie and James attempt to steal a collar from a pompous detective. An officer is outed and his partner refuses to ride with him. Danny and Baez are asked to work with new partners. Elsewhere Frank speaks out about equality on the force.
4: Excessive Force - Aired: 2014-10-17
Frank is put in a difficult position when Danny is charged with using excessive force. Jamie brings homeless man to the hospital.
5: Loose Lips - Aired: 2014-10-24
Jamie has become a target after intervening in an abusive relationship. Elsewhere an illegal recording of Henry making insensitive comments is leaked.
6: Most Wanted - Aired: 2014-10-31
Frank and Danny become determined to make sure that an international felon who always manages to walk away from murder charges ends up behind bars. Erin thinks about going into private practice after she looks into college costs for Nicky. Danny clashes with his new boss.
7: Shoot the Messenger - Aired: 2014-11-07
An interview goes badly for Frank after he ends up being blindsided by the interim district attorney. Danny and his new boss deal with a drive-by shooting.
8: Power of the Press - Aired: 2014-11-21
Frank is faced with a public backlash after a police officers body camera malfunctions during an altercation.
9: Under the Gun - Aired: 2014-12-12
The murder of three prominent community leaders seem to be hate crimes.
10: Sins of the Father - Aired: 2015-01-02
Frank pushes to find evidence against a suspected cop killer who shot one of Henry's fellow officers years ago. Meanwhile, Danny and Baez investigate a string of murders involving adult film stars.
11: Baggage - Aired: 2015-01-09
Danny is conflicted when he learns that a group of highly trained Army veterans are responsible for a robbery. Meanwhile, after a bomb scare in a subway turns out to be the work of a famous street artist, Garrett and Gormley argue about how to deal with the fallout.
12: Home Sweet Home - Aired: 2015-01-16
Jamie gets Danny involved when he finds a homeless teen who claims his aunt was killed by her boyfriend. Meanwhile, Erin is angered when McCoy replaces her as the prosecutor on a case involving a corrections officer.
13: Love Stories - Aired: 2015-01-30
Danny and Baez investigate when a homeowner shoots an intruder, only to find out that, the intruder is a hit man. Also, a young attorney attempts to bring justice to his mother who Erin put away on a murder charge 12 years ago
14: The Poor Door - Aired: 2015-02-06
Danny and Baez investigate a murder of a lower income resident in a luxury building where 20 percent of the units are made affordable for lower income housing. Also, Frank takes issue with a detective friend of Gormley's who takes advantage of his position with legal loopholes.
15: Power Players - Aired: 2015-02-13
When a star witness in a double murder case drops out, Erin is tasked with bringing a protected mob informant back to New York for a case and keeping him safe, with help from Danny and Baez. Also, Frank enters into tense negotiations with Mayor Poole about police officer benefits.
16: In the Box - Aired: 2015-02-20
When an emotionally distraught man holds Baez hostage at gunpoint in an interrogation room after she served him with a restraining order, Danny must try to meet his demands before he harms Frank is faced with a personal and moral dilemma when Garrett asks for help in dropping charges filed against his son.
17: Occupational Hazards - Aired: 2015-03-06
Erin is rattled when an unknown assailant breaks into her apartment and also attacks her co-worker. Meanwhile, Jamie and Eddie discover a pipe bomb in an elderly woman's apartment, and Frank looks into a charity that is soliciting money for the NYPD.
18: Bad Company - Aired: 2015-03-13
Eddie goes on her first undercover operation to investigate a kidnapping ring targeting young women via fake youth hostel websites. Meanwhile, Frank helps a woman he knows from early in his career meet the inmate who killed her family.
19: Through the Looking Glass - Aired: 2015-04-03
Frank goes toe to toe with an investigative journalist who refuses to give up her source, despite the source admitting to committing murder. Also, Danny is paired with a troubled teenager as part of an NYPD program aimed at influencing youth to make better decisions.
20: Payback - Aired: 2015-04-10
When a suspect voluntarily admits to killing a reality show celebrity chef in his own restaurant, Danny and Baez are convinced the suspect is taking the fall for someone. Also, Frank faces a moral dilemma when a longtime friend, Sen. Ted McCreary, asks for Frank's help to make a DUI go away, and investigative journalist Anne Farrell returns.
21: New Rules - Aired: 2015-04-24
When NYPD Deputy Chief Donald Kent, a commanding officer of the gang division, and his wife are gunned down in an apparent gang hit, Frank orders all hands on deck to catch his friend's killer. Working the case, Danny and Baez go see Mario Hunt, a well-known member of a deadly gang, in the first of a two-part season finale.
22: The Art of War - Aired: 2015-05-01
When a member of the Reagan clan is shot, Danny's tries to track down the gang member responsible, without letting his emotions get the best of him. Also, he must get creative in order to bring in witnesses.
Season 6 (22 Episodes)
1: Worst Case Scenario - Aired: 2015-09-25
Frank goes on high alert when a threat to New York City may be imminent following a terrorist attack in the Middle East.
2: Absolute Power - Aired: 2015-10-02
Danny and Baez investigate a possible serial killer who sends a chilling message to Danny. Erin toys with the idea of applying for a judgeship. Frank is in a bind when mayoral candidate, Katherine Tucker accuses him of secretly investigating her husband. Eddie faces her estranged father when he winds up in the hospital.
3: All the News That's Fit to Click - Aired: 2015-10-09
When newspaper reporter Lorenzo Colt is targeted while wearing NYPD gear on a ride-along with Jamie and Eddie, Frank puts Danny and Baez on the hunt for the shooter, who may be out for other members on the force. Garrett contemplates taking another job.
4: With Friends Like These - Aired: 2015-10-16
Erin's attempt to convict a slippery mob boss for an old murder is muddled when her former informant, Vincent (Dan Hedaya), leaves witness protection to provide his old boss with an alibi. Also, Frank finds himself in a departmental war with Commissioner of the New York City Fire Department, Stan Rourke.
5: Backstabbers - Aired: 2015-10-23
Danny joins the hunt for two escaped convicts after hearing one of them is someone he helped to wrongfully imprison. Also, Gormley criticizes a plan from Trey Delgado (Esai Morales), an NYPD sergeant who Gormley thinks is having an affair with his wife.
6: Rush to Judgment - Aired: 2015-10-30
When Jamie is caught on camera committing what could be construed as police brutality at an anti-policy demonstration, Frank is forced to turn the case over to Internal Affairs. Also, Danny and Baez investigate a rape case involving a civil rights attorney who claims the charges were drummed up in retaliation for the investigation into Jaime.
7: The Bullitt Mustang - Aired: 2015-11-06
Danny and Baez investigate the theft of the only remaining Mustang that Steve McQueen drove in the film "Bullitt," owned by Owen Cairo. Also, Erin is at odds with Frank when she is forced to side with her office after the acting District Attorney orders that a slew of cops be arrested for fixing traffic tickets for their friends.
8: Unsung Heroes - Aired: 2015-11-13
When Danny and his family are threatened by Thomas Wilder, a serial killer Danny has not been able to apprehend, Linda's concern intensifies over her husband's job as well as the state of their marriage. Also, Jamie challenges his superior officer, Sgt. William Mulvey, during a hostage situation.
9: Hold Outs - Aired: 2015-11-20
When a homicide case ends in a hung jury, Erin is forced to take over the case from her colleague, ADA Kelly Blake, and with the help of DA investigator Anthony Abetemarco, find a missing witness. Also, Jamie and Eddie go undercover as an elderly couple to catch a gang that is terrorizing a neighborhood.
10: Flags of Our Fathers - Aired: 2015-12-11
Danny is interrogated by the District Attorney's investigator when his ex-partner is accused of planting evidence in order to wrap up a homicide case. Also, when radical anti-government activists threaten to publicly burn an American flag, Frank grapples with the limits of free speech.
11: Back in the Day - Aired: 2016-01-08
When Frank's first partner announces plans to publish a book filled with stories of their early days on the force, Frank worries about his personal stories being made public. Also, when Jamie and Eddie catch a call about a nearby officer needing assistance, the choices they each make will affect their future in the department and their relationship.
12: Cursed - Aired: 2016-01-15
When a local mobster is gunned down in his car, Danny and Baez try to get information from the mob's low-level errand boy they find tied up in the trunk before the gang retaliates. Also, an NYPD officer asks for a new shield number to honor her late father, but Frank is conflicted as it's the same number as his deceased son, Joe.
13: Stomping Grounds - Aired: 2016-01-22
A respected, recently retired NYPD lieutenant is accused of shooting potential muggers on the subway; Baez and Danny try to arrest a drug dealer responsible for a murder Baez witnessed as a child.Source: CBS
14: The Road to Hell - Aired: 2016-02-12
Several women take the credit for murdering the man they worked for. Frank and his priest fall out over the best way how to deal with a boy who has been stealing from the church.
15: Fresh Start - Aired: 2016-02-19
Erin finds it hard to deal with guilt after a man she set free is suspected of killing a policeman. Frank and Mayor Poole clash over Frank's reappointment as commissioner.
16: Help Me Help You - Aired: 2016-02-26
Linda needs Danny and Baez's help after a co-worker has difficulties with an angry ex. Erin's former mentor has been giving out unfair sentences following the death of his wife.
17: Friends in Need - Aired: 2016-03-11
Jamie and Danny disagree about how to handle a reckless NYPD rookie, Marcus, who is the son of Danny's friend. Also, when Erin's investigator, Anthony, gets roped into a bad investment by his cousin, she offers to look into it.
18: Town Without Pity - Aired: 2016-04-01
Frank and Danny work together to help Nick Constantine (Michael Nouri), a rehabilitated ex-con who Frank put away years ago, when Constantine becomes involved in the murder of an old enemy. Also, as Erin prepares for a murder trial, she learns the prosecutor who previously handled the case is withholding the location of the alleged killer so she can interview him on her popular podcast.
19: Blast from the Past - Aired: 2016-04-08
While hunting for a robbery crew on a wild crime spree, Danny and Baez partner with Detective Jimmy Mosley, a detective from another precinct who broke Baez's heart years ago. Also, when an officer who was acquitted on charges of killing a young boy is up for a promotion, Frank grapples with the decision of moving him up the ladder and risking public outrage.
20: Down the Rabbit Hole - Aired: 2016-04-15
When serial killer Thomas Wilder attaches a message to his latest victim that taunts Danny, their deadly game of cat and mouse becomes personal for Danny.
21: The Extra Mile - Aired: 2016-04-29
When a key eyewitness in a murder trial flees out of fear of retaliation, Erin and Anthony spearhead their own two-person manhunt to find him and convince him to testify. Also, Garrett tries to convince Frank to attend the Police Union party, and Danny and Baez take a closer look at a suspicious convenience store robbery.
22: Blowback - Aired: 2016-05-06
Frank, the Mayor, Erin and the DA's office contend with public outrage after a grand jury doesn't indict an NYPD officer for the controversial shooting of a teenager that was caught on video.
Season 7 (22 Episodes)
1: The Greater Good - Aired: 2016-09-23
Evidence against Danny surfaces when the attorney general's office reviews his shooting of a serial killer. Jamie and Eddie deal with a high-profile drunken driver. A slain cop's widow asks Frank for a favor.
2: Good Cop Bad Cop - Aired: 2016-09-30
Danny and Baez investigate the death of an elderly woman who was shot in her home by a stray bullet. Also, Frank faces ridicule from his department when he disciplines a disrespectful cop, and Erin steps in to help her detective, Anthony, find a legal solution to a case that's personal to him,
3: The Price of Justice - Aired: 2016-10-07
A woman who was held hostage resists pressing charges, but Danny and Baez want justice for her. Meanwhile, a high-profile NYPD fund-raiser uses a phony police vehicle to avoid traffic; and Jamie has the opportunity to be a technical adviser on a TV show.
4: Mob Rules - Aired: 2016-10-14
Intent on bringing justice to Lieutenant Gormley after he is beaten by a mob outside his home, Danny and Frank enlist the aid of Detective Anthony Abetemarco, who has a personal connection to the neighborhood where the attack occurred. Also, Eddie and Jamie witness a dishonest arrest, and Danny searches for a witness to testify against a dangerous gang leader
5: For the Community - Aired: 2016-10-21
Erin and Anthony try to prevent the deportation of a prominent community activist who isn't a citizen. Frank must decide if the NYPD will participate in the U.S. Marshals' high-profile raid of a local gang.
6: Whistleblowers - Aired: 2016-10-28
A NYPD whistle-blower claims there's been abuse of power within the organization, so Frank must investigate whether this is true. Meanwhile, Danny and Baez are suspicious of a car accident involving a pedestrian and think it may have been intentional.
7: Guilt By Association - Aired: 2016-11-04
When a key witness in Danny's case is killed just before testifying, Erin angers Danny by enlisting Anthony (Steve Schrippa) to help him find the killer. Also, Robert Lewis (Michael Imperioli) tries to force Frank to publicly support the Attorney General's investigation of the use of excessive force by police, and Eddie and Jamie get the call for an attempted suicide.
8: Personal Business - Aired: 2016-11-11
After Emily Harrison tells Danny and Baez she's concerned her abusive ex-boyfriend will repeat his behavior with his new girlfriend, Emily becomes the prime suspect when he's murdered. Also, Eddie gets jealous when Jamie lets a young woman crash at his apartment, and Frank must decide how to discipline a sergeant after he fails to intercede during an armed robbery while off duty.
9: Confessions - Aired: 2016-11-18
Frank is left with minimal information to find a missing boy when a conflicted priest who could help won't break the seal of confession. Also, Danny and Baez investigate the death of a prominent New York City socialite with a secret life, and Jamie and Eddie attend a wedding together.
10: Unbearable Loss - Aired: 2016-12-09
When the son of Frank's most outspoken critic in the African-American community, Reverend Darnell Potter (Ato Essandoh), is killed, Potter must put aside his contentious relationship with the Reagan family in order to get justice for his.
11: Genetics - Aired: 2017-01-06
When Eddie and Jamie become overly involved in a complicated adoption case between the birth and adoptive parents, they ask Erin to help them settle the dispute without going to court.
12: Not Fade Away - Aired: 2017-01-13
When Danny accepts a side job as a bodyguard for a recently released ex-con who took the fall for someone else, he uses the opportunity to go after the real criminal. Also, Gormley's wife, Sheila, asks Frank to give Gormley a bigger command position, and Jamie and Eddie witness a lovers' quarrel between two cops that leads them to reflect on their own complicated relationship.
13: The One That Got Away - Aired: 2017-01-20
When diplomatic immunity complicates a child abuse case for Danny and Baez, Frank intervenes, despite not having jurisdiction on the case. Also, a robbery occurs while Eddie and Jamie are on a double date with Eddie's boyfriend and his sister, and they are forced to step in.
14: In & Out - Aired: 2017-02-03
While investigating the murder of a gang leader, Danny and Baez learn the accused shooter is an ex-con who is romantically linked to his parole officer, who might be assisting in a cover up. Also, concerned the murder might spark further violence, Frank steps in to mediate but must deal with Mario Hunt, the rival gang leader who killed a police chief two years ago.
15: Lost Souls - Aired: 2017-02-10
While investigating the murder of a man who killed a mother and son years earlier while driving drunk, Danny and Baez are torn between doing their job and finding justice after discovering the connection between the suspect and the victim.
16: Hard Bargain - Aired: 2017-02-17
When Linda's brother, Jimmy, gets into trouble with the mob, he begs Danny to help him stay safe until it blows over. Also, Frank faces a public relations nightmare when the lawyer of a wrongfully arrested man demands that NYPD records be made public.
17: Shadow of a Doubt - Aired: 2017-03-10
Jamie and Eddie suspect foul play when they respond to a distress call from a woman having an allergic reaction to her lifesaving medication, and learn that her husband is an EMT assigned to take her call, but didn't respond. Also, Erin learns that a man she convicted years earlier might be innocent of the crime, and Frank handles a PR crisis in his department when an exposé on Garrett Moore is published.
18: A Deep Blue Goodbye - Aired: 2017-03-31
An ex-NYPD officer goes missing the day after she reveals to Danny her plans to make amends to the woman she and her partner wrongfully convicted years ago. Frank faces a dilemma when one of his peers refuses to retire.
19: Love Lost - Aired: 2017-04-07
Erin faces off against her ex-husband in court when he represents the person she is attempting to convict of murder. Frank is confronted by a mother who accuses the NYPD of being negligent in solving her son's murder. Jamie rides with a new partner.
20: No Retreat, No Surrender - Aired: 2017-04-14
After Reggie Wilson, a witness in a former case of Erin's, asks her for help shutting down a drug operation in his apartment building, she makes it her mission to make the building safe for his family. Also, while investigating a teen's suicide, Danny and Baez uncover information that suggests the death was a homicide, and Frank looks into potential misconduct within the Mayor's office.
21: Foreign Interference - Aired: 2017-04-28
Danny and Baez team up with two Russian operatives to search for a dangerous Russian man who entered the U.S. on a diplomatic visa. Also, Frank gets involved in a sensitive case involving Archbishop Kevin Kearns.
22: The Thin Blue Line - Aired: 2017-05-05
In the season finale, when Danny intercepts a shipment of several million dollars that was heading to a drug cartel in Mexico, he becomes a target when they come back for revenge. Also, Jamie works independently to track down a serial killer who preys on the elderly.
Season 8 (22 Episodes)
1: Cutting Losses - Aired: 2017-09-29
Danny considers retiring until Erin asks for his help with a case involving her ex-husband; Jamie and Eddie pose as a couple; Frank clashes with the new mayor.
2: Ghosts of the Past - Aired: 2017-10-06
Frank receives an order from the mayor to attend a parade honoring a man who served time for conspiring in an attack against the police. Meanwhile, Danny investigates the return of a teen who suspiciously disappeared 13 years ago; and Jamie and Eddie help a young woman they believe is being exploited by a congressman.
3: The Enemy of My Enemy - Aired: 2017-10-13
Erin's trial against a notorious human trafficker is jeopardized when the presiding judge is mysteriously found dead. Danny and Baez are put on the case to investigate foul play. Meanwhile, Mayor Dutton opposes Frank's public safety initiative, but City Council Speaker Regina Thomas devises a plan to help Frank bypass the mayor's veto.
4: Out of the Blue - Aired: 2017-10-20
Danny and Baez work the case of a detective who was gunned down prior to testifying against a career criminal. Meanwhile, Frank personally investigates when Garrett is attacked by a S.W.A.T. team outside his home; and Erin brings in a confidential informant against Anthony's wishes.
5: The Forgotten - Aired: 2017-10-27
Danny and Baez investigate the murder of a single mother whose ex-husband has a history of violence. Also, Frank deals with the fallout when Mayor Dutton eliminates solitary confinement in prisons, and Jamie's efforts to save a young woman who overdosed on drugs has unexpected consequences.
6: Brushed Off - Aired: 2017-11-03
A famous basketball player is found dead of an apparent drug overdose. Danny investigates and looks into the victim's possible ties to a local drug gang. Meanwhile, Erin revisits the case of a man she may have wrongfully convicted years ago; and Frank is approached by Archbishop Kearns regarding an eviction matter that Jamie and Eddie are working on.
7: Common Ground - Aired: 2017-11-10
A case turns personal for Danny when he works to protect a nurse, Faith Madson, from her violent ex-boyfriend. Also, Shelly Wayne, an acquaintance of Frank's, comes to him with a theory regarding the death of an inmate, and Jamie and Eddie help deliver a baby.
8: Pick Your Poison - Aired: 2017-11-17
Eddie's judgment is clouded by her past when she arrests a loathed acquaintance from college on questionable charges. Also, Frank is hesitant to mar the spotless record of a member of the force, a decorated U.S. military veteran, who tested positive for marijuana.
9: Pain Killers - Aired: 2017-12-01
Danny and Baez join a narcotics task force to track a drug supplier; Baez comes into contact with drugs and gets an accidental overdose; Jamie and Eddie work to protect a rehabilitated sex offender; Frank forms an unlikely alliance with Mayor Dutton.
10: Heavy Is the Head - Aired: 2017-12-08
Jamie and Eddie ask Erin to drop old charges against a man who bravely rescued a woman from a local hostage situation; Danny and Baez work a case involving car thieves and discover the leader is a mobster they've dealt with before.
11: Second Chances - Aired: 2018-01-05
When a journalist disappears while working on an exposé about an innocent man serving time for murder, Danny and Baez hope that reexamining the original case will help find her. Also, Frank reluctantly speaks out against an initiative led by Erin's office to consider drug abuse as a disease first, and a crime second.
12: The Brave - Aired: 2018-01-12
After Anthony is shot while interviewing a witness for an upcoming murder trial, Erin enlists Anthony's archenemy, Danny, to find out who was responsible. Jamie and Eddie get in the middle of a standoff between a police lieutenant and a developmentally disabled man posing as an officer and Nicky prepares to take the police exam.
13: Erasing History - Aired: 2018-01-19
When Henry is the key witness on Danny and Baez's case, his meddling pushes Danny's buttons until he leads them to valuable information. Also, Nicky shocks her family by siding with her activist friend, Chrissie, who defaced the NYPD flag at One Police Plaza, and Jamie and Eddie learn a parole officer is taking advantage of his power over parolees.
14: School of Hard Knocks - Aired: 2018-02-02
When a student is shot by a rival gang member in his high school courtyard, Danny and Baez try to get a grasp on the situation to prevent a reoccurrence, but the principal recklessly takes matters into his own hands. Also, Erin tries to help a friend who is mixed up in an illegal gambling ring; and Gov. Mendez tries to frame Frank after one of his top legislative aides is shot by an NYPD officer
15: Legacy - Aired: 2018-03-02
Danny considers taking a new job that would ease his financial struggles after investigating the death of a wealthy man. Also, Nicky tries to avoid involving her family when she is sexually harassed by her boss at her new internship, and Garrett advises Frank to regain the public's trust after a rookie cop is caught on video questioning a pedestrian's immigration status.
16: Tale of Two Cities - Aired: 2018-03-09
Danny and Baez investigate the murder of a man who was living a double life with two separate families, and Anthony tries to resist when Erin asks him to help investigate his old partner, whom she suspects of stealing drug money. Also, Frank deliberates between two candidates for the chief of transit position.
17: Close Calls - Aired: 2018-03-30
After Danny's brother-in-law, Jimmy, gets caught up with the mob and steals Danny's credit card, Danny forces Jimmy to take down the mobsters with Baez's help. Also, Frank has Erin and Anthony investigate if his old partner, Lenny, is truly guilty of a crime and Jamie is approached by Tariq, an officer who wants his help getting reassigned from his undercover assignment at a mosque.
18: Friendship, Love, and Loyalty - Aired: 2018-04-06
After a woman voices her outrage regarding the NYPD's inability to find her son's murderer, Danny reexamines the case, upsetting the original detective, Erin, and Anthony, who didn't pursue the case due to lack of evidence. Also, Eddie is shot while on duty; Erin and her ex-husband, Jack, face off in court; and Frank contends with an angry police force when Mayor Dutton fails to defend them at a press conference.
19: Risk Management - Aired: 2018-04-13
Danny and Baez race to find a missing girl who will die within 72 hours without her heart medication. Also, Jamie and Eddie are on the wrong side of an investigation after engaging in a car chase, Frank, Garrett and Gormley investigate the rise in the settlement of lawsuits against cops, and Sean wins an essay contest and receives a medal from former New York City Mayor David Dinkins.
20: Your Six - Aired: 2018-04-27
When Danny resorts to asking his incarcerated archenemy, Victor Lugo, for help locating a dangerous criminal who escaped from prison, Lugo refuses to assist unless he's allowed to accompany them on the pursuit. Also, Frank subtly tries to convince Jamie to take the sergeant's test, and Erin's plan to go on a date with her ex-husband causes friction between her and Anthony.
21: The Devil You Know - Aired: 2018-05-04
Frank locks horns with a data-tracking company when it refuses to unlock a terrorist's phone that may hold information regarding upcoming targets; Erin obtains information about an impending murder from a shady source; a woman kidnaps a baby.
22: My Aim is True - Aired: 2018-05-11
When a series of drive-by murders occur after six wrongly convicted men are released from prison, Danny and Baez wonder if they were orchestrated by the men as an act of revenge. Also, Frank combats the guilt he feels about these innocent men unfairly serving nine years in prison, and Jamie and Eddie find themselves in a life-threatening situation.
Season 9 (22 Episodes)
1: Playing with Fire - Aired: 2018-09-28
Danny takes on a personal case involving a drug cartel member who Danny believes is responsible for torching his house. Erin is given a promotion in the DA's office but finds herself in a challenging situation when both Danny and Jamie ask her for help with their investigations. Frank and Jaime have a disagreement when Jamie refuses to stop riding with Eddie.
2: Meet the New Boss - Aired: 2018-10-05
Gormley looks to Danny and Baez for help tracking down a former NYPD detective he believes may be a threat to Frank's safety. Erin navigates office politics when she chooses to reopen a closed case. Jamie is transferred to a new precinct with a lot of problems. Frank and Baker team up to investigate a complaint about an SVU detective.
3: Mind Games - Aired: 2018-10-12
While investigating a case involving a woman who shot her husband while she was drunk, Danny's instincts tell him there is more to the story. Anthony ignores Erin's orders to drop an assault case. Frank holds an emergency drill for his inner circle. Jamie and Eddie navigate their changing work-life dynamic
4: Blackout - Aired: 2018-10-19
When New York City experiences a major blackout, police officers scramble to contain the resulting chaos. Frank uncovers some unpleasant truths about his department. Jamie and Eddie question the line between work and their relationship.
5: Thicker Than Water - Aired: 2018-10-26
Danny and Baez investigate a murder attempt against a celebrated fertility doctor with a seemingly pristine reputation. Eddie must intervene in a Reagan family matter involving Danny's boys. Erin helps Anthony find justice after a date goes wrong.
6: Trust - Aired: 2018-11-02
Jamie clashes with Eddie and her new partner when they fail to intervene in a dispute at a convenience store. Danny and Baez investigate the death of a college freshman at a fraternity party. A sergeant accuses the department of reverse racism.
7: By Hook or by Crook - Aired: 2018-11-09
Things get personal for Danny when the drug cartel hit man responsible for torching his house resurfaces. An attack on an officer in the line of duty directly impacts a member of Frank's team. Eddie reluctantly introduces Jamie to her mother.
8: Stirring the Pot - Aired: 2018-11-16
Erin and Frank clash over new legislation from the district attorney's office that undermines Frank's policies. Erin is at odds with Governor Mendez over questionable sex-trafficking laws. Danny risks his badge to protect a friend from losing his.
9: Handcuffs - Aired: 2018-11-30
A video surfaces of cops being harassed by a group of people at a housing complex, which leads Frank to order a raid to round up anyone with an outstanding warrant, against Garrett's advice. Danny is approached by a woman he put in jail who asks for his help keeping her brother out of trouble. Nicky's new boyfriend has ulterior motives.
10: Authority Figures - Aired: 2018-12-07
When a video surfaces of officers partaking in a clear case of entrapment, Frank focuses on finding the cop who leaked the video. Eddie retaliates against a co-worker who is pranking Jamie. Danny and Baez investigate the murder of a tabloid writer who worked in the hip-hop scene. Erin gives a high-profile case to a young ADA under her tutelage.
11: Disrupted - Aired: 2019-01-04
Frank questions whether a run-in with community activists was an accident or a setup. Also, Jamie strives to rely less on Frank's input to makes decisions, Erin helps Anthony protect his daughter and ex-wife from a dangerous psychiatric patient, and Danny and his neighbor size each other up when they learn their kids are dating.
12: Milestones - Aired: 2019-01-11
A former officer waits on Frank at a restaurant, causing him to feel guilty about the circumstances surrounding why she was fired, and he tries to reinstate her. Also, Danny and Baez investigate the murder of a star college basketball player linked to sports betting, Erin seeks justice in an apparent DUI, and Jamie and Eddie pick a wedding venue.
13: Ripple Effect - Aired: 2019-02-01
A medium approaches Danny and Baez claiming to know what happened to a woman who was found dead of an apparent suicide. Also, Jamie and Eddie help a woman who bought cheap insulin online that nearly killed her son; Frank goes against the wishes of the archbishop to take down a man he believes is laundering money from a charity; and Erin's ex-husband asks her for help with an assault and robbery case.
14: My Brother's Keeper - Aired: 2019-02-08
It's Reagan versus Reagan when Danny goes against Jamie's direct order during a hostage negotiation. Also, Nicky asks Erin for help when her friend is in jeopardy of losing his scholarship because of a crime he didn't commit, and Frank helps a distraught officer who accidentally shot an innocent girl.
15: Blues - Aired: 2019-02-15
While off duty, Danny encounters a gas station robbery in progress and is forced to use his weapon, leaving him shaken and his family and co-workers concerned. Also, Eddie apprehends a turnstile jumper who pleads for leniency by offering information on a missing weapon that's vital to one of Erin's cases, and Frank learns that a top officer in his department has a dark past.
16: Past Tense - Aired: 2019-03-08
After a woman is murdered in her apartment, Danny and Baez turn to her daughter, Margo, for help, but instead she complicates the investigation. Also, someone from Jamie and Eddie's past launches a smear campaign against them, and a mobster shows up in the DA's office claiming to be Anthony's long-lost brother.
17: Two-faced - Aired: 2019-03-15
Frank's longtime friend Lenny (Treat Williams) reveals to him that an upcoming exposé will air some of the NYPD's dirty laundry. Also, Erin must decide how to charge a doctor whose experimental treatments led to the death of his terminally ill daughter; Danny and Baez investigate the mysterious overdose of a promising artist; and Jamie follows a lead about a corrupt officer in his precinct.
18: Rectify - Aired: 2019-04-05
After an incident where Officer Witten's backup physically could not keep up with a chase, Frank must decide whether to implement a more rigorous fitness test for the NYPD. Also, Danny is hesitant to pursue a cold case after learning who the original detective was; Anthony begs Erin to stall a murder trial so he can gather more evidence; and Eddie is vexed by Jamie's disapproval of her joining a fraternal organization.
19: Common Enemies - Aired: 2019-04-12
After someone breaks into Luis Delgado's home and kills his wife, Luis and Danny team up to take down the vicious murderer who may also be responsible for Linda's death. Also, Frank finally meets Eddie's mother, Lena, and Jamie and Erin are at odds after Jamie seeks her help charging a man who confessed to him while under the influence.
20: Strange Bedfellows - Aired: 2019-04-26
Erin must convince Frank to back a new state police bill as part of a bargain she made with Governor Mendez. Also, Danny and Baez pursue the same perp twice after the DA's office is unconvinced by their initial lineup, and Frank faces a challenge when a cop killer comes up for parole.
21: Identity - Aired: 2019-05-03
DNA evidence in a murder case leads Danny and Baez to identical twins with identical alibis. Also, Frank learns Nicky is interviewing for a job at the Justice Coalition, which he rarely sees eye-to-eye with, and Jamie visits Eddie's father, Armin, in prison.
22: Something Blue - Aired: 2019-05-10
As Jamie and Eddie's wedding day approaches, Frank worries about the toast he'll deliver at their rehearsal dinner. Also, Erin interviews a witness whose story leads her to doubt Eddie's honesty, since she took his initial statement, and Danny and Baez unravel the complicated love life of a young homicide victim.
Season 10 (19 Episodes)
1: The Real Deal - Aired: 2019-09-27
Danny and Baez grapple with a homicide investigation brought to their attention by Maggie, the medium who previously helped them solve a case; Frank looks for a way to help his ex-partner Lenny Ross when Lenny's daughter gets arrested.
2: Naughty or Nice - Aired: 2019-10-04
Frank and Erin are at odds when Frank learns the D.A.'s office keeps a list of "unreliable" cops. Also, Danny and Baez recruit retired mobster Vincent Rella to assist in an investigation, and Jamie participates in a decoy operation to take down a predator posing as a ride-share driver.
3: Behind the Smile - Aired: 2019-10-11
Frank's esteem for an old friend proves to be a mistake; Jamie asks Erin for help apprehending a perp who shot at him after learning she chose not to send him to prison six months ago; Eddie clashes with her new boss.
4: Another Look - Aired: 2019-10-18
Frank takes one of Jamie's cases to heart when it involves the suspicious death of his friend's, FBI Agent Wilson Ortega's, terminally ill wife. Also, after demanding more meaningful cases, Erin receives an unsolved robbery case that proves to be impossible to crack without help from Anthony, and Danny and Baez uncover the shocking truth behind a puzzling assault claim.
5: The Price You Pay - Aired: 2019-10-25
Frank works to vindicate Detective Douglas McKenzie, a detective accused of using excessive force. Also, Danny and Baez track down the killer responsible for the death of a rapper's bodyguard. Jamie is skeptical about a relationship between Espinoza and a new rookie officer, Sarah Brooks; and Eddie goes undercover to help Erin investigate a mysterious cult.
6: Glass Houses - Aired: 2019-11-01
Frank is conflicted about how to deal with former cop Rick Austin's gripe about his pension. Jamie helps a friend, Connor O'Brien, deal with illicit pictures of his daughter on the internet. Danny hunts down a killer who shot his online prison pen-pal. Anthony confronts the realization that his foster son, Sam, might not be suited for police work.
7: Higher Standards - Aired: 2019-11-08
Jamie and Frank oppose each other's viewpoints over the public's treatment of cops after rowdy teens pour water on two rookies. Danny and Baez investigate a man who preys on the elderly. Erin is forced to admit her wrongdoings.
8: Friends in High Places - Aired: 2019-11-15
While Henry works as an investigative consultant for child services, he and Danny butt heads over a case involving a man who is volatile toward his wife. Frank is caught in the middle of an ongoing battle between the NYPD and the FDNY. Erin ponders a life-changing opportunity presented to her by Mayor Peter Chase. Jamie is suspicious about an investigation targeting Eddie's partner.
9: Grave Errors - Aired: 2019-11-22
Erin disagrees with a psychiatric consultant's diagnosis of a nanny accused of abuse; Eddie confronts her boss; Frank is forced to make staffing changes he is skeptical about; a woman claims she heard someone plotting a murder.
10: Bones to Pick - Aired: 2019-12-06
After a woman is found dead at a men's-only club, Danny and Baez investigate if her death was an accident; Frank hears about an alleged affair between the chief of Internal Affairs and the spouse of another member of law enforcement.
11: Careful What You Wish For - Aired: 2020-01-03
After an EMT is shot and killed, Danny and Baez work to determine who is behind a chain of ambulance robberies; Frank defends New York's homeless community after the mayor puts a new law in place; Eddie offers to help Jamie pay off his student loans.
12: Where the Truth Lies - Aired: 2020-01-10
A widow blames Frank for her husband's recent suicide; Eddie has a gut feeling about a murder; a desperate Luis Delgado wants protection for his sons.
13: Reckless - Aired: 2020-01-31
Frank must uncover the truth when an undercover officer accuses a fellow cop of police brutality. Also, Danny and Baez investigate the murder of a famous photographer recently accused of assault by his former models, and Erin struggles to protect a witness as new justice reform laws go into effect.
14: Fog of War - Aired: 2020-02-14
Danny and Baez work with Texas Ranger Waylon Gates when they are put on a case to find the Lone Star Killer. Also, after Eddie's partner, Officer James Addison, mistakenly shoots an undercover cop, internal affairs accuses Jamie of not supervising properly, and Frank speaks with Officer Addison about why he shouldn't turn in his shield.
15: Vested Interests - Aired: 2020-03-06
Jamie is under investigation after his police vest is found on a perp. Frank debates whether to aid and protect an old friend whose home was invaded. Danny and Baez investigate the suspicious circumstances surrounding the death of a hotel employee believed to be a suicide. Erin asks Anthony to make a deal with a man who knows secrets about the current D.A.
16: The First 100 Days - Aired: 2020-03-13
Frank and Garrett devise a plan to convince Mayor Chase to work better with others in order to properly run the city, and Danny and Baez try to track down a perp who vandalized several NYPD vehicles with anti-cop graffiti and made threats against officers. Also, Erin is shaken after she's in a car accident, and Eddie and Jamie argue about whether they should keep a stray dog who leads them to a crime scene.
17: The Puzzle Palace - Aired: 2020-04-03
Erin and Anthony trust a sociopath who claims he has evidence to convict a murderer; Frank faces backlash from his department when he suspends an officer for violent behavior; Danny and Baez try to arrest a notorious gangster.
18: Hide in Plain Sight - Aired: 2020-04-24
Danny and Baez are faced with tracking down a drug dealer after two young models are found dead from an overdose. Also, Eddie and Jamie team up to determine who the mastermind is behind a robbery.
19: Family Secrets - Aired: 2020-05-01
After getting a match from an unknown relative from a DNA network, Sean Reagan does some detective work to figure out who this mystery person might be. Frank gets a personal request from a woman to transfer her son to a safer assignment. Also, Danny seeks to uncover the truth behind the murder of a key witness in one of Erin's cases, and Eddie begins to think about having a child after she and Jamie discover a newborn left outside their precinct.
Season 11 (16 Episodes)
1: Triumph Over Trauma - Aired: 2020-12-04
Amidst a shifting political climate, Frank goes head to head with City Council Speaker Regina over protests against police brutality. Also, Jamie and his nephew Joe Hill work together to locate Danny and Baez when they go missing while searching for a killer, and Eddie steps up to help an abrasive woman find her father's body after it was misplaced during the outset of the pandemic.
2: In the Name of the Father - Aired: 2020-12-11
Danny and Jamie combine forces to convict a notorious drug lord, as Erin nervously awaits the Governor's selection for the new District Attorney. Also, Frank and his grandson, Joe Hill (Will Hochman), face a difficult decision as they navigate their new and complicated family ties.
3: Atonement - Aired: 2020-12-18
Frank struggles after Joe Hill's lineage as a Reagan is revealed; Erin and Anthony receive gift-wrapped evidence; Danny's opposition to authority clashes with Jamie's adherence to the rules, as both brothers work to solve a murder.
4: Redemption - Aired: 2021-01-08
Erin is conflicted by the weight of her authority in the sentencing of a man who is guilty of vehicular homicide; Danny and Baez pursue a rideshare rapist; Jamie and Eddie team up to aid a fellow officer when his partner is shot on the job.
5: Spilling Secrets - Aired: 2021-01-22
Eddie and her partner, Officer Rachel Witten (Lauren Patten), are heralded for their bravery for stopping an active shooter, until a civilian comes forward to accuse them of faking the incident as part of a government conspiracy.
6: The New Normal - Aired: 2021-02-05
The Reagans confront hard choices on the job when Frank deals with a police captain who's losing his grip over his precinct, and Danny faces backlash from the Baez and Internal Affairs over a tough call he made in the field.
7: In Too Deep - Aired: 2021-02-12
After Danny witnesses a drive-by shooting, he butts head with the detective assigned to the case; a childhood friend of Jamie's is convinced that she has single-handedly solved a cold case murder.
8: More Than Meets the Eye - Aired: 2021-03-05
Erin tries not to feel overpowered as her new boss shadows her at work just as she's trying to get a nervous eye-witness to reveal the identity of who shot her boyfriend. Also, the serial killer who previously held Danny and Baez hostage resurfaces, and when Jaime arrests an intrusive reporter who appears at a series of store lootings, it leads to a standoff between Frank and the Attorney General over the press' First Amendment rights.
9: For Whom the Bell Tolls - Aired: 2021-03-26
Baez confides in Danny and asks for his help in proving her innocence after she finds a corpse in her front yard. Also, Erin struggles to find a peaceful solution when she receives harsh case notes from her boss, Jamie and Eddie butt heads over the handling of a young cop's punishment, and Frank makes his whole team attend therapy after Gormley exhibits troubling behavior.
10: The Common Good - Aired: 2021-04-02
Frank asks Erin to liaise between him and NY Governor Mendez regarding policy reform he privately backs, but can't publicly support, because it goes against police rank and file. Danny and Baez become enmeshed in the world of competitive gaming when a high-profile video game streamer is murdered, and Eddie and Witten suspect a live-in nanny is being abused after she approaches them on the street for help.
11: Guardian Angels - Aired: 2021-04-09
Frank takes matters into his own hands to save Gormley's career when complaints against him become public knowledge; Danny and Baez learn to be allies when the transgender community comes under attack.
12: Happy Endings - Aired: 2021-04-16
Business becomes personal for Frank and his 1 Police Plaza team when Baker is assaulted on the street, as well as for Erin, when she asks her ex-husband, Jack Boyle, to represent a defendant she's prosecuting. Also, Eddie wonders if she's being too stubborn after she publicly undermines one of Jamie's decisions at work, and Danny and Baez investigate the attempted murder of a couple with huge secrets.
13: Fallen Heroes - Aired: 2021-04-30
Jamie refuses to explain why he contests the arrest report of a fellow officer who was assaulted in the field; Danny and Baez clash when their lead suspect for a murder of one of Danny's favorite comics.
14: The New You - Aired: 2021-05-07
Frank and Garrett quarrel when Garrett refuses to walk back a quote he provided to a local newspaper. Also, Danny and Baez discover a connection to a feud between local residents and city-sponsored hotels for the homeless while investigating a murder, Anthony is mistaken for a mafioso and Eddie pressures Jamie to take a love language quiz.
15: The End (1) - Aired: 2021-05-14
Shockwaves ripple through the Reagan family when Danny discovers that their newest family member, Joe Hill (Will Hochman), is working undercover for the ATF to bring down a gunrunning organization.
16: Justifies the Means (2) - Aired: 2021-05-14
The Reagans band together to prevent Joe Hill from being killed in the line of duty like his father when they fear Joe's cover has been blown within the gunrunning outfit he's helping the ATF bring down.
Season 12 (20 Episodes)
1: Hate Is Hate - Aired: 2021-10-01
Danny consults a psychic to solve the murder of a young boy; Frank is at odds with the mayor over how best to protect the city from an uptick in crime following a high-profile shooting; Erin investigates a decades-old case.
2: Times Like These - Aired: 2021-10-08
Tension escalates between Frank and Mayor Chase after Frank makes a public arrest that goes viral. Danny and Baez investigate a gang attack that takes an unexpected turn. Jamie worries when Eddie lies to him about where she's going in the evenings.
3: Protective Instincts - Aired: 2021-10-15
Frank must decide between remaining police commissioner and pursuing a new professional chapter when his old friend presents him with an exciting job offer. Danny and Baez investigate the murder of a restaurant delivery man.
4: True Blue - Aired: 2021-10-22
Jamie faces backlash from fellow officers when he partners with Erin and Anthony to investigate an underground bar the NYPD and FDNY use to hide their criminal indiscretions; Eddie's partner considers leaving the force.
5: Good Intentions - Aired: 2021-11-05
Jamie and Eddie experience marital tension when Eddie allows her newly released ex-convict father to live with them; Danny and Baez go out of their way to help a desperate man find his missing sister.
6: Be Smart or Be Dead - Aired: 2021-11-12
Frank causes family tension when he assigns Jamie to guard Danny after a hit is put on him; Frank tries to stop his grandson from seeking revenge after he's attacked; Eddie gets a hostile new partner.
7: USA Today - Aired: 2021-11-19
Danny and Baez's attempts to find who assaulted a shop owner are hindered by the community's refusal to cooperate; Erin's suspicions about her boss rise; Gormley, Garrett and Baker are threatened by a new staff member.
8: Reality Check - Aired: 2021-12-03
Danny partners with Anthony to solve a double homicide when Anthony's shady cousin proves to have gang ties to the crime; the boundary between Eddie and Jamie's work and personal relationship becomes strained.
9: Firewall - Aired: 2021-12-10
Frank enlists the help of an old friend, Sloane Thompson, to investigate a cyber-attack on the NYPD that forces Danny and Baez to release an evasive suspect. Also, Baez questions her place within the NYPD; Eddie is torn over a workplace dilemma; and Jamie wrestles with a family secret.
10: Old Friends - Aired: 2022-01-07
An illegal drug shipment arriving in New York City must be found before the narcotics flood the streets; Jamie helps a neighbor handle a gambling debt; Frank receives pushback from Mayor Chase over his handling of a brawl.
11: On the Arm - Aired: 2022-01-14
Danny pursues a con artist pretending to be the legendary singer Jimmy Buffett; Frank investigates an impressive police captain who is using her badge to get free wares from local stores.
12: The Reagan Way - Aired: 2022-01-21
Frank is at odds with his friend Archbishop Kearns when he says the NYPD arrested the wrong man for a murder; Eddie tries to get justice for a sexual assault survivor; Jamie and his nephew, Joe Hill, butt heads over fair police practices.
13: Cold Comfort - Aired: 2022-01-28
Frank contends with a potentially dirty cop within his ranks; Eddie and Badillo track down the culprits behind the theft of valuable, rare works from a celebrated bookstore; Erin snoops into the background of a new woman in Anthony's life.
14: Allegiance - Aired: 2022-02-25
Erin's nephew, police officer Joe Hill, becomes aware of witness tampering in a trial; Baez forces Danny to help her find the killer of her favorite TV personality; Eddie questions her decision to become a police sergeant.
15: Where We Stand - Aired: 2022-03-04
Frank contends with public outcry to defund the NYPD School Safety Division, after a physical altercation between a school officer and a student goes viral; Danny and Baez help a father track down his missing ex-wife and daughter.
16: Guilt - Aired: 2022-03-11
Frank, Baker, Garrett and Gormley experience feelings of guilt when Detective Angela Reddick (Ilfenish Hadera), an officer they briefly worked with at 1PP, is shot after Frank reassigned her for not meshing with their team. Also, Eddie, Danny and Baez investigate a man's murder after Eddie and her partner respond to an altercation between the victim and a neighbor, and Anthony finds himself at a crossroads when he's offered a promotion that strains his relationship with Erin.
17: Hidden Motive - Aired: 2022-04-01
Frank is blindsided when Mayor Chase bypasses him with a request for Jamie to head his security detail; Danny and Baez investigate the murder of a wealthy college student; Anthony fears money woes are leading his sibling down the wrong path.
18: Long Lost - Aired: 2022-04-08
A local celebrity asks Frank to make an exception to the NYPD age limit; an encounter with an old rival leads Erin to look into an alleged wrongful conviction; Jamie is torn over whether to report a sergeant; Danny and Baez look for an abducted kid.
19: Tangled Up in Blue - Aired: 2022-04-29
Erin is stalked by a man who was recently released from prison; Jamie works to save his badge when he is caught driving under the influence after he is unknowingly given drugs at a party; Frank navigates multiple family issues.
20: Silver Linings - Aired: 2022-05-06
Jamie and Joe search for an undocumented teenage girl who has been sex-trafficked; a woman in witness protection is murdered; Frank calls out the district attorney's office for instituting a new rule that classifies armed robbery as a misdemeanor.
Season 13 (16 Episodes)
1: Keeping the Faith - Aired: 2022-10-07
Eddie and Jamie deal with a domestic violence case associated with an investigation lead by Danny and Baez; Frank and his friend go on a mission to avail themselves to an unfiltered look at the city; Erin is presented with a surprising offer.
2: First Blush - Aired: 2022-10-14
Frank announces he will not endorse Erin's run for district attorney; Danny and Baez investigate a bloody crime scene at a hotel; Jamie begins a new job as a field intelligence sergeant that requires him to keep secrets from his family.
3: Ghosted - Aired: 2022-10-21
Danny and Baez investigate after a vicious attack leaves their mutual friend, Maggie Gibson, hospitalized; Frank and the team debate the appropriate memorial protocol for a former police commissioner with a questionable professional legacy.
4: Life During Wartime - Aired: 2022-10-28
Danny and Baez investigate a series of violent robberies targeting luxury timepieces; Erin is conflicted about criminally charging a potentially innocent man; Frank is forced to reopen a case in which the officer involved was acquitted.
5: Homefront - Aired: 2022-11-04
Frank launches an investigation after the Reagan family is harassed; Danny and Baez form an unlikely partnership with an informant in order to prevent a murder; Eddie lands in hot water after she defies a direct order.
6: On Dangerous Ground - Aired: 2022-11-18
Danny and Jamie clash over a gang-related shooting; Erin and Anthony search for answers when a lawyer in their office jeopardizes a case involving Erin's nephew; Frank grows concerned when he's not invited to speak at a policing forum.
7: Heroes - Aired: 2022-12-02
Erin and Anthony clash when Anthony's daughter is the sole eyewitness to a fatal shooting; Frank wants to punish an off-duty cop for his inaction during an armed robbery; Danny and Baez investigate a violent mugging.
8: Poetic Justice - Aired: 2022-12-09
Danny crosses paths with a criminal from a previous case when he investigates a gang attack with a shocking motive; Frank and Mayor Chase butt heads over an off-duty cop who goes too far making a political statement.
9: Nothing Sacred - Aired: 2023-01-06
Frank and his grandson, Joe Hill, contend with a grievous insult to the memory of Joe's father; Erin and Henry work together to bust a scammer targeting the elderly; Eddie's captain takes suspicious interest in her efforts to locate a stolen puppy.
10: Fake It Till You Make It - Aired: 2023-01-13
Jamie and his new intel team officer infiltrate a high-tech car smuggling ring; Frank faces off against the city's transit chief over a program that is causing officer injuries on the job; Eddie asks Danny to help her bust a cop impersonator.
11: Lost Ones - Aired: 2023-01-20
Danny and Baez's investigation into the death of a chess hustler is complicated by interference from the victim's son; Jamie tries to make amends with a man he regrets putting away as a young officer.
12: The Big Leagues - Aired: 2023-02-03
Danny reunites with Mickey Patrick, his childhood friend and a former criminal, who comes to him for help finding his missing fiancee; Anthony surprises Erin with one last stakeout before her run for district attorney.
13: Past History - Aired: 2023-02-10
Danny and Baez race against the clock to catch a serial killer targeting young women; Erin and Eddie clash when Eddie intervenes in a murder case and Erin's personal life; Frank must decide how to discipline his grandson.
14: Collision Course - Aired: 2023-03-03
Eddie's former partner returns and brings an accusation of excessive force against an officer; Danny and Baez clash with a troubled foster child at the center of their latest investigation; Erin must make a tough decision about her campaign.
15: Close to Home - Aired: 2023-03-10
Danny partners with Texas Ranger Waylon Gates to deliver an infamous drug cartel boss to arraignment, but the mission becomes complicated when the criminal threatens to harm the Reagans; Erin takes on a highly contentious assault case.
16: The Naked Truth - Aired: 2023-03-31
No overview available.