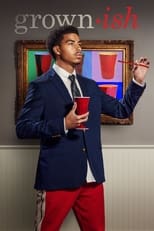 General Information
Glossary: g
First Air Date: January 3rd, 2018
Last Air Date: August 23rd, 2023
Created By: Larry Wilmore, Kenya Barris
Star Casts: Trevor Jackson, Marcus Scribner, Daniella Perkins, Diggy Simmons, Justine Skye, Tara Raani
Aired On: Freeform
Episode Runtime: 30 minutes
Total Seasons: 6 Seasons
Total Episodes: 96 Episodes
Type: Scripted
Status: Returning Series
Homepage: Freeform - grown-ish

Last Updated: Fri, 03 Nov 2023 22:30:29 +0000
Sponsored Links
Ratings
User Rating:
Backdrops Gallery (27 Images)
grown-ish
Zoey Johnson heads to college and begins her hilarious journey to adulthood but quickly discovers that not everything goes her way once she leaves the nest.
Seasons and Episodes
Season 1 (13 Episodes)
1: Late Registration - Aired: 2018-01-03
Zoey Johnson arrives at California University certain she will be a hot shot on campus, but quickly learns she may have a little more growing to do.
2: Bitch, Don't Kill My Vibe - Aired: 2018-01-03
Zoey starts to experience "fear of missing out" for the first time in her life when she tries to juggle her schoolwork, extracurricular activities and, of course, partying.
3: If You're Reading This, It's Too Late - Aired: 2018-01-10
Zoey is elated when it seems like her crush has feelings for her, but starts to worry he may see things differently when she receives a late night "U up?" text.
4: Starboy - Aired: 2018-01-17
Zoey makes a deal with Dean Parker to tutor the star basketball player in order to get a letter of recommendation, but her friends seem to think the relationship is something more.
5: C.R.E.A.M. (Cash Rules Everything Around Me) - Aired: 2018-01-24
When Zoey's Instagram becomes a flooded with haters, she wonders if it's time to alter her brand.
6: Cashin' Out - Aired: 2018-01-31
When Zoey is put on the spot on national television, she's faced with a difficult decision that may change her future.
7: Un-Break My Heart - Aired: 2018-02-07
After going through a traumatic breakup, Zoey begins partying to get out of her feelings, but when a power blackout on campus forces her to stay in for the night, she must confront her true feelings in order to begin the healing process.
8: Erase Your Social - Aired: 2018-02-14
Zoey lands the fellowship of her dreams at Teen Vogue, but her reputation and job are put on the line when she reveals too much on social media.
9: Who Gon Stop Me - Aired: 2018-02-28
Cal U. goes into lockdown after a drug dealer is shot on campus, causing Vivek to get sucked into the intense underground drug world.
10: It's Hard Out Here for a Pimp - Aired: 2018-03-07
Jazz and Sky struggle to hit a dating stride in a college landscape. Meanwhile, Zoey and Luca attempt to buckle down to complete a project.
11: Safe and Sound - Aired: 2018-03-14
When Cal U threatens to close Hawkins Hall, Zoey and her crew plan a protest to protect their "safe space."
12: Crew Love - Aired: 2018-03-21
The crew gets ready for Freshman Formal, and Zoey, Aaron and Luca confront their issues with modern-day relationships. Meanwhile, Jazz revels in a new relationship and Ana realizes she's the tamest of the group in a game of "Never Have I Ever."
13: Back & Forth - Aired: 2018-03-28
Zoey has a big decision to make about her love life, and everyone has an opinion about it.
Season 2 (21 Episodes)
1: Better - Aired: 2019-01-02
Zoey and the gang return for their sophomore year and Zoey is determined to make the "sequel" better than the original. She, Ana and Nomi move into a less-than-stellar off-campus apartment and have to quickly adjust to each other as roommates. Zoey is excited to see Luca again after a summer of keeping in touch via social media.
2: Nothing Was the Same - Aired: 2019-01-02
Zoey feels insecure when she realizes that her friends don't see her relationship with Luca as #RelationshipGoals, prompting her to try a little too hard to prove that what they have is special. In his first move as an RA, Aaron organizes a movie night to build community … but his film choice does nothing to help people unwind.
3: New Rules - Aired: 2019-01-09
Zoey struggles to make amends after accidentally breaking one of the group's unspoken social rules and upsetting both Jazz and Luca. After Aaron and Vivek's kickback is shut down by campus police, they try to find other ways to turn up.
4: In My Feelings - Aired: 2019-01-16
While waiting for the mysterious drop of a modern-day musical genius, the gang debates what really makes a person "genius."
5: Girls Like You - Aired: 2019-01-23
When Nomi's endless string of one-night stands starts to throw off the apartment dynamic, Zoey and Ana confront her. Aaron encourages Ana to let loose for a night and the friends all agree to check off an item from their bucket list.
6: Love Galore - Aired: 2019-01-30
When Luca faces an exciting, high-pressure assignment for his design class, Zoey starts to wonder if she's made a mistake in her future career choice. Jazz and Sky are frustrated when they see that an untalented but undeniably sexy basketball player is receiving more attention than they are and debate with Aaron and Vivek if body image trumps skill.
7: Messy - Aired: 2019-02-06
When a new "Enthusiastic Sober Consent" policy is introduced on the CalU campus, everyone has strong opinions about whether it's in place for the students' benefit or to protect the school. Cash is caught in the crossfire and Luca is surprised when Zoey jumps to his defense.
8: Workin' Me - Aired: 2019-02-13
Zoey decides to give styling a try and offers to help the twins revamp their image in the hope of boosting their social media following. Knowing that sex sells, Jazz wants to play up her sexuality more than the other girls are comfortable with, sparking a conversation about image and empowerment. Meanwhile, Ana's new romance heats up.
9: Body Count - Aired: 2019-02-20
When Zoey sees that Luca's exhibit at the CalU Arts Fair dominantly features one of his ex-girlfriends, it sends her into a spiral of wanting to know more about his past. Nomi takes Professor Hewson's advice and tries to learn more about the queer community on campus.
10: Wild'n Cuz I'm Young - Aired: 2019-02-27
Zoey takes a work hard, play harder approach when her midterm falls the morning after the semester's biggest rager and is forced to deal with the consequences. Meanwhile, both Ana and Nomi find themselves facing big decisions in their new romances.
11: Face the World - Aired: 2019-03-06
Zoey has to deal with the repercussions of her previous academic decisions. Zoey tries to prevent Dre and Pops from attending CalU's Parents Weekend. Meanwhile, everyone else has their own drama to face.
12: Fake Love - Aired: 2019-06-05
Zoey is left to deal with the aftermath of getting caught cheating on her exam, including getting cut off financially by her parents. She takes another devastating hit when Aaron accidentally reveals that he and Ana have been hooking up, causing a snowball of feelings, fracturing her friendships with everyone around her.
13: You Decide - Aired: 2019-06-12
To mask her true emotions, Zoey recruits her brother Junior to be her wingman at Titanium for a fun night out, ignoring the drama that is taking place around her. But that backfires when Junior makes an unexpected connection with one of Zoey's friends and she's left to face her emotions up front. Meanwhile, Nomi debates giving Paige another chance.
14: Can't Knock the Hustle - Aired: 2019-06-19
Zoey starts to feel the impact of her dwindling bank account. Her friends encourage her to get a job, but she struggles to find something that vibes with her career goals. Ana and Aaron consider attempting the "Shield Challenge."
15: Tweakin' - Aired: 2019-06-26
Labels are on everyone's mind as Ana and Aaron struggle to define what they each want out of their relationship. Doug and Vivek are convinced that Aaron is boo'd up. Zoey tries getting "Luca Jae Hall"-level high, but winds up overdoing it.
16: Self Care - Aired: 2019-07-03
Zoey and her girls head to the Johnson family home in Sherman Oaks for a weekend of self-care and detoxing … but Zoey soon learns that her idea of relaxation may not align with what they all really need. Aaron reconnects with his passion for activism and hosts a fundraiser for his community.
17: Strictly 4 My... - Aired: 2019-07-10
Vivek is getting a little too comfortable at Hawkins, sparking a heated debate over whether Vivek has crossed the line into cultural appropriation. Zoey does a service project to style a high school student for her prom.
18: Nice for What - Aired: 2019-07-17
Zoey, Ana and Nomi realize that they've been too nice to their significant others at their own expenses. They each take a small stand for their own happiness, resulting in some changes to their relationships.
19: Only Human - Aired: 2019-07-24
Aaron is affected deeply when he learns one of his residents was possibly contemplating suicide and decides to bring awareness to black mental health on campus. With the campuswide "Fundie Run" on the horizon, Jazz and Sky let the competition get the best of them. Meanwhile, Zoey hones in on why fashion is so important to her.
20: Mind Playing Tricks on Me - Aired: 2019-07-31
Aaron hosts an elegant fundraiser for his new "Black Minds Matter" cause, bringing everyone together for a night to remember. The gang is excited to meet the event's special guest, especially Luca, and Zoey makes sure to do everything to get him the face time he wants. Sky is feeling overwhelmed by Jazz and Doug's overattentiveness.
21: Dreams and Nightmares - Aired: 2019-08-07
As the gang's sophomore year ends, bottled up emotions start to unravel, causing rifts in friendships, relationships, and some interesting reconciliations.
Season 3 (17 Episodes)
1: Crunch Time - Aired: 2020-01-16
It's Junior year and the gang throws an HBCU-themed Homecoming party to kick off the semester at their new off-campus house. Zoey returns from her summer internship abroad and realizes that she has to confront her feelings for Aaron and Luca quickly. Meanwhile, the rest of the crew is left to deal with some of the repercussions of their big mistakes before summer break.
2: Damn - Aired: 2020-01-23
The crew tries their best to cope with a shocking surprise, but another unexpected bomb sends Zoey into a spiral.
3: Close Friends - Aired: 2020-01-30
When Nomi challenges Zoey to try to be friends with Luca after their breakup, Zoey is forced to consider the age-old question, "Is it possible to be friends with your ex?" Meanwhile, Jazz and Doug try to help Vivek navigate the world of dating apps.
4: Thinkin' Bout You - Aired: 2020-02-06
Luca sends off a confusing text to Zoey that has both of them spinning. Meanwhile, Ana leads the girls around campus on a "dorm storm" voter registration drive. Aaron reels after learning about his massive student loan debt.
5: Gut Feeling - Aired: 2020-02-13
When Zoey and the girls throw a surprise baby shower for Nomi, they're surprised when she reveals some shocking news about the circumstances of her pregnancy. Meanwhile, Sky learns something about her new dude, Rodney, which puts a new perspective on their burgeoning relationship.
6: Real Life S**t - Aired: 2020-02-20
Aaron's student loan troubles come to a head when he looks for a job at the Cal U job fair, which leads him to ask Zoey for her help in getting a job working for her dad at Stevens & Lido. Meanwhile, Sky struggles to come to terms with her recent discovery about Rodney. Jillian tries to bond with Zoey.
7: Doin' the Most - Aired: 2020-02-27
Sky finally returns to the track, only to run into a new complication. Jazz struggles to balance track and her personal life. Zoey struggles to balance school and her new job as a fashion stylist and turns to an unexpected source for help. Meanwhile, things heat up for Ana and Javi as they attempt to keep things professional.
8: Age Ain't Nothing But a Number - Aired: 2020-03-05
Zoey's twenty-first birthday celebration takes an unexpected turn when she makes a big decision regarding her future. Meanwhile, Doug learns that he's the reason Jazz is distracted from track.
9: Public Service Announcement - Aired: 2021-01-21
After dropping out of Cal U and diving into her dream job, Zoey balances the demands of her work life and her personal life while on tour with Joey BADA$$. Jazz and Doug struggle with the rules of their relationship "pause."
10: Hard Place - Aired: 2021-01-28
As her relationship with Javi heats up, Ana makes a discovery about him that challenges her entire belief system. Meanwhile, Aaron learns about Cal U's investment in private prisons, challenging him to reconnect with his activist roots.
11: Alright - Aired: 2021-02-04
Aaron is offered an opportunity to be featured in a nationally televised interview but struggles to keep his message targeted. Zoey navigates her feelings for Aaron while helping him devise a new strategy. Meanwhile, Ana struggles with whether to tell Javi about her past with Aaron, and Jillian interviews Sky and Jazz for a documentary about their journey as athletes.
12: Water on Water on Water - Aired: 2021-02-11
Ana gets baptized as she and Javi are tested for the first time in their relationship. Meanwhile, Zoey struggles at work under the mixed messages from her new client, Indigo.
13: NO HALO - Aired: 2021-02-18
Zoey returns home for a long weekend but is surprised to find things around the house and Cal U has seemed to move on without her. Meanwhile, Jazz and Doug's relationship continues to get more complicated when Jazz returns from the NCAA track finals with some very surprising news.
14: Know Yourself - Aired: 2021-02-25
Vivek has a new experience with Heidi, and Aaron and Doug struggle to adjust their views on sexuality and masculinity. Nomi and her new baby, Luna, return to Cal U. Junior shows up to fight for Sky.
15: Over My Head - Aired: 2021-03-04
Zoey wonders if she's cut out for the real world after becoming the subject of a nasty rumor at work. Nomi sees Phil for the first time in a year and debates whether to tell him about Luna. Doug plans a house party to cheer on Jazz and Sky in their Olympic-qualifying race.
16: All in Love Is Fair - Aired: 2021-03-11
Zoey wrestles with the status of her relationship with Aaron. Sky and Jazz return from the Olympic trials and struggle to say goodbye.
17: Who Do You Love? - Aired: 2021-03-18
With the support of the senior class, Aaron turns his graduation ceremony into a protest against the University's investment in private prisons. Zoey debates backing away from Aaron … but is that what they both want? Meanwhile, Jazz and Doug make a decision about their relationship.
Season 4 (18 Episodes)
1: Ugh, those feels again - Aired: 2021-07-08
Summer is heating up. In part one of the season four premiere, Zoey and the gang head to Mexico for a summer getaway filled with drinking games, new hook-ups, some relationship drama … and even a wedding!
2: Drunk in Love - Aired: 2021-07-15
While in Mexico, Zoey and Aaron find themselves in trouble following their first night out as a couple. Ana debates with Jazz about Javi and the status of their relationship. Doug and Luca continue on their excursion with two local ladies.
3: Demons - Aired: 2021-07-22
The gang finally return to Cal U after a global pandemic stalls their senior year. In order to graduate, Zoey needs to secure an internship and must face Rochelle in the process.
4: Daddy Lessons - Aired: 2021-07-29
After learning about his expulsion, Vivek dreads telling his parents about his failures. Dealing with the aftermath of Mexico, Dre questions Zoey's recent choices. Meanwhile, Doug meets Kiela, a new resident at Hawkins.
5: A Boy Is a Gun - Aired: 2021-08-05
After an unarmed Black man is shot by police, the crew reacts in different ways to the news. Kiela and Doug butt heads when she wants to use his party to raise awareness.
6: Put Your Hands Where My Eyes Could See - Aired: 2021-08-12
The crew hits the streets of Los Angeles to fight for racial justice and equality. Nomi confronts her White Fragility, while Ana and Javi reach a boiling point in their relationship.
7: A Peace of Light - Aired: 2021-08-19
When Zoey's ideas are used without credit by her boss, she debates whether to speak up and risk her internship—or sit silently. Jazz seeks medical leave from the track team by going to therapy. Aaron tries to make a good impression.
8: Canceled - Aired: 2021-08-26
After Luca calls out Zoey's boss on social media, Zoey tries to regain control over cancel culture—but things backfire. Jazz and Des grow closer as Jazz teaches herself to lean on Sky less.
9: You Beat Me to the Punch - Aired: 2021-09-02
At a luau party with the crew, Zoey accepts Luca's career advice, making Aaron uncomfortable. Doug and Kiela navigate a roadblock in their relationship, while Vivek tries to help Nomi and Ana take their minds off the LSATs.
10: It Was Good Until It Wasn't - Aired: 2022-01-27
The gang deals with the fallout of the explosive events that took place at the luau: Aaron must deal with the accountability of his actions at the party, Zoey turns to Pops and Ruby for advice, and Ana and Vivek do their best to keep the secret of their hookup under wraps. Jazz struggles with her feelings for Des. Nomi processes her run-in with Phil.
11: Movin' Different - Aired: 2022-02-03
After experiencing a hit-and-run, Ana is faced with a political and ethical dilemma, which leads her to seek advice from an unlikely source. Aaron is hounded by a freshman student who wants to see him make something special of their midnight class. Doug and Kiela experience a new obstacle in their relationship.
12: Mr. Right Now - Aired: 2022-02-10
With her baby daddy Phil back on the scene, Nomi debates how involved she wants him to be in Luna's life. Zoey tries to mend the friendship between Luca and Doug as an attempt to improve her internship experience. Vivek feels guilty after lying on his resume. Jazz struggles to accept how Des presents himself.
13: OK Not to Be OK - Aired: 2022-02-17
Jazz resumes therapy after a series of setbacks, causing her to grapple with cultural and personal perceptions surrounding mental health. Ana and Aaron innocently reconnect over their past, which makes Zoey and Vivek spin out.
14: The Revolution Will Not Be Televised - Aired: 2022-02-24
Tensions are high between Zoey and Luca as they rush to design a new line for Anti-Muse after a famous fashion collaborator wants to check it out. Aaron is asked to give a presentation on his Afro Salon but is put in a tough position when CalU asks him to make adjustments. Ana and Nomi explore local law schools and unexpectedly run into a friend.
15: Can't Let You Go - Aired: 2022-03-03
Jack and Diane come visit Zoey on campus for a school project. Meanwhile, Zoey and Luca try to figure out their working relationship. Tensions rise between Kiela and Doug.
16: Live Your Life - Aired: 2022-03-10
The crew rallies around Vivek when tragedy hits close to home. Old flames get closer when surrounding events make them take a hard look at their own lives.
17: Laugh Now Cry Later - Aired: 2022-03-17
Zoey and Aaron's relationship is put to the test when she has to decide between a new job opportunity or following Aaron on his new career adventure. Ana is unsure about what to do before starting law school and leans on an old love for advice. Doug's feelings for Jazz grow.
18: Empire State of Mind - Aired: 2022-03-24
It's graduation, and the Johnson family wasn't going to miss Zoey's big day! The crew comes together to celebrate their four years together and toast their post-graduation plans.
Season 5 (18 Episodes)
1: This Is What You Came For - Aired: 2022-07-20
Zoey returns to Cal U to support Junior's first day on campus; Junior attends Doug's white party.
2: High Society - Aired: 2022-07-27
Friction mounts between Junior and Annika when one of them is tapped for a secret society.
3: No New Friends - Aired: 2022-08-03
Junior and his roommate, Zaara, one-up each other in an attempt to prove who is the most chill.
4: Look What U Started - Aired: 2022-08-10
Junior faces a moral dilemma when he books a controversial comic to perform at a fundraiser.
5: You Don't Know Me - Aired: 2022-08-17
The girls enlist Junior's help to find their roommate, who has a habit of mysteriously disappearing.
6: Frat Rules - Aired: 2022-08-24
Junior and Zeke find their brotherhood put to the test when a night of challenges goes awry.
7: Love on the Brain - Aired: 2022-08-31
Doug throws a party at Bar None and invites the crew; Junior considers opening up to Annika.
8: Certified Lover Boy - Aired: 2022-09-07
When a college student leaves the nest, she discovers that everything is not going to go her way.
9: It's a Vibe - Aired: 2022-09-14
Junior's fate as a Gamma is determined, as is his relationship status with Annika. Doug throws another big party, and some old friends drop in to help him celebrate.
10: Fool's Paradise - Aired: 2023-01-18
Zoey and Aaron have an unexpected run-in at the San Francisco airport, leading them to unpack the highs and lows of their long-distance relationship.
11: Money Trees - Aired: 2023-01-25
Junior realizes he's not earning enough money, so he focuses all his efforts on a new stock market side hustle. Aaron's students accuse him of being a sellout. Lauryn stops singing to focus on a "real job."
12: Big Drip - Aired: 2023-02-01
Junior is terrified when he has a herpes scare. Annika tries to get in the mood again. Aaron meets Symone, an impressive activist-gone-corporate who teaches him to use corporate resources for community good.
13: Addiction - Aired: 2023-02-08
Junior convinces the crew to do a digital detox, but it proves harder than they expected. Annika is determined to win in hopes of defying allegations that she's basic. Aaron is nervous that he and Symone are getting too friendly.
14: Happy Not Knowing - Aired: 2023-02-15
Zaara and the rest of Junior's friends can't stand his new girlfriend, Grace, but he is determined to change that. Could bringing her to crash Zaara's birthday dinner do the trick?
15: The A Team - Aired: 2023-02-22
After midterms, the crew looks for new ways to alleviate their stress and decides to give mushrooms a try. Aaron gets roped into a faculty karaoke night and surprisingly learns some things about himself.
16: Mr Morale - Aired: 2023-03-01
Junior struggles with balancing all of his priorities and is looking for a shortcut, but is he the cheating type? Zoey comes to Cal U to spend time with Aaron, but can they prioritize their relationship when real life gets in the way?
17: Cleaning Out My Closet - Aired: 2023-03-08
The pressures of being just a legacy at "Zoey University" get the better of Junior — can he ever get out of her shadow? Doug spends all his savings on making a concert a success, causing Aaron to question why he's been footing Doug's bills.
18: Cash In Cash Out - Aired: 2023-03-15
In honor of the Gammas' annual Last Chance Dance, Junior debates telling Annika how he feels about her, even though he's friends with her boyfriend. Zoey has a setback at Anti-Muse, sending her into a panic about her future.
Season 6 (9 Episodes)
1: Shoot My Shot - Aired: 2023-06-28
The crew hits up a music festival before parting ways for the summer. After lunch with his dad, Andre suffers from "analysis paralysis" about choosing a major, his relationship with Annika, and his plans for the upcoming school year.
2: Reachin' 2 Much - Aired: 2023-07-05
Andre and Annika have big expectations for their first time. After three months of living together, Zoey and Aaron have to make decisions about their future. Doug hosts a party.
3: Ain't Nothing Like the Real Thing - Aired: 2023-07-12
Zaara grows frustrated when Andre starts treating her like a therapist instead of a friend. Kiela and Annika are surprised by how much they enjoy Game Night at the sober dorms. Doug urges Aaron to sit with his feelings.
4: Pretty Mess - Aired: 2023-07-19
Annika invites the crew to her "Influencer Island" Reunion taping. Andre starts to second-guess whether Annika is being fully honest with him. Doug helps Aaron plus-up his dating profile.
5: Right My Wrongs - Aired: 2023-07-26
Andre campaigns to be the president of the Gamma fraternity, but he must be willing to sacrifice his morals to win. Doug has a date with Sloane. Zaara is hung up on Drea.
6: Savior Complex - Aired: 2023-08-02
Modern-day chivalry is on everyone's minds as Annika grows tired of Andre's white-knight routine. Doug tries to impress Sloane, and Aaron finds himself in a passive-aggressive email battle with a colleague.
7: Toxic - Aired: 2023-08-09
The crew waves red flags when Zaara is all consumed by her recent fling with Drea. Aaron feels a romantic spark for his colleague but is unsure about his next move. Kiela struggles with a class assignment Lauryn excels in.
8: Family Feud - Aired: 2023-08-16
Andre and Aaron are at odds when Dean Miller recruits Aaron to convince Andre and the Gammas to associate with a problematic alum.
9: Let Go - Aired: 2023-08-23
Andre and Annika mix business with pleasure as Andre tries his hand at negotiating a high-stakes contract on her behalf. Aaron takes his new relationship to the next level but with painful results.