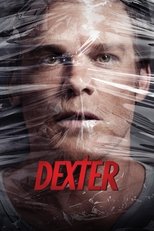 General Information
Glossary: D
First Air Date: October 1st, 2006
Last Air Date: September 22nd, 2013
Created By: James Manos, Jr.
Star Casts: Michael C. Hall, Jennifer Carpenter, Geoff Pierson, David Zayas, James Remar, Aimee Garcia, Desmond Harrington, C.S. Lee
Aired On: Showtime
Episode Runtime: 55 minutes
Total Seasons: 8 Seasons
Total Episodes: 96 Episodes
Type: Scripted
Status: Ended
Homepage: Showtime - Dexter

Last Updated: Sun, 03 Dec 2023 10:31:09 +0000
Sponsored Links
Ratings
User Rating:
Backdrops Gallery (87 Images)
Dexter
Dexter Morgan, a blood spatter pattern analyst for the Miami Metro Police also leads a secret life as a serial killer, hunting down criminals who have slipped through the cracks of justice.
Seasons and Episodes
Specials (42 Episodes)
1: Early Cuts: Alex Timmons (Chapter 1) - Aired: 2009-10-25
Dexter hunts Alex Timmons, a corrupt Gulf War veteran who used the cover of war to kill the innocent.
2: Early Cuts: Alex Timmons (Chapter 2) - Aired: 2009-11-01
Dexter sets his crosshairs on a marine sniper.
3: Early Cuts: Alex Timmons (Chapter 3) - Aired: 2009-11-08
Dexter stalks his prey.
4: Early Cuts: Alex Timmons (Chapter 4) - Aired: 2009-11-15
Dexter takes a trophy.
5: Early Cuts: Gene Marshall (Chapter 1) - Aired: 2009-11-15
A young Dexter encounters arsonist Gene Marshall and is forced to rethink his methods.
6: Early Cuts: Gene Marshall (Chapter 2) - Aired: 2009-11-22
Dexter learns that Marshall's crimes basically went unpunished as he was deemed unfit for trial after he used his money to exploit the system.
7: Early Cuts: Gene Marshall (Chapter 3) - Aired: 2009-11-29
Dexter subdues and confronts Marshall about the people who were casualties of his arsonist activities.
8: Early Cuts: Gene Marshall (Chapter 4) - Aired: 2009-12-06
Dexter is interrupted from his ritual with Gene Marshall when his sister, Deb, insists he celebrate her sweet-sixteen birthday with her.
9: Early Cuts: Cindy Landon (Chapter 1) - Aired: 2009-12-13
Dexter stalks a new victim and finds one in Cindy Landon, a magician's assistant with a special skill that makes her husbands disappear.
10: Early Cuts: Cindy Landon (Chapter 2) - Aired: 2009-12-20
Cindy reveals the secrets behind her trade and speculates that her role in a magic show is more important than the magician's.
11: Early Cuts: Cindy Landon (Chapter 3) - Aired: 2009-12-27
Dexter introduces himself to Cindy at a magic show and even though she is married she agrees to meet him later in an abandoned parking lot.
12: Early Cuts: Cindy Landon (Chapter 4) - Aired: 2010-01-04
With Cindy subdued, Dexter sets the stage for his own magic show with her as the center of attention.
13: A Sitdown with Michael C. Hall and John Lithgow - Aired: 2009-12-13
Aired after the finale of season 4. The shocking season 4 finale of Dexter was kept as a secret until the last minute that the cast had to scramble in the dark.
14: Early Cuts: Dark Echo (Chapter 1) - Aired: 2010-10-25
Dark Echo tells a story in which Dexter is challenged by a copy-cat killer who does not follow any sort of code. Dark Echo opens immediately after the death of Dexter's father, Harry, with Dexter in his early twenties and his sister Debra still in high school. Dexter is enrolled in medical school where he's studying anatomy to improve his "craft." During a routine kill, Dexter realizes that another student has been spying on him and knows that he is a serial killer. He confronts the student after he begins to commit murders in Dexter's style and the two clash over the ethics of their situations.
15: Early Cuts: Dark Echo (Chapter 2) - Aired: 2010-10-26
No overview available.
16: Early Cuts: Dark Echo (Chapter 3) - Aired: 2010-10-27
No overview available.
17: Early Cuts: Dark Echo (Chapter 4) - Aired: 2010-10-28
No overview available.
18: Early Cuts: Dark Echo (Chapter 5) - Aired: 2010-10-29
No overview available.
19: Early Cuts: Dark Echo (Chapter 6) - Aired: 2010-10-30
No overview available.
20: Making Dark Echo
No overview available.
21: The Dark Defender: Little Chino - Aired: 2007-10-30
Watch episode one of the new online series The Dark Defender. The Dark Defender rids Miami of a notorious gang lord. Stalker of the night, his blade of vengeance turns wrong into right.
22: The Dark Defender: Roger Hicks - Aired: 2007-11-05
Watch episode two of the new online series The Dark Defender. The Dark Defender kills a murderous car dealer. Stalker of the night, his blade of vengeance turns wrong into right.
23: The Dark Defender: Ken Olson - Aired: 2007-11-19
Watch episode three of the online series The Dark Defender. The Dark Defender goes after a copycat killer. Stalker of the night, his blade of vengeance turns wrong into right.
24: Early Cuts: All in the Family (Chapter 1) - Aired: 2012-09-04
Dexter hunts a new killer on New Year's Eve.
25: Early Cuts: All in the Family (Chapter 2) - Aired: 2012-09-04
No overview available.
26: Early Cuts: All in the Family (Chapter 3) - Aired: 2012-09-04
Dexter receives some new clues in his hunt for the prostitute killer.
27: Early Cuts: All in the Family (Chapter 4) - Aired: 2012-09-11
In Chapter 4 Dexter flashes back to a childhood incident where Deborah sensed his darkness.
28: Early Cuts: All in the Family (Chapter 5) - Aired: 2012-09-18
Dexter's digs up some family history in his hunt for the prostitute killer. Starring Michael C Hall, written by Scott Reynolds and illustrated by David Mack.
29: Early Cuts: All in the Family (Chapter 6) - Aired: 2012-09-25
Dexter faces off with Coleman Lindquist and his father in the final chapter of Early Cuts.
30: Season 4 Extra - Behind the Scenes
No overview available.
31: Season 4 Extra - Designing Dexter's New House
No overview available.
32: Early Cuts - Behind the Scenes
No overview available.
33: Dissecting Dexter 01 - Dexter's Origins
No overview available.
34: Dissecting Dexter 02 - Dexter's Awakening
No overview available.
35: Dissecting Dexter 03 - Dexter's Coming of Age
No overview available.
36: Julia Stiles on Dexter (Season 5)
No overview available.
37: From Cop to Killer
The evolution of Debrah
38: Season 8: Behind the Scenes
No overview available.
39: Season 8: Episode 1 - With the Creators
No overview available.
40: S08E02 Wrap-Up (Directed by Michael C. Hall)
No overview available.
41: S08E03 - Dissecting a Scene - Aired: 2012-10-15
No overview available.
42: S08E04 - With the Creators
No overview available.
Season 1 (12 Episodes)
1: Dexter - Aired: 2006-10-01
Dexter Morgan, a Miami Metro Police Department blood spatter analyst, is living a double life. After his day job with the police department, Dexter moonlights as a serial killer, hunting and killing criminals who slip through the justice system. Dexter's sister, Debra, a vice squad officer, pulls Dexter into her world when another serial killer is killing prostitutes and leaving their bloodless bodies dismembered in various locations around Miami. Meanwhile, Dexter hunts a man who made snuff videos and killed a mother of two.
2: Crocodile - Aired: 2006-10-08
As Dexter stalks his next victim, a drunk driver who is about to be acquitted for vehicular homicide that resulted in the death of a teenage boy, the Ice Truck Killer strikes again and later gets in touch with Dexter. Meanwhile, when a cop is found murdered, Dexter helps Doakes and Debra investigate a crime boss who they believe is responsible.
3: Popping Cherry - Aired: 2006-10-15
"The Ice Truck Killer" strikes again and new homicide officer Debra is assigned the case, but she gets reprimanded for violating the chain of command; flashbacks offer insight into Dexter's homicidal tendencies and take him back to his first time "taking out the garbage"; Doakes gets on the bad side of a drug kingpin.
4: Let's Give the Boy a Hand - Aired: 2006-10-22
The Ice Truck Killer leaves severed body parts from his victims at locations that are linked to memories from Dexter's troubled childhood, which begins to get into Dexter's head.
5: Love American Style - Aired: 2006-10-29
The homicide division is handed an unbelievable lead when the Ice Truck Killer's latest victim is found alive but mutilated; Dexter is on the trail of a person who traffics in humans.
6: Return to Sender - Aired: 2006-11-05
The Ice Truck Killer leaves a clue at the scene where Dexter has dispatched his latest victim, and Dexter is worried that someone might have witnessed his killing. Rita is trying to deal with her ex-husband.
7: Circle of Friends - Aired: 2006-11-12
The squad identifies the Ice Truck Killer; Rita's ex-husband, an abusive addict, is paroled.
8: Shrink Wrap - Aired: 2006-11-19
Dexter appears to be connected to a psychiatrist suspected of murdering a suicidal patient.
9: Father Knows Best - Aired: 2006-11-26
While on a weekend getaway with Rita, his sister and her new beau, Dexter learns that his biological father, thought to be dead for 30 years, has just passed away, and that he's willed his son everything he owned.
10: Seeing Red - Aired: 2006-12-03
The Ice Truck Killer prepares a crime scene for Dexter: a hotel room all covered in his previous victim's blood. But Dexter does not appreciate this gift, because his childhood memories hunt him.
11: Truth Be Told - Aired: 2006-12-10
The Ice Truck Killer sets a trap for Dexter by kidnapping someone close to him; Dexter's increasingly odd behavior piques Doakes's interest.
12: Born Free - Aired: 2006-12-17
Dexter figures out who the Ice Truck Killer is, along with a dark secret from his troubled past. Meanwhile, La Guerta is replaced with a new boss and Angel figures out a way how to track the killer while he's still in hospital.
Season 2 (12 Episodes)
1: It's Alive! - Aired: 2007-09-30
Things are really beginning to heat up for Dexter: Doakes' suspicions about him are growing, his victims are escaping, and his body dump site has been found. Meanwhile Paul is troubling Rita over the missing shoe and Debra is going through trauma over the Ice Truck killer incident.
2: Waiting to Exhale - Aired: 2007-10-07
Dexter is finding it hard to have closure on killing his brother. There is a new FBI agent to head the "Bay Harbor Butcher" case. Debra is finding it tough to put the past behind her.
3: An Inconvenient Lie - Aired: 2007-10-14
Dexter sets his sights on a new victim: a murderer so repulsive it seems only fitting that he's a used-car salesman. Dexter's been unable to lie to Rita about his midnight activities, which has her thinking that he's a drug addict. She's threatened to leave him if he doesn't commit to a 12-step program to deal with his supposed addiction. While in this recovery, though, Dexter meets a sexy, mysterious woman named Lila.
4: See-Through - Aired: 2007-10-21
Rita's estranged mother visits and senses something is wrong with Dexter. Masuka thinks he's developed a lead in the Bay Harbor Butcher case, which has Dexter concerned. Angel's interrogation of a witness crosses a line.
5: The Dark Defender - Aired: 2007-10-28
Dexter finds out that the man who killed his mother, right in front of him, is still alive. When he tells this to Lila, she suggests he face the man, as part of his road to addiction recovery. But then as his sponsor she insists on tagging along.
6: Dex, Lies, and Videotape - Aired: 2007-11-04
A copy-cat killer follows the lead of the "Bay Harbor Butcher." Dexter must destroy an incriminating surveillance video.
7: That Night, a Forest Grew - Aired: 2007-11-11
Dexter manages to get Doakes off his back. He devises a plan to get the police in another direction. Lila and Dex's relationship intensifies, and he has some interaction with Rita and the kids.
8: Morning Comes - Aired: 2007-11-18
Dexter is attacked by the man who murdered his mother. Meanwhile, Lila wants to get closer to Dex, and Debra and Lundy close in on the Bay Harbor Butcher.
9: Resistance is Futile - Aired: 2007-11-25
Dexter realizes it won't be easy to end things completely with Lila. Dexter tries to stay ahead of the investigations as the manhunt for the Bay Harbor Butcher intensifies. An enemy of Dexter figures out his secret.
10: There's Something About Harry - Aired: 2007-12-02
Doakes follows Dexter to his next crime scene and shocks him with a revelation about Harry. The Bay Harbor Butcher task force feels they are zeroing in on their man.
11: Left Turn Ahead - Aired: 2007-12-09
Dexter must make a massive decision that will have an effect on all those he holds close. Lila meanwhile is back with a secret to blackmail Dexter.
12: The British Invasion - Aired: 2007-12-16
Lila Tournay finds Sgt. James Doakes imprisoned in an Everglades cabin and learns from him that her object of affection, Dexter Morgan, is the serial killer known as the "Bay Harbor Butcher". She decides to help Dexter and kills Doakes by setting the cabin on fire. Meanwhile, Dexter's sister Debra questions whether her career is more important than her relationship with FBI Special Agent Frank Lundy.
Season 3 (12 Episodes)
1: Our Father - Aired: 2008-09-28
Dexter has put his life back together but things may fall apart soon. His new victim is also being targeted by Assistant District Attorney Miguel Prado. Deb has to decide how to handle Internal Affairs, as they want her to turn on her new partner.
2: Finding Freebo - Aired: 2008-10-05
Debra and the homicide unit, Dexter and ADA Miguel Prado are all searching for the same serial killer, who is responsible for the death of Prado's younger brother. Meanwhile at home, Dexter is faced with a decision to make concerning Rita and her kid
3: The Lion Sleeps Tonight - Aired: 2008-10-12
Dexter and a pedophile have a run-in; Dexter is unable to restore Freebo's good name after he is accused of a murder he didn't commit. Also, Dexter's friendship with Miguel weighs on his mind.
4: All in the Family - Aired: 2008-10-19
Ramon's career may be in jeopardy due to his obsession with Oscar's killer. Meanwhile, Dexter does a great job in keeping Ramon off balance by manipulation. Deb refuses to "be a rat" after Internal Affairs presses her to come up with more dirt on Quinn. Also, Rita and Dexter decide it's time to tell the children about her "condition," and Angel's quest for companionship nearly get's him in deep water.
5: Turning Biminese - Aired: 2008-10-26
As Dexter struggles when Rita pushes to move in together before getting married, Miguel tells Dexter that a husband has murdered his two wives for a financial gain and gotten away with it. Dexter finds this to be the perfect candidate to get away and satisfy that dark urge which every man with relationship pressures go through. Dexter tracks the murderer to Bimini. While he is on the hunt, Rita disappears due to a medical emergency. Meanwhile, Debra works with Anton, her confidential informant to track down one of Freebo's criminal confidants. But Oddly enough Debra finds herself attracted to Anton.
6: Sí Se Puede - Aired: 2008-11-02
Dexter tests Miguel to see if he is on his dark-side job. Rita questions her career path after being fired from her job. Debra believes she in some way caused another homicide while working on her current case.
7: Easy as Pie - Aired: 2008-11-09
Dexter angers Miguel when he says no to his latest offer, who's unsure the next target lives up (or down) to Harry's Code. Meanwhile, an elderly, deathly ill Camilla asks Dexter to kill her, insisting she would never ask a friend to do something against his conscience. Also, Rita discovers that Sylvia believes her husband Miguel has had an affair; and Anton is told he is bait to get at Skinner.
8: The Damage a Man Can Do - Aired: 2008-11-16
Dexter undertakes to teach Miguel the Code, but doesn't realize he's whetting his partner's thirst for blood. Meanwhile, Debra is one step closer to finding the Skinner but a secret revealed about Anton sends him packing.
9: About Last Night - Aired: 2008-11-23
Miguel and Dexter's friendship is impacted when Rita confronts Miguel about his alleged infidelity. Believing Skinner has abducted Anton, Debra pulls out all the stops to find hi
10: Go Your Own Way - Aired: 2008-11-30
A series of chess-like moves ensues when Dexter and Miguel vie for the upper hand, with Miguel winning Rita's affection by presenting her with a lavish wedding gift. Elsewhere, Debra wonders if her relationship with Anton is worth the trouble.
11: I Had a Dream - Aired: 2008-12-07
While preparing for his big wedding day, Dexter has to figure out a way to remove Miguel from his life for good. In the meantime, Rita has troubles of her own, when Syl reveals that Miguel has been seeing one of his old flames. Debra finds a new clue that brings her even closer to catching the Skinner.
12: Do You Take Dexter Morgan? - Aired: 2008-12-14
It is the day before Dexter's wedding and Dexter must deal with two people targeting him, while preparing for his special occasion. Meanwhile, Angel tells Deb he's put her in for a promotion, but after he finds out some information her shield may be gone before she gets it.
Season 4 (12 Episodes)
1: Living the Dream - Aired: 2009-09-27
Six months after the season finale, Dexter is now living with three kids and a wife in a new home. Along with his new son Harrison, the complexities of being a suburban father of three is making it difficult for Dexter to concentrate on his work. His lack of sleep leads him to let a murderer walk by bringing the wrong documents to court and causes him to get into a car crash. Now retired Agent Lundy has returned to finally capture the mythical "Trinity Killer" who has arrived in Miami.
2: Remains to Be Seen - Aired: 2009-10-04
Suffering from amnesia following his car crash, Dexter begins searching for Benny Gomez' lost body, with a helping hand from Harry. Meanwhile, Debra struggles with the return of her former lover while Quinn tries to juggle his personal and work life. Meanwhile, Trinity begins stalking his next chosen victim.
3: Blinded by the Light - Aired: 2009-10-11
Dexter is hampered by his neighborhood's increased vigilance due to vandalism, his temporary inability to drive himself anywhere, and his admiration for the killing technique of the artful Trinity Killer.
4: Dex Takes a Holiday - Aired: 2009-10-18
Dexter gets some much-needed R&R time with Rita and the kids out of town, leading to his stalking of a new victim until he unexpectedly begins to empathize with his target, a cop that murdered her family.
5: Dirty Harry - Aired: 2009-10-25
Recent events spur Dexter into his own investigation of the Trinity killer. His motivations are now personal, and the clock is ticking. But the closer Dexter gets, the more he realizes that Trinity is unlike any monster he's previously encountered. Meanwhile, Debra blames herself for events that were out of her control, and in so doing pushes away those closest to her. As LaGuerta and Batista close in on the Vacation Murderers, Batista realizes he can use Quinn's relationship with a certain reporter to his advantage. And when Rita discovers a secret Dexter's been keeping from her, she begins to realize just how little she knows about the man she married.
6: If I Had a Hammer - Aired: 2009-11-01
Dexter knows it's only a matter of time before Miami Metro discovers the Trinity Killer's latest handiwork. Therefore, he has to work doubly hard to stay one step ahead of their investigation. Dexter has begun to realize that the closer he gets to Trinity, the more he stands to learn from this very different beast. Trinity hides behind a well-kept mask, and getting behind that facade will require some extra prodding on Dexter's part. Meanwhile, Debra becomes frustrated when she finds herself shut out from her own case. She considers bending the rules in the name of justice, risking her career in the process. LaGuerta and Batista come to regret a major decision, and realize that by playing by the rules they may have painted themselves into a corner. And when the friction between Rita and Dexter comes to a head, Dexter gleans relationship advice from a most unlikely source.
7: Slack Tide - Aired: 2009-11-08
Dexter finds himself enjoying a brief moment of tranquility. He's finally managed to strike a balance between work, family... and other pursuits. But he's keenly aware that times like these aren't meant to last. When Miami Metro discovers a string of murders connected to a prominent photographer, Dexter sees an opportunity for a clean kill. However, his plans seem to be thwarted every step of the way. Quinn has taken a renewed interest in Dexter's nightlife. Dexter's plans to keep Astor and Cody distracted with new activities soon backfire. Even Harry disapproves of Dexter's choice of pastime, urging him instead to focus his efforts on the Trinity Killer. Meanwhile, Debra returns to work, frustrated to find everyone treating her with kid gloves. She decides to concentrate on her pursuit of the Trinity Killer as well as delving into her father's checkered past - investigations which Dexter fears might lead her to danger - or worse, the truth.
8: Road Kill - Aired: 2009-11-15
Dexter has always known his father's Code was meant to protect him from exposure. But after committing a serious mistake, he wonders if it could have been designed to protect him from something even more dangerous – human emotion. When he discovers that Trinity is planning an out-of-town trip, Dexter sees an opportunity to ride along and gain insight into the mind of a fellow monster.
9: Hungry Man - Aired: 2009-11-22
For most people, Thanksgiving is a time for traditions and family. But for Dexter, it's an opportunity to get closer to his most dangerous adversary yet. As Dexter gains insight into Arthur's psychology by studying those closest to him, he finds himself drawn into a bizarre and twisted world.
10: Lost Boys - Aired: 2009-11-29
Dexter finally believes he understands the beast known as Trinity. But when a ten-year old boy goes missing, Dexter is forced to question everything he's learned up to this point.
11: Hello, Dexter Morgan - Aired: 2009-12-06
Miami Metro is just one step away from discovering the identity of the Trinity Killer. And Dexter can't let that happen. Dexter must take drastic action to buy himself time to deal with Trinity in his own fashion. Arthur, who still can't understand why Dexter didn't simply turn him in, begins his own bloody investigation into Kyle Butler.
12: The Getaway - Aired: 2009-12-13
Dexter and Arthur find themselves on a collision course, as Debra unearths a shocking long-hidden truth, Rita admits her marriage to Dexter is troubled, and Batista and LaGuerta face the consequences of an ethics breach.
Season 5 (12 Episodes)
1: My Bad - Aired: 2010-09-26
Dexter must make a choice; Quinn stirs up trouble for Dexter but supports Deb.
2: Hello, Bandit - Aired: 2010-10-03
Dexter tries to focus on the children and fight his dark urges; Debra ends up on Quinn's doorstep.
3: Practically Perfect - Aired: 2010-10-10
Dexter hires a nanny; Debra is annoyed with her new partner; Quinn continues to investigate Rita's murder.
4: Beauty and the Beast - Aired: 2010-10-17
Dexter must save a life; Deb has a confrontation with a key suspect; Quinn follows up on the similarities between Dexter and Kyle Butler.
5: First Blood - Aired: 2010-10-24
Dexter is saddled with an unwanted conspirator; Dexter worries about how Rita's death will affect Harrison; Deb works alone; Quinn enlists an old friend's help.
6: Everything is Illumenated - Aired: 2010-10-31
Dexter is drawn into a precarious situation; Batista discovers an interesting lead; Quinn gets information about Dexter from a questionable source.
7: Circle Us - Aired: 2010-11-07
Dexter is called to investigate a horrifying crime scene; the Santa Muerte case leads to a violent standoff between Debra and the Santa Muerte killers.
8: Take It! - Aired: 2010-11-14
Dexter and Lumen vet and stalk a violent killer; Debra gets into some unexpected trouble from the fallout of the Santa Muerte case
9: Teenage Wasteland - Aired: 2010-11-21
Dexter and Lumen hunt for their next victim; Debra uncovers new evidence in the Barrel Girl case
10: In the Beginning - Aired: 2010-11-28
Homicide uncovers some key evidence linked to one of Dexter's and Lumen's prior victims; Debra identifies two more suspects in the case.
11: Hop a Freighter - Aired: 2010-12-05
Dexter must do damage control; Debra's speculation begins to take shape; Quinn becomes involved in a homicide.
12: The Big One - Aired: 2010-12-12
Dexter's situation grows desperate when he discovers that Lumen's been set up. Despite knowing he's being baited into a trap, Dexter risks everything to make sure he doesn't fall into the same mistake again. In the Barrel Girls case, Debra lets her personal feelings lead her instincts once she concludes that vigilantes are more than just a theory. Quinn finds himself in a troublesome situation, which only Dexter can help him out of.
Season 6 (12 Episodes)
1: Those Kinds of Things - Aired: 2011-10-02
Dexter shows up at his 20th high-school reunion with the intention of confronting the former prom king. Elsewhere, an investigation into a heinous murder with religious overtones leads Dexter to ponder spiritual matters and wonder about his son's legacy. And an unexpected situation results in Debra becoming a hero.
2: Once Upon a Time... - Aired: 2011-10-09
Brother Sam, a minister with a criminal history, is brought in by the homicide department to help solve a macabre murder, but Dexter sees him for what he really is, and it's definitely not a man of God. Elsewhere, Debra's sudden hero status elicits a pair of surprising proposals.
3: Smokey and the Bandit - Aired: 2011-10-16
Dexter is confronted with a sobering glimpse of his own potential future when a serial killer from his past makes a startling reappearance; Debra is uncomfortable in her new job; Travis struggles to keep his mentor happy, as he and Gellar prepare a new twisted tableau, ensuring Debra's next task will be a daunting one.
4: A Horse of a Different Color - Aired: 2011-10-23
Much to his own surprise, an emergency with Harrison and a new tableau from Gellar and Travis has Dexter leaning on Brother Sam and an unexpected winged messenger for support as he questions the idea of faith; with proof of a religiously motivated killer, Homicide hunts for a zealot, with Debra giving her first official press conference.
5: The Angel of Death - Aired: 2011-10-30
With the help of his newfound friend Brother Sam, Dexter wonders if there is light within him to counter the darkness, while the search for the Doomsday Killers takes him in a new direction; Batista and Quinn pay a visit to the university where Professor Gellar taught; due to departmental regulations following the shooting, Debra is forced to begin therapy.
6: Just Let Go - Aired: 2011-11-06
Dexter is caught up in a very personal case that awakens the needs of his Dark Passenger; Debra feels overwhelmed by her new Lieutenant duties, made all the more complicated when she finds out Quinn slept with a witness in the Doomsday case.
7: Nebraska - Aired: 2011-11-13
Dexter finds himself teamed up with a fellow Dark Passenger when he takes a road trip to Nebraska to tie up some loose ends from the past; Debra deals with the complications of her promotion as she leads the Doomsday investigation.
8: Sin of Omission - Aired: 2011-11-20
Dexter uses lessons he learned from Brother Sam to follow up on some new leads in the Doomsday investigation; Debra butts heads with Captain LaGuerta over the case of a dead call girl.
9: Get Gellar - Aired: 2011-11-27
Dexter receives help from an unexpected source while hunting the Doomsday Killers and staying one step ahead of Homicide; Debra discovers something new about herself in therapy.
10: Ricochet Rabbit - Aired: 2011-12-04
Dexter tries to figure out the Doomsday Killers' next victim before it's too late; Debra has a strong reaction to a crime scene, which leads her to the realization that she leans too heavily on her brother.
11: Talk to the Hand - Aired: 2011-12-11
Dexter finds that in order to catch the Doomsday Killers, he must create a macabre tableau of his own; Debra's battle with LaGuerta over the case of the dead call girl boils over, and her therapist makes an unnerving suggestion.
12: This is the Way the World Ends - Aired: 2011-12-18
In the Season 6 finale, Dexter and Homicide race against a lunar eclipse to catch the Doomsday Killers before their final gruesome act; Debra struggles with a new emotional reality.
Season 7 (12 Episodes)
1: Are You...? - Aired: 2012-09-30
After witnessing her brother kill Travis Marshall, Debra attempts to reconcile with Dexter while struggling to cover up their involvement with the murder. Meanwhile, Detective Mike Anderson has an unfortunate run-in, Quinn and Batista begin to make amends, and LaGuerta finds evidence that causes her to re-think the closed Bay Harbor Butcher case.
2: Sunshine and Frosty Swirl - Aired: 2012-10-07
Miami Metro sets out to unearth new evidence on a claim from a local convict that he has new information regarding a 15-year-old crime spree; Debra tries to cure Dexter of his killer tendencies.
3: Buck the System - Aired: 2012-10-14
Dexter tries to bring Debra on board with his new target. While the Ukrainian mob seeks revenge for the killing of one of their own, Quinn grows close to a dancer at their strip club.
4: Run - Aired: 2012-10-21
After capturing a deadly killer, things go awry for Miami Metro, sending Debra into a tailspin. In an effort to help his sister, Dexter enters into a dangerous game of cat and mouse, while the Ukrainian mob continues to seek revenge.
5: Swim Deep - Aired: 2012-10-28
While trying to uncover why someone was killed on his boat, Dexter must out-maneuver a vengeful Isaak. New leads are brought to light on the Wayne Randall case by Hannah McKay, Randall's alluring former accomplice who Dexter discovers has a secret.
6: Do the Wrong Thing - Aired: 2012-11-04
Debra gets to know a local crime writer who's dug up some incriminating dirt on Hannah McKay (Dexter's newest obsession). Quinn gets an offer he tries to refuse and Batista is drawn to a new business opportunity. LaGuerta keeps digging into the Bay Harbor Butcher case.
7: Chemistry - Aired: 2012-11-11
Quinn falls back into his old ways as he makes some questionable choices to protect Nadia. Things heat up as Dexter and Hannah grow closer, but when Sal Price discovers the two are involved, he wants the exclusive story.
8: Argentina - Aired: 2012-11-18
Fresh out of jail, Isaak renews his pursuit of Dexter while Quinn continues his power struggle with the Koshkas. Dexter tries to keep Debra in the dark about his relationship with Hannah, but a surprise visit from Astor, Cody and Harrison throws a wrench into his plans.
9: Helter Skelter - Aired: 2012-11-25
As Dexter scrambles to track down Isaak, a power struggle erupts among the Koshka Brotherhood, which could prove to Dexter's advantage. Meanwhile, Miami Dade tries to smoke out the Phantom Arsonist.
10: The Dark... Whatever - Aired: 2012-12-02
Dexter is unnerved when Hannah's father pays him a surprise visit; the Phantom Arsonist's crimes become more vicious; and Quinn defends Nadia's honor and finds himself in a volatile situation. Meanwhile; LaGuerta asks a former superior for help on the Bay Harbor Butcher case.
11: Do You See What I See? - Aired: 2012-12-09
It's Christmas time, and Debra learns it may be better to receive when she gets a tip from Hannah's father... one that could lead to incriminating Dexter in a crime. Meanwhile, Dexter discovers that the man behind his mother's death has been released from prison.
12: Surprise, Motherfucker! - Aired: 2012-12-16
Dexter must protect himself when LaGuerta closes in on his secret.
Season 8 (12 Episodes)
1: A Beautiful Day - Aired: 2013-06-30
It's been 6 months since LaGuerta's murder – and Dexter is still managing life as a dad, brother, and serial killer. Debra now works as a PI for a private firm and Batista has replaced her as Lieutenant. Meanwhile, Miami Metro investigates the murder of a man who has had pieces of his brain removed.
2: Every Silver Lining... - Aired: 2013-07-07
Miami Metro continues their hunt for the Brain Surgeon, while Dr. Vogel enlists Dexter to do her bidding based on her own personal experience with her previous patients. Debra continues to track down her PI case and has to take matters into her own hands.
3: What's Eating Dexter Morgan? - Aired: 2013-07-14
Dexter continues his manhunt for the Brain Surgeon. Dr. Vogel tries to prove to Dexter that he's perfect as a psychopath. Debra's PTSD kicks in and she makes a desperate plea to confess to LaGuerta's murder.
4: Scar Tissue - Aired: 2013-07-21
Dexter tracks down another potential serial killer from Dr. Vogel's list. Quinn celebrates his passing of the Sergeant's exam by defending Debra's honor in a fight. Dr. Vogel begins treating Debra for her PTSD.
5: This Little Piggy - Aired: 2013-07-28
Dr. Vogel gets abducted by the Brain Surgeon, while Dexter and Debra try and rescue her. Masuka finds out he has a daughter.
6: A Little Reflection - Aired: 2013-08-04
Dexter monitors a young psychopath to see if he is suited for his table. Dexter and Debra finally get back to normal, but are surprised by his ex, Hannah.
7: Dress Code - Aired: 2013-08-11
Dexter hunts down Hannah to figure out why she's back in Miami. Dexter also takes on a protégé and starts teaching him the Code.
8: Are We There Yet? - Aired: 2013-08-18
Dexter tracks down his protégé in the belief that he murdered his neighbor. Meanwhile, Dexter tries to help Hannah escape the country.
9: Make Your Own Kind of Music - Aired: 2013-08-25
Dexter investigates a murder that hits close to home. Meanwhile, Dr. Vogel gets the surprise of her life when someone from her past returns.
10: Goodbye Miami - Aired: 2013-09-08
Dexter enlists Dr. Vogel's help to lure the Brain Surgeon to a location in order to get him on the table. Later, an important person in Dexter's life is murdered before his eyes.
11: Monkey in a Box - Aired: 2013-09-15
Dexter is torn between fleeing the country with Hannah and Harrison, and taking Saxon out once and for all.
12: Remember the Monsters? - Aired: 2013-09-22
Season 8 and the series conclude with Dexter facing impossible odds. With a hurricane threatening Miami, Dexter becomes determined to end things.