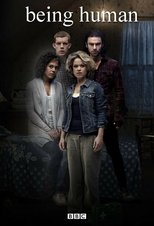 General Information
Glossary: B
First Air Date: January 25th, 2009
Last Air Date: March 10th, 2013
Created By: Toby Whithouse
Star Casts: Jason Watkins, Sinead Keenan, Amy Manson, Annabel Scholey, Michael Socha, Damien Molony, Kate Bracken, Steven Robertson, Ruari Mears, Phil Davis, Toby Whithouse, Colin Hoult, Louis Mahoney
Aired On: BBC Three
Episode Runtime: 60 minutes
Total Seasons: 5 Seasons
Total Episodes: 36 Episodes
Type: Scripted
Status: Ended
Homepage: BBC Three - Being Human

Last Updated: Sun, 05 Jun 2022 10:31:49 +0000
Sponsored Links
Ratings
User Rating:
Backdrops Gallery (9 Images)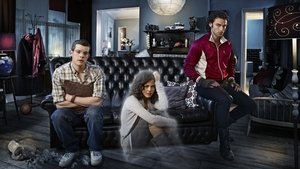 Being Human (UK)
The central premise of Being Human is that various types of supernatural beings exist alongside human beings, with varying degrees of menace; that three of these supernatural beings are opting to live amongst human beings rather than apart from them; and that these three characters are attempting (as much as is possible) to live ordinary human lives despite the pressures and dangers of their situations. They are constantly threatened with exposure or persecution, with pressure from other supernatural creatures, and with problems caused by their attempts to deal with their own natures.
Seasons and Episodes
Specials (19 Episodes)
1: Pilot - Aired: 2008-02-18
Contemporary supernatural drama about George and Mitchell, a pair of perennial outsiders. Working in the anonymous drudgery of the local hospital, they live lives of quiet desperation - because Mitchell is a vampire and George is a werewolf. Deciding to turn over a new leaf, they move into a house together, only to find that it is haunted by Annie, the ghost of a woman killed in mysterious circumstances. As a threesome, they deal with the challenges of being supernatural creatures, bonded by their desire to adopt the lifestyle of their neighbours - humanity. Pilot Episode cast differs from series 1: Guy Flanagan, Russell Tovey (remains in Series 1), Andrea Riseborough, Claire Foy, Dominique McElligott, Dylan Brown
2: Being Human Unearthed - Aired: 2009-03-28
Actors Aidan Turner, Russell Tovey and Lenora Crichlow reveal how they brought the much loved housemates to life and we talk to Jason Watkins about the influences behind vampire leader, Herrick. Annabel Scholey and Sinead Keenan give their thoughts on characters Lauren and Nina, and creator Toby Whithouse shares his insights on the recent series and teases what's round the corner.
3: Annie's Prequel - Aired: 2008-12-20
Lucy and Mal Woodeson want to move into a new flat together. However the ghost Annie Sawyer already lives there. Annie doesn't want Lucy and Mal to live there and scares them away.
4: George's Prequel - Aired: 2008-12-20
George Sands is on a holiday. There he meets the student Andy. They go on a walk and are attacked by a werewolf. Andy dies and George becomes a werewolf.
5: Mitchell's Prequel - Aired: 2008-12-20
Herrick and Mitchell sit in a car with a woman called Sherly. They have celebrated and Herrick wants Mitchell to drink Sherly's blood. Mitchell however sets Sherly free.
6: Ivan and Daisy's Prequel - Aired: 2009-12-17
Ivan and Daisy are in Singapore. There they meet Hetty who tells them about Mitchell, George and Annie. Daisy is curious about the trio, so Ivan and Daisy deceide to go to Bristol to meet them.
7: Becoming Human: Episode 1 - Aired: 2011-01-30
Adam, the 46-year-old vampire in a sixteen-year-old's body returns to school, where his attempts at banter referencing 1980s pop culture fall flat.he does befriend Christa, whom he recognizes as a werewolf though she is in denial. Only they can see Matt, the tubby ghost of a boy who went missing.Adam knew that he was murdered and his killer be exposed before he can pass on. The chief suspect is school bully Danny whom Matt terrorizes with his psychic powers but admits it was only for revenge because he is sure the boy is innocent. Brandy Mulligan, self-assured and glamorous sixth former, however, is from a family of gangsters, known for their murderous habits.
8: Becoming Human: Episode 2 - Aired: 2011-02-06
The trio pursues Brandy but Matt remembers that he was killed in the boys' toilets and he is sure she was not there. Then they learn that sadistic sports master Swan wants the toilets completely cleaned and painted but before they can gather evidence Christa becomes a werewolf, sniffing out the location of Matt's corpse. They find themselves facing the killer and the door appears for Matt to pass through. But will he go now that he has found his new friends?
9: Becoming Human: Episode 3 - Aired: 2011-02-13
In the school laboratory Adam and Christa see a tubby boy called Matt, for whom there are Missing posters. Only they can see him so he is plainly a ghost. he believes he was murdered but cannot remember who did it. As Christa and Adam ponder aloud teacher Mr Roe suggests they try Brandy Mulligan, a girl whose family has criminal connections.
10: Becoming Human: Episode 4 - Aired: 2011-02-20
Brandy Mulligan seems a likely suspect as Matt has recall of being in a girls' changing room so Christa and Adam pursue Brandy, pointing out that they know she is a member of the notorious Crompton family. Brandy is hostile but Matt suddenly recalls that he saw her leave the changing room so that she cannot have killed him.
11: Becoming Human: Episode 5 - Aired: 2011-02-27
Matt remembers school bully, Danny, holding his head in the toilet but again cannot recall if this was his last memory. Adam and Christa are concerned that they might be wrongly seen as a couple but are interrupted when they see Mr. Roe argue with another teacher Mr. Swan, whom Roe accuses of being a bully himself. Christa tumbles to the fact that CCTV in the boys' toilet might give them a positive answer about Danny.
12: Becoming Human: Episode 6 - Aired: 2011-03-06
CCTV footage leads Adam and Christa to the gym, where they hide in the vaulting horse as Swan comes in and vigorously attacks a punch-bag. He is aware of their presence but when he discovers them they pretend to be passionately kissing. Matt, who fancies Christa, gets the wrong idea and has to be told they are acting in his interests. A full moon is due soon and werewolf Christa feels this may be to their advantage.
13: Becoming Human: Episode 7 - Aired: 2011-03-13
The trio becomes certain that Matt was killed in the gym and Christa, transforming into a werewolf, is convinced that her heightened sense of smell will lead her to the body and thence to the murderer. For his own safety Adam has to lock her in a cupboard but next morning after she has changed back they make a discovery.
14: Becoming Human: Episode 8 - Aired: 2011-03-20
The trio discovers Matt's body in the cupboards containing the gym equipment but they are interrupted by the actual killer, who explains their motive for murdering Matt. There is a fight, during which the killer passes through the door intended for Matt, who now considers staying around with his two new chums.
15: Tom's Prequel - Aired: 2012-01-24
Tom is interviewed for a job in a small cafe in Barry. The questions may seem routine enough, but the answers tell an entirely different story.
16: Hal's Prequel - Aired: 2012-01-24
It's 1955. The werewolf Leo is forced to fight against humans. He has already killed five humans when the vampire Hal Yorke enters the room. Leo tells Hal that it is the last time that he has killed humans and that the next times he would let the human kill him before he turns into a werewolf. Hal however also does not want to kill anymore. Leo suggests that they could support each other.
17: The Old Ones Prequel - Aired: 2012-02-03
In the dead of night, across a cold black ocean, a container ship carries its precious cargo from Bolivia to Barry. The Old Ones are coming.
18: Milo And Snow - Aired: 2012-03-19
At last, the Old Ones have arrived and first thing on Snow's agenda is to learn all he can about Annie, Hal and Tom before he and Milo can prepare for the begining of the end.
19: Exclusive Scene - Aired: 2013-04-08
Hal, Alex and Tom sit in a restaurant and talk about their future.
Series 1 (6 Episodes)
1: Flotsam and Jetsam - Aired: 2009-01-25
While Mitchell struggles with his growing lust for blood when asked out on a date, Annie has a harder time dealing with her emotions than she thought when she comes face to face with a someone from her past.
2: Tully - Aired: 2009-02-01
George meets another werewolf called Tully, who overstays his welcome.
3: Ghost Town - Aired: 2009-02-08
Annie investigates why she's trapped in limbo with the help of a miserable ghost.
4: Another Fine Mess - Aired: 2009-02-15
Mitchell makes friends with a boy, but a witch-hunt ensues after a misunderstanding.
5: Where the Wild Things Are - Aired: 2009-02-22
Mitchell has turned his back on humanity and is back with the vampires.
6: Bad Moon Rising - Aired: 2009-03-01
If Mitchell recovers from being staked through the chest, he'll have to confront Herrick.
Series 2 (8 Episodes)
1: Cure and Contagion - Aired: 2010-01-10
Two strangers arrive in Bristol to torment Mitchell and George.
2: Serve God, Love Me, and Mend - Aired: 2010-01-17
Annie thinks she has met the man of her dreams, but his past is about to haunt him.
3: Long Live the King - Aired: 2010-01-24
George takes his mind off things by helping Annie in her mission to play Cupid.
4: Educating Creature - Aired: 2010-01-31
George gets a new job, a new girlfriend and even a cage to transform in.
5: The Looking Glass - Aired: 2010-02-07
George's relationship with Sam continues and Annie is left looking after a ghost baby.
6: In the Morning - Aired: 2010-02-14
A fraudulent psychic is helped by Annie. Sam puts George on the spot.
7: Damage - Aired: 2010-02-21
Mitchell swears revenge when he discovers the truth about Lucy.
8: All God's Children - Aired: 2010-02-28
Will Mitchell save his friends from Jaggat's experiments and will his friends save him?
Series 3 (8 Episodes)
1: Lia - Aired: 2011-01-23
If Mitchell is to rescue Annie from purgatory, he must first face up to his haunting past.
2: Adam's Family - Aired: 2011-01-30
Will our heroes be able to help teenage vampire Adam control his bloodlust?
3: Type 4 - Aired: 2011-02-06
Confronted with a 'type four', the housemates are forced to stare death in the face.
4: The Pack - Aired: 2011-02-13
George and Nina try to find out if their unborn baby will survive the transformation.
5: The Longest Day - Aired: 2011-02-20
Herrick is back, but is he megalomaniac vampire or defenceless victim?
6: Daddy Ghoul - Aired: 2011-02-27
George is shocked to discover that his father has died, then meets the ghost of George Sr.
7: Though the Heavens Fall - Aired: 2011-03-06
With the full moon looming and a house full of werewolves, pressure mounts on Mitchell.
8: The Wolf-Shaped Bullet - Aired: 2011-03-13
Nina's fate hangs in the balance, whilst Annie battles with Lia for her soul.
Series 4 (8 Episodes)
1: Eve of the War - Aired: 2012-02-05
Our werewolf and ghost heroes have to protect a newborn child from marauding vampires.
2: Being Human 1955 - Aired: 2012-02-12
Three visitors hope that baby Eve is the Saviour and can perform a miracle.
3: The Graveyard Shift - Aired: 2012-02-19
Hal is told to get a job, but when the vampires catch up with him there is another offer.
4: A Spectre Calls - Aired: 2012-02-26
Kirby, a 1970s ghost, comes to stay at Honolulu Heights. But is he friend or foe?
5: Hold the Front Page - Aired: 2012-03-04
Teenage vampire Adam and his schoolmistress lover cause havoc at Honolulu Heights.
6: Puppy Love - Aired: 2012-03-11
Annie accidentally kills a cantankerous neighbour and Tom falls for geek werewolf Allison.
7: Making History - Aired: 2012-03-18
Tensions run high when Cutler takes Tom under his wing. Annie travels into purgatory.
8: The War Child - Aired: 2012-03-25
The only thing between the Old Ones and global destruction are our heroes.
Series 5 (6 Episodes)
1: The Trinity - Aired: 2013-02-03
As ghost Alex adjusts to life after death with werewolf Tom and vampire Hal, we meet poisonous pensioner Captain Hatch, behind whose foul exterior lurks an ancient evil.
2: Sticks and Rope - Aired: 2013-02-10
Alex discovers she's not the only ghost haunting Honolulu Heights. Tom and Hal go head to head in the hotel's employee of the month competition, much to the delight of Captain Hatch, who feeds on werewolf / vampire conflict.
3: Pie and Prejudice - Aired: 2013-02-17
Tom learns how to be successful from werewolf mentor Larry, but is Larry everything that he claims to be? Alex discovers some worrying similarities with Hal's Regency ghost friend, Lady Mary.
4: The Greater Good - Aired: 2013-02-24
It's vampire rehab at Honolulu Heights when Crumb comes to stay. Tom has his work cut out reintroducing werewolf Bobby to a world he's long forgotten.
5: No Care, All Responsibility - Aired: 2013-03-03
When a damsel in distress seeks haven at the hotel, Tom and Hal are attracted to her for different reasons. Alex investigates her suspicions about Captain Hatch with dangerous consequences.
6: The Last Broadcast - Aired: 2013-03-10
Hal is ready to return to his vampire ways and Tom is set on killing him as an act of revenge, but the trio have to battle the devil and Captain Hatch.