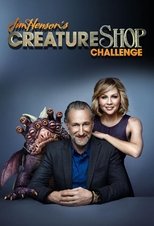 General Information
Glossary: J
First Air Date: March 25th, 2014
Last Air Date: May 13th, 2014
Created By: ---
Star Casts: Brian Henson, Gigi Edgley, Beth Hathaway, Kirk R. Thatcher
Aired On: Syfy
Episode Runtime: 60 minutes
Total Seasons: 1 Season
Total Episodes: 8 Episodes
Type: Reality
Status: Canceled
Homepage: Syfy - Jim Henson's Creature Shop Challenge

Last Updated: Sat, 21 Nov 2020 22:33:06 +0000
Sponsored Links
Ratings
User Rating:
Backdrops Gallery (3 Images)
Jim Henson's Creature Shop Challenge
Ten aspiring creature creators competing to out-imagine one another in a series of challenges where they build everything from mechanical characters to whimsical beasts, bringing high-end creature designs to life. The contestants compete for a prize worth up to $100,000 including the opportunity for the job of a lifetime - a contract working at the world-renowned Jim Henson's Creature Shop™.
Seasons and Episodes
Season 1 (8 Episodes)
1: What Lies Beneath - Aired: 2014-03-25
Brian Henson welcomes 10 talented creature designers to Jim Henson Studios for their first Creature Brief: design and build an original underwater creature for a screen test on the Henson Soundstage.
2: Return of the Skeksis - Aired: 2014-04-01
The creature designers are given the chance to reimagine the fictional species Skeksis from "The Dark Crystal." Later, their characters appear in a screen test for the original 1982 film.
3: Assembly Inspired - Aired: 2014-04-08
Unconventional materials from a junkyard are used to create scrap-fantasy creatures that are trapped inside a hanging cage.
4: Heads Up! - Aired: 2014-04-15
A humor-filled challenge requires the designers to create mounted creature heads that magically come to life under the spell of a wizard played by Donald Faison.
5: Life in Motion - Aired: 2014-04-22
An appearance by Lady Gaga's unicorn inspires the creature designers to create a larger-than-life creation with realistic movement, performed on a blacklight soundstage.
6: Swamp Things - Aired: 2014-04-29
The designers make camouflaged creatures hiding in plain sight for a mystical swamp-theme challenge. Neville Page ("Face Off") serves as guest judge.
7: Alien Press Conference - Aired: 2014-05-06
Gigi brings her "Farscape" costar Rygel to the workshop to offer inspiration when the creature designers are given the task to build original alien species attending an intergalactic press conference. Director Barry Sonnenfeld is the guest judge.
8: Tavern at the Crossroads - Aired: 2014-05-13
The final three receive help from contestants who were previously eliminated as they face their toughest challenge, which is to design, build and perform a full-body mystical creature, complete with props and special effects, for the chance to win a job at Jim Henson's Creature Shop.