General Information
Glossary: L
First Air Date: June 26th, 2012
Last Air Date: April 30th, 2017
Created By: Jed Mercurio
Star Casts: Thandie Newton, Martin Compston, Vicky McClure, Adrian Dunbar, Jason Watkins, Paul Higgins, Lee Ingleby, Gaite Jansen, Claudia Jessie, Royce Pierreson, Patrick Baladi, Mark Stobbart, Maya Sondhi
Aired On: BBC One, BBC Two
Episode Runtime: 60 minutes
Total Seasons: 4 Seasons
Total Episodes: 23 Episodes
Type: Scripted
Status: Returning Series
Homepage: BBC One - Line of Duty

Last Updated: Wed, 07 Nov 2018 21:52:03 +0000
Sponsored Links
Ratings
User Rating:
Backdrops Gallery (7 Images)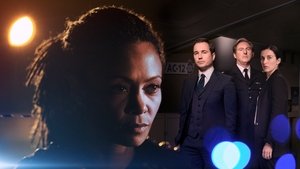 Line of Duty
Steve Arnott is a young officer who's fallen foul of his superiors for refusing to help in the cover-up of an operation that ended in the shooting of an innocent father. He seems ideal to join AC-12, an anti-corruption police unit, just as it starts to investigate Detective Chief Inspector Tony Gates, the regional force's Officer of the Year.
Seasons and Episodes
Series 1 (5 Episodes)
1: Episode 1 - Aired: 2012-06-26
Steve Arnott realises the target in his anti-corruption case is the city's top detective.
2: Episode 2 - Aired: 2012-07-03
Having been duped into covering up Jackie's crime, Gates tries to sever ties with her.
3: Episode 3 - Aired: 2012-07-10
Arnott is convinced Gates played a part in Jackie's disappearance.
4: Episode 4 - Aired: 2012-07-17
Desperate for proof of Gates's corruption, Fleming pushes their relationship to the limit.
5: Episode 5 - Aired: 2012-07-24
With Gates on the run, the anti-corruption team come under pressure to close the case.
Series 2 (6 Episodes)
1: Episode 1 - Aired: 2014-02-12
A brutal ambush on a police convoy leaves three officers dead.
2: Episode 2 - Aired: 2014-02-19
AC12's Kate Fleming is planted undercover in Lindsay Denton's Missing Persons Unit.
3: Episode 3 - Aired: 2014-02-26
Lindsay is denied bail and finds herself targeted in prison.
4: Episode 4 - Aired: 2014-03-05
Lindsay is granted special dispensation to visit her dying mother.
5: Episode 5 - Aired: 2014-03-12
Lindsay fights for her life against the conspiracy of corrupt police officers.
6: Episode 6 - Aired: 2014-03-19
AC12's investigation finally exposes a vicious criminal gang run from within the police.
Series 3 (6 Episodes)
1: Episode 1 - Aired: 2016-03-24
Sergeant Danny Waldron and his armed response team shoot dead a hardened criminal.
2: Episode 2 - Aired: 2016-03-31
After the shooting at the drugs house, DC Fleming increases the pressure on Danny Waldron.
3: Episode 3 - Aired: 2016-04-07
DS Steve Arnott believes there is a dark secret in Danny Waldron's past.
4: Episode 4 - Aired: 2016-04-14
Fresh testimony launches AC-12 back on the trail of a corrupt officer.
5: Episode 5 - Aired: 2016-04-21
Loyalties are divided when DS Steve Arnott comes under scrutiny from his colleagues.
6: Episode 6 - Aired: 2016-04-28
DS Steve Arnott is arrested on suspicion of murder but continues to protest his innocence.
Series 4 (6 Episodes)
1: Episode 1 - Aired: 2017-03-26
DCI Roz Huntley is under intense pressure from her superiors to apprehend a serial murderer after months of fruitless investigation. When another young woman is abducted, Roz is on the scene to track down and charge a 24-year-old man. But doubts around the young man's guilt lead the chief forensic investigator to ask AC12 to investigate. Is Roz ignoring forensic evidence that might prove the young man's innocence? AC12's Supt Hastings, places DS Kate Fleming undercover inside Roz's team to dig deeper into the case. With DS Steve Arnott piling on pressure from the outside, Roz is forced to act decisively. A mother of two and wife to Nick, Roz will do anything to stop her life from unravelling.
2: Episode 2 - Aired: 2017-04-02
A dismembered body is discovered, and worries grow when DCI Roz Huntley fails to report for duty. AC-12 crank up their investigation into Operation Trapdoor, concerned that Michael Farmer will go to jail for crimes he didn't commit. With suspicions that Roz may have withheld crucial evidence, a new DCI is drafted in to run Operation Trapdoor. Kate makes progress in her undercover role, but AC-12's investigation falters when they realise that their main informant, forensic investigator Tim Ifield, has also gone missing.
3: Episode 3 - Aired: 2017-04-09
As AC-12 wrestle with the new forensic evidence casting doubt over Tim Ifield, Kate is approached by another woman claiming to have been assaulted by Michael Farmer.
4: Episode 4 - Aired: 2017-04-16
Roz's husband Nick is brought in for questioning by AC-12. But while Nick denies any involvement in Steve's attack, his suspicions about Roz mount. Meanwhile, AC-12 discover new anomalies in the forensic evidence and issue DCI Roz Huntley with a second Reg 15 notice. AC-12's case appears watertight until Roz starts dismantling their evidence with inside information of her own.
5: Episode 5 - Aired: 2017-04-23
DCI Roz Huntley struggles to allay her husband's suspicions. AC-12 find a new angle to pursue their case against her.
6: Episode 6 - Aired: 2017-04-30
While Nick Huntley faces lengthy questioning, AC-12 remain convinced of Roz's involvement.