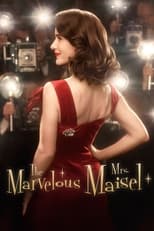 General Information
Glossary: T
First Air Date: March 16th, 2017
Last Air Date: May 25th, 2023
Created By: Amy Sherman-Palladino
Star Casts: Rachel Brosnahan, Alex Borstein, Michael Zegen, Tony Shalhoub, Marin Hinkle, Kevin Pollak, Caroline Aaron, Reid Scott, Alfie Fuller
Aired On: Prime Video
Episode Runtime: minutes
Total Seasons: 5 Seasons
Total Episodes: 43 Episodes
Type: Scripted
Status: Ended
Homepage: Prime Video - The Marvelous Mrs. Maisel

Last Updated: Mon, 13 Nov 2023 10:30:14 +0000
Sponsored Links
Ratings
User Rating:
Backdrops Gallery (46 Images)
The Marvelous Mrs. Maisel
It's 1958 Manhattan and Miriam "Midge" Maisel has everything she's ever wanted - the perfect husband, kids, and Upper West Side apartment. But when her life suddenly takes a turn and Midge must start over, she discovers a previously unknown talent - one that will take her all the way from the comedy clubs of Greenwich Village to a spot on Johnny Carson's couch.
Seasons and Episodes
Season 1 (8 Episodes)
1: Pilot - Aired: 2017-03-16
In 1958 New York, Midge Maisel's life is on track- husband, kids, and elegant Yom Kippur dinners in their Upper West Side apartment. But when her life takes a surprise turn, she has to quickly decide what else she's good at - and going from housewife to stand-up comic is a wild choice to everyone but her.
2: Ya Shivu v Bolshom Dome Na Kholme - Aired: 2017-11-28
Midge's life is in a tailspin in the wake of Joel leaving. Midge and Joel's parents butt heads while trying to keep their family together. Susie pushes Midge to get back on stage and find her voice.
3: Because You Left - Aired: 2017-11-28
After another arrest, Midge finds herself in legal trouble, forcing her to rely on Susie's street smarts. Abe approaches Moishe with an interesting proposition. Lenny Bruce offers some unconventional inspiration for Midge's act.
4: The Disappointment of the Dionne Quintuplets - Aired: 2017-11-28
Midge begins to move on from her once perfect life. Susie shows Midge the ropes while going on a tour of New York comedy clubs. Rose takes a bit too much pleasure in Midge's new living arrangements.
5: Doink - Aired: 2017-11-28
Midge dives into a new line of work and makes some quirky friends along the way. Susie continues her emphatic quest to keep Midge's career moving forward, but gets hit with a couple setbacks. Both Midge and Joel experience the downsides of their new lifestyles.
6: Mrs. X at the Gaslight - Aired: 2017-11-28
Midge finds a different kind of audience to perform for, much to Susie's chagrin. Abe gets offered the experience of a lifetime. The Weissmans come together for a family dinner. Susie finally shows off her management skills.
7: Put That on Your Plate! - Aired: 2017-11-28
With Susie's help, Midge hones her act at the Gaslight. Abe surprises the women with a dinner guest, sending Rose into an emotional spiral. Working towards a promotion, Joel conjures up a new plan. Midge stirs up controversy after meeting a big-time comedian.
8: Thank You and Good Night - Aired: 2017-11-28
In the Season One finale, Midge and Susie deal with the repercussions of Midge's off-script takedown of a famous comedian. With tensions still high at the Weissman household, Rose makes some bold changes. Midge and Joel reunite for Ethan's birthday party.
Season 2 (10 Episodes)
1: Simone - Aired: 2018-12-04
Midge takes the stage for a foreign audience, while Abe and Rose find themselves in a new world. Susie experiences the repercussions of having a bad reputation in the business, as Joel regroups after quitting his job.
2: Mid-way to Mid-town - Aired: 2018-12-04
Midge and Susie continue building Midge's standup career despite Midge's reluctance to tell her family and friends. Abe and Rose enjoy a new lifestyle. Joel offers some business advice to his parents and makes an effort to do right by Midge.
3: The Punishment Room - Aired: 2018-12-04
Midge puts her impeccable planning to the test as she helps Mary with her special day. Joel attempts to keep finances steady at Maisel and Roth and ends up on a treasure hunt. Midge's act flourishes, but Susie's finances take a hit. Back at Columbia, Rose finds herself out of her comfort zone when auditing classes.
4: We're Going to the Catskills! - Aired: 2018-12-04
The Weissmans arrive in the Catskills for their annual summer trip and attempt to settle into familiar patterns. Whispers of Midge and Joel's separation cause Rose to poke around her daughter's love life. Susie must adjust her summer plans in an effort to keep her and Midge's career momentum going.
5: Midnight at the Concord - Aired: 2018-12-04
Summer season at Steiner Mountain Resort continues as Moishe and Shirley join the group, disturbing Abe's peace. Susie tries to ward off a new friend while keeping a low profile at the resort. Midge jumps at the opportunity to redeem herself at B. Altman.
6: Let's Face the Music and Dance - Aired: 2018-12-04
With Midge's secret now exposed to Abe, tensions between them are higher than ever. Summer is nearing an end with Susie fully immersed in her Steiner persona and Joel contemplating life as a bachelor. Rose takes advantage of Astrid's fragile state to learn some surprising intel about Noah.
7: Look, She Made a Hat - Aired: 2018-12-04
Benjamin opens Midge's eyes to the New York art scene, and she ends up knowing more about art than she realizes. The Maisel and Weissman families come together for a tension-filled Yom Kippur dinner on the anniversary of Joel and Midge's separation. Meanwhile, a reluctant Susie turns to her family for help in advancing her career.
8: Someday... - Aired: 2018-12-04
Midge and Susie gear up for their first roadtrip, and quickly learn that the dynamics of going on tour are more challenging than they thought. Back in New York, it's business as usual while Midge is away, forcing her to wonder if her new life is worth sacrificing her home life.
9: Vote for Kennedy, Vote for Kennedy - Aired: 2018-12-04
Susie lands Midge her first gig on television, but their victory is short-lived when they realize Midge is being punished for her past. Abe is increasingly unhappy in his dream job at Bell Labs while Joel continues to drown in work during late nights at Maisel & Roth.
10: All Alone - Aired: 2018-12-04
Midge and Rose begin planning for Midge's future as Benjamin attempts to impress Abe. Joel stresses over his next move, while Abe is presented with some big decisions of his own. Meanwhile, Susie tries to smooth things over for Midge.
Season 3 (8 Episodes)
1: Strike Up the Band - Aired: 2019-12-05
Midge performs at a USO show ahead of touring with Shy while Susie learns the ins and outs of contract negotiation. Abe and Rose grapple with their new financial situation. Joel finds the perfect spot for his new club until he discovers the space isn't as it appears.
2: It's the Sixties, Man! - Aired: 2019-12-05
Midge struggles with Susie taking on a new client. Joel meets a mystery girl, Mei, who is as frustrating as she is intriguing. Abe initiates a new project with a group of young beatniks. Midge and Joel deal with their divorce.
3: Panty Pose - Aired: 2019-12-05
Rose and Abe move into less than desirable new digs. Midge struggles with her act as Shy's tour kicks off. Joel and Mei spark a connection.
4: Hands! - Aired: 2019-12-05
Joel visits Midge in Vegas. Rose and Abe struggle as they adjust to their new life. Susie scores a big win for her new client.
5: It's Comedy or Cabbage - Aired: 2019-12-05
Midge runs into an old friend in Miami. Abe grows frustrated with his beanik friends while Rose reaches her breaking point with Shirley.
6: Kind of Bleau - Aired: 2019-12-05
Abe and Rose find respite from Queens while visiting Midge. Joel and Mei squabble over a liquor license for the bar. Midge helps Shy out of a scrape.
7: Marvelous Radio - Aired: 2019-12-05
Midge and Susie head back to NYC and hustle for work. Abe is elated when someone publishes a piece he wrote. The Maisels gather for the bris of Astrid's baby.
8: A Jewish Girl Walks Into the Apollo… - Aired: 2019-12-05
Joel readies his club for its grand opening. Midge asks Moishe for a favor. Susie suffers a loss and turns to an unexpected source for help. Midge learns a hard show business lesson.
Season 4 (8 Episodes)
1: Rumble on the Wonder Wheel - Aired: 2022-02-17
Midge returns with a new game plan after getting kicked off Shy Baldwin's tour. Joel is too successful for his own good. Susie finds a creative way to get the cash she needs.
2: Billy Jones and the Orgy Lamps - Aired: 2022-02-17
Midge has Abe and Rose over for dinner. Shirley tries to find Joel a new wife. An unexpected cab ride leads to new opportunities.
3: Everything is Bellmore - Aired: 2022-02-24
Midge runs into an old friend at work. Susie finds out she has a close friend. Abe's job gets personal. Rose's matchmaking business draws attention.
4: Interesting People on Christopher Street - Aired: 2022-02-24
Midge establishes new rules. Susie gets a leg up from old friends. Abe has more in common with Asher than he thought.
5: How to Chew Quietly and Influence People - Aired: 2022-03-03
Susie hones her managerial style. Rose's professional skills land her an incredible opportunity. Midge and Susie take advantage of some high society perks.
6: Maisel vs. Lennon: The Cut Contest - Aired: 2022-03-03
Word of Midge's act is spreading. Imogene gets a new job and a new name. Sophie just wants to help.
7: Ethan…Esther…Chaim - Aired: 2022-03-10
Abe forgets his tobacco. Joel raises a glass with Moishe. Midge learns firsthand about America's bicameral system of legislature.
8: How Do You Get to Carnegie Hall? - Aired: 2022-03-10
Midge and Joel debate Greek mythology. Susie finds a second phone line. A blizzard brings unexpected consequences.
Season 5 (9 Episodes)
1: Go Forward - Aired: 2023-04-13
Midge worries about her future while Susie has a light-bulb moment.
2: It's a Man, Man, Man, Man World - Aired: 2023-04-13
It's Midge's first day at her new job. Anybody know The Caisson Song?
3: Typos and Torsos - Aired: 2023-04-13
Midge's mouth gets her in trouble at work and Abe obsesses over a mistake.
4: Susan - Aired: 2023-04-20
Susie ropes Midge into performing in an industrial musical.
5: The Pirate Queen - Aired: 2023-04-27
Midge lands in hot water after a corporate gig goes south.
6: The Testi-Roastial - Aired: 2023-05-04
Susie is honored at the Friars Club.
7: A House Full of Extremely Lame Horses - Aired: 2023-05-11
Abe takes Midge's place at Parent-Teacher Day.
8: The Princess and the Plea - Aired: 2023-05-18
A royal visitor at The Gordon Ford Show gives Midge a chance to shine.
9: Four Minutes - Aired: 2023-05-25
The very last episode of the series.