General Information
Glossary: H
First Air Date: April 19th, 2013
Last Air Date: October 23rd, 2015
Created By: Brian McGreevy
Star Casts: Landon Liboiron, Bill Skarsgård, Famke Janssen, Madeleine Martin, Camille De Pazzis
Aired On: Netflix
Episode Runtime: 60 minutes
Total Seasons: 3 Seasons
Total Episodes: 33 Episodes
Type: Scripted
Status: Ended
Homepage: Netflix - Hemlock Grove

Last Updated: Wed, 29 Jul 2020 10:31:22 +0000
Sponsored Links
Ratings
User Rating:
Backdrops Gallery (20 Images)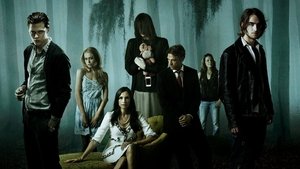 Hemlock Grove
One cannot quench his all-consuming thirst. The other cannot tame the beast clawing its way out. In the sleepy Pennsylvania village of Hemlock Grove, two young men struggle to accept painful truths: about family, themselves, the mystery of the White Tower - and a terrifying new threat so powerful it will turn them from predators into prey.
Seasons and Episodes
Season 1 (13 Episodes)
1: Jellyfish in the Sky - Aired: 2013-04-19
A teenager is murdered in the woods of Hemlock Grove. Evidence points to an animal attack but suspicions soon fall on Peter, the newly arrived gypsy.
2: The Angel - Aired: 2013-04-19
Roman confronts Peter at the crime scene, finding common ground. Letha reveals a shocking secret and Olivia and Norman fall into old habits.
3: The Order of the Dragon - Aired: 2013-04-19
Christina discovers a new victim and Sheriff Sworn gets outside help from Dr. Chasseur. Now a suspect, Peter joins Roman to find the killer.
4: In Poor Taste - Aired: 2013-04-19
Letha's interest in Peter takes a turn. Chasseur and Sworn's investigation hits a new low while Roman and Peter stay one step ahead.
5: Hello, Handsome - Aired: 2013-04-19
Shelley's connection to Dr. Pryce is further revealed, Destiny helps Peter understand the recent murder and the gala at the Tower goes horribly awry.
6: The Crucible - Aired: 2013-04-19
Peter and Roman follow Lisa Willoughby's trail to the old steel mill where they find a missing piece of the puzzle. Christina's date goes poorly.
7: Measure of Disorder - Aired: 2013-04-19
Shelley commits an act of independence, Chasseur questions Roman but crosses paths with Olivia, and Peter and Roman's friendship takes a turn.
8: Catabasis - Aired: 2013-04-19
After drunkenly attacking the Godfrey Institute, Roman falls into a coma and embarks on a subconscious journey of shocking truths and revelations.
9: What Peter Can Live Without - Aired: 2013-04-19
As a full moon approaches, Letha's parents discover her relationship with Peter. Despite a crisis of faith, Chasseur prepares to capture the killer.
10: What God Wants - Aired: 2013-04-19
A weakened Roman emerges from his coma and reunites with Peter to stop the killer. Hemlock Grove braces itself for another lethal full moon.
11: The Price - Aired: 2013-04-19
Peter and his mother hide from vigilantes seeking the killer, while Christina disappears, and Roman finally begins to face the truth about his nature.
12: Children of the Night - Aired: 2013-04-19
As Olivia and Chasseur face off at the Mill, Shelley learns the awful truth about her family, and Peter and Roman uncover the killer's identity.
13: Birth - Aired: 2013-04-19
The tragic conclusion to the Hemlock Grove killing spree leaves both the Godfrey and Rumancek families devastated, with the final horror yet to come.
Season 2 (10 Episodes)
1: Blood Pressure - Aired: 2014-07-11
Peter returns to Hemlock Grove in search of money to afford a lawyer for Lynda while Roman tries to satiate his newly found appetite.
2: Gone Sis - Aired: 2014-07-11
Roman invites an outsider to be his guest. Destiny attempts to bring clarity to Peter's dreams. Olivia grows frustrated adapting to her ailments.
3: Luna Rea - Aired: 2014-07-11
Peter explores the scene of his haunted premonitions. Meanwhile, Olivia demands exclusivity from Norman at all costs.
4: Bodily Fluids - Aired: 2014-07-11
Roman's hunger tempts him beyond his self-control. New evidence arises in the search for Shelley. Peter comes to the aid of a child in need.
5: Hemlock Diego's Policy Player's Dream Book - Aired: 2014-07-11
Miranda and Roman seek medical advice. Peter and Destiny must find a new way of helping Lynda when her attorney informs them the case is hopeless.
6: Such Dire Stuff - Aired: 2014-07-11
Roman undertakes his first treatment with Dr. Pryce; Norman sets up a rendezvous with a beloved relative he thought was lost forever.
7: Lost Generation - Aired: 2014-07-11
A family reunion unfolds with layers of typical Godfrey dysfunction. Peter and Roman's quest to save lives forces them to reveal their true natures.
8: Unicorn - Aired: 2014-07-11
Roman tells Norman the truth about their family. Olivia's rehabilitation takes an unexpected turn. Destiny discovers what the murderers are plotting.
9: Tintypes - Aired: 2014-07-11
While Peter undergoes questioning, Roman proceeds with his final transfusion. An unexpected alliance forms when a threat to Olivia's life is revealed.
10: Demons and the Dogstar - Aired: 2014-07-11
Peter recuperates at home. At the White Tower, Roman takes care of unfinished business and Norman has a final confrontation with Olivia.
Season 3 (10 Episodes)
1: A Place To Fall - Aired: 2015-10-23
The search for Miranda and Nadia digs into Spivak's past. Roman has an encounter with a mysterious stranger. Andreas and Destiny plan their future.
2: Souls on Ice - Aired: 2015-10-23
Annie reveals her secrets to Roman as they probe a connection between two attacks. Olivia is unable to feed and Miranda must fend for herself.
3: The House in the Woods - Aired: 2015-10-23
Pryce deduces the nature of the creature and looks for links to the Pivak monster. Roman explores upir customs. Peter grills Andreas about the heist.
4: Every Beast - Aired: 2015-10-23
Peter Makes a bold move to head off a war between the Gypsies and the Croatian mob. After an agonizing detox, Pryce delivers disturbing news.
5: Boy in the Box - Aired: 2015-10-23
Ochoa encourages Olivia to reach out to Annie. Destiny's sanity begins to crumble in Andreas's absence, and Pryce is besieged by childhood memories.
6: Pendant - Aired: 2015-10-23
As Olivia's condition worsens, she drops a bombshell on Roman. The wolf pack struggles to hide the truth about Andreas from Destiny.
7: Todos Santos - Aired: 2015-10-23
A plan to save Olivia requires a search for the perfect mark at an upir conference. Destiny confronts Roman about Andreas.
8: Dire Night on the Worm Moon - Aired: 2015-10-23
Aitor ponders leaving Hemlock Grove and asks Shelley to join him. Roman manipulates Peter into turning on Milan.
9: Damascus - Aired: 2015-10-23
Gruesome discoveries await Roman and Peter at Spivak's cabin. As Olivia's time runs out, she targets her son. Pryce consoles a heartbroken Shelley.
10: Brian's Song - Aired: 2015-10-23
Blinsky tends to Roman's wounds at the White Tower. After leaving Nadia with Shelley, Annie confronts Olivia about her father's death.