General Information
Glossary: T
First Air Date: February 23rd, 2017
Last Air Date: April 13th, 2017
Created By: Jon Bokenkamp, John Eisendrath
Star Casts: Ryan Eggold, Famke Janssen, Edi Gathegi, Tawny Cypress, Adrian Martinez
Aired On: NBC
Episode Runtime: 42 minutes
Total Seasons: 1 Season
Total Episodes: 8 Episodes
Type: Scripted
Status: Canceled
Homepage: NBC - The Blacklist: Redemption

Last Updated: Sat, 30 Sep 2023 10:30:36 +0000
Sponsored Links
Ratings
User Rating:
Backdrops Gallery (11 Images)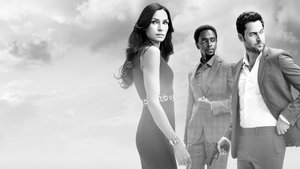 The Blacklist: Redemption
Covert operative Tom Keen joins forces with Susan "Scottie" Hargrave, the brilliant and cunning chief of a covert mercenary organization that solves problems that are too dangerous for the government.
Seasons and Episodes
Season 1 (8 Episodes)
1: Leland Bray - Aired: 2017-02-23
A routine trip to New York turns perilous when ex-operative Tom Keen is recruited by a mercenary chief to help rescue a kidnapped CIA agent.
2: Kevin Jensen - Aired: 2017-03-02
The Halcyon team scrambles to rescue Scottie's close family friend after he's falsely arrested for espionage in a dangerous foreign country.
3: Independence, U.S.A. - Aired: 2017-03-09
A plane crash in the Ural Mountains sends Tom and Nez to Russia on a covert operation to infiltrate a mysterious, top-secret military facility. Scottie enlists Mr. Solomon to find answers about her husband.
4: Operation Davenport - Aired: 2017-03-16
When ruthless terrorists escape from a "black site'' prison in Manhattan, Tom and the Halycon team must lock down the city and find the terrorists before disaster strikes.
5: Borealis 301 - Aired: 2017-03-23
Tom and Mr. Solomon go under cover on an international flight that they believe will be hijacked by a ring of ruthless thieves who steal classified material. Howard urges Tom to find proof of a conspiracy orchestrated by Scottie.
6: Hostages - Aired: 2017-03-30
When a wealthy businessman, his wife and young son are abducted by professional kidnappers, the Halcyon team is tasked to get the family back. But with time running out, the team must make a dangerous choice. Meanwhile, Tom risks exposure to save Howard from Scottie.
7: Whitehall (1) - Aired: 2017-04-06
Tensions escalate between Scottie and Howard forcing Tom to reach out to an unexpected ally for help. As explosive family secrets come to light, Tom races against time to learn the truth about Whitehall.
8: Whitehall: Conclusion (2) - Aired: 2017-04-13
In the explosive season finale, Scottie and Howard battle for control of Halcyon and the dangerous technology tied to Whitehall. Tom clashes with Mr. Solomon as he makes a fateful choice.