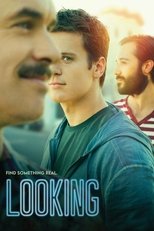 General Information
Glossary: L
First Air Date: January 19th, 2014
Last Air Date: March 22nd, 2015
Created By: Michael Lannan
Star Casts: Jonathan Groff, Frankie J. Alvarez, Murray Bartlett, Russell Tovey, Lauren Weedman, Raúl Castillo
Aired On: HBO
Episode Runtime: 30 minutes
Total Seasons: 2 Seasons
Total Episodes: 18 Episodes
Type: Scripted
Status: Canceled
Homepage: HBO - Looking

Last Updated: Wed, 12 Jan 2022 22:32:12 +0000
Sponsored Links
Ratings
User Rating:
Backdrops Gallery (9 Images)
Looking
Three friends in San Francisco who explore the fun and sometimes overwhelming options available to a new generation of gay men.
Seasons and Episodes
Season 1 (8 Episodes)
1: Looking for Now - Aired: 2014-01-19
Patrick deals with news of his ex's engagement, Agustín prepares to move in with his boyfriend, and Dom considers reconnecting with an old flame.
2: Looking for Uncut - Aired: 2014-01-26
Dom helps Agustín move into Frank's house in Oakland while discussing Patrick's love life. Back in San Francisco, Patrick goes on a date with Richie, and Dom has an encouraging reunion with Ethan.
3: Looking at Your Browser History - Aired: 2014-02-01
Patrick goes to a party on an aircraft carrier for a video-game launch, where he meets his new boss. Meanwhile, Dom shares his plans for a Portuguese restaurant with Doris, and Agustín gets fired for criticizing a sculpture.
4: Looking for $220/Hour - Aired: 2014-02-09
Dom asks Lynn to lunch, but is unsure if it is for business or pleasure. Meanwhile, Patrick and Kevin's outing is interrupted by a call from the latter's boyfriend, and Agustín considers hiring help for an art project.
5: Looking for the Future - Aired: 2014-02-16
Patrick calls in sick to work so he can spend the day exploring with Richie. They see the sights of San Francisco while discussing their pasts and what they want to do in their futures.
6: Looking in the Mirror - Aired: 2014-02-23
Dom's feelings for Lynn grow as they discuss becoming business partners, a frustrated Agustín introduces CJ to Frank, and Patrick introduces Richie to his friends at Dom's 40th birthday party.
7: Looking for a Plus-One - Aired: 2014-03-02
Patrick is nervous about Richie meeting his family at his sister's wedding. Unsure of himself, Agustín pulls out of an art exhibition and fights with Frank, while Dom ignores Lynn's advice as they prepare for the restaurant pop-up. opening.
8: Looking Glass - Aired: 2014-03-09
Frank tells Agustín what is on his mind, Patrick tries fixing what is broken in his life, while Dom's restaurant pop-up event sees Patrick and Agustín show up, as does Lynn, with a surprising guest.
Season 2 (10 Episodes)
1: Looking for the Promised Land - Aired: 2015-01-11
Patrick, Agustin, and Dom make their way to the Russian River for a short visit to Lynn's cabin and end up attending a party in the woods. Patrick thinks about what he wants. Dom looks for clues about Lynn's old life.
2: Looking for Results - Aired: 2015-01-18
Patrick and Kevin attempt to create a gay game app. Patrick finds a small rash. Dom take a look around a location in the Tenderloin.
3: Looking Top to Bottom - Aired: 2015-01-25
Patrick gets ready for his first official overnight stay with Kevin. Kevin does not want Patrick's friends to know they are seeing one another. Agustin goes to see Richie to sort things out.
4: Looking Down the Road - Aired: 2015-02-08
Patrick attempts to find out if he can still be friends with Richie. Patrick starts to question his relationship with Kevin. Agustin spends a day at a shelter with Eddie.
5: Looking for Truth - Aired: 2015-02-15
On an excursion to San Leandro, Patrick gets to see where Richie grew up, and finally has a chance to apologize for the way things ended. Agustín decides to pay a visit to Eddie after hearing he's sick at home. Meanwhile, wrought over the situation with Patrick, Kevin considers what to do next.
6: Looking for Gordon Freeman - Aired: 2015-02-22
Patrick throws a bash for Halloween and dresses up as his favorite video-game character, but he's distracted by Richie and his new boyfriend. Meanwhile, Agustín hopes to make after-party plans with Eddie; and Doris reluctantly agrees to a couples costume with Malik.
7: Looking for a Plot - Aired: 2015-03-01
After Doris learns of the sudden death of her father, Dom and Patrick travel with Doris to Dom and Doris' hometown of Modesto, where they revisit some old haunts and attend an emotional funeral.
8: Looking for Glory - Aired: 2015-03-08
Patrick is eager to present his new game app with Kevin at the upcoming GaymerX convention, but soon worries their booth may not be 'sexy' enough. Dom shows Doris and Malik the progress on his chicken take-out window. Agustin is forced to confront his underlying fears about having protected sex with HIV-pos Eddie.
9: Looking for Sanctuary - Aired: 2015-03-15
Patrick and Kevin look at a sleek new apartment for Kevin, and later, Patrick's mom convinces him to spend a day at the zoo with his judgmental sister Megan. Some bad financial news forces a wedge in Doris and Dom's friendship. Eddie convinces a resistant Agustin to take on an art project for the shelter.
10: Looking for Home - Aired: 2015-03-22
In the season two finale, Patrick makes a discovery that leads him to question what he wants in a relationship. Malik encourages Dom to try to patch things up with Doris. Agustin's nerves come out at the shelter's mural-unveiling event.