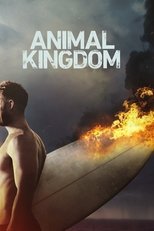 General Information
Glossary: A
First Air Date: June 14th, 2016
Last Air Date: August 29th, 2017
Created By: Jonathan Lisco
Star Casts: Finn Cole, Ellen Barkin, Shawn Hatosy, Scott Speedman, Ben Robson, Jake Weary
Aired On: TNT
Episode Runtime: 55 minutes
Total Seasons: 2 Seasons
Total Episodes: 23 Episodes
Type: Scripted
Status: Returning Series
Homepage: TNT - Animal Kingdom

Last Updated: Sun, 22 Apr 2018 09:52:02 +0000
Sponsored Links
Ratings
User Rating:
Backdrops Gallery (5 Images)
Animal Kingdom
The series centers on 17-year-old Joshua "J" Cody, who moves in with his freewheeling relatives in their Southern California beach town after his mother dies of a heroin overdose. Headed by boot-tough matriarch Janine "Smurf" Cody and her right-hand Baz, who runs the business and calls the shots, the clan also consists of Pope, the oldest and most dangerous of the Cody boys; Craig, the tough and fearless middle son; and Deran, the troubled, suspicious "baby" of the family.
Seasons and Episodes
Season 1 (10 Episodes)
1: Pilot - Aired: 2016-06-14
A teen plunges into danger when he moves in with his wild relatives in a surf community.
2: We Don't Hurt People - Aired: 2016-06-14
The Codys must deal with the aftermath of the heist, as they discover all did not go as planned. Smurf dispatches her boys to tie up loose ends, but her efforts are complicated by Baz and Pope's growing rivalry. As Pope gets increasingly volatile, J finds himself in the middle.
3: Stay Close, Stick Together - Aired: 2016-06-21
While Craig recovers from his wound, Baz and Craig deal with some old associates down in Mexico. Meanwhile, strapped for cash, Pope takes charge and ropes Deran and J into a job without Smurf's knowledge. Threatened by J's participation, Deran sends J a terrifying message.
4: Dead to Me - Aired: 2016-06-28
As the boys gear up for Pope's birthday, Smurf wants to know if they're playing by her rules. J learns more about his mother's estrangement from the family.
5: Flesh Is Weak - Aired: 2016-07-05
When Deran won't come home, Pope goes to extreme measures. Baz gets an idea for the Codys' next job. J goes out with his teacher, while Smurf confronts her past.
6: Child Care - Aired: 2016-07-12
When Pope tests positive for drugs, Smurf does what it takes to keep the family intact. Baz gets his brothers to rob a house as part of his larger plan.
7: Goddamn Animals - Aired: 2016-07-19
While Smurf takes care of unfinished business, Craig and Deran throw a party at the house. Forced to accelerate his timetable, Baz takes the final step in his long con. J makes a dangerous mistake.
8: Man In - Aired: 2016-07-26
Tensions run high as the Codys prepare for their big heist. Catherine gets a shock and must decide what's best for her family. J faces pressure from the cops.
9: Judas Kiss - Aired: 2016-08-02
No overview available.
10: What Have You Done - Aired: 2016-08-09
No overview available.
Season 2 (13 Episodes)
1: Eat What You Kill - Aired: 2017-05-30
After a risky heist misfires, the boys blame Smurf, sending shock waves through the family. Baz copes with being a single parent, while Deran makes plans for the future.
2: Karma - Aired: 2017-06-06
As Smurf adjusts to being sidelined, the boys scope out their next job. Deran needs quick cash, and Pope and Craig lend him a hand while Baz investigates Catherine's disappearance.
3: Bleed For It - Aired: 2017-06-13
Smurf takes J to the desert for an old friend's wake. Baz visits Lucy in Mexico and Pope bonds with Amy from the megachurch while babysitting Lena. Deran considers what he'll risk to get a liquor license for the bar.
4: Broken Boards - Aired: 2017-06-20
With the bar set to open, Deran frets about telling Smurf about it. Pope and Amy go on a date, while Nicky must choose between Craig and J.
5: Forgive Us Our Trespasses - Aired: 2017-06-27
As the boys put the megachurch heist in motion, Craig has second thoughts. Javi surprises Smurf with a visit.
6: Cry Havoc - Aired: 2017-07-11
As Javi ratchets up the pressure on Smurf, she enlists J to help her. Baz is confronted by a secret Catherine kept from him. Pope and Baz clash in the wake of the megachurch job.
7: Dig - Aired: 2017-07-18
The boys consider how far they'll go to help Smurf eliminate Javi. Shaken by what's happened, Nicky and J get closer. Baz shares new information with Pope about Catherine's disappearance.
8: Grace - Aired: 2017-07-25
As cops press Amy about the church robbery, Pope diverts their suspicions. Craig plans an unusual heist of his own. Baz tails Smurf to find out what she's really hiding.
9: Custody - Aired: 2017-08-01
When Baz bows out of the yacht heist, Craig and Deran consider their options. Meanwhile, Baz recruits J for a more personal job.
10: Treasure - Aired: 2017-08-08
As Craig leads the boys and Nicky in pirating the yacht, Smurf tries to find out who robbed her. Meanwhile, Baz considers what life would be like without Smurf calling all the shots.
11: The Leopard - Aired: 2017-08-15
Baz puts his plan to take down Smurf in motion as Marco cashes in a favor with Craig and Deran. Pope seeks the truth behind the reasons for Catherine's death.
12: You Will Be Gutted - Aired: 2017-08-22
With Smurf in jail, Baz makes his move to run the family, but his brothers have other plans.
13: Betrayal - Aired: 2017-08-29
When Smurf realizes she may be in jail a lot longer than expected, she pits her sons against one another, the consequences be damned.