General Information
Glossary: V
First Air Date: July 17th, 2016
Last Air Date: November 12th, 2017
Created By: Jody Hill, Danny McBride
Star Casts: Walton Goggins, Danny McBride, Kimberly Hebert Gregory, Georgia King, Busy Philipps, Shea Whigham, Artemis, Dale Dickey, Edi Patterson
Aired On: HBO
Episode Runtime: 32 minutes
Total Seasons: 2 Seasons
Total Episodes: 18 Episodes
Type: Scripted
Status: Ended
Homepage: HBO - Vice Principals

Last Updated: Sun, 05 Feb 2023 21:26:56 +0000
Sponsored Links
Ratings
User Rating:
Backdrops Gallery (7 Images)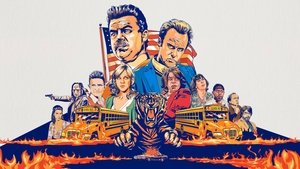 Vice Principals
The story of a high school and the people who almost run it, the vice principals.
Seasons and Episodes
Season 1 (9 Episodes)
1: The Principal - Aired: 2016-07-17
When the principal of a high school retires, his two vice principals go to extremes to land the vacant job.
2: A Trusty Steed - Aired: 2016-07-24
Gamby and Russell end up invading Dr. Brown's private space and the vice principals are surprised by a school evaluator.
3: The Field Trip - Aired: 2016-07-31
Gamby looks to impress Amanda on a field trip organized by Mr. Hayden, a good-guy history teacher.
4: Run for the Money - Aired: 2016-08-07
Gamby and Russell eye a homecoming football game as a way to further break Dr. Brown's spirit.
5: Circles - Aired: 2016-08-14
Dr. Brown orders Gamby to lighten up on discipline; Russell copes with a disruptive neighbor.
6: The Foundation of Learning - Aired: 2016-08-21
Amanda makes a deal with Gamby, while Dr. Brown takes a veteran teacher to task over a shipment of missing books.
7: The Good Book - Aired: 2016-08-28
Gamby bonds with Amanda during teacher workday; Russell's patience is tested; Dr. Brown deals with the sudden appearance of her ex-husband, Dascious.
8: Gin - Aired: 2016-09-11
Gamby and Russell look to finish what they started; Gamby confronts Amanda about her relationship with Hayden.
9: End of the Line - Aired: 2016-09-18
Gamby and Russell play their end game with Dr. Brown.
Season 2 (9 Episodes)
1: Tiger Town - Aired: 2017-09-17
Recovering from his wounds, Gamby returns to a dramatically changed North Jackson High.
2: Slaughter - Aired: 2017-09-24
Gamby fingers a suspect, with Dayshawn's help. Russell tests out a kindness strategy at school.
3: The King - Aired: 2017-10-01
Gamby's search for his shooter leads him into a novelist's graduate-school class. Russell's ire is fueled by an unflattering caricature.
4: Think Change - Aired: 2017-10-08
A death in Russell's family forces Gamby to step up to the plate as North Jackson's acting principal.
5: A Compassionate Man - Aired: 2017-10-15
Russell's birthday bash is marred by a revelation about his wife's college boyfriend.
6: The Most Popular Boy - Aired: 2017-10-22
A plot to sabotage a standardized test jeopardizes Russell's job as Gamby is caught in the middle.
7: Spring Break - Aired: 2017-10-29
Gamby gets unexpected company on spring break; Amanda is illuminated during a writer's retreat.
8: Venetian Nights - Aired: 2017-11-05
Tensions between Gamby and Russell come to a head as prom night approaches.
9: The Union of the Wizard & The Warrior - Aired: 2017-11-12
The school year comes to a startling end.