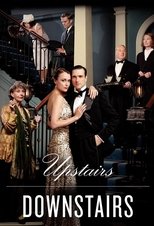 General Information
Glossary: U
First Air Date: December 26th, 2010
Last Air Date: March 25th, 2012
Created By: Heidi Thomas
Star Casts: Keeley Hawes, Ed Stoppard, Adrian Scarborough, Neil Jackson, Anne Reid, Claire Foy, Art Malik, Jean Marsh
Aired On: BBC One
Episode Runtime: 60 minutes
Total Seasons: 2 Seasons
Total Episodes: 9 Episodes
Type: Scripted
Status: Ended
Homepage: BBC One - Upstairs Downstairs

Last Updated: Tue, 13 Jun 2023 17:47:55 +0000
Sponsored Links
Ratings
User Rating:
Backdrops Gallery (1 Image)
Upstairs Downstairs (2010)
Set in 1936, the show takes viewers, old and new, back to the lavish world of Belgravia, London. A new set of occupants reside at 165 Eaton Place and viewers see how external and internal influences of the tumultuous pre-war period shape and mould the lives of this wealthy family and their servants.‬
Seasons and Episodes
Season 1 (3 Episodes)
1: The Fledgling - Aired: 2010-12-26
Diplomat Sir Hallam Holland moves into the iconic townhouse along with his wife, Lady Agnes. With the help of former parlormaid Rose Buck, they launch a whole new era for the sumptuous home at the heart of Upstairs Downstairs.
2: The Ladybird - Aired: 2010-12-27
With no sign of a thaw in relations between Lady Agnes and Maud, Hallam finds his diplomatic skills put to the test at home as well as at work. The servants are intrigued by a mysterious new addition to the household, while a restless Lady Persie embarks on a dangerous flirtation, and is drawn to the thrill of radical politics.
3: The Cuckoo - Aired: 2010-12-28
Sir Hallam finds himself at the centre of a national crisis when his friend, the Duke of Kent, asks for help. Meanwhile, storm clouds are gathering within 165 Eaton Place, with Lady Agnes's growing fear over the imminent arrival of her baby, and the servants' concern for Lotte, who refuses to speak. But, as the king finally abdicates, Hallam makes a discovery that will change his life forever.
Season 2 (6 Episodes)
1: A Faraway Country About Which We Know Nothing - Aired: 2012-02-19
As 165 Eaton Place reopens its doors, two new arrivals make their mark. But whilst Sir Hallam's forthright aunt Blanche disrupts life upstairs, feisty new maid Beryl struggles to adjust to life in service. Meanwhile, Lady Agnes' concern for her children reveals a dark secret about Mr Pritchard. Sir Hallam's preoccupation with burgeoning Nazi Germany leads him into dangerous waters, and a chance meeting with an unexpected face unlocks a hidden desire within.
2: The Love That Pays the Price - Aired: 2012-02-26
Lady Agnes catches the eye of charismatic American millionaire Caspar Landry but, as she and Sir Hallam look to their future, a tragic turn of events leaves their promised dreams - and a close family member - in jeopardy. Downstairs, Mrs Thackeray makes a momentous decision, which throws the running of the house into chaos. Blanche and Mr Amanjit continue to clash, until a heart-breaking cause compels them to reconsider their differences.
3: A Perfect Specimen of Womanhood - Aired: 2012-03-04
Blanche comes face to face with her former lover when a scandalous novel is published and, when the passion between the pair reignites, begins to consider a life away from Eaton Place. Downstairs, Beryl's decision to take a stand causes serious ructions to the running of the house until a familiar face offers wise words. Meanwhile, when Lady Persie reveals a shocking secret to Sir Hallam, the pair get ever closer as Persie is forced to make a life changing decision about her future.
4: All the Things You Are - Aired: 2012-03-11
Harry, deemed too old to participate in a local boxing championship, takes Johnny under his wing to teach him the ropes. With Lady Agnes being drawn to the charms of Caspar Landry and Sir Hallam's growing infatuation with Lady Persie, this once happy couple seems to be drifting further apart, much to the pleasure of Lady Persie who seems to be getting far too much enjoyment from the conquest of her sister's husband. Mr. Amanjit finds himself a target of racial discrimination.
5: The Last Waltz - Aired: 2012-03-18
As 165 Eaton Place prepares for the Annual Servants' Ball, Mr Pritchard enjoys a romance with fellow servant Miss Whisset, and starts to wonder if there is more to life than service. With war looming, Harry has a proposition for Beryl, however, a shocking revelation threatens to thwart their plans. Meanwhile, as Lady Persie and Sir Hallam continue their torrid affair, Sir Hallam is about to discover just how destructive his actions have been.
6: Somewhere Over the Rainbow - Aired: 2012-03-25
On the eve of war, Beryl and Harry face a race against time to get married. Meanwhile, Mr Pritchard makes a decision which throws the running of the house into chaos, until an old face lends a helping hand. And as Lady Agnes returns to London, a dark discovery has explosive consequences for all inside Eaton Place and changes their lives forever.