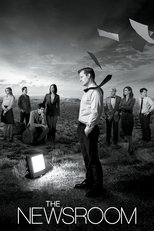 General Information
Glossary: T
First Air Date: June 24th, 2012
Last Air Date: December 14th, 2014
Created By: Aaron Sorkin
Star Casts: Jeff Daniels, Emily Mortimer, John Gallagher Jr., Alison Pill, Thomas Sadoski, Dev Patel, Olivia Munn, Sam Waterston
Aired On: HBO
Episode Runtime: 60 minutes
Total Seasons: 3 Seasons
Total Episodes: 25 Episodes
Type: Scripted
Status: Ended
Homepage: HBO - The Newsroom

Last Updated: Tue, 17 Oct 2023 10:30:59 +0000
Sponsored Links
Ratings
User Rating:
Backdrops Gallery (11 Images)
The Newsroom
A behind-the-scenes look at the people who make a nightly cable-news program. Focusing on a network anchor, his new executive producer, the newsroom staff and their boss, the series tracks their quixotic mission to do the news well in the face of corporate and commercial obstacles-not to mention their own personal entanglements.
Seasons and Episodes
Specials (2 Episodes)
1: Paleyfest 2013: The Newsroom - Aired: 2013-03-03
Aaron Sorkin and the cast of The Newsroom discuss the show with guest moderator Piers Morgan.
2: The Fourth Estate
HBO presents a behind the scenes look at The Newsroom.
Season 1 (10 Episodes)
1: We Just Decided To - Aired: 2012-06-24
"News Night" anchor Will McAvoy returns to work after a public meltdown to find most of his staff has jumped ship, but new hires help steer the show when news of a catastrophe breaks in the spring of 2010.
2: News Night 2.0 - Aired: 2012-07-01
MacKenzie wants an economist to give a nightly financial report on "News Night". Jim covers for Maggie's mistake; Charlie ends Reese's meetings with Will, and a breakup story is a secret no more.
3: The 112th Congress - Aired: 2012-07-08
Tea Party critiques draw the ire of network executives and CEO Leona Lansing. Don confronts Elliot about his analytical skills; Jim helps Maggie during a panic attack; and Mac is unnerved by Will's endless parade of romantic conquests.
4: I'll Try to Fix You - Aired: 2012-07-15
Will's mission attracts a tabloid's attention; Wade has information about the government's fight against white-collar crime; Maggie finds a date for Jim, and Sloan has trouble being a matchmaker.
5: Amen - Aired: 2012-07-22
Neal finds someone who can provide updates from Cairo as the staff strive to give equal attention to uprisings there and in Wisconson.
6: Bullies - Aired: 2012-07-29
Sloan harshly questions a Tokyo power-company representative during the Japanese earthquake nuclear crisis; Will learns a lesson about bullying after his rude behavior in an interview.
7: 5/1 - Aired: 2012-08-05
An anonymous source gives details on an imminent story of national importance. When the President calls a televised speech that night, the 2.0 staff cuts short its 1-year anniversary party and rushes back to the newsroom.
8: The Blackout Part I: Tragedy Porn - Aired: 2012-08-12
Will and Mac abandon principles when ratings plummet; Sloan is irked by her lack of screen time; Charlie discovers a whistleblower's identity.
9: The Blackout Part II: Mock Debate - Aired: 2012-08-19
The staff stages a mock debate; Mac has an epiphany; Lisa goes off-script during an interview; Neal goes under cover.
10: The Greater Fool - Aired: 2012-08-26
Nina surprises Mac; Sloan considers a job offer; Neal smokes out a threat; Will, Mac and Charlie face off against Leona and Reese.
Season 2 (9 Episodes)
1: First Thing We Do, Let's Kill All the Lawyers - Aired: 2013-07-14
Will and the "News Night" staff are questioned by their lawyer about a story they've aired that's become a network crisis. An on-air remark by Will has him pulled from 9/11 anniversary coverage. Jim volunteers to cover for an embed reporter on the Romney campaign and Neal investigates the beginnings of Occupy Wall Street.
2: The Genoa Tip - Aired: 2013-07-21
A tip on a story that will ultimately cripple the network starts to become more real. Mackenzie and Sloan continue to push Will on drones as Don urges Will to advocate for Troy Davis. Maggie is un-friended by her roommate, but gets the assignment she's been begging for. Neal gets arrested on Wall Street.
3: Willie Pete - Aired: 2013-07-28
Will continues his mission to civilize by telling Nina Howard the truth. A new witness to the Genoa story emerges on Twitter, and in New Hampshire, Jim's efforts to have his questions answered continue to fall on deaf ears.
4: Unintended Consequences - Aired: 2013-08-04
Maggie tries to convince Rebecca that she's fine following her shattering trip to Africa with Gary. An Occupy Wall Street protester with a Black Op lead refuses to cooperate with Neal and Jerry after an on-air interview with Will goes poorly. Jim lands Hallie a one -on-one, but gets heat from Mac as a result.
5: News Night with Will McAvoy - Aired: 2013-08-11
Will is distracted during his telecast by a phone call and an unflattering Twitter post. Charlie gets a visit from a longtime friend at the Office of Naval Intelligence, who has knowledge of Operation Genoa. Sloan phases from humiliation to rage following a revenge posting. The newsroom traverses the slippery slope separating fact from fiction.
6: One Step Too Many - Aired: 2013-08-18
Mac and Charlie score a key witness, a retired Marine general, in their attempt to corroborate Jerry's Operation Genoa story. Will follows Nina's lead to soften his image by making an impromptu appearance on a morning talk show. Jim gets unexpected company during his reunion with Hallie, who's in town to cover a Romney rally.
7: Red Team III - Aired: 2013-08-25
Rebecca pieces together the events leading to ACN's decision to air Dantana's special report on Operation Genoa; repercussions from the special report threaten to ruin "News Night.
8: Election Night (1) - Aired: 2013-09-08
In the wake of Leona's refusal to accept the resignations of three top ACN talents, "News Night" goes forward with its 2012 election coverage, featuring Will in the unlikely role of director of morale. Sloan is perturbed that her book was auctioned off with a forged signature, while Mac tasks Neal to fix a faulty Wikipedia page. Mindful that Charlie wants a screw-up-free evening, Jim weighs the cons of retracting a call he made too soon. The team deliberates whether to hold off on a story that might affect a tight Senate race.
9: Election Night (2) - Aired: 2013-09-15
As Election Night 2012 winds down, Will and Charlie await a decision from Reese that may impact their future at ACN, and that of the entire senior staff. Sloan learns the identity of the anonymous winning bidder for her book; Don discusses a countersuit against Dantana with Rebecca; Will has a revelation while Charlie shares his. Season two finale.
Season 3 (6 Episodes)
1: Boston - Aired: 2014-11-09
In the wake of the Genoa debacle, Will, Mac and the News Night team decide to err on the side of caution in reporting a major breaking story. Neal is contacted by an anonymous source in possession of stolen government documents revealing how false press stories planted in newspapers spawned fatal riots in Kundu. Sloan looks to solve a takeover puzzle. Maggie is forced to pinch-hit for Elliot in the aftermath of the Boston Marathon bombings.
2: Run - Aired: 2014-11-16
With Rebecca again tasked with defending ACN in a possible lawsuit, Will tries to protect Neal from the fallout over the DOD leak. Charlie and Leona enter the fray of a hostile-takeover gambit involving Reese's half-siblings. Sloan fears Don may be guilty of cashing in on insider information. Maggie ponders the ethics of eavesdropping. Hallie pays a price for a late-night tweet.
3: Main Justice - Aired: 2014-11-23
Leona and Reece look to raise cash in order to salvage ACN and thwart Blair and Randy. Will gets a surprise at the White House Correspondents' Dinner. Charlie trades visions with her ACN suitor. Maggie's EPA scoop makes it to News Night. Sloan and Don try to keep their relationship a secret from a new HR veep.
4: Contempt - Aired: 2014-11-30
Facing a court subpoena and possible incarceration for contempt, Will stands firm in refusing to reveal the source of the stolen DOD documents. As Charlie's disdain for Lucas grows, Sloan and Mac scramble to find a more acceptable 11th-hour buyer for ACN. Jim's relationship with Hallie is put to the test by her new job at Carnivore, a start-up website.
5: Oh Shenandoah - Aired: 2014-12-07
Incarcerated for contempt, Will refuses to reveal the name of Neal's government source. Appearing to embrace Pruit's mandate to capture younger viewers, Charlie orders a reluctant Don to track down principals in a sexual-abuse case at an elite college. Sloan voices her objection to a new digital site built by Neal's replacement, Bree. Stranded in a Moscow airport, Jim and Maggie look to land seats for a Cuban-bound plane, hoping to interview one of its high-profile passengers.
6: What Kind of Day Has It Been? - Aired: 2014-12-14
A sudden death leads Will and Mac to ponder the milestones that transformed the newsroom, and look ahead towards ACN's uncertain future. Maggie lands a field-producer interview in Washington; Neal's digital site is shut down for repairs; Leona offers sage advice to Pruit.