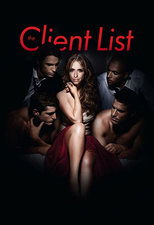 General Information
Glossary: T
First Air Date: April 8th, 2012
Last Air Date: June 16th, 2013
Created By: Suzanne Martin, Jordan Budde
Star Casts: Jennifer Love Hewitt, Loretta Devine, Colin Egglesfield, Rebecca Field, Alicia Lagano, Brian Hallisay, Laura-Leigh, Cybill Shepherd, Tyler Champagne
Aired On: Lifetime
Episode Runtime: 40 minutes
Total Seasons: 2 Seasons
Total Episodes: 25 Episodes
Type: Scripted
Status: Canceled
Homepage: Lifetime - The Client List

Last Updated: Fri, 19 Nov 2021 10:30:53 +0000
Sponsored Links
Ratings
User Rating:
Backdrops Gallery (10 Images)
The Client List
Riley Parks delicately balances two starkly different lives -- one as a single mom in a conservative town struggling to provide for her family and the other as a savvy and ambitious businesswoman working with a rowdy, sexy and unpredictable group of women.
Seasons and Episodes
Season 1 (10 Episodes)
1: The Rub of Sugarland - Aired: 2012-04-08
After being deserted by her husband, Texas housewife Riley Parks takes a job at a seemingly traditional day spa only to learn that sexual favors are being offered there on the side. Conflicted at first, she seizes the opportunity and takes the job.
2: Turn the Page - Aired: 2012-04-15
Riley stumbles upon the phone number of a mystery woman from her husband's past, leaving her to wonder if he was having an affair before he deserted her. Meanwhile, Riley's mom, Linette, embarks on a new romance with fellow churchgoer, Garrett.
3: Tough Love - Aired: 2012-04-22
Riley's new career starts to take off when she gets promoted at The Rub. But when her daughter, Katie, starts acting up at school. Riley struggles to find the balance of being a responsible single mom and a newly minted manager.
4: Ring True - Aired: 2012-04-29
When Linette is made co-chair of a Beaumont social event, Riley balks at facing the community and the rumors about Kyle. Meanwhile, a law student comes to The Rub looking for extras, and Riley delivers—only to discover his connection to one of her co-workers. putting their secret in jeopardy.
5: Try, Try Again - Aired: 2012-05-06
A massage mishap breaks the ice with a sexy. eligible client, leaving Riley to wonder if she's ready to start dating. Meanwhile, Linette's relationship with Garrett seems headed for the long haul until damaging secrets from Garrett's past force Riley to intervene.
6: The Cold Hard Truth - Aired: 2012-05-13
Georgia puts Riley and the Spa Girls on high alert after she begins to suspect the police may be planning a raid at The Rub of Sugar Land. Meanwhile, Riley's two worlds collide when a friend finds Riley's hidden stash of cash. Dale encourages Evan to come dean about his feelings for Riley, just as she starts to bond with a fellow single dad from school.
7: Life of Riley - Aired: 2012-05-20
A co-workers announcement to elope leads Riley to wonder about the imperfections of her marriage with Kyle. Meanwhile, the Curl Up & Dry Salon is up for sale, but Linette and Lacey balk at the prospective new buyer. Lacey reveals she has also been hiding a secret from Riley. Riley is concerned about a new girl in Evan's life. Riley coaches an insecure client on some basic dating techniques.
8: Games People Play - Aired: 2012-06-03
Tensions grow between Riley and her co-worker, Selena, when Selena and Evan begin dating. Meanwhile, Riley considers the lack of a male role model in the house when her son, Travis, gets caught in a "curious situation" with Taylor's daughter. Riley lends advice to one of her clients, a rodeo cowboy. when his relationship hits a wall. Linette tries to compete with Taylor when she applies for a loan to buy the salon.
9: Acting Up - Aired: 2012-06-10
Riley gives romance a try with the very charming and ever persistent Dr. Mark. But what starts as an elegant date at a country club event, ends with her past coming back, turning Riley's world upside-down. Meanwhile, Dee Ann lands in hot water when she gets involved with a high-powered client. And Linette and Lacey face their first day of the "Reign of Taylor" at the Curl Up & Dry.
10: Past is Prologue - Aired: 2012-06-17
Kyle returns to find Riley and the family he abandoned anything but welcoming. Meanwhile, Riley is entrusted with the reins of The Rub of Sugar Land after Georgia is tipped off that authorities have her on their radar. This added new authority, however, puts Riley's secret life in jeopardy of being exposed.
Season 2 (15 Episodes)
1: 'Till I Make It On My Own - Aired: 2013-03-10
Riley and Kyle are mid confrontation and find themselves interrupted by local cop, Nathan. His presence is not a welcome one, but the purpose of his visit is for a reason that neither of them could have imagined. Evan and Riley's bond grows stronger in the wake of this conflict with Kyle. At the spa, Riley inherits a new client, Judge Overton aka "Mr. Louboutin," whose love for expensive shoes rivals her own. And Taylor makes some changes to the salon that will require Lacey and Linette to become more independent with their clients and their finances. Riley befriends the mother of one of Travis' classmates, who is a welcome relief amidst the gossiping moms in the wake of Kyle's return.
2: Who's Cheatin' Who? - Aired: 2013-03-17
Riley's secret life at the spa is threatened as Detectives Monroe and Dunbar mistakenly assume Riley has information that would help their investigation against Kyle. Riley attempts to get Kyle's bail money, but her mission backfires and winds up putting her in danger with Kyle's former employer. Georgia introduces Riley to the new man in her life and reveals where she has been spending her time away from the Rub of Sugarland. Riley and Selena are overworked leading Riley to hire new spa girls. Evan takes Riley on a date and tries to take their relationship to the next level.
3: Cowboy Up - Aired: 2013-03-24
Linette has a car accident and temporarily moves in with Riley while she recovers. Evan secretly takes on a dangerous job so he can help Riley with some of the financial burden she is managing. When Riley and Lacey uncover the truth about his recent injuries, Evan winds up revealing an even bigger decision about a career change. Kyle's mistakes continue to burden Riley and Evan as they try to move forward with their relationship. Riley decides to make the Rub of Sugarland co-ed and hires a male masseur, much to Georgia's dismay. Meanwhile, an ex-war vet client needs more care than Riley can handle.
4: My Main Trial Is Yet To Come - Aired: 2013-03-31
Selena doesn't trust Riley's new hire, Nikki, and Riley tries to keep the peace and some stability in the wake of all the new changes. We get a glimpse into Nikki's life before The Rub of Sugarland when Riley meets her ex-boss, Greg Carlye, who runs a strip club. Meanwhile Riley discovers that Derek has been keeping a secret of his own that jeopardizes the Rub of Sugarland. Riley wisely decides that Derek's secret can be used as a valuable business opportunity. Riley must decide whether she wants Katie and Travis visiting Kyle in jail. Riley and Evan struggle to find time with each other. Riley receives an unusual request from one of her clients, a pro football player who likes to test his boundaries.
5: Hell on Heels - Aired: 2013-04-07
When Riley discovers that Linette wants Katie to enter the Beaumont Belles Mother/Daughter pageant, Riley struggles with her decision and turns to Kyle for advice. At The Rub of Sugarland, a co-ed locker room creates awkward encounters between Selena and Derek, meanwhile Riley has an awkward encounter of her own when an 18-year-old virgin, J.D. Junior, is on her table. When Travis begins acting up at school, Evan offers to take Travis to visit Kyle in jail. Riley and Evan continue to face the challenges of their relationship now that Kyle is back in their lives. Lacey and Dale visit a fertility specialist.
6: Unanswered Prayers - Aired: 2013-04-14
When Riley's client, Lewis Clark, mentions he has a connection to a big time music agent, The Wolf, Riley considers her forgotten dream of becoming a singer. Lacey gets suspicious that Dale has been living a secret life. Riley continues to work on Kyle's defense with his attorney Graham, but Kyle encounters some trouble with a fellow inmate that could jeopardize their efforts. Meanwhile, Evan continues training at the police academy and begins to get close to his fellow cadet, Shelby. At the Rub of Sugarland, Selena teases Derek about the frequency of massages booked by his client Lisa.
7: I Ain't Broke But I'm Badly Bent - Aired: 2013-04-21
When Riley forms a personal connection to a wealthy and fellow single dad client, Dylan, she finds herself in tempting and unfamiliar territory. When Kyle loses all his visiting privileges after fighting with a fellow inmate, Riley feels the impact more than she could have predicted. Riley, Selena, and Nikki get creative when the electricity in the spa goes out. Meanwhile, Georgia helps Lacey throw a baby shower for Dale's obnoxious sister, Earlene.
8: Heaven's Just a Sin Away - Aired: 2013-04-28
As Riley struggles with her marriage and recent decisions at work, she and Lacey decide to attend church with Georgia and Harold. Also, Harold plans a romantic gesture for Georgia. Kyle prepares to testify against his former employer and gets guidance from his lawyer, Graham. Meanwhile Selena warns Derek about his overzealous client Lisa, but reveals more about herself in the process than she intended. Evan takes his first real step moving on from Riley when he and Shelby have their first date.
9: Save a Horse, Ride a Cowboy - Aired: 2013-05-05
As Riley attempts to let Kyle back into her life, Lacey struggles to show her support. Kyle turns to Dale to help him find a job. Meanwhile, Joey, an ex from Selena's past, shows up with a shocking demand and Riley, Derek, and Nikki step in to help. Riley also asks advice from her sexy client, Victor, who is a former lawyer. Evan and Shelby prepare for their graduation from the Academy.
10: What Part of No - Aired: 2013-05-12
When Lacey gets attacked by a man breaking into Riley's home, both Riley and Kyle feel responsible. Riley goes on a mission to find out the identity of the man who broke into her home. When Evan's investigation with the police is moving too slow, Riley turns to Georgia for help. Meanwhile, Selena discovers a secret about Nikki and Derek. Riley helps her client, Ben Miller, calm his nerves before he goes out on a date with the girl of his dreams.
11: I Miss Back When - Aired: 2013-05-19
Lacey copes with the aftermath of the break-in and her attack. Attempting to cheer her up, Riley convinces her to attend their high school reunion. When Taylor sees her soon to be ex-husband, Beau, moving on with another woman at the reunion, Taylor reacts causing Riley to intervene. Meanwhile at the Rub of Sugarland, Selena warns Derek that his client, Lisa wants to take their relationship to the next step, outside the spa. Evan tries to focus on his relationship with Shelby but his past with Riley keeps intruding. Linette struggles with rehab and leans on Kyle for support.
12: When I Say I Do - Aired: 2013-06-02
With Georgia and Harold's wedding fast approaching, Riley is consumed with wedding preparations. Kyle continues to search for a way to help his family and relieve some of Riley's financial burden. Meanwhile, Evan and Trimble go undercover in a massage parlor as part of a prostitution investigation. Shelby and Evan face challenges in their relationship. Selena and Derek attempt friendship at Georgia's wedding. Dale plans a bold maneuver for Lacey. At the Rub of Sugarland, Riley helps her client Adam, a sexy fireman, with his marital problems.
13: Whatever It Takes - Aired: 2013-06-09
Riley and the spa staff volunteer at a charity golf tournament supporting the troops. When Riley runs into her client Judge Overton aka Mr. Louboutin, she discovers he is spearheading a task force that could put her and the Rub in serious jeopardy. Meanwhile, with Kyle back home, Travis tricks him into hosting a sleepover. Dale and Lacey step in to help, thinking it will be good parenting practice now that they are considering adoption. When an alarm from the security system at the spa goes off, Derek and Riley go to check on things and find an unwelcome surprise.
14: What Kind Of Fool Do You Think I Am - Aired: 2013-06-16
Riley discovers the "client list" has been stolen and she must find out who took it before her secret life is exposed. Meanwhile, Evan's investigation into Carlyle reveals that Nikki used to be his employee, putting Evan one step closer to Riley's hidden life. Dale and Lacey get news that could accelerate their plans to have a family of their own. Derek asks Selena to make a commitment in their relationship, but Selena isn't sure she's ready.
15: Wild Nights Are Calling - Aired: 2013-06-16
Riley's desperation to find the "client list" takes her down a dangerous path and puts everyone in her world at risk, including Georgia, Nikki, and Judge Overton. As Evan continues to investigate Carlyle he crosses paths with Riley in her double life. Kyle is worried about Riley and turns to Evan for help. Riley also confesses to Lacey the reason that she was attacked, putting a strain on their friendship. When an attractive, French couple shows up at the spa, Selena and Derek are faced with a decision that could put their jobs and relationship in jeopardy.