General Information
Glossary: S
First Air Date: September 24th, 2017
Last Air Date: January 7th, 2021
Created By: Alex Kurtzman, Bryan Fuller
Star Casts: Sonequa Martin-Green, Doug Jones, Mary Wiseman, Anthony Rapp, David Ajala
Aired On: CBS All Access
Episode Runtime: 60 minutes
Total Seasons: 4 Seasons
Total Episodes: 43 Episodes
Type: Scripted
Status: Returning Series
Homepage: CBS All Access - Star Trek: Discovery

Last Updated: Sun, 01 Aug 2021 22:30:29 +0000
Sponsored Links
Ratings
User Rating:
Backdrops Gallery (39 Images)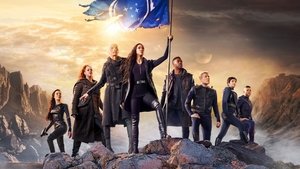 Star Trek: Discovery
Follow the voyages of Starfleet on their missions to discover new worlds and new life forms, and one Starfleet officer who must learn that to truly understand all things alien, you must first understand yourself.
Seasons and Episodes
Specials (21 Episodes)
1: "Will You Take My Hand?" Bonus Scene - Aired: 2018-03-25
Mirror Georgiou receives a surprise invitation from Leland to join a mysterious organization.
2: Short Treks: Runaway - Aired: 2018-10-04
Onboard the U.S.S. Discovery, Ensign Tilly encounters an unexpected visitor in need of help. However, this unlikely pair may have more in common than meets the eye.
3: Short Treks: Calypso - Aired: 2018-11-08
After waking up in an unfamiliar sickbay, Craft finds himself on board a deserted ship, and his only companion and hope for survival is an A.I. computer interface
4: Short Treks: The Brightest Star - Aired: 2018-12-06
Before he was the first Kelpien to join Starfleet, Saru lived a simple life on his home planet of Kaminar with his father and sister. Young Saru, full of ingenuity and a level of curiosity uncommon among his people, yearns to find out what lies beyond his village, leading him on an unexpected path.
5: Short Treks: The Escape Artist - Aired: 2019-01-03
Harry Mudd, back to his old tricks of stealing and double-dealing, finds himself in a precarious position aboard a hostile ship – just in time to try out his latest con.
6: Short Treks: Q & A - Aired: 2019-10-05
On his first day aboard the USS Enterprise, Ensign Spock and his new superior officer Number One get trapped in a turbolift.
7: Discovering Discovery: The Concepts and Casting of Star Trek: Discovery - Aired: 2018-11-13
Interviews with producers, writers and stars of Star Trek: Discovery about casting of the debut season.
8: Standing In The Shadow of Giants: Creating The Sound of Discovery - Aired: 2018-11-15
A discussion with executive producer Alex Kurtzman and composer Jeff Russo about creating the Discovery theme and score for the show.
9: Creature Comforts - Aired: 2018-11-18
A behind-the-scenes look at the makeup and prosthetics department on Star Trek: Discovery, as they both modernize well-known Star Trek species like the Klingons, Vulcans and the Andorians, and bring to life a new species, the Kelpiens.
10: Short Treks: The Trouble with Edward - Aired: 2019-10-10
Newly minted Captain Lynne Lucero is excited to take command of the U.S.S. Cabot, until she meets Edward Larkin, an ornery scientist who believes he has found a revolutionary new use for tribbles.
11: Short Treks: Ask Not - Aired: 2019-11-14
When an attack on Starbase 28 leaves a surprise prisoner under Cadet Thira Sidhu's watch, she is faced with making a decision that may threaten her standing in Starfleet.
12: Short Treks: Ephraim and Dot - Aired: 2019-12-11
Ephraim, a humble tardigrade, is flying through the mycelial network when an unexpected encounter takes her on a bewildering adventure through space.
13: Short Treks: The Girl Who Made the Stars - Aired: 2019-12-11
When a lightning storm in space scares a young Michael Burnham, her father aims to ease her fears with a mythical story about a brave little girl who faced her own fears head on.
14: Short Treks: Children of Mars - Aired: 2020-01-09
12 year-old classmates Kima and Lil find themselves at odds with each other on a day that will change their lives forever.
15: Star Trek Discovery: The Voyage of Season 1 - Aired: 2020-01-11
The cast, writers and producers comment on the overall Klingon War arc and many individual episodes.
16: Dress for Success - Aired: 2020-01-11
Gersha Phillips talks about creating the uniform for the show. The cast and other member of the costume department comment on the costumes (including the Klingon costumes).
17: A Woman's Journey - Aired: 2020-01-11
The producers and cast speak to the characterization of the show being about the life journey of Michael Burnham, a woman.
18: Feeding Frenzy - Aired: 2020-01-11
The crew talk about the work to make food that can be use for the various scenes where the cast is eating.
19: Prop Me Up - Aired: 2020-01-11
All about creating the phaser, the tricorder and the communicator. There is also discussion about the weapons used by the Klingons and all the props used in the Mirror Universe.
20: Creating Space - Aired: 2020-01-11
Creating the CG characters and scenes for the show. Many different shots showing designers, animatics and the final product. Alex Kurtzman comments on how this work has to match the best seen in contemporary movies. Many shots about green screen work done on Stage 16 at Paramount Studios for the pilot episode.
21: Designing Discovery - Aired: 2020-01-11
Todd Cherniawsky discusses the challenge of keeping canon, yet doing something new and fresh in creating the ships for use in the show. He says that the designs were influenced by large navel vessels (e.g. submarines and surface ships). Taking over for Todd Cherniawsky, Tamara Deverell did production design for the second half of season one and talks about designing the Orion Embassy/Encampment on the Klingon home world.
Season 1 (15 Episodes)
1: The Vulcan Hello - Aired: 2017-09-24
While patrolling Federation space, the U.S.S. Shenzhou encounters an object of unknown origin, putting First Officer Michael Burnham to her greatest test yet.
2: Battle at the Binary Stars - Aired: 2017-09-24
Face to face with Klingon vessels, the U.S.S. Shenzhou prepares for the possibility of war if negotiations fail. Amidst the turmoil, Burnham looks back to her Vulcan upbringing for guidance.
3: Context Is for Kings - Aired: 2017-10-01
Burnham finds herself aboard the U.S.S. Discovery where she quickly realizes things are not as they seem, including the mysterious Captain Gabriel Lorca.
4: The Butcher's Knife Cares Not for the Lamb's Cry - Aired: 2017-10-08
With tensions and stakes high as Starfleet continues in their efforts to end the war with Klingons, Burnham begins to settle in to her new position aboard the U.S.S. Discovery.
5: Choose Your Pain - Aired: 2017-10-15
Lorca unexpectedly finds himself in the company of a prisoner of war, Starfleet Lieutenant Ash Tyler, and a notorious intergalactic criminal, Harry Mudd. Meanwhile, Burnham voices her concerns about the repercussions of the spore drive jumps on "Ripper."
6: Lethe - Aired: 2017-10-22
The U.S.S. Discovery crew is intrigued by new addition, Lt. Ash Tyler. Sarek seeks Burnham's help, rekindling memories from her past. Admiral Cornwell questions Lorca's tactics.
7: Magic to Make the Sanest Man Go Mad - Aired: 2017-10-29
As the U.S.S. Discovery crew attempts to let loose at a party, an unwelcome visitor comes aboard bringing about a problematic and twisted sequence of events.
8: Si Vis Pacem, Para Bellum - Aired: 2017-11-05
The U.S.S. Discovery is tasked with a high priority mission to planet Pahvo and learn the science behind the Klingon's cloaking technology.
9: Into the Forest I Go - Aired: 2017-11-12
Bypassing Starfleet's orders, Lorca uses the U.S.S. Discovery crew's ultimate asset, the ship itself, in an effort to end the war with the Klingons once and for all.
10: Despite Yourself - Aired: 2018-01-07
While in unfamiliar territory, the U.S.S. Discovery crew is forced to get creative in their next efforts to survive opposing and unprecedented forces and return home.
11: The Wolf Inside - Aired: 2018-01-14
The crew continues their guise, and Burnham is ordered on a merciless mission to end the resistance in hopes of returning home. Meanwhile, Tilly works on restoring Stamets' neurofunction.
12: Vaulting Ambition - Aired: 2018-01-21
Burnham heads to the ISS Charon with a special "gift" for the Emperor. With the help of an unexpected source, Stamets gains clarity while trapped inside the mycelial network. Saru asks for L'Rell's help.
13: What's Past Is Prologue - Aired: 2018-01-28
Lorca plans to move forward with a coup against the Emperor, propelling Burnham to make a quick decision to save not only herself, but the U.S.S. Discovery.
14: The War Without The War Within - Aired: 2018-02-04
Burnham and the U.S.S. Discovery crew are faced with the harsh reality of the war during their absence. In order to move forward, Starfleet must use unconventional tactics and sources to take their next action against the Klingons.
15: Will You Take My Hand? - Aired: 2018-02-11
With Georgiou at the helm of the plan to end the Klingon war once and for all, the U.S.S. Discovery crew struggles to fathom and tolerate her hostile tactics. Memories of past hardships are rekindled within Burnham.
Season 2 (14 Episodes)
1: Brother - Aired: 2019-01-17
After answering a distress signal from the U.S.S. Enterprise, the U.S.S. Discovery welcomes aboard Captain Christopher Pike and begins a new mission to investigate the meaning behind seven mysterious red signals. Michael Burnham grapples with her past growing up on Vulcan with her foster parents and brother Spock.
2: New Eden - Aired: 2019-01-24
A new signal appears, prompting Stamets' emotional return to the mycelial network and leading Burnham, Pike and Owosekun to a pre-warp planet, where they face a complex ethical dilemma. Tilly's overeagerness lands her in trouble but when the planet - and Discovery's landing party - are threatened, her curiosity may be the one thing that can save them.
3: Point of Light - Aired: 2019-01-31
A surprise visitor to the U.S.S. Discovery brings shocking news about Spock and dredges up past regrets for Burnham. Following the asteroid incident, Tilly struggles to keep a grip on her reality. L'Rell's authority on Qo'noS is threatened.
4: An Obol for Charon - Aired: 2019-02-07
A mysterious sphere threatens the U.S.S. Discovery even as May, in her original form, implements a plan that puts Tilly's life in danger. Saru and Burnham's bond grows when Saru is forced to acknowledge a deeply unsettling Kelpien truth. Pike receives new intel on Spock from a loyal friend.
5: Saints of Imperfection - Aired: 2019-02-14
Burnham and the crew navigate a dangerous alien landscape in a race against time to save Tilly's life, but Stamets is not at all prepared for what they find in the process. Section 31 is assigned to help track down Spock, much to Pike's dismay.
6: The Sound of Thunder - Aired: 2019-02-21
When a new signal appears over Saru's home planet, Burnham, Saru and the crew embark on a perilous mission that puts Saru in danger and raises questions about the Red Angel's intentions. Hugh struggles to come to terms with his new reality.
7: Light and Shadows - Aired: 2019-02-28
Burnham goes to Vulcan in search of Spock, where she unearths surprising family secrets. In researching what is left of the Red Angel's signal over Kaminar, Pike and Tyler end up in battle with time itself. Georgiou has a few tricks up her sleeve for Leland and Section 31.
8: If Memory Serves - Aired: 2019-03-07
Spock and Burnham head to Talos IV, where the process of healing Spock forces the siblings to confront their troubled past. Stamets desperately tries to reconnect with Hugh, while Tyler struggles to shed the crew's suspicions of him due to his past as Voq.
9: Project Daedalus - Aired: 2019-03-14
When the Discovery crew infiltrates Section 31's headquarters, suspicions arise that the crew may have a traitor in their midst. Burnham tries to help Spock but her efforts don't go as planned.
10: The Red Angel - Aired: 2019-03-21
Burnham is stunned when she learns her ties to Section 31 run deeper than she ever fathomed. Armed with the identity of the Red Angel, the U.S.S. Discovery goes to work on its most critical mission to date.
11: Perpetual Infinity - Aired: 2019-03-28
Burnham receives the reunion she's been longing for, but it doesn't go quite as she imagined. Georgiou and Tyler sense a disturbing change in Leland.
12: Through the Valley of Shadows - Aired: 2019-04-04
A fourth signal leads the U.S.S. Discovery to a world where Pike is forced to make a life-changing choice. Burnham and Spock investigate a Section 31 ship gone rogue, leading to a discovery with catastrophic consequences.
13: Such Sweet Sorrow (1) - Aired: 2019-04-11
When the U.S.S. Discovery's crucial mission does not go according to plan, Burnham realizes what must ultimately be done. The crew prepares for the battle of a lifetime as Leland's Control ships get closer.
14: Such Sweet Sorrow (2) - Aired: 2019-04-18
The U.S.S. Discovery battles against Control in a fight not only for their lives but for the future, with a little help from some unexpected friends. Spock and Burnham discern vital new connections between the red signals while Burnham faces one of life's harshest truths: the right decisions are often the hardest to make.
Season 3 (13 Episodes)
1: That Hope Is You (1) - Aired: 2020-10-15
Arriving 930 years in the future, Burnham navigates a galaxy she no longer recognizes while searching for the rest of the U.S.S. Discovery crew.
2: Far From Home - Aired: 2020-10-22
The crew of the Discovery races to repair their ship after a they crash. Tilly & Saru make a first contact looking for Burnham.
3: People of Earth - Aired: 2020-10-29
Reunited with Burnham, Discovery heads to Earth to find out what has happened to the Federation in the last thousand years.
4: Forget Me Not - Aired: 2020-11-05
Burnham and Adira visit the Trill homeworld while Saru's efforts on the Discovery to help the crew reconnect yield surprises.
5: Die Trying - Aired: 2020-11-12
After reuniting with what remains of Starfleet and the Federation, the U.S.S. Discovery and its crew must prove that a 930 year old crew and starship are exactly what this new future needs.
6: Scavengers - Aired: 2020-11-19
After receiving a message from Book, Burnham and Georgiou embark on a rogue mission to find him, leaving Saru to pick up the pieces with Admiral Vance. Meanwhile, Stamets forms an unexpected bond with Adira.
7: Unification III - Aired: 2020-11-26
While grappling with the fallout of her recent actions, and what her future might hold, Burnham agrees to represent the Federation in an intense debate about the release of politically sensitive - but highly valuable - Burn data.
8: The Sanctuary - Aired: 2020-12-03
Osyraa attacks Book's home planet and the Discovery travels there to help. Stamets and Adira investigate The Burn.
9: Terra Firma (1) - Aired: 2020-12-10
The U.S.S. Discovery crew journey to a mysterious planet in hopes of finding a cure for Georgiou's deteriorating condition. Stamets and Adira make a stunning breakthrough with the newly acquired Burn data.
10: Terra Firma (2) - Aired: 2020-12-17
Georgiou uncovers the true depths of the plot against her, leading her to a revelation about how deeply her time on the U.S.S. Discovery truly changed her.
11: Su'Kal - Aired: 2020-12-24
Discovery ventures to the Verubin Nebula, where Burnham, Saru, and Culber make a shocking realization about the origin of the Burn. The rest of the crew faces an unexpected threat.
12: There is a Tide… - Aired: 2020-12-31
After capturing the U.S.S. Discovery, Osyraa seeks a meeting with Admiral Vance while Burnham and the crew must overcome unimaginable odds as they attempt to regain command of their ship.
13: That Hope Is You (2) - Aired: 2021-01-07
As the Emerald Chain tightens its grip and the mystery of the Burn is finally solved, Burnham and the crew have one last chance to save themselves - and the Federation.
Season 4 (1 Episode)
1: Episode 1
No overview available.