General Information
Glossary: S
First Air Date: February 3rd, 2017
Last Air Date: March 29th, 2019
Created By: Victor Fresco
Star Casts: Drew Barrymore, Timothy Olyphant, Liv Hewson, Skyler Gisondo
Aired On: Netflix
Episode Runtime: 30 minutes
Total Seasons: 3 Seasons
Total Episodes: 30 Episodes
Type: Scripted
Status: Canceled
Homepage: Netflix - Santa Clarita Diet

Last Updated: Fri, 12 Aug 2022 22:30:37 +0000
Sponsored Links
Ratings
User Rating:
Backdrops Gallery (17 Images)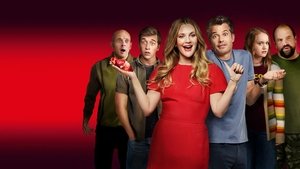 Santa Clarita Diet
They're ordinary husband and wife realtors until she undergoes a dramatic change that sends them down a road of death and destruction. In a good way.
Seasons and Episodes
Season 1 (10 Episodes)
1: So Then a Bat or a Monkey - Aired: 2017-02-03
Joel and Sheila's marriage gets a jumpstart when Sheila debuts a truly killer new personality and an anything-goes menu. And they used to be so normal.
2: We Can't Kill People! - Aired: 2017-02-03
The Hammonds try to live their new truth, Abby comes to a hard realization while browsing comics, and Joel treats Sheila to a very expensive meal.
3: We Can Kill People - Aired: 2017-02-03
Sheila's tummy is growling and Joel needs to find her someone tasty ASAP. Meanwhile, Abby embraces her inner badass and helps out a friend in need.
4: The Farting Sex Tourist - Aired: 2017-02-03
Sheila inspires her friends and insults the principal. Joel bonds with Abby, and Dan makes a damning discovery while spraying for ants.
5: Man Eat Man - Aired: 2017-02-03
Abby discovers that parents can't be trusted (especially hers). Joel learns there might be a cure for Sheila, and Dan puts his cards on the table.
6: Attention to Detail - Aired: 2017-02-03
Joel and Sheila try dividing up the tasks, Eric and Abby stumble onto something big, and Dan learns that a realtor can only be pushed so far.
7: Strange or Just Inconsiderate? - Aired: 2017-02-03
With the cops looking for Dan, Sheila dines on the evidence. But that's a lot of evidence. Meanwhile, Joel stops to smell the coffee.
8: How Much Vomit? - Aired: 2017-02-03
A new-look Loki takes Joel and Sheila by surprise while Abby and Eric learn the fine art of leaving well enough alone.
9: The Book! - Aired: 2017-02-03
Joel and Eric seek out the mysterious Anton at a paranormal convention while Sheila and Abby bond over their shared love of bad behavior.
10: Baka, Bile and Baseball Bats - Aired: 2017-02-03
Dr. Wolf is ready to get down to work, but with Sheila growing more aggressive by the minute, Joel worries it may be too late.
Season 2 (10 Episodes)
1: No Family is Perfect - Aired: 2018-03-23
OK, let's see here: Joel's stuck in an asylum, Sheila's chained to a pole, and Abby's on the hunt for Serbian bile. Yep, sounds about right.
2: Coyote in Yoga Pants - Aired: 2018-03-23
Eager to secure a lucrative new listing, Joel and Sheila brainstorm how to knock rival realtors out of contention ... without resorting to murder.
3: Moral Gray Area - Aired: 2018-03-23
After an old nemesis asks for a favor, Joel and Sheila find themselves neck deep in Nazis, raffle tickets and surprisingly stunning woodwork.
4: The Queen of England - Aired: 2018-03-23
Eric's having girl problems, Abby's rage is showing, there's a talking head in the basement, and now -- sheesh -- the neighbor wants lasagna.
5: Going Pre-med - Aired: 2018-03-23
A snarky online review comes back to haunt Joel. Meanwhile, Sheila's new friendship proves problematic, and Abby leans into her new persona.
6: Pasión - Aired: 2018-03-23
Is a colonel the clam connection? Joel's on a stakeout to find out. Also, Abby has a date, and Sheila doesn't see eye to eye with her boss.
7: A Change of Heart - Aired: 2018-03-23
007, he ain't. Eric's plan to go undercover as a seafood distributor hits a snag. Meanwhile, Joel and Sheila worry Abby is getting out of control.
8: Easels and War Paint - Aired: 2018-03-23
Sheila and Joel piece together the previous night's events while dealing with a professional setback. Abby gets a bold new look, courtesy of Lisa.
9: Suspicious Objects - Aired: 2018-03-23
Joel and Sheila learn that the clampocalypse may hit sooner than they thought. Anne accepts constructive criticism like a pro.
10: Halibut! - Aired: 2018-03-23
With their options dwindling and their paranoia rising, Joel and Sheila consider making a move. Eric and Abby come up with a fracking good plan.
Season 3 (10 Episodes)
1: Wuffenloaf - Aired: 2019-03-29
God, why me? That's what Sheila wants to know. Meanwhile, Joel feels a smidge threatened, Anne spreads the gospel, and Abby and Eric pretend to date.
2: Knighttime - Aired: 2019-03-29
Sheila and Joel meet a knight and Anne lays down the law. Plus, there's a rumor going 'round that Eric and Abby are k-i-s-s-i-n-g. Ooooooh!
3: We Let People Die Every Day - Aired: 2019-03-29
Sheila and Joel want Anne out of their business. Hey, good luck with that. Also, Eric laments his heroics, and a woman's life hinges on potato salad.
4: More of a Cat Person - Aired: 2019-03-29
Joel's feeling pressured to join the undead club. Meanwhile, Ramona wants Eric, the FBI wants answers, and poor Mr. Ball Legs wants some attention.
5: Belle and Sebastian Protect the Head - Aired: 2019-03-29
Joel and Sheila engage in a battle of wits (well, kind of) with Tommy. Ron shares his plans. Lisa is forced to -- ugh -- get serious.
6: The Chicken and the Pear - Aired: 2019-03-29
To stop the Knights of Serbia, one must become a Knight of Serbia. That's Joel's logic, anyway. Meanwhile, Sheila and Abby see another side of Jean.
7: A Specific Form of Recklessness - Aired: 2019-03-29
Sheila's got a plan: turn Jean undead so she'll be around to meet her grandkid. Joel's not on board, but this train has already left the station.
8: Forever! - Aired: 2019-03-29
A twist in the FBI's investigation takes Eric and Abby by surprise. Sheila introduces Jean to a new diet. Joel tries to trick the ever-elusive Ron.
9: Zombody - Aired: 2019-03-29
Joel's eager to nail his interview and become a Knight of Serbia, but Sheila keeps salting his game. Meanwhile, Abby hits the town with a new friend.
10: The Cult of Sheila - Aired: 2019-03-29
Joel and Sheila have a scary man's undivided attention. Abby and Eric are surprised by hungry visitors. A troublesome trio crashes the Hammonds' party.