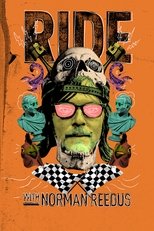 General Information
Glossary: R
First Air Date: June 12th, 2016
Last Air Date: October 1st, 2023
Created By: ---
Star Casts: Norman Reedus
Aired On: AMC
Episode Runtime: minutes
Total Seasons: 6 Seasons
Total Episodes: 34 Episodes
Type: Reality
Status: Returning Series
Homepage: AMC - Ride with Norman Reedus

Last Updated: Tue, 05 Dec 2023 10:30:43 +0000
Sponsored Links
Ratings
User Rating:
Backdrops Gallery (21 Images)
Ride with Norman Reedus
The Walking Dead star and motorcycle enthusiast Norman Reedus hits the open road to explore local biker culture and celebrate the best and brightest collectors, mechanics and craftsmen around the country. Each episode features Reedus and a riding companion – a fellow actor, musician, friend or local chopper fanatic – as they journey to custom bike shops, tattoo parlors, collector's warehouses, or a roadside smokehouse… with plenty of time for unplanned detours and tire changes.
Seasons and Episodes
Season 1 (6 Episodes)
1: California: Pacific Coast Highway - Aired: 2016-06-12
Norman and his friend Imogen Lehtonen ride up the California Pacific Coast Highway to check out some dune buggies, ride a futuristic bike and do a podcast.
2: Death Valley: Dante's View - Aired: 2016-06-19
Balthazar Getty and Norman Reedus spend a night in Las Vegas and then ride out to Death Valley, enjoying the epic scenery.
3: Appalachia: Blue Ridge Parkway - Aired: 2016-06-26
Norman and his buddy Jason snake through the smokey mountains, hit the Dragons Tail, and party with the locals.
4: Texas: Twisted Sister - Aired: 2016-07-03
Norman takes a ride from Austin to San Antonio, Texas.
5: Louisiana: Crescent City - Aired: 2016-07-10
Norman takes a ride from Lafayette, La., to New Orleans.
6: The Keys With Peter Fonda - Aired: 2016-07-17
In the first-season finale, Norman Reedus rides with Peter Fonda from Naples to Key West in Florida.
Season 2 (6 Episodes)
1: Spain with Jeffrey Dean Morgan - Aired: 2017-11-05
Norman and his "The Walking Dead" castmate Jeffrey Dean Morgan ride through Spain; starting in Barcelona and ending at the Falles festival in Valencia.
2: Lowcountry with Dave Chappelle - Aired: 2017-11-06
Norman and comedian Dave Chappelle ride from Charleston to Savannah, stopping along the way to experience the culture and history of Lowcountry.
3: California: Joshua Tree - Aired: 2017-11-13
Norman Reedus rides from Los Angeles to Joshua Tree, visits friends including Greg Nicotero, and explores Southern California's hidden gems.
4: New Mexico: White Sands - Aired: 2017-11-20
Norman and musician Aimee Nash ride from Albuquerque to White Sands, NM, where they ride ziplines, eat chili, and test out government grade weapons.
5: Hawaii: The Big Island - Aired: 2017-11-27
Norman and photographer Patrick Hoelck ride the Big Island of Hawaii; taking in local customs like fishing, ukulele music, and exploring volcanoes.
6: My New York - Aired: 2017-12-04
Norman rides around his home city of New York while visiting friends, exploring the city's art, food and culture.
Season 3 (6 Episodes)
1: England: A Walking Dead Reunion - Aired: 2019-02-10
Norman Reedus and Jeffrey Dean Morgan take in the sights and sounds of London then roam mystic landscapes to meet an old friend and a rock icon.
2: Bay Area with Steven Yeun - Aired: 2019-02-17
Norman Reedus and Steven Yeun hit the Bay Area, navigating sprawling urban centers and lush green countryside to meet a group of motorcycle legends.
3: Scotland with Melissa McBride - Aired: 2019-02-24
Norman Reedus and Melissa McBride traverse rolling hills and castle ruins of Scotland to uncover the mysteries of Melissa's Scottish ancestors.
4: Valley of the Sun with Austin Amelio - Aired: 2019-03-03
Norman Reedus and Austin Amelio explore the desert wasteland of Arizona on a heavy metal adventure to meet some of the country's bravest heroes.
5: Lone Star State with Sean Patrick Flanery - Aired: 2019-03-10
Norman Reedus and Sean Patrick Flanery saddle up and ride through the heart of Texas to hang out with influential tattoo artist Oliver Peck in Dallas.
6: Tennessee: Music City with Marilyn Manson - Aired: 2019-03-17
Norman Reedus embarks on a melodic expedition through Tennessee guided by a band of musicians who show him the heart and soul of the musical state.
Season 4 (6 Episodes)
1: Georgia With Michael Rooker - Aired: 2020-03-08
The Dixon brothers explore the historic city of Birmingham Alabama, and have fun in Atlanta before arriving in Senoia for a Walking Dead reunion.
2: Japan With Ryan Hurst - Aired: 2020-03-15
Norman Reedus and Ryan Hurst tour modern Japan and explore it's technological history, ultimately arriving at the iconic and serene Mt. Fuji.
3: Japan With Milo Ventimiglia - Aired: 2020-03-22
Norman Reedus and Milo Ventimiglia travel from Kyoto to Osaka Japan, taking in its cultural traditions and meeting some creative locals along the way.
4: Costa Rica With Dom Rocket - Aired: 2020-03-29
Norman Reedus and Dom Rocket traverse the jungles and coasts of Costa Rica while doing some extreme riding, and exploring its natural beauty.
5: Uruguay With Becky Goebel - Aired: 2020-04-05
Norman Reedus and Becky Goebel learn about the easygoing country of Uruguay while riding with locals to take in the rich culture it has to offer.
6: Kentucky With Clifton Collins Jr. - Aired: 2020-04-12
Norman Reedus and Clifton Collins Jr. ride from Louisville to the Red River Gorge, while embracing the quintessential Kentucky experience.
Season 5 (6 Episodes)
1: The North Island of New Zealand with Josh Brolin - Aired: 2021-03-07
Norman Reedus explores the harbor city of Auckland before meeting up with actor Josh Brolin. Together they discover a rich native Maori culture and an affinity for moto sports amongst the stunning North Island landscape.
2: The South Island of New Zealand with Dylan McDermott - Aired: 2021-03-14
Actor Dylan McDermott joins Norman Reedus for a scenic trip along New Zealand's majestic South Island. Navigating dramatic mountain roads, they take in some of the most rugged, unpredictable landscape in a remote corner of the world.
3: Journey Down Norman's Memory Lane - Aired: 2021-03-21
Norman Reedus looks back at his favorite moments from the previous four seasons of Ride, revisiting trips with Peter Fonda, Jeffrey Dean Morgan, Melissa McBride and Dave Chappelle and remembering time spent in Japan, Costa Rica, Europe and Uruguay.
4: America: Cross Country Adventure - Aired: 2021-03-28
From the Pacific Coast Highway to the city of New York, Norman Reedus recalls his favorite experiences traveling America from coast to coast, on rides through the country with Steven Yeun, Austin Amelio, Sean Patrick Flanery and Dave Chapelle.
5: Globetrotting On Two Wheels - Aired: 2021-04-18
From his travels, Norman Reedus has discovered it's the people who make the journey. He looks back on those he's met and the lessons he's learned throughout the world with guests Jeffrey Dean Morgan, Melissa McBride, Ryan Hurst and Milo Ventimiglia.
6: The Road Less Traveled: Behind the Scenes - Aired: 2021-04-25
Norman Reedus joins the crew from RIDE as they revisit their most unusual and surprising experiences on the road throughout the years, telling behind the scenes stories and pulling the curtains back to reveal what it took to get there.
Season 6 (4 Episodes)
1: The Utah Desert With Keanu Reeves - Aired: 2023-09-10
Norman Reedus and actor Keanu Reeves journey through the otherworldy landscapes of the Utah desert. From the Bonneville Salt Flats to Canyonlands Natural Park to a motorcycle bash in the canyons of Moab, it's one epic adventure.
2: Northern Italy With Josh Holloway - Aired: 2023-09-17
Actor Josh Holloway joins Norman Reedus for a ride through rustic Northern Italy. Navigating through some of the most scenic roads in Europe, they quench their need for speed in Motor Valley before exploring Josh's old stomping grounds in Bologna.
3: The Eternal City With Johnny Knoxville - Aired: 2023-09-24
Accompanied by actor Johnny Knoxville, Norman Reedus navigates his way through ancient Rome, the eternal city, taking in the cuisine and culture of the birthplace of Western Civilization.
4: Portugal: A Journey From Lisbon to Porto - Aired: 2023-10-01
Norman Reedus and artist Adri Law explore one of Europe's hottest destinations: Portugal. On a scenic ride up the country's western shoreline, they discover the impact the recent tourist boom has had on this old world country.