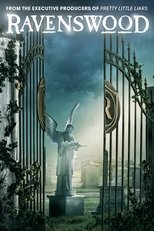 General Information
Glossary: R
First Air Date: October 22nd, 2013
Last Air Date: February 4th, 2014
Created By: I. Marlene King, Oliver Goldstick, Joseph Dougherty
Star Casts: Nicole Gale Anderson, Tyler Blackburn, Steven Cabral, Brett Dier, Britne Oldford, Merritt Patterson
Aired On: ABC Family
Episode Runtime: 45 minutes
Total Seasons: 1 Season
Total Episodes: 10 Episodes
Type: Scripted
Status: Canceled
Homepage: ABC Family - Ravenswood

Last Updated: Thu, 16 Sep 2021 10:31:42 +0000
Sponsored Links
Ratings
User Rating:
Backdrops Gallery (5 Images)
Ravenswood
The town of Rosewood has been suffering from a curse for generations. Five strangers suddenly feel connected by this fatal curse and feel the need to dig in the town's mysterious and horrible history before it's to late for each one of them.
Seasons and Episodes
Season 1 (10 Episodes)
1: Pilot - Aired: 2013-10-22
After opting to stay in Ravenswood to help out new pal Miranda, Caleb begins to rethink his decision, especially after he meets Miranda's cold and unwelcoming uncle Raymond. Caleb also has some unpleasant interactions with local resident Luke, who is struggling to deal with a recent family tragedy and its ensuing scandal, which has also swept up his twin sister Olivia.
2: Death and the Maiden - Aired: 2013-10-29
Caleb struggles in the aftermath of what happened at the Ravenswood Homecoming Parade. Remy begins to draw troubling parallels between recent events and painful chapters in Ravenswood history. Luke bristles at Caleb's presence, especially around Remy. And Miranda can't quite grasp her new reality. Meanwhile, Luke tries to make Olivia face some hard truths about their parents. And Caleb comes face to face with the last person he ever expected to see.
3: Believe - Aired: 2013-11-05
Luke is resistant when Caleb and Remy try to convince him that Ravenswood is being plagued by the supernatural. To convince him, they decide to try and contact the "other side." Olivia begins her own investigation into her father's death, which turns much more sinister than she was expecting. Remy grows more concerned about her mother, who recently returned from Afghanistan. And while Miranda continues to yearn for a connection to her family, she begins to feel like someone, or something is watching her. Meanwhile, everyone gathers for a somber event, and Mr. Collins and Miranda both offer Caleb a reason to stay in Ravenswood.
4: The Devil Has a Face - Aired: 2013-11-12
Luke is unnerved by events from the seance. Olivia learns her and Miranda's families share a history. Caleb encounters a long-lost relative. Remy and Caleb probe a new clue about the town's past.
5: Scared to Death - Aired: 2013-11-19
Just when Caleb thought he was getting answers to what may be haunting Ravenswood, he hits a dead end and is left with more questions. Miranda tries to prove that she's where she wants to be, but Caleb senses she's in grave danger. Remy unwittingly uncovers a major clue into the how to break the curse, but further investigation leads to a truly haunting scene. Meanwhile, Caleb tries to reassure Hanna, Luke tries to get on the same page with Remy, and Olivia strives to reconnect with Dillon.
6: Revival - Aired: 2014-01-07
Fresh off his trip to Rosewood, Caleb struggles to deal with the aftermath of his brief time with Miranda on the other side. Remy realizes her dreams may be the best clue they have into understanding the pact, but she unwittingly attracts something that is determined to make sure Remy doesn't wake up. And Miranda decides to haunt Mrs. Grunwald for answers but discovers Grunwald may have a ghostly friend of her own. Meanwhile, Luke and Olivia are unnerved by Collins' increasing attention towards their mother, and Olivia makes a major decision about Dillon, without realizing his true motivations.
7: Home is Where the Heart Is (Seriously Check the Floorboards) - Aired: 2014-01-14
The Ravenswood Police descend on Luke and Olivia's house after something with ties to events in both the past and present is unearthed. Caleb's father decides to find out what his son is up to in Ravenswood, and Caleb is unsure if he wants his help, or if he wants him to get out of town. Remy continues to deal with lingering effects of what she witnessed in her dreams. Meanwhile, Olivia tries to keep it together in the wake of recent happenings, and Miranda gains surprising insight into Grunwald and her connection to the supernatural.
8: I'll Sleep When I'm Dead - Aired: 2014-01-21
When Remy goes to a sleep clinic in the hopes of finally getting some rest, she learns her dreams about the mysterious pact may have started before she even realized. However, it soon becomes apparent that the clinic may be the least safe place for Remy to be. Olivia discovers some new information about Springer and starts to wonder if he knows about the pact. And Caleb turns to Mr. Price for a lesson in Ravenswood town history. Meanwhile, Miranda struggles with her place within the group and discovers new consequences for leaving the Collins house.
9: Along Came a Spider - Aired: 2014-01-28
Mr. Price inadvertently sends Caleb and Miranda on a quest to investigate a secret Collins has been keeping, but it leads them to some startling insight about the pact. With questions about Dillon swirling, Olivia is confused when he finally shows up to help her through her latest crisis. And Remy and Luke are determined to prove that Dillon has been hiding something, which puts Luke in danger. Meanwhile, Caleb starts school in Ravenswood and Miranda tries to keep him company, leading to an awkward incident.
10: My Haunted Heart - Aired: 2014-02-04
Caleb finally has to clue Hanna in to some of what has been happening in Ravenswood when she shows up demanding to speak to Miranda about "stealing" him away. Luke and Olivia finally learn what really happened to their father and who was responsible. With the walls closing in around him, Dillon makes a drastic move. And when Remy goes missing, the rest of "The Five" are desperate to rescue her, leading to an intense showdown with everyone's lives in peril.