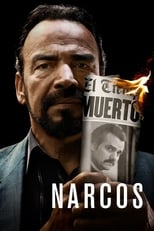 General Information
Glossary: N
First Air Date: August 28th, 2015
Last Air Date: September 1st, 2017
Created By: Chris Brancato, Doug Miro, Carlo Bernard
Star Casts: Pedro Pascal, Matias Varela, Damián Alcázar, Francisco Denis, Alberto Ammann, Pêpê Rapazote, Arturo Castro, Michael Stahl-David, Matt Whelan, Andrea Londo
Aired On: Netflix
Episode Runtime: 57 minutes
Total Seasons: 3 Seasons
Total Episodes: 30 Episodes
Type: Scripted
Status: Ended
Homepage: Netflix - Narcos

Last Updated: Mon, 06 Dec 2021 22:30:36 +0000
Sponsored Links
Ratings
User Rating:
Backdrops Gallery (21 Images)
Narcos
A gritty chronicle of the war against Colombia's infamously violent and powerful drug cartels.
Seasons and Episodes
Season 1 (10 Episodes)
1: Descenso - Aired: 2015-08-28
Chilean drug chemist Cockroach brings his product to Colombian smuggler Pablo Escobar. DEA agent Steve Murphy joins the war on drugs in Bogota.
2: The Sword of Simón Bolívar - Aired: 2015-08-28
Communist radical group M-19 makes a move against the narcos, while Murphy gets an education in Colombian law enforcement from his new partner Peña.
3: The Men of Always - Aired: 2015-08-28
Murphy encounters the depths of government corruption when he and Peña try to derail Escobar's political ambitions by proving he's a narco.
4: The Palace in Flames - Aired: 2015-08-28
Despite a new extradition treaty, the U.S. puts more money into fighting communism, creating new challenges for Murphy and Peña in the hunt for Pablo.
5: There Will Be a Future - Aired: 2015-08-28
Pablo's extreme methods put the narcos on the brink of war with Carillo and the government. Peña tries to protect his witness, Elisa.
6: Explosivos - Aired: 2015-08-28
Peña and Carillo close in on Gacha, while Murphy tries to protect pro-extradition candidate Gaviria from a notorious assassin connected to Pablo.
7: You Will Cry Tears of Blood - Aired: 2015-08-28
Pablo goes into hiding as the political tide turns against him, but he finds a way to strike back. Murphy and Peña finally get the CIA to help them.
8: La Gran Mentira - Aired: 2015-08-28
A tragic mistake forces the government to change tactics in the fight against Pablo. But Pablo faces bigger threats from inside his empire.
9: La Catedral - Aired: 2015-08-28
The hunt for Pablo seems to be over after he makes a deal with the government, but Murphy and Peña -- and the Cali Cartel -- have other plans.
10: Despegue - Aired: 2015-08-28
Pablo's activities in prison provoke the government into taking extreme action. Murphy and Peña face a situation of their own.
Season 2 (10 Episodes)
1: Free at Last - Aired: 2016-09-02
In the aftermath of a massive military effort to take Pablo into custody, the family reunites while enemies worry. Steve and Connie fight about safety.
2: Cambalache - Aired: 2016-09-02
Tata gets impatient with life on the run. Pablo responds to President Gaviria's reward offer. Steve and Javier meet their new boss.
3: Our Man in Madrid - Aired: 2016-09-02
President Gaviria has a new job for an old colleague. The Search Bloc's new tactics shake up Pablo, but also unsettle Steve and Javier.
4: The Good, The Bad, and The Dead - Aired: 2016-09-02
The Cali cartel discusses moving in on Pablo's territory. Limón proposes a plan to Maritza. Tata gets a gun for protection.
5: The Enemies of My Enemy - Aired: 2016-09-02
The Search Bloc gets a new leader. Javier loses faith in the system. Pablo brings Tata's brother Carlos down from Miami to cheer her up.
6: Los Pepes - Aired: 2016-09-02
The newly-formed Los Pepes want to destroy Pablo and his empire. Tata's brother urges her to leave and seek safety with her children.
7: Deutschland 93 - Aired: 2016-09-02
As the danger intensifies for the Escobars, Pablo sends his family to another country. Gaviria weighs the opportunity to use them as leverage.
8: Exit El Patrón - Aired: 2016-09-02
Colombia begins to turn on Escobar after his latest terrorist attack. Tata receives help from an unlikely ally. Quica gets increasingly anxious.
9: Nuestra Finca - Aired: 2016-09-02
Pablo is reunited with an estranged family member. Judy Moncada's life is put in danger. The DEA and CIA clash over how to handle Los Pepes.
10: Al Fin Cayó! - Aired: 2016-09-02
Javier deals with the repercussions from Judy's interview. Tata tries to convince Pablo to surrender for the sake of his children.
Season 3 (10 Episodes)
1: The Kingpin Strategy - Aired: 2017-09-01
The Gentlemen of Cali gather their associates together for a big surprise announcement about the future of their business.
2: The Cali KGB - Aired: 2017-09-01
A gas incident threatens to disrupt the Cali-government deal and Jorge is asked to help out. Peña grapples with his former Los Pepes connection.
3: Follow the Money - Aired: 2017-09-01
The Rodriguez brothers go into hiding during negotiations. Pacho meets with the Lord of the Skies in Mexico. Peña's new DEA team visits Cali.
4: Checkmate - Aired: 2017-09-01
Peña hatches a plan to try to capture Cali leader Gilberto Rodriguez. Amado proposes a business idea to Pacho.
5: MRO - Aired: 2017-09-01
Paranoid about leaks, Miguel cracks down on his security. Pacho makes a decision about his new offer. Peña works on cultivating a witness.
6: Best Laid Plans - Aired: 2017-09-01
Jorge takes a dangerous risk. An accident in New York threatens to expose Chepe. Peña travels to Curaçao to arrest a potential witness.
7: Sin Salida - Aired: 2017-09-01
Peña plans another covert operation to take down a key Cali cartel member, but he risks running out of time during his search.
8: Convivir - Aired: 2017-09-01
David seeks revenge on behalf of his father, putting Enrique in danger. Peña asks Don Berna for help on a rescue mission.
9: Todos Los Hombres del Presidente - Aired: 2017-09-01
David follows his suspicions. Peña is shocked to discover the depth of corruption in the Colombian government. Miguel is sought after once again.
10: Going Back to Cali - Aired: 2017-09-01
David and Peña are in a race against each other to find Pallomari. Peña makes a serious decision about the future of his career.