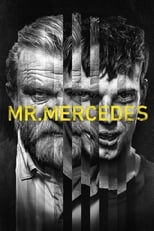 General Information
Glossary: M
First Air Date: August 9th, 2017
Last Air Date: November 12th, 2019
Created By: David E. Kelley
Star Casts: Brendan Gleeson, Jharrel Jerome, Holland Taylor, Breeda Wool, Justine Lupe, Maximiliano Hernández, Gabriel Ebert, Rarmian Newton
Aired On: Audience
Episode Runtime: 55 minutes
Total Seasons: 3 Seasons
Total Episodes: 30 Episodes
Type: Scripted
Status: Ended
Homepage: Audience - Mr. Mercedes

Last Updated: Fri, 10 Nov 2023 10:30:12 +0000
Sponsored Links
Ratings
User Rating:
Backdrops Gallery (22 Images)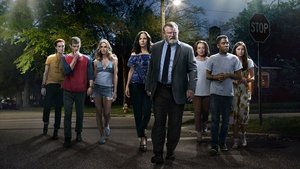 Mr. Mercedes
A demented serial killer taunts a retired police detective with a series of lurid letters and emails, forcing the ex-cop to undertake a private, and potentially felonious, crusade to bring the killer to justice before he can strike again. Based on the bestselling novel by Stephen King.
Seasons and Episodes
Season 1 (10 Episodes)
1: Pilot - Aired: 2017-08-09
Two years after retiring, former homicide detective Bill Hodges is still haunted by his last case. When the demented culprit begins to torment Hodges, he embarks on a crusade to bring the killer to justice.
2: On Your Mark - Aired: 2017-08-16
As Hodges struggles to maintain his sanity, both Pete and Ida take notice. Deborah worries about Brady, who gives her a window into his latest work. Hodges connects with Olivia Trelawney's sister Janey, who hires him as a private detective.
3: Cloudy, With a Chance of Mayhem - Aired: 2017-08-23
Hodges and Janey dig deeper into the circumstances surrounding Olivia's death. Hodges uses Debbie's Blue Umbrella to turns the tables on Brady. Jerome's father intervenes in his relationship with Hodges.
4: Gods Who Fall - Aired: 2017-08-30
Ida is hurt as Hodges and Janey's relationship intensifies. Lou is disturbed by an interaction with a customer. Deborah takes Brady to the cemetery and the two reflect on their difficult past.
5: The Suicide Hour - Aired: 2017-09-06
The cat and mouse game between Hodges and Brady escalates. Hodges has an upsetting conversation with Janey's mother. Deborah's drinking almost causes an accident at the Hartsfield home.
6: People in the Rain - Aired: 2017-09-13
Hodges struggles with the past as it concerns his daughter, Allie. As Deb attempts to make a change for the better, Brady interferes. Robi continues pressuring Brady to impress their bosses. Hodges connects with Janey's niece, Holly.
7: Willow Lake - Aired: 2017-09-20
As Hodges helps Janey through a difficult time, their connection deepens. Realizing he still needs their help, Hodges brings Jerome and Holly back into the investigation. Deborah confronts Brady with her concerns.
8: From the Ashes - Aired: 2017-09-27
A critical error puts Brady in the center of a crisis of his own making. Holly and Jerome make a pivotal discovery. After a tragedy sends Hodges reeling, he goes to visit his daughter, Allie.
9: Ice Cream, You Scream, We All Scream - Aired: 2017-10-04
Jerome and Holly tell Hodges their concerns about the Mercedes Killer. Tensions continue to escalate between Brady and Robi. As details about the investigation emerge, Hodges, Pete, and Izzy close in on their suspect.
10: Jibber-Jibber Chicken Dinner - Aired: 2017-10-11
When another murder victim is discovered, suspicions about Brady are confirmed. As the police prepare for another massacre, Hodges fears for the safety of those he loves.
Season 2 (10 Episodes)
1: Missed You - Aired: 2018-08-22
With Brady hospitalized, Hodges and Holly rebuild, opening private investigative agency Finders Keepers. Brady's care falls to Dr. Babineau, an ambitious neurosurgeon, with input from his brilliant wife, Cora.
2: Let's Go Roaming - Aired: 2018-08-29
Hodges struggles with his cases at Finders Keepers, putting him at odds with a concerned Holly. Sadie senses a shift in Brady's medical state and informs Dr. Babineau. Jerome arrives home from Harvard for the summer.
3: You Can Go Home Now - Aired: 2018-09-05
Brady welcomes a visitor from his past. Sensing Holly's growing frustration, Hodges includes her in his unofficial investigation. Cora continues to apply pressure to Babineau.
4: Motherboard - Aired: 2018-09-12
Hodges is rattled by the unexpected death of a hospital staff member. Jerome offers much needed help in Hodges's quest to uncover the truth. Brady works to master the limitations of his newfound ability. Already struggling to cope, Lou suffers additional setbacks.
5: Ándale - Aired: 2018-09-19
Eager to prosecute Brady, Montez turns up the heat on Dr. Babineau. Holly feels betrayed when Hodges' meddling threatens the future of Finders Keepers. When violence hits close to home, Montez seeks help from Hodges.
6: Proximity - Aired: 2018-09-26
When a visit from Lou elicits an unprecedented response from Brady, Dr. Babineau pushes him to communicate. Holly begins to come around to Hodges' thinking about Brady. Armed with new intel, Hodges reaches out to Babineau and Cora.
7: Fell on Black Days - Aired: 2018-10-03
Hodges and Donna look toward a new future; Jerome contemplates his place in the world; under pressure from Cora and Vitalta, Babineau performs brain surgery on Brady; Montez and Hodges effort to get Brady transferred out of Mercy General.
8: Nobody Puts Brady in a Crestmore - Aired: 2018-10-10
After Hodges suffers an attack, Ida, Holly, and Jerome rally around him, but Donna is reminded of her deepest fears. As support of Babineau's treatment methods dwindle, Babineau goes over Montez's head.
9: Walk Like a Man - Aired: 2018-10-17
Babineau divulges the details of Brady's treatment, confirming Hodges' worst fears. As news about Brady spreads, Hodges faces intense scrutiny, and Babineau and Cora find themselves in jeopardy.
10: Fade to Blue - Aired: 2018-10-24
The community reels from recent news about Brady, and the Mercedes Killer's future lands in the hands of the few people who have survived him.
Season 3 (10 Episodes)
1: No Good Deed - Aired: 2019-09-10
The murder of iconic local author John Rothstein devastates Hodges. When unpublished works of Rothstein's are suspected to be stolen from his home, Hodges launches an investigation.
2: Madness - Aired: 2019-09-17
As she is evaluated for mental competency, Lou continues to be haunted by Brady. Morris and Alma hatch a plan to recover their spoils.
3: Love Lost - Aired: 2019-09-24
Holly visits Lou ahead of her psych evaluation. Jerome accesses Rothstein's records and uncovers an unexpected connection to Ida. Hodges and Montez look into the death of Stan McNair. Morris and Alma are caught in the act.
4: Trial and Terror - Aired: 2019-10-01
Alma and Morris zero in on a suspect. Jerome continues to make strides in the Rothstein case. Hodges shares his guilt over Lou's current situation with Ida. Lou's trial officially begins, and she has some suggestions for Finkelstein.
5: Great Balls of Fire - Aired: 2019-10-08
Morris can't make sense of Danielle's disappearance. Ida clocks Pete's growing appreciation for Rothstein's work. Alma approaches Marjorie Saubers. During Lou's trial, Pace calls Hodges and Montez to the stand. Holly and Finkelstein grow closer.
6: Bad to Worse - Aired: 2019-10-15
Alma gives Pete a scare and instructs Morris to do the same.Pete revisits the local bookstore. Hodges and Jerome fear for Holly ahead of her taking the stand.Finkelstein tells Lou that she must silence Brady. Holly and Lou deliver powerful testimony.
7: The End of the Beginning - Aired: 2019-10-22
Jerome discovers a connection between Alma and Rothstein. After an attempt by Morris fails, Alma pays a visit to Second Story Books. Hodges visits the Saubers family and confirms their worst fears about Pete. Lou learns her fate.
8: Mommy Deadest - Aired: 2019-10-29
Holly takes on a questionable roommate. After receiving an unexpected visitor, Ida seeks advice from Hodges. Alma and Morris decide they need more leverage.
9: Crunch Time - Aired: 2019-11-05
Hodges and Jerome have a breakthrough in the Rothstein case. Holly gets a strange inheritance. Morris makes a frightening discovery.
10: Burning Man - Aired: 2019-11-12
Hodges gets an unexpected call. Pete has a plan. Morris starts to feel the heat.