General Information
Glossary: M
First Air Date: May 3rd, 2013
Last Air Date: July 13th, 2016
Created By: Marc Maron
Star Casts: Dave Anthony, Marc Maron, Andy Kindler
Aired On: IFC
Episode Runtime: 22 minutes
Total Seasons: 4 Seasons
Total Episodes: 49 Episodes
Type: Scripted
Status: Canceled
Homepage: IFC - Maron

Last Updated: Mon, 20 Sep 2021 10:31:39 +0000
Sponsored Links
Ratings
User Rating:
Backdrops Gallery (1 Image)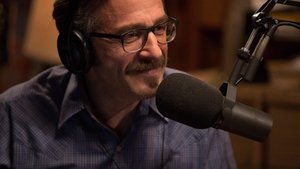 Maron
Marc Maron has been a comedian for 25 years. He's had his problems. He was an angry, drunk, self involved, twice divorced compulsive mess for most of his adult life, but with the popularity of a podcast he does in his garage and a life of sobriety, his life and career are turning around. MARON explores a fictionalized version of Marc's life, his relationships, and his career, including his incredibly popular WTF podcast, which features conversations Marc conducts with celebrities and fellow comedians. Neurosis intact, Maron is uniquely fascinating, absolutely compelling and brutally funny.
Seasons and Episodes
Season 1 (10 Episodes)
1: Internet Troll - Aired: 2013-05-03
Marc is tormented by an abusive fan on Twitter. With his podcast guest Dave Foley in tow, Marc decides to teach one internet troll a lesson.
2: Dead Possum - Aired: 2013-05-10
Marc discovers the source of the awful smell stinking up his house. His podcast guest, Denis Leary, calls Marc's masculinity into question, causing him to over prepare for removing the dead animal from under his house. Marc's mom sets up a meeting between him and a family friend who becomes Marc's eager new assistant.
3: Marc's Dad - Aired: 2013-05-17
Marc's estranged dad, Larry shows up in an RV at Marc's house with yet another foolproof scheme to get rich quick. Marc and Larry air their grievances towards each other and a power struggle ensues. Additional guest stars: Andy Kindler, Pete Holmes and Jeff Garlin.
4: Dominatrix - Aired: 2013-05-24
Marc finds out from his podcast guest and friend, Illeana Douglas, that his ex-­‐wife is having a baby. Illeana sets Marc up on a blind date with a nice girl, but he falls for a raunchy dominatrix instead.
5: A Real Woman - Aired: 2013-05-31
Tired of dating younger women, Marc decides to date an age-appropriate woman he meets at a coffee shop. She's smart and sexy, but things go south when she puts Marc in the hot seat by having him interviewed on her son's podcast.
6: Sponsor - Aired: 2013-06-07
At an AA meeting, Marc becomes a sponsor to Manny, an ex-con just out of prison. Marc finds himself in over his head while he accompanies Manny to his old haunts.
7: Sex Fest - Aired: 2013-06-14
Marc receives an explicit photo from a female fan, who suggests a weekend of no-strings-attached sex at an out-of-town comedy festival. Marc obliges and goes through the full six stages of a relationship within a matter of two days.
8: Jen Moves to L.A. - Aired: 2013-06-21
Marc freaks out after learning his "Sexfest" fling plans to move too close for comfort. After Marc rejects her, she sets her sights on the next best thing and comes between Marc and his assistant Kyle.
9: Projections - Aired: 2013-06-28
Marc meets up with an old college friend who has become a mainstream sell-out filmmaker. He offers Marc a dubious part in his upcoming movie. As Marc considers the part strictly for the health benefits, he pictures how his life might look had he made different choices.
10: Mexican Angel - Aired: 2013-06-28
Marc's former fling moves in temporarily with Marc after being evicted. She invades Marc's boundaries and tensions go through the roof. He questions her hoarding tendencies and believes she lied about being kicked out of her previous apartment. Luckily, an unexpected visitor intervenes as their fighting hits a crescendo.
Season 2 (13 Episodes)
1: Marc on Talking Dead - Aired: 2014-05-08
Marc is riding high, his career is taking off and his relationship with Jen seems to be going well. However, Marc turns out to be his own worst enemy as he sabotages a TV guest spot and ruins his relationship at the same time.
2: Marc's New Friend - Aired: 2014-05-15
Marc is annoyed that none of his old pals can hang anymore on a regular basis. Although after bonding with Ray Romano, Marc pursues a friendship, ignoring Kyle's warnings that Romano is on a different level.
3: Therapy - Aired: 2014-05-22
Marc and Jen enter couples therapy with married therapists but instead of helping, it exacerbates their issues. After Marc feels wronged by the therapists, he ends up putting a dent in their "perfect" relationship.
4: The Mom Situation - Aired: 2014-05-29
Marc's mom comes to visit. He wants to avoid her and pawns her off on a friend's Dad. The plan backfires when the older couple hit it off too well and Marc has to parent his Mom through an STD scare.
5: Boomer Lives - Aired: 2014-06-05
Marc is dealing with the finality of his relationship with Jen but is sidetracked by his missing cat, Boomer. He goes door to door through his neighborhood, looking for his cat, while at the same time learning how his neighbors deal with loss.
6: Nostalgic Sex Buddy - Aired: 2014-06-12
Newly single Marc tries to start a no-strings sexual relationship with a sex buddy from years ago. He reasons that a less emotional attachment is exactly what he needs but soon learns that it's easier said than done.
7: Marc's Family - Aired: 2014-06-19
When Marc's brother shows up on his doorstep after leaving his life, both mom and dad show up to "help." Things are immediately dysfunctional but when podcast guest David Cross gets everyone stoned (except Marc), they hash out their issues.
8: Mouth Cancer Gig - Aired: 2014-06-26
Marc is dreading an upcoming road trip. He's tired of doing the same old material and is anxious at the thought of writing new stuff but his anxiety reaches a peak when he discovers a sore that he believes to be mouth cancer.
9: Yoga Teacher - Aired: 2014-07-03
Marc hits it off with Rachael Harris by comparing their bad relationship scars. When Marc pursues her, she wants him to prove he's over his anger issues by joining her yoga class.
10: Radio Cowboy - Aired: 2014-07-10
During an appearance on a typically terrible morning radio show, Marc declares the medium dead, and the future belongs to podcasting. However, when he meets a largely ignored radio genius, he has a new respect for some DJs.
11: White Truck - Aired: 2014-07-17
Trying to lead a simpler life, Marc immerses himself in his vinyl-collecting hobby but a chance encounter with a woman he meets in the record store parking lot snowballs into just the kind of chaos he's been trying to avoid.
12: The Joke - Aired: 2014-07-24
When Marc accidentally steals a joke from another comedian, he feels guilty. That guilt is put to the test when the comic insists Marc help his career in return.
13: Desert Road Trip - Aired: 2014-07-31
As Marc's career reaches new heights, he is visited by an old acquaintance, desperate for a helping hand. After the comic passes away, Marc is forced to confront the reality that his success could disappear in an instant.
Season 3 (13 Episodes)
1: Stroke of Luck - Aired: 2015-05-14
In the Season 3 premiere, Marc's girlfriend insists he get to know her kid, while Elliott Gould insists Marc take on his agent.
2: The Request - Aired: 2015-05-21
Marc's neighbors have the egg part of the recipe, but need the other necessary ingredient to make a baby. Yep, Marc's lesbian neighbors want him to father their child. What could possibly go wrong?
3: Ex-Pod - Aired: 2015-05-28
Marc invites his ex-wife onto his podcast after finding out that she has written a book; memories bring up unresolved issues.
4: Racegate - Aired: 2015-06-04
Marc responds to criticism about the lack of diversity on his podcast by inviting comedian Bruce Bruce for an interview.
5: Mad Marc - Aired: 2015-06-11
Marc decides to search for a cure for his anger problem.
6: The Node - Aired: 2015-06-18
No overview available.
7: Marc's Niece - Aired: 2015-06-25
Marc tries to connect with his niece by introducing her to her YouTube idol.
8: Professor Of Desire - Aired: 2015-07-02
Marc's novelist pal asks him to guest lecture at the college where he teaches, but their friendship is tested when sparks fly between Marc and the TA.
9: Anti-Depressed - Aired: 2015-07-09
Faced with pressures from his talk show pilot Marc goes on anti-depressants, which create some dubious side effects.
10: Patent Troll - Aired: 2015-07-16
When Marc and his old radio co-host Sam Seder are threatened with a lawsuit from a patent troll they organize a podcasters-only meeting to plan their retaliation.
11: Steel Johnson - Aired: 2015-07-23
Marc's brother invites him to speak at his company's corporate retreat, which resembles more of a Jimmy Buffet fan-club convention than a professional get together.
12: Cold Turkey - Aired: 2015-07-30
With his talk show pilot approaching, Marc gives up nicotine gum and caffeine, and tries to get into shape with the help of pro wrestler, CM Punk. The stress of his new regimen leads to a more serious problem.
13: Spiral - Aired: 2015-08-06
After training with pro-wrestler CM Punk, Marc's back goes out and he is prescribed Oxycontin. Things take a turn for the worst, but everyone tries to keep Marc on the right path as he prepares for his talk show premiere.
Season 4 (13 Episodes)
1: Step 1 - Aired: 2016-05-04
In denial about his current situation, Marc is reluctantly convinced by his friends to enter rehab.
2: Marc's Roommate - Aired: 2016-05-04
Marc checks into rehab and is forced to room with an annoying young addict.
3: The Field Trip - Aired: 2016-05-11
Marc and his fellow rehab patients go on a field trip to his old neighborhood.
4: The 13th Step - Aired: 2016-05-18
Marc tries to suppress romantic feelings for a fellow rehab patient.
5: Marc in Florida - Aired: 2016-05-25
Marc goes to stay with his mother in Florida and must deal with her irritating boyfriend.
6: Sobriety Bush - Aired: 2016-06-01
Marc's sponsor sets him up with an unusual living situation.
7: Philippe - Aired: 2016-06-08
After chafing under Shirley's oppressive 'tranquility,' Marc jumps at the chance to spend time with the sober-yet-wild Bobby Mendez.
8: Dave's TV Show - Aired: 2016-06-15
Marc takes a writing position on Dave's new TV show.
9: Shrink & Kink - Aired: 2016-06-22
When Marc begins working with a therapist, he runs into his ex-wife which drudges up old issues.
10: Amends - Aired: 2016-06-29
Marc begins to make his amends and in the process learns that he is a father.
11: The Geographic - Aired: 2016-07-06
Marc decides to travel to Shay and meet his baby.
12: The Bookstore - Aired: 2016-07-13
Marc looks for work in the new town and attempts to get close to his baby.
13: Bookend - Aired: 2016-07-13
Marc tries to convince Shay that he can be a positive force in her son's life.