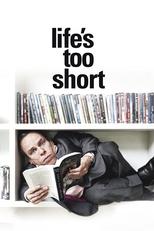 General Information
Glossary: L
First Air Date: November 10th, 2011
Last Air Date: December 20th, 2011
Created By: Warwick Davis, Ricky Gervais, Stephen Merchant
Star Casts: Warwick Davis, Ricky Gervais, Stephen Merchant, Shaun Williamson
Aired On: BBC Two
Episode Runtime: 30 minutes
Total Seasons: 1 Season
Total Episodes: 7 Episodes
Type: Miniseries
Status: Ended
Homepage: BBC Two - Life's Too Short

Last Updated: Thu, 13 Jan 2022 22:31:50 +0000
Sponsored Links
Ratings
User Rating:
Backdrops Gallery (6 Images)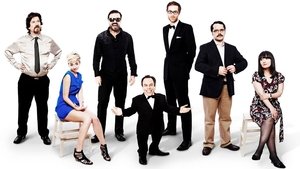 Life's Too Short
Life's Too Short is a British sitcom mockumentary created and written by Ricky Gervais and Stephen Merchant from an idea by Warwick Davis, and is as described by Gervais, about "the life of a showbiz dwarf".
Seasons and Episodes
Specials (2 Episodes)
1: The Making of Life's Too Short - Aired: 2011-11-05
Ricky Gervais goes behind the scenes for a unique look at what to expect from the BBC2 series. Featuring clips and interviews with guest stars such as Sting and Johnny Depp.
2: 2013 Special - Aired: 2013-03-30
Val Kilmer visits Warwick Davis to discuss a possible sequel to 'Willow'. Warwick also visits a spiritualist with Les Dennis, Keith Chegwin and Shaun Williamson.
Season 1 (7 Episodes)
1: Episode 1 - Aired: 2011-11-10
With his career on the slide, a massive tax bill, and his wife divorcing him, showbiz dwarf Warwick Davis is forced to open his doors to a film crew 24/7. He seeks advice from old pals Ricky Gervais and Stephen Merchant, but Liam Neeson has beaten him to it.
2: Episode 2 - Aired: 2011-11-17
Warwick makes a humiliating guest appearance at a Star Wars wedding, but his fortune rises when Johnny Depp hires him to research a new movie role.
3: Episode 3 - Aired: 2011-11-24
After complaints that he takes all the best roles for himself, Warwick launches a website and creates showreels for his clients. But he still takes on a role opposite Helena Bonham Carter.
4: Episode 4 - Aired: 2011-12-01
During messy divorce negotiations, Warwick asks Ricky and Stephen for personal advice. Meanwhile, he moves into a new apartment and seeks election as chairman of the Society of People of Small Stature.
5: Episode 5 - Aired: 2011-12-08
Warwick seeks spiritual guidance, and following a visit to the dating agency where he met his wife, he embarks on a quest to find a new partner.
6: Episode 6 - Aired: 2011-12-15
Warwick throws a party in his new apartment to show it to his ex-wife and his new date Amy. But when Cat Deeley shows up, he can't resist being a player, and no one is impressed.
7: Episode 7 - Aired: 2011-12-20
Warwick attends a charity event in the hope of hanging out with celebrities. However, in trying to impress Sting he ends up spending more than he can afford. Consequently he has to look for a new home and hopes Amy will see him again.