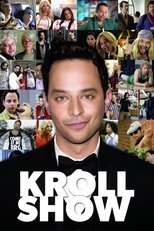 General Information
Glossary: K
First Air Date: January 16th, 2013
Last Air Date: March 24th, 2015
Created By: Nick Kroll
Star Casts: Nick Kroll, Jon Daly, John Mulaney, Jenny Slate
Aired On: Comedy Central
Episode Runtime: 21 minutes
Total Seasons: 3 Seasons
Total Episodes: 30 Episodes
Type: Scripted
Status: Canceled
Homepage: Comedy Central - Kroll Show

Last Updated: Sat, 21 Nov 2020 22:31:48 +0000
Sponsored Links
Ratings
User Rating:
Backdrops Gallery (1 Image)
Kroll Show
Kroll Show is an American sketch comedy television series created by and starring comedian Nick Kroll. Kroll, John Levenstein, and Jonathan Krisel serve as the show's executive producers. The series premiered on January 16, 2013, on the American cable television network Comedy Central.
Seasons and Episodes
Season 1 (8 Episodes)
1: San Diego Diet - Aired: 2013-01-16
Ref Jeff tries to lock down plans; Liz and Liz throw a benefit for canine cancer; students shun a new kid.
2: Soaked in Success - Aired: 2013-01-23
Rich Dicks go to Mexico; Dr. Armond gets a spin-off show; successful moments are celebrated in traditional football-fashion.
3: Secret Room - Aired: 2013-01-30
Bobby Bottleservice investigates paranormal activity, a couple builds a secret room, and Young Billy Joel goes on an adventure.
4: Too Much Tuna - Aired: 2013-02-06
Liz and Liz promote yogurt water; Rich Dicks go shopping; Oh Hello's Gil & George play a prank.
5: Can I Finish? - Aired: 2013-02-13
A look into the lives of men with ponytails; Fabrice Fabrice on the streets; Dr. Armond is newly single and ready for love.
6: Dine & Dash - Aired: 2013-02-20
Roman gets his spin-off show; Nick explores Dining and Dashing; Oh Hello's Gil & George play basketball, which leads to a serious injury.
7: Ice Dating - Aired: 2013-02-27
Pretty Liz and C-Czar fall in love on Ice Dating; Rich Dicks crash their car; radio host El Chupacabra talks a rock star out of suicide.
8: Please God - Aired: 2013-03-06
Bobby Bottleservice starts a new venture; Liz and Liz clash when Liz gets married; Ref Jeff runs a bounce house business.
Season 2 (11 Episodes)
1: Cake Train - Aired: 2014-01-14
C-Czar enrolls in Dad Academy; Pretty Liz's pregnancy creates tension on PubLizity; another unsuspecting victim is pranked with Too Much Tuna.
2: canadiansafesex - Aired: 2014-01-21
Mikey considers losing his virginity; Tunes goes into labor; Bobby Bottleservice becomes an unenthusiastic gigolo.
3: Oh Armond - Aired: 2014-01-28
Armond is under house arrest for his wife's murder; Rich Dicks must deliver the eulogy at Grandpa Goobie's funeral or risk losing their inheritance; geologist R. Schrift explains rocks.
4: Sponsored by Stamps - Aired: 2014-02-04
80s rocker Nash Rickey tries to get the band back together; Ref Jeff finally finds a friend; the Wheels Ontario kids visit the USA.
5: Krolling Around With Nick Clown - Aired: 2014-02-11
Nash Rickey advertises his deli; Ref Jeff works for the TSA; European Man pitches his business to investors on Signing Bonus.
6: Mother Daughter Sister Wife - Aired: 2014-02-18
The Oh Hello guys cause trouble at the Y; C-Czar cares for a practice baby on Dad Academy; Bobby Bottleservice moves into Gigolo House.
7: Finger Magnets - Aired: 2014-02-25
Rich Dicks join an underground rebel group to try to take down Wendy's dad's bank; PubLizity's assistant gets her own reality show; young Larry Bird competes in a two-point shootout.
8: Mercury Poisoning - Aired: 2014-03-04
The Oh Hello guys try to prank each other; Rich Dicks are forced to fly coach; two Pennsylvania pawn shop owners switch shops.
9: Bounce - Aired: 2014-03-11
Bobby Bottleservice helps Farley record her single; C-Czar reconnects with his long-lost mother; the Armond murder trial gets underway.
10: Banff Is on Fire - Aired: 2014-03-18
Armond moves in with his taxidermist father; Bobby Bottleservice confronts a cheater; a shocking accident will change Wheels Ontario forever.
11: Blisteritos Presents Dad Academy Graduation Congraduritos Red Carpet Viewing Party - Aired: 2014-03-25
PubLizity promotes Blisteritos with a celebrity-studded carpet event; C-Czar graduates from Dad Academy; Rich Dicks throw a party.
Season 3 (11 Episodes)
1: Gigolo H-O-R-S-E - Aired: 2015-01-13
Bobby Bottleservice plays an elaborate game of H-O-R-S-E with his fellow gigolos; Mikey gets addicted to pills on Wheels, Ontario.
2: Pleep Ploop - Aired: 2015-01-20
The Too Much Tuna guys prank a doctor and leave New York; "Show Us Your Songs"; Dr. Armond meets potential companions.
3: Bangs - Aired: 2015-01-27
PubLIZity's Liz leaves town to grow out her bangs and joins a team of gold miners in the mountains; the Too Much Tuna guys hit the road and prank a trucker; Wendy accidentally dies after the Rich Dicks try flatlining.
4: Karaoke Bullies - Aired: 2015-02-03
The Pawnsylvania crew travels to Maryland for Murph's wedding where Don is upset when he isn't asked to be the best man; Nash Rickey takes a stand against the Karaoke Bullies with the help of Liz's niece Denise.
5: The In Addition Tos - Aired: 2015-02-10
Bobby Bottleservice directs an action movie in which he must rescue his mother from Eagle Wing, C-Czar goes on a date with a coworker despite his feelings for Pretty Liz, and Mikey questions his sexuality on "Wheels, Ontario."
6: Lizards vs. Penguins - Aired: 2015-02-17
PubLIZity plans a party for the Illuminati; the European offers to help an underground organization take the Illuminati down; Fabrice Fabrice hosts a game show called Crab Cab.
7: Twins - Aired: 2015-02-24
Tunes is arrested for detonating a locker bomb in Wheels, Ontario; Farley gives lawyer Ruth Diamond Phillips a makeover; Bobby Bottleservice decides to rebrand himself and become a country star.
8: The Commonwealth Games - Aired: 2015-03-03
Show Us Your Songs travels all over the British Commonwealth searching for talent; Bryan La Croix has a huge fight with Gene Creemers; Murph's gambling lands him problems in Pittsburgh.
9: Body Bouncers - Aired: 2015-03-10
The Rich Dicks open a restaurant called Dunch; Ruth Diamond Phillips is attracted to her new client Ref Jeff; Bobby Bottleservice enters his own body to bounce Farley from his heart.
10: The Time of My Life - Aired: 2015-03-17
Dr. Armond goes to Europe to chase his wife's killer and makes a discovery on "Show Us Your Songs." Also: C-Czar and Bob Ducca meet with PubLIZity to pitch their new invention.
11: This Has Been Such An Amazing Experience - Aired: 2015-03-24
Wendy of the Rich Dicks decides to get a bris so he can convert to Judaism; PubLIZity plans Wendy's elaborate Bris Mitzvah; the Too Much Tuna guys pull an amazing final prank.