General Information
Glossary: I
First Air Date: November 15th, 2015
Last Air Date: May 6th, 2019
Created By: Miles Millar, Alfred Gough
Star Casts: Daniel Wu, Emily Beecham, Nick Frost, Orla Brady, Alexia Ioannides, Aramis Knight, Maddison Jaizani
Aired On: AMC
Episode Runtime: 43 minutes
Total Seasons: 3 Seasons
Total Episodes: 32 Episodes
Type: Scripted
Status: Canceled
Homepage: AMC - Into the Badlands

Last Updated: Tue, 12 Sep 2023 22:30:56 +0000
Sponsored Links
Ratings
User Rating:
Backdrops Gallery (16 Images)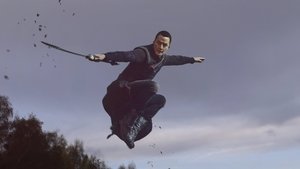 Into the Badlands
In a land controlled by feudal barons, a great warrior and a young boy embark on a journey across a dangerous land to find enlightenment. A genre-bending martial arts series very loosely based on the classic Chinese tale Journey to the West.
Seasons and Episodes
Season 1 (6 Episodes)
1: The Fort - Aired: 2015-11-15
The Badlands' deadliest Clipper rescues a mysterious boy with a dark secret, but who may know the way out.
2: Fist Like a Bullet - Aired: 2015-11-22
M.K. finds refuge in an unlikely and dangerous place, while Sunny's loyalty is tested when Quinn tries to force him to commit an unspeakable act.
3: White Stork Spreads Wings - Aired: 2015-11-29
As Sunny begins to train M.K., the boy struggles to learn discipline. Meanwhile, Quinn seeks retribution against The Widow and faces the consequences.
4: Two Tigers Subdue Dragons - Aired: 2015-12-06
Sunny and M.K. try to figure out how to control the boy's power. Meanwhile, Quinn sets a dangerous parlay with a rival Baron to help fight The Widow.
5: Snake Creeps Down - Aired: 2015-12-13
As Sunny secures his escape from the Fort, Quinn grows suspicious. Meanwhile, The Widow's decisions set her on a collision course with Sunny and M.K.
6: Hand of Five Poisons - Aired: 2015-12-20
Sunny and M.K. fight to escape Quinn's grip once and for all. Meanwhile, the Baron's enemies conspire to take him down and change the Badlands forever.
Season 2 (10 Episodes)
1: Tiger Pushes Mountain - Aired: 2017-03-19
Six months after the Season 1 finale, Sunny finds a new foe, as well as a new, unexpected ally, while MK learns about his gift in a mysterious place.
2: Force of Eagle's Claw - Aired: 2017-03-26
Sunny and Bajie struggle to stay alive; the Widow consolidates her power in the face of challenges.
3: Red Sun, Silver Moon - Aired: 2017-04-02
Sunny and Bajie meet a dangerous foe who knows Sunny; the Widow prepares for a showdown; MK learns a secret.
4: Palm of the Iron Fox - Aired: 2017-04-09
The Widow's fight for power lands her in a showdown with her enemies, who have joined forces against her; an old threat resurfaces.
5: Monkey Leaps Through Mist - Aired: 2017-04-16
Sunny and Bajie get help from an unlikely source, for a price; the Widow considers a risk; MK enacts a dangerous plan.
6: Leopard Stalks in Snow - Aired: 2017-04-23
Sunny and Bajie meet a friend, but must also confront an enemy from their past; the Widow makes an unholy alliance.
7: Black Heart, White Mountain - Aired: 2017-04-30
Sunny confronts his inner demons, and his friends try to help; the Widow exacts revenge on her enemies.
8: Sting of the Scorpion's Tail - Aired: 2017-05-07
Sunny plays a game which causes his friends to question his loyalty; the Widow discovers the existence of a new weapon.
9: Nightingale Sings No More - Aired: 2017-05-14
Sunny relies on an unlikely person for help in defeating a foe; Bajie learns a shocking secret from his past.
10: Wolf's Breath, Dragon Fire - Aired: 2017-05-21
Sunny faces the toughest showdown of his life; Bajie's loyalties are tested to their limits.
Season 3 (16 Episodes)
1: Enter the Phoenix - Aired: 2018-04-22
Sunny returns to the Badlands, seeking a cure for his son Henry. The Widow and Chau wage a bloody civil war. A new threat emerges.
2: Moon Rises, Raven Seeks - Aired: 2018-04-29
Sunny and Bajie seek help from Lydia. The Widow struggles to control M.K. Pilgrim seeks to establish a new order in the Badlands.
3: Leopard Snares Rabbit - Aired: 2018-05-06
Sunny and Bajie go undercover on The Widow's frontlines, seeking passage to a possible cure for Henry. Tilda confronts The Widow.
4: Blind Cannibal Assassins - Aired: 2018-05-13
Sunny and Bajie face off against a deadly new foe with a dark connection to Sunny's past. Chau enlists her brother in the fight against Pilgrim.
5: Carry Tiger to Mountain - Aired: 2018-05-20
Sunny and Bajie seek help from a reclusive former Master. The Widow must confront a spectre from her past as Chau's slave.
6: Black Wind Howls - Aired: 2018-06-03
Sunny and Bajie call in a favor from Bajie's past. The Widow interrogates an important captive who threatens her tentative peace with Pilgrim.
7: Dragonfly's Last Dance - Aired: 2018-06-10
Sunny works with the River King to secure passage to Pilgrim's Fortress. The Widow faces mutiny from discontented troops.
8: Leopard Catches Cloud - Aired: 2018-06-17
Sunny and Bajie arrive at Pilgrim's Fortress, only to face an angry M.K. The Widow enlists Gaius. Moon and Lydia rally the troops.
9: Chamber of the Scorpion - Aired: 2019-03-24
Sunny and Bajie face off with Pilgrim, who lays out his deadly plan for the Badlands.
10: Raven's Feather, Phoenix Blood - Aired: 2019-03-25
Pilgrim leads the hunt for near-fatally wounded Sunny; The Widow confronts her inner demons in an attempt to restore her Gift.
11: The Boar and the Butterfly - Aired: 2019-04-01
Sunny and Nix seek information that could destroy Pilgrim; The Widow and Bajie team up with the Master; M.K. leads Pilgrim to a great source of power.
12: Cobra Fang, Panther Claw - Aired: 2019-04-08
The Widow and Baron Chau finally face off; M.K. and Pilgrim grow their forces at the Monastery; Sunny and Bajie discover a new foe, the Black Lotus.
13: Black Lotus, White Rose - Aired: 2019-04-15
Sunny discovers an important figure from his past is working with the Black Lotus. The Widow, Gaius, and Tilda bring an end to the bloody civil war.
14: Curse of the Red Rain - Aired: 2019-04-22
Sunny, Bajie and Kannin journey back into the Badlands. The Widow makes a risky play against Pilgrim, bringing Cressida and Lydia into the crossfire.
15: Requiem for the Fallen - Aired: 2019-04-29
Sunny, Bajie and Gaius seek out an unlikely ally in the fight against Pilgrim. Cressida has a disturbing revelation. The Widow questions her future.
16: Seven Strike as One - Aired: 2019-05-06
Sunny, The Widow and Bajie lead the charge against Pilgrim, as he attempts to gain ultimate control of the Badlands; M.K. seeks revenge on The Widow. (Series Finale)