General Information
Glossary: H
First Air Date: June 14th, 2015
Last Air Date: July 5th, 2018
Created By: Jonathan Brackley, Sam Vincent
Star Casts: Katherine Parkinson, Gemma Chan, Emily Berrington, Lucy Carless, Colin Morgan, Theo Stevenson, Pixie Davies, Tom Goodman-Hill, Ivanno Jeremiah, Ruth Bradley, Billy Jenkins, Ukweli Roach, Dino Fetscher, Mark Bonnar, Holly Earl
Aired On: Channel 4
Episode Runtime: 46 minutes
Total Seasons: 3 Seasons
Total Episodes: 24 Episodes
Type: Scripted
Status: Canceled
Homepage: Channel 4 - Humans

Last Updated: Mon, 12 Jul 2021 10:30:58 +0000
Sponsored Links
Ratings
User Rating:
Backdrops Gallery (13 Images)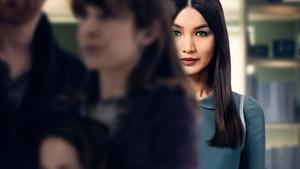 Humans
In a parallel present where the latest must-have gadget for any busy family is a 'Synth' - a highly-developed robotic servant that's so similar to a real human it's transforming the way we live.
Seasons and Episodes
Specials (1 Episode)
1: How to Build a Human - Aired: 2016-10-29
To coincide with the arrival of the second series of _Humans_, Gemma Chan – who plays the android Mia in the sci-fi drama – meets the folk from around the world making leaps and bounds in artificial intelligence. She visits a project that is attempting to create a computer more powerful than the human brain, and embarks on an experiment to create a robotic version of herself, before testing out its ability to create "human" responses.
Series 1 (8 Episodes)
1: Episode 1 - Aired: 2015-06-14
The Hawkins, a loving but troubled family decide to buy a 'Synth' called Anita, but they start to suspect there's something unusual about her...
2: Episode 2 - Aired: 2015-06-21
Laura feels increasingly threatened by the presence of Synth Anita, and Leo's quest for information takes him to dangerous places.
3: Episode 3 - Aired: 2015-06-28
Laura is begrudgingly forced to keep Anita when she saves Toby from a road accident. George is planning an escape with Odi and Pete's hot temper earns him a suspension from work.
4: Episode 4 - Aired: 2015-07-05
Laura insists the family take Anita for testing when Mattie tells her that she's seen Anita acting strangely, while Hobb is on Niska's trail.
5: Episode 5 - Aired: 2015-07-12
Killer Synth is the breaking news story, and public panic is growing. Karen is hot on Niska's tail, but are her motives for finding her more personal than professional?
6: Episode 6 - Aired: 2015-07-19
Things are at the lowest possible ebb for the fractured Hawkins family. With Joe in exile and the kids tired of their parents' lies, Laura decides it's time to tell the truth
7: Episode 7 - Aired: 2015-07-26
Rejected and alone, Karen sets out to George's house to find Niska. Meanwhile Pete is determined to find out who Karen really is. The hunted Synths take refuge at the Hawkins.
8: Episode 8 - Aired: 2015-08-02
With the Synths in captivity, the devastated Hawkins' realise how much Mia and her family mean to them and are determined to help them.
Series 2 (8 Episodes)
1: Episode 1 - Aired: 2016-10-30
The Hawkins family try to get their lives back on track. Niska is driven to a fateful decision while on the run in Berlin. Leo, Max and Mia are living in hiding near a coastal town when they are threatened by a mysterious organization.
2: Episode 2 - Aired: 2016-11-06
Laura must decide whether to accept Niska's request, while Karen and Pete learn about a special Synth being sold for unprecedented amounts on the black market. Hester uses questionable means to gain information from her prisoner, and Leo faces a new mission. Mia takes a risk to help Ed but is her secret now in jeopardy?
3: Episode 3 - Aired: 2016-11-13
Athena travels to the UK and her tragic secret is revealed. Niska's consciousness assessments begin. With more time at home Joe notices Sophie's increasingly eccentric behaviour. As Karen returns to work with Pete, cracks start appearing in their relationship. The Synths are forced to leave their hideout but Mia shocks them with a huge decision.
4: Episode 4 - Aired: 2016-11-20
Mia and Ed get closer but their relationship is thrown into jeopardy when their secret is discovered. Toby gets closer to Renie but offends her when he breaks through her synthie mask. Things look bleak for Niska until Laura brings in a surprise witness. When Milo confronts Athena about her secret agenda, she persuades him her research could be mutually beneficial. Karen and Pete delve deeper into the mysterious 'seraphim' investigation. As Hester's influence over Leo becomes clear, cracks appear between him and Max.
5: Episode 5 - Aired: 2016-11-27
When Mia risks falling into the hands of a mysterious organisation, she is forced to take drastic action. Odi struggles to find meaning, while Sophie is awestruck by Renie's 'Synthie' lifestyle. As Pete recovers from his assault, Karen makes an admission that rocks their relationship. Hester and Leo stake out the Silo and track down the sniper who killed Ten. Hester agrees to deal with her peacefully, but can she be trusted? Mattie leaves home to reconnect with Leo.
6: Episode 6 - Aired: 2016-12-04
Athena challenges Milo's ethics and is shocked when he reveals his real plan. Mia's surprise return has ramifications for the Hawkins family. Mattie finds Leo but can she trust him with her secret? Max resolves to begin a new community of Synths; when he learns how far Leo is prepared to go to complete his mission, he takes matters into his own hands.
7: Episode 7 - Aired: 2016-12-11
When Mattie reveals that the Synths are planning to break into the Silo, Laura is determined to find Niska and ask for her help. Mattie asks Max to help save Leo from Hester's influence. Toby receives a disturbing message from Renie. Karen seeks out Athena's expertise and makes a life-altering decision. Mia and Hester break into the Silo, but things don't go according to plan.
8: Episode 8 - Aired: 2016-12-18
The acclaimed drama concludes. In the aftermath of the Silo tragedy Karen feels she and Sam have no future and takes matters into her own hands. Niska and Astrid prepare to return to Berlin, but can Niska really walk away from her family? Joe leaves Laura shell-shocked with a frank admission. Hester seeks revenge and will stop at nothing to hurt Leo.
Series 3 (8 Episodes)
1: Episode 1 - Aired: 2018-05-17
When fractures within the Synth community start to appear, all hope of stability comes under threat, and both families are brought back to fight for the Green-Eyes' survival.
2: Episode 2 - Aired: 2018-05-24
A grieving Max must face the consequences of his painful decision. Laura discovers she's not being told everything at the Dryden Commission, while Joe uncovers Karen's shocking secret.
3: Episode 3 - Aired: 2018-05-31
As Leo struggles to come to terms with being human, Mattie takes him back to the Hawkins' home, where a surprise night out allows them to confront their feelings for each other. Laura is determined to uncover the truth about the too-secret Operation Basswood and tries to enlist Dr. Neil Sommer's help, only for things to take an unexpected turn. Joe reluctantly decides to help Karen with Sam, and Niska receives a mysterious message.
4: Episode 4 - Aired: 2018-06-07
Laura leads a tense Dryden Commission on a visit to the Railyard, but will Agnes' anger threaten its success? Mia comes face to face with Ed forcing her to confront her past, while an evening out for Karen, Sam and Joe turns to tragedy.
5: Episode 5 - Aired: 2018-06-14
While Sam reels from the events of Waltringham and Joe struggles to help him through it, truths are revealed and dangerous plans put into action at the Railyard.
6: Episode 6 - Aired: 2018-06-21
Laura discovers a shocking truth that threatens her life and those around her. Niska continues on her mysterious journey, and must defy all her instincts to survive.
7: Episode 7 - Aired: 2018-06-28
Laura reels from her heartbreaking decision. Niska's journey takes an unexpected turn. And Leo races to be by Max's side, but walks into danger.
8: Episode 8 - Aired: 2018-07-05
In a dramatic showdown, humans and Synths go head-to-head - but will Mia and Max's peaceful protest cost them their lives? Laura, Niska and Mattie face major decisions.