General Information
Glossary: H
First Air Date: January 8th, 2012
Last Air Date: June 12th, 2016
Created By: Matthew Carnahan
Star Casts: Don Cheadle, Kristen Bell, Ben Schwartz, Josh Lawson, Donis Leonard Jr., Glynn Turman
Aired On: Showtime
Episode Runtime: 30 minutes
Total Seasons: 5 Seasons
Total Episodes: 58 Episodes
Type: Scripted
Status: Canceled
Homepage: Showtime - House of Lies

Last Updated: Sun, 12 Jun 2022 22:31:56 +0000
Sponsored Links
Ratings
User Rating:
Backdrops Gallery (22 Images)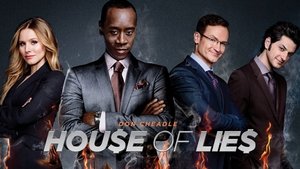 House of Lies
Charming, fast talking Marty Kaan and his crack team of management consultants know how to play the corporate game better than anyone, by using every dirty trick in the book to woo powerful CEOs and close huge deals. In the board rooms, barrooms, and bedrooms of the power elite, corruption is business as usual and everyone's out for themselves first. Nothing is sacred in this scathing, irreverent satire of corporate America today.
Seasons and Episodes
Specials (10 Episodes)
1: Fridays at Galweather (1): Sexual Harassment - Aired: 2012-01-17
Clyde Oberholt (Ben Schwartz) and Doug Guggenheim (Josh Lawson) get pulled into a sexual harassment meeting.
2: Fridays at Galweather (2): The Applicant - Aired: 2012-01-23
Clyde Oberholt (Ben Schwartz) and Doug Guggenheim (Josh Lawson) haze a man (Greg Tuculescu) applying for a management consultant position.
3: Fridays at Galweather (3): Blackout - Aired: 2012-01-30
Clyde (Ben Schwartz), Doug (Josh Lawson) and Jeannie (Kristen Bell) get stuck in an elevator.
4: Fridays at Galweather (4): Mystery Drink 1 - Aired: 2012-02-06
Clyde (Ben Schwartz) tries to convince Doug (Josh Lawson) to drink a mysterious beverage.
5: Fridays at Galweather (5): Stripper - Aired: 2012-02-13
Clyde (Ben Schwartz) and Doug (Josh Lawson) hire a stripper for Marty's (Don Cheadle) surprise birthday party.
6: Fridays at Galweather (6): Mystery Drink 2 - Aired: 2012-02-20
In the web series finale, Clyde (Ben Schwartz) gives Doug (Josh Lawson) a chance at redemption in the form of a new mystery drink.
7: Hanging with Don Cheadle
No overview available.
8: Marty Kaan Profile
No overview available.
9: Hanging with Kristen Bell
No overview available.
10: House of Lies Live! - Aired: 2013-12-31
The half-hour program puts the Season 3 cast of "House of Lies" in the Upright Citizen's Brigade Theater in Los Angeles to perform improvisational comedy in front of a live audience. The main four cast members (Don Cheadle, Kristen Bell, Ben Schwartz and Josh Lawson) are joined by new series additions Lauren Lapkus, Ryan Gaul and Eugene Cordero to act out situations based on audience suggestion. Cheadle and Bell may be new to improvisation, but they take to it like naturals. Likewise, Schwartz and Lawson, both veterans of improv comedy, shine.
Season 1 (12 Episodes)
1: Gods of Dangerous Financial Instruments - Aired: 2012-01-08
Marty and The Pod consult for a mega-bank that wants to justify their year-end bonuses as the financial world around them burns. Back at home, Marty gets some unwanted advice on how to raise his son.
2: Amsterdam - Aired: 2012-01-15
Marty and The Pod are sent to Phoenix to clean up a mess at a very powerful sports franchise caused by the impending divorce of its high-powered owners. Jeannie takes a dinner meeting with Derek, an old flame, but is deflated when she finds out his real intentions toward her. On the home front, Marty continues his personal war with Principal Gita over Roscoe's cross-dressing.
3: Microphallus - Aired: 2012-01-22
Marty arrives at the offices to find Greg Norbert there to announce the possible acquisition of Galweather by MetroCapital; the Pod flies to Indiana to consult for a beverage company, where Marty applies his management skills to turn a loss into a win; Clyde questions whether Doug really hooked up with a transvestite; Roscoe struggles with the confusing feelings of liking both a boy and a girl.
4: Mini-Mogul - Aired: 2012-01-29
With Jeremiah out of town, Marty is forced to bring his son Roscoe to his next job in San Francisco; hoping for some quality time with his dad, Roscoe ends up spending it all with the Pod when Marty is forced to babysit Alex Katsnelson, the teenage CEO of a security software company. Meanwhile, Jeannie reacts to her recent engagement by having a tryst with Kurt, a tortured musician she randomly meets in a coffee house.
5: Utah - Aired: 2012-02-05
Jeannie has to take charge of the Pod when the racist CEO of a motel chain has reservations about dealing with Marty. Meanwhile, Clyde hopes to hit it off with a lovely Mormon virgin; and when Monica finds she has some free time on her hands, she decides to spend it with Roscoe.
6: Our Descent Into Los Angeles - Aired: 2012-02-12
Marty goes to war with his son's school when Roscoe is accused of sexual harassment for trying to kiss a boy. On the home front, Marty's personal life is further complicated when April, a stripper he met in New York, suddenly reappears. Meanwhile, Jeannie starts to get cold feet at the prospect of her upcoming wedding.
7: Bareback Town - Aired: 2012-02-19
When the Pod goes to Washington D.C. to consult for a pharmaceutical company, Marty faces a challenge from April to stay monogamous on the road, which puts Jeannie in the position of having to "take one for the team" and fully satisfy a female client; Jeremiah reveals something serious to April, asking for her discretion until he can tell Marty himself; a jealous Monica drops a huge bombshell on Marty.
8: Veritas - Aired: 2012-03-04
Marty and the Pod participate in Galweather-Stearn's annual recruiting event, where the best and brightest from Harvard Business School are wined and dined. Marty takes the sole black recruit in the predominantly white affair under his wing; Doug tries to prove to Clyde that he can coach any of the potential candidates onto "the list;" Jeannie grills a sexy, flirtatious recruit to see if she's all style and no substance, but a secret of Jeannie's is revealed that makes her stance somewhat hypocritical.
9: Ouroboros - Aired: 2012-03-11
Marty and the Pod are put through the ringer by their arch-rival firm Kinsley-Johnson as part of the due diligence performed by MetroCapital for the pending merger; Jeannie does her best to keep Wes and the marriage at bay but fails to keep it a secret from Marty; Monica and Roscoe bond but Marty learns about Jeremiah's secret and receives shocking news from Monica.
10: Prologue and Aftermath - Aired: 2012-03-18
Jeannie embarks on a gig to establish her own legend in the consulting world when she leads the Pod to her hometown on a mission to resurrect an ailing church; Marty enters into custody mediation with Monica but her powers of manipulation are in full force, threatening Marty's relationship with April.
11: Business - Aired: 2012-03-25
Marty and "The Rainmaker" work together to put the kibosh on their firm's acquisition by MetroCapital but a back-stabbing turn of events leaves Marty and "The Rainmaker" mortal enemies instead of valued allies; in the aftermath of the news about April, Marty must deal with attitude from Roscoe.
12: The Mayan Apocalypse - Aired: 2012-04-01
With the help of Greg Norbert, Marty and the Pod fight to pull off an eleventh-hour reprieve and stop the MetroCapital acquisition from happening; Jeannie makes a decision about marrying Wes; Marty's son Roscoe makes a life-altering choice of his own.
Season 2 (12 Episodes)
1: Stochasticity - Aired: 2013-01-13
In the Season 2 premiere, the aftermath of the sexual-harassment scandal leaves Marty and his Pod adjusting to a new corporate culture at Galweather Stearn, where the interim CEO entrusts consummate closer Marty with sealing a big deal. Later, a boozy night on the town leaves Jeannie reeling, while Marty's relationship with Roscoe is in need of some repair.
2: When Dinosaurs Ruled the Planet - Aired: 2013-01-20
In Las Vegas to help reinvigorate an aging casino, Marty meets the firm's newest consultant, a woman who was his biggest rival in business school. Meanwhile, Clyde is seduced by the Vegas nightlife; and Jeannie discovers a passive-aggressive adversary in Galweather Stearn's interim CEO.
3: Man-date - Aired: 2013-01-27
Marty and Clyde attempt to woo the business of new Las Vegas casino king, Michael Carlson, a maverick self-made millionaire who notoriously hates consultants. Meanwhile, Jeannie tries to assess how big a threat Tamara is by suggesting the two of them enjoy a spa day together. Monica makes an unlikely connection with her personal vegan chef, Tessa.
4: Damonschildren.org - Aired: 2013-02-10
Matt Damon (as himself) hires the firm to find a charity to enhance his image, but Marty soon realizes he may have to dig deeper than expected in order to keep the actor as a client. Meanwhile, Jeannie finds time to spend with Roscoe; and Tessa grills Monica about their status.
5: Sincerity is an Easy Disguise in This Business - Aired: 2013-02-17
Marty's militant younger brother pays a surprise visit, while Doug and Jeannie work an assignment for an online-dating company. Later, Marty hits it off with a fellow consultant.
6: Family Values - Aired: 2013-02-24
Marty's plan to spend time with Roscoe conflicts with an executive retreat, while Doug sees his fellow Pod members in a different light after introducing them to his new girlfriend. Later, Tamara offers an intriguing revelation about her personal life, piquing Marty's interest.
7: The Runner Stumbles - Aired: 2013-03-03
Marty faces a moral dilemma when he discovers evidence of a banking client's role in a cover-up scheme. Jeannie attempts damage control with the Pod when an ex-boyfriend posts something shocking on the web.
8: Wonders of the World - Aired: 2013-03-10
During a consultation with an adult-toy company, Jeannie meets an interesting suitor, while Doug comes up with a racy gift idea for his new girlfriend. Later, Marty's brother Malcolm drives a wedge between their father and Marty.
9: Liability - Aired: 2013-03-17
Doug and Clyde give depositions in a wrongful-death suit filed against a telecommunications conglomerate, while a casino mogul impedes Marty's efforts to close a deal. Later, Monica unravels when Roscoe moves out.
10: Exit Strategy - Aired: 2013-03-24
Marty looks to solidify a future career opportunity, while Jeannie has misgivings about hers; and Doug needs to step up his social-networking skills when a promising business opportunity drops in his lap. Later, tensions erupt between Marty and his brother, Malcolm.
11: Hostile Takeover - Aired: 2013-03-31
A mercurial Las Vegas casino czar ups the ante on a business deal with a frustrated Marty; and Clyde's club-owner friends look to him to expand their brand beyond Vegas. Meanwhile, Marty picks up some inside dirt on Tamara.
12: Til Death Do Us Part - Aired: 2013-04-07
Doug pops the question to his girlfriend, Sarah (Jenny Slate), who plans a shotgun wedding in Las Vegas on the eve of the Pod closing a major business deal. Marty's backhanded dealings lead to increased tension and unintended consequences for everyone.
Season 3 (12 Episodes)
1: Wreckage - Aired: 2014-01-12
Marty has started his own firm and the pod is disbanded. Jeannie is now in charge of her own pod at Galweather-Stearn and Clyde is working for Monica at the competition. With everything turned upside down, it's anyone's game and anyone's guess as to who will come out on top.
2: Power(less) - Aired: 2014-01-19
Marty has a confusing meeting with Roscoe's new crush; Jeannie makes some power moves to win an account with the Department of Defense; Sarah tells Doug that she wants them to have a baby; Clyde witnesses Monica push a junior analyst a bit too far.
3: Boom - Aired: 2014-01-26
Marty and Jeannie pit rival grocery clients against one another, but things don't go quite as planned. Meanwhile, changes at Galweather cause trouble for Jeannie; and Clyde's already difficult work situation under Monica becomes even more brutal when he is forced to work from her home.
4: Associates - Aired: 2014-02-02
Marty deals with hip-hop clothing moguls, who have divergent attitudes and plans for their company; Jeannie defines the role she will play in her new position; Clyde goes through some personal hard times and turns to Marty for help.
5: Soldiers - Aired: 2014-02-09
Marty and Jeannie launch a duplicitous plan to remove Lukas from DollaHyde; Dre and Marty bond on a personal level; Clyde woos a big client; Doug deals with his feelings about having a baby with Sarah.
6: Middlegame - Aired: 2014-02-16
At the DollaHyde sneaker launch party, Marty is tested by Dre and considers a double cross. Meanwhile, Jeannie learns that Lukas is suspicious of their plan; and Doug makes a fatal mistake.
7: Pushback - Aired: 2014-02-23
Marty and Jeannie come up with different approaches on how to deal with Lukas' attempts to sabotage DollaHyde. Meanwhile, the relationship between Roscoe and Lex becomes a problem for Marty.
8: Brinkmanship - Aired: 2014-03-09
The team executes a plan to wrestle control of Marissa's family's company.
9: Zhang - Aired: 2014-03-16
Marty and the Pod tour Lukas' old neighborhood; Monica seeks help; Lex embarrasses Roscoe.
10: Comeuppance - Aired: 2014-03-23
Jeannie asks an old friend for help with a government contract; Clyde creates friction between Monica and her client; Doug makes a play for Caitlin.
11: Together - Aired: 2014-03-30
Marty and Jeannie deal with the aftermath of a tragedy; Marty questions his friendship with Dre; Monica's new company faces trouble; Doug tries to reconcile with Sarah; Marissa makes a business decision.
12: Joshua - Aired: 2014-04-06
Kaan & Associates receive a legal blow; Jeannie tries to fix things; Roscoe finds a constructive outlet.
Season 4 (12 Episodes)
1: At the End of the Day, Reality Wins - Aired: 2015-01-11
Season 4 begins with Marty eager to grow Kaan and Associates, and telling a pregnant Jeannie exactly what her future is with the company. Meanwhile, the Pod leaves one client in pursuit of a much bigger payday.
2: I'm a Motherf**king Scorpion, That's Why - Aired: 2015-01-18
Marty proves his business savvy. Jeannie reveals a difficult truth.
3: Entropy is Contagious - Aired: 2015-01-25
Marty and Jeannie pitch opposing strategies to a prospective client.
4: We Can Always Just Overwhelm the Vagus Nerve with Another Sensation - Aired: 2015-02-01
Marty comes up with a last-ditch plan. Jeannie meets with a headhunter.
5: The Urge to Save Humanity is Almost Always a False Front for the Urge to Rule - Aired: 2015-02-08
Jeannie opposes Marty's plan. Clyde develops feelings for Kelsey.
6: Trust Me, I'm Getting Plenty of Erections - Aired: 2015-02-15
Marty and the pod hatch a new plan. Jeannie soberly considers a job offer. Roscoe cuts school to party with his new friends.
7: The Next Olive Branch Goes Straight Up Your Ass - Aired: 2015-03-01
Marty learns of Roscoe's entrepreneurial endeavors. Jeannie pushes to stay.
8: He Didn't Mean That, Natalie Portman - Aired: 2015-03-08
Marty and Jeannie entice Denna with a retaliatory move against Ellis.
9: We're Going to Build a Mothership and Rule the Universe - Aired: 2015-03-15
Jeannie gets an invite to the Kaan home. Clyde reaches a breaking point.
10: Praise Money! Hallowed be Thy Name - Aired: 2015-03-22
Marty comes into conflict with Denna. Roscoe's business is exposed.
11: Everything's So F**king Obvious, I'm Starting to Wonder Why We're Even Having This Conversation - Aired: 2015-03-29
Marty looks to secure his place at K&A. Jeannie receives a proposition.
12: You're Safely Sucking at the Triple-Venti Tits of the New Kaan & Associates - Aired: 2015-03-29
Marty is on the verge of something big. Jeannie gives birth. Season finale.
Season 5 (10 Episodes)
1: Creative Destruction Phenomenon - Aired: 2016-04-10
Marty and Jeannie navigate the hazards of co-parenting. Doug and Clyde maneuver for position. Marty is approached with an intriguing offer.
2: Game Theory - Aired: 2016-04-17
Jeannie's boyfriend drops a bomb. Marty shows up at Doug's Dungeons & Dragons role-play game chasing potential new business. Clyde uncovers an issue.
3: Holacracy - Aired: 2016-04-24
Marty and the Pod consult for a company that is trying an unconventional management style. Doug considers romance with a new client. Clyde faces a breakup.
4: End State Vision - Aired: 2016-05-01
While competing for business, Marty learns Monica's been offered a deal.
5: Above Board Metrics - Aired: 2016-05-08
Marty begrudgingly reunites with a pair of his most obnoxious past clients.
6: Johari Window - Aired: 2016-05-15
Marty's entree into the black hair market on behalf of a client hits a surprising snag. Clyde's great hope for mayor has eyes for Jeannie. Roscoe lands his first modeling gig.
7: One-Eighty - Aired: 2016-05-22
Marty strives to convince a couple of big-time, idealist marijuana growers to embrace a new idea. Doug finally delivers his much-anticipated Ted Talk.
8: Tragedy of the Commons - Aired: 2016-05-29
Marty and the Pod attempt to get a boy band to re-sign with their record label. Jeannie gets fed up being a politician's girlfriend. Doug deals with his post-Ted Talk "fame" - and the repercussions it has on his relationship.
9: Violent Agreement - Aired: 2016-06-05
Marty attempts to get K&A back into consideration for a buyout. Jeannie has a difficult time spending a day outside the office. Computer network issues lead to a discovery.
10: No Es Fácil - Aired: 2016-06-12
The Pod heads down to Havana, Cuba where they are challenged to reevaluate their personal and professional futures. Season finale.