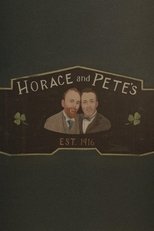 General Information
Glossary: H
First Air Date: January 30th, 2016
Last Air Date: April 2nd, 2016
Created By: Louis C.K.
Star Casts: Louis C.K., Steve Buscemi, Edie Falco, Steven Wright, Kurt Metzger, Alan Alda, Jessica Lange
Aired On: ---
Episode Runtime: 30 minutes
Total Seasons: 1 Season
Total Episodes: 10 Episodes
Type: Scripted
Status: Ended
Homepage: - Horace and Pete

Last Updated: Sat, 28 Jan 2023 10:31:26 +0000
Sponsored Links
Ratings
User Rating:
Backdrops Gallery (2 Images)
Horace and Pete
The owners of a dive bar in Brooklyn, Horace and Pete, along with bar regulars share their experiences and lives with each other while drinking or working at the bar.
Seasons and Episodes
Season 1 (10 Episodes)
1: Episode 1 - Aired: 2016-01-30
Horace meets with his sister and her lawyer to discuss common law while Pete has medical insurance issues.
2: Episode 2 - Aired: 2016-02-06
Horace has an uncomfortable encounter with Marsha. Sylvia has dire news. Horace meets with his daughter while Marsha encounters a handsome stranger.
3: Episode 3 - Aired: 2016-02-13
Horace's ex-wife Sarah comes to the bar to ask for Horace's advice.
4: Episode 4 - Aired: 2016-02-20
Uncle Pete offers Pete advice about women. Horace connects with an old girlfriend.
5: Episode 5 - Aired: 2016-02-27
The family gathers at the bar to discuss it's future. Marsha reminisces about her teenage years. Horace makes a proposal to Sylvia.
6: Episode 6 - Aired: 2016-03-05
Pete goes out with a girl he met online. Later, he brings her home for a family dinner.
7: Episode 7 - Aired: 2016-03-12
Pete wants to landmark the bar. Horace spends the night with a customer.
8: Episode 8 - Aired: 2016-03-19
Horace takes Pete to the mental hospital for his yearly review. Tricia visits Pete again.
9: Episode 9 - Aired: 2016-03-26
Pete has a vision. Horace visits Tricia in the hospital.
10: Episode 10 - Aired: 2016-04-02
It's 1976 and we meet the family. Sylvia wants to travel. Pete returns.