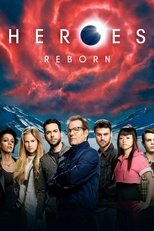 General Information
Glossary: H
First Air Date: September 24th, 2015
Last Air Date: January 21st, 2016
Created By: Tim Kring
Star Casts: Jack Coleman, Zachary Levi, Kiki Sukezane, Judi Shekoni, Robbie Kay, Rya Kihlstedt, Henry Zebrowski, Gatlin Green, Danika Yarosh, Ryan Guzman
Aired On: NBC
Episode Runtime: 43 minutes
Total Seasons: 1 Season
Total Episodes: 13 Episodes
Type: Scripted
Status: Ended
Homepage: NBC - Heroes Reborn

Last Updated: Sat, 12 Jun 2021 10:30:44 +0000
Sponsored Links
Ratings
User Rating:
Backdrops Gallery (17 Images)
Heroes Reborn
The supernatural phenomenon begins again with a fresh crop of inspiring heroes who take on the ultimate struggle between those with extraordinary abilities and those with nefarious motives to hunt and harness their powers. Epic adventures await these newly empowered allies as they cross paths with some of the original characters, unlocking the mysterious fate of the universe and their place within it.
Seasons and Episodes
Specials (9 Episodes)
1: Dark Matters Chapter 1: Where Are the Heroes? - Aired: 2015-07-13
The digital prequel "Heroes Reborn: Dark Matters" bridges the gap between the original series and "Heroes Reborn," reintroducing viewers to the "Heroes" universe and unveiling a whole new generation of "Heroes." It's been five years since the public became aware of the existence of evolved humans or "EVOs" who possess incredible, supernatural abilities. In that time, the public has grown to either fear or revere EVOs. An online community forms around the rallying cry of the anonymous Hero_Truther, who seeks to humanize EVOs in the wake of lies, slander and fear mongering. Among those posting their personal stories is Phoebe Frady, who is encouraged to document her origin story by her brother, Quentin. But as Phoebe struggles to control her power, she attracts unwanted attention from a mysterious new company. The prequel series begins as the mysterious Hero_Truther puts out a rallying cry for EVOs to declare themselves by telling personal stories in the wake of lies and fearmongering. This prompts Phoebe Frady to reveal to her brother, Quentin, that she can manipulate shadows.
2: Dark Matters Chapter 2: Phoebe - Aired: 2015-07-13
Quentin encourages Phoebe to continue documenting her story when she begins college, where she becomes fast friends with her roommate Aly (Greta Onieogou). As Phoebe's power grows, she discovers that there's much more to her ability than she initially realized, but Quentin worries that it may be too much for her to handle.
3: Dark Matters Chapter 3: Registered - Aired: 2015-07-13
After a pro-EVO demonstration at the college gets out of hand, Phoebe is arrested and forced to register in a national database. When Phoebe is approached by Harris (Clé Bennett) with a job offer at the fast-growing tech company named Renautas, it raises Quentin's suspicions.
4: Dark Matters Chapter 4: June 13th - Aired: 2015-07-13
Phoebe goes missing after an argument with Quentin over her ongoing nightmares.
5: Dark Matters Chapter 5: Renautas - Aired: 2015-07-13
In the wake of tragic events on June 13th, Quentin refuses to believe his sister was involved in the attacks and believes Renautas was behind Phoebe's abduction.
6: Dark Matters Chapter 6: Where the Truth Lies - Aired: 2015-07-13
Hero_Truther's true identity is revealed when Quentin brings him evidence that connects Renautas to the Primatech Paper Company, leading Quentin to track down a former Primatech employee: Noah Bennet aka HRG (Jack Coleman).
7: Damen Peak - Aired: 2015-11-19
Joanne Collins continues on her pursuit of Damen Peak. He notices that she is following her, so he quickly maneuvers around the streets. Damen parks his car hoping that Joanne would not know where he went. However, his wife calls him over the car phone. As he tries to talk quietly, she insists on talking to him. Joanne realizes where Damen is hiding and so he drives away.
8: Damen Peak: A New Target - Aired: 2015-11-19
Joanne Collins begins a recording, most likely to Renautas. She is speaking about her new target, Damen Peak. Damen is seen having a meeting with Jim and others. He claims that he has enjoyed getting to know Jim and is glad that Jim trusts him with his dreams and fears. Damen persuades Jim to agree with him. They all get up and leave the meeting. Damen leaves the building in his Cadillac CTS as Joanne begins to follow him.
9: Damen Peak: A Modest Talent - Aired: 2016-01-07
As Damen and Lilly leave the house, he tells her that someone is attempting to kill him. She asks him why as Joanne Collins shows up and claims that it is because he is an evo. She points a gun at them and Damen asks her to stop. He uses his ability of persuasion to try to get her to stop. Damen claims that he is just a human being with a modest talent. He asks Joanne if she has a talent and she replies that she is a good shot. Damen persuades Joanne with his mind to just walk away. Joanne walks away, leaving them unharmed.
Season 1 (13 Episodes)
1: Brave New World - Aired: 2015-09-24
In a new world order, people with extraordinary abilities are in hiding and are hunted by those with nefarious motives following a catastrophic terrorist attack in Odessa, Texas.
2: Odessa - Aired: 2015-09-24
Those with extraordinary skills continue to adapt to their discovered powers and a new world order in the wake of a terrorist attack in Odessa, Texas.
3: Under The Mask - Aired: 2015-10-01
Erica Kravid, the powerful woman behind the global conglomerate Renautas, reveals just how far she will go to protect the world from Evos. Tommy finds comfort in sharing his ability with Emily and a new-found popularity at school. In Japan, Miko's rescue mission comes up against some unexpected obstacles. Elsewhere, Noah Bennet continues to work with Quentin in his search for the truth and Malina is guided by an unseen force. Meanwhile, Luke and Joanne continue on their deadly mission and Carlos' search for answers causes him to dig deep to find the hero within.
4: The Needs of The Many - Aired: 2015-10-08
In search of someone from his past, Noah Bennet breaks in to Renautas for answers. Miko continues her rescue mission and travels in search of her sword. Elsewhere, Tommy must use his ability to save the life of someone close to him. Meanwhile, Luke comes up against unexpected obstacles in his relationship with his wife, Joanne, while Carlos takes major steps forward in his heroic journey.
5: The Lion's Den - Aired: 2015-10-15
Noah and Quentin take on Renautas. Miko's plan to retrieve her sword may land her in trouble. Malina's journey bring her closer to the truth. Luke returns home to confront his past. The authorities close in on Tommy. Carlos may have found an unexpected ally and Erica solidifies her plans.
6: Game Over - Aired: 2015-10-22
Noah Bennet takes matters into his own hands to get much-needed answers. After Tommy makes a startling discovery, he and Emily go on an unexpected journey. Elsewhere, Luke continues to come to grips with the fact that he has become what he has been hunting. Malina finds a surprising ally. Miko stays on the course to save her father, but Erica takes measures to interfere. Meanwhile, Carlos learns more about what is really going on with EVOS from an unlikely source.
7: June 13th - Part 1 - Aired: 2015-10-29
In an effort to get answers, Noah Bennet joins forces with Hiro Nakamura to return to the day of the tragic events of June 13, 2014 that set everything in motion. On the verge of delivering a speech to commemorate the event, Mohinder Suresh receives a dire message from Angela Petrelli about Erica Kravid's true motives. In Japan, Hachiro Otomo makes a calculated move against Hiro Nakamura. Meanwhile, a much happier Luke and Joanne come to Odessa in hopes of finding a cure to their son's ailment.
8: June 13th - Part 2 - Aired: 2015-11-05
In the wake of an unspeakable tragedy, Erica Kravid puts her dark plan into motion with Renautas. Hiro and Angela are tasked with an important mission that could change the course of humanity. In Odessa, a distraught Luke and Joanne come to realize their tragic mission after the loss of their son. Meanwhile, Noah Bennet has an unexpected reunion with Matt Parkman. In Japan, the origins of Miko come to light. Elsewhere, the truth behind Carlos' military service is revealed.
9: Sundae, Bloody Sundae - Aired: 2015-11-12
Noah is on the hunt for Tommy to reveal his past to him and guide him on his destiny to stop a catastrophic event. Taylor's discoveries about her mother, Erica Kravid, leads to her capture by an underground group. Erica escalates her search for Tommy and Malina as the race to finalize her dangerous plans intensifies. Elsewhere, Emily has an unexpected reunion with Joanne. Meanwhile, Dearing leads Carlos closer to finding his kidnapped nephew and Luke and Malina are separated in a violent encounter.
10: 11:53 to Odessa - Aired: 2015-11-19
The destinies of Noah and Luke finally intersect as Malina unleashes her true power to save those around her. Tommy may need to join forces with his enemy, Erica Kravid, to complete his mission. Meanwhile, Carlos confronts his violent past while under the watchful eyes of Matt Parkman. Elsewhere, Ren is tasked with the impossible mission of finding Miko.
11: Send in the Clones - Aired: 2016-01-07
Following Noah's mysterious disappearance, Luke and Malina unite to rescue Tommy and save mankind. At the mysterious Sunstone Manor, Carlos and Farah fight alongside The Haitian to take down Matt Parkman and free the prisoners under his control. Tommy and Miko join forces against Erica and her brutal plan for the future.
12: Company Woman - Aired: 2016-01-14
Tommy helps Erica with her survival plan as the end of civilization approaches; Malina rushes to reunite with Tommy as a plot against them is formed; Matt Parkman's attempts to make sure he and his family are safe could jeopardize Taylor's safety.
13: Project Reborn - Aired: 2016-01-21
As the clock counts down to the end of the world, Tommy finds himself up against his biggest challenge yet as Erica takes drastic measures to see her plan succeed. Malina tries to fulfill her great-grandmother's prophecy to save the world with the help of Luke and Quentin. Emily and Ren desperately search for Miko. Carlos is faced with a life and death choice.