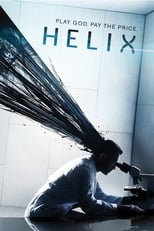 General Information
Glossary: H
First Air Date: January 10th, 2014
Last Air Date: April 10th, 2015
Created By: Ronald D. Moore, Cameron Porsandeh
Star Casts: Billy Campbell, Meegwun Fairbrother, Jordan Hayes, Mark Ghanimé, Neil Napier, Kyra Zagorsky, Steven Weber, Matt Long, Cristina Rosato, Hiroyuki Sanada, Alison Louder, Severn Thompson, Alison Louder
Aired On: Syfy
Episode Runtime: 45 minutes
Total Seasons: 2 Seasons
Total Episodes: 26 Episodes
Type: Scripted
Status: Canceled
Homepage: Syfy - Helix

Last Updated: Wed, 26 May 2021 10:32:37 +0000
Sponsored Links
Ratings
User Rating:
Backdrops Gallery (14 Images)
Helix
Helix is an intense thriller about a team of scientists from the Centers for Disease Control who travel to a high-tech research facility in the Arctic to investigate a possible disease outbreak, only to find themselves pulled into a terrifying life-and-death struggle that holds the key to mankind's salvation...or total annihilation.
Seasons and Episodes
Season 1 (13 Episodes)
1: Pilot - Aired: 2014-01-10
Dr. Alan Farragut and his team of CDC scientists are called to a remote Arctic Research Base where his brother got infected with a deadly and unknown virus. Soon Alan and his team have to realize that there are secrets being kept.
2: Vector - Aired: 2014-01-10
The CDC team tries to find a treatment for the infected patients and contain the virus by hunting down the ones who were exposed to the virus. Meanwhile, panic rises amongst the people on the station.
3: 274 - Aired: 2014-01-17
On day 3, Peter seeks Alan's help before he collapses, Sarah finds a rapid response test for infected patients, Julia begins to slowly feel the effects of Peter's attack while Balleseros helps Doreen get another monkey sample.
4: Single Strand - Aired: 2014-01-24
On day 4, the quarantined people on Level R force Dr. Hatake to re-etablish communication by cutting off the air supply. Meanwhile, Peter's condition worsens quickly, forcing Alan to try the untested universal treatment, Sarah has to question her rapid response test and Doreen gets closer to figuring out Balleseros.
5: The White Room - Aired: 2014-01-31
On day 5, Alan tries to find out what happened to Doreen after discovering her body, Julia finds a helpful friend on Level R, Sarah keeps hiding an infected patient in her room and Balleseros tries to find the mysterious Dr. Hvit.
6: Aniqatiga - Aired: 2014-02-07
Alan and Jordan make progress in decoding the virus; Hatake secretly "cures" Walker before the corporation's black helicopters land on the base.
7: Survivor Zero - Aired: 2014-02-14
Constance Sutton of Ilaria Corporation arrives with mercenaries; Daniel makes a discovery; Julia learns something about herself and Hatake protects her from the mercenaries.
8: Bloodline - Aired: 2014-02-21
The vectors attack and take Peter's body; Walker is held prisoner by Sutton after the true nature of Sutton's relationship with Hatake is revealed.
9: Level X - Aired: 2014-02-28
Secrets come to the light and unlikely alliances are established; at the same time, Alan and Walker take on a dangerous mission to destroy what's left of the NARVIK virus. Walker learns something world shattering about her past.
10: Fushigi - Aired: 2014-03-07
Alan and Julia travel to an abandoned satellite station in a last-ditch effort to call for help. Once there, they come across the truth behind Hatake's plan and Julia's condition. Meanwhile, Dr. Jordan (Sarah) makes a startling discovery of her own, which could mean a cure for cancer.
11: Black Rain - Aired: 2014-03-14
Peter Farragut and vectors attempt to spread the virus in a desperate, final attempt. Meanwhile, the scientists of the CDC create a cure for the virus by working together, just as a threat from deadly mercenaries of the Ilaria Corporation threaten their very lives.
12: The Reaping - Aired: 2014-03-21
The Scythe is revealed to be the immortal Spencer Chiswick, Constance Sutton's 16-year-old son. Alan and Hatake lure Spencer and one of his agents outside where they plan to lay a trap; Hatake throws a canister, allegedly containing the virus, onto the snow and causes one of Spencer's operatives who attempts to retrieve the virus to fall into a chasm. Spencer learns Julia is Hatake's daughter and abducts her. He gives Hatake a choice of lives to save—Julia's or Daniel's, but Daniel sacrifices himself. Julia realizes that a package Spencer brought with him contains her mother.
13: Dans L'Ombre - Aired: 2014-03-28
Balleseros agrees to hand over the virus, already reported in Puerto Rico, if Hatake turns over the list of displaced Inuit children. Peter is revealed to be working for Ilaria and frees the Scythe, who blows up the base, stealing both the virus and cure. He also takes Julia hostage, after killing her mother.
Season 2 (13 Episodes)
1: San Jose - Aired: 2015-01-16
15 months after the events at Arctic Biosystems, new CDC team with the addition of biotoxicologist Kyle Sommer respond to a potential outbreak on a Windjammer in the Northern Pacific. Their search leads them to an island occupied by a mysterious cult led by the charismatic Michael. Meanwhile, 30 years in the future, Walker arrives at the same island searching for Alan Farragut.
2: Reunion - Aired: 2015-01-23
The CDC team continue to investigate the island; at the same time, they discover Peter's brother, Alan, is a member of Brother Michael's cult, and his warnings for them to leave the abbey fall on deaf ears.
3: Scion - Aired: 2015-01-30
Peter and Jordan leave the safety of the Abbey to retrieve some specimens and discover just what's living in the woods, meanwhile Sister Amy plots to make them leave forever.
4: Densho - Aired: 2015-02-06
As Michael struggles to keep the abbey under control, the CDC team moves closer toward tracking the source of the pathogen. Alan fights the urge to rejoin his team and confronts the reality about Peter's allegiances. In the future, Walker makes a desperate attempt to escape from her delusional father, with potentially deadly consequences.
5: Oubliette - Aired: 2015-02-13
Michael locks Peter and Alan in a pit. Alan escapes and discovers that Kyle has a secret of his own. Agnes reveals a shocking truth to Michael, who drastically turns on her for doubting him. In the future, Caleb uncovers Walker's deception and takes matters into his own hands.
6: M. Domestica - Aired: 2015-02-20
Amy creates an outbreak of the disease. Michael torments Peter in the pit. Alan, Jordan and Kyle discover the truth about the Abbey's food chain. An uprising at the Abbey threatens the safety of the uninfected. In present-day Paris, Balleseros meet an unlikely immortal.
7: Cross-Pollination - Aired: 2015-02-27
As Peter gains a new cellmate, Michael takes extreme action when his followers begin to mutiny.
8: Vade in Pace - Aired: 2015-03-06
The Coast Guard arrives on the island to take the CDC team to another island to deal with another outbreak of the pathogen. Meanwhile, Sister Amy has to contend with Brother Michael and his plans.Source: Showcase
9: Ectogenesis - Aired: 2015-03-13
Alan, Kyle and Winger search the woods for the tree with red sap that might be a cure for the pathogen.
10: Mother - Aired: 2015-03-20
The Abbey becomes a house of horrors as Kyle struggles with his infection and Anne begins to shape a successor to Michael.
11: Plan B - Aired: 2015-03-27
The Navy prepare to implement Plan B, a final solution to ensure that the virus and everyone infected with it never make it off the island.
12: The Ascendant - Aired: 2015-04-03
No overview available.
13: O Brave New World - Aired: 2015-04-10
No overview available.