General Information
Glossary: H
First Air Date: April 13th, 2011
Last Air Date: May 3rd, 2013
Created By: David Caspe
Star Casts: Eliza Coupe, Elisha Cuthbert, Zachary Knighton, Adam Pally, Damon Wayans Jr., Casey Wilson
Aired On: ABC
Episode Runtime: 22 minutes
Total Seasons: 3 Seasons
Total Episodes: 57 Episodes
Type: Scripted
Status: Canceled
Homepage: ABC - Happy Endings

Last Updated: Fri, 21 Oct 2022 22:31:00 +0000
Sponsored Links
Ratings
User Rating:
Backdrops Gallery (11 Images)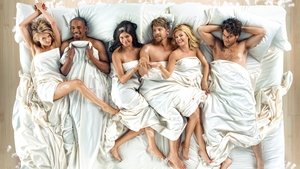 Happy Endings
A fresh and funny take on modern friendship and what one urban family will do to stay friends after the perfect couple who brought them all together break up on their wedding day. The failed wedding forces them all to question their life choices. Then there are Alex and Dave themselves, who strike a truce and must learn to live with the changes their breakup has brought.
Seasons and Episodes
Specials (12 Episodes)
1: Happy Rides Webisode 1 - Aired: 2012-02-29
Penny announces that she's getting rid of her first car.
2: Happy Rides Webisode 2 - Aired: 2012-03-07
Jane and Brad hear about Penny selling her car.
3: Happy Rides Webisode 3 - Aired: 2012-03-14
Dave and Max discuss their opposing viewpoints on the theory of evolution... in the Kevin Costner film 'Waterworld.'
4: Happy Rides Webisode 4 - Aired: 2012-03-21
Penny goes through her keychain collection attached to the car keys and reminisces.
5: Happy Rides Webisode 5 - Aired: 2012-03-28
Max brings out a box of all the stuff in Penny's car and Alex has a fantastic idea about her old pager.
6: Happy Rides Webisode 6 - Aired: 2012-04-04
The guys meet the truck's new owner.
7: Happy Rides Behind The Scenes - Aired: 2012-04-04
A behind-the-scenes special of the 'Happy Rides' webisodes, hosted by Ben Begley.
8: Happy Endings Harlem Shake
No overview available.
9: Happy to Be Here - Aired: 2016-10-29
The cast of 'Happy Endings' came together on October 29th 2016 at Entertainment Weekly's EW PopFest for a live table read of a newly written, fictitious lost episode of the series - titled "Happy to Be Here".
10: And The Pandemmy Goes To… - Aired: 2020-07-20
The crew catches up over zoom.
11: Happy Endings - Special Charity Event Q&A - Aired: 2020-07-20
Live fan Q&A with the cast, moderated by TV Guide's Damian Holbrook.
12: Happy Endings Special Charity Event - Aired: 2020-07-20
No overview available.
Season 1 (13 Episodes)
1: Pilot - Aired: 2011-04-13
After Alex leaves her fiance, Dave, at the altar, they struggle to maintain relationships with their mutual friends.
2: The Quicksand Girlfriend - Aired: 2011-04-13
Dave's fling begins turning into a relationship he doesn't want; Jane tries to help Alex find a roommate.
3: Your Couples Friends & Neighbors - Aired: 2011-04-20
Jane thinks she and Brad should befriend a sophisticated couple; Max and Dave notice that things are disappearing from their apartment; Alex starts dating an artist.
4: Mein Coming Out - Aired: 2011-04-20
Max's friends encourage him to tell his parents he is gay; Penny meets her perfect man.
5: Like Father, Like Gun - Aired: 2011-04-27
When Brad's dad receives good news on some medical tests, his new view on life is difficult for Brad to accept; Penny meets an attractive Italian, but she can only speak to him when she's drunk.
6: Of Mice & Jazz-Kwon-Do - Aired: 2011-05-04
Brad plays matchmaker to a co-worker; Penny regrets inviting Jane to her martial-arts class; Dave helps Alex with odd jobs, leading his friends to think he wants to get back together with her.
7: Dave of the Dead - Aired: 2011-05-04
Dave shocks everyone by quitting his job and plans to open a restaurant; Jane and Max face off in silly challenges; Penny is exhausted by trying to keep up with her new boyfriend's friends.
8: The Girl With the David Tattoo - Aired: 2011-05-11
Former couple Dave and Alex regret their couples tattoos; Jane feels Max is missing Mr. Right.
9: You've Got Male - Aired: 2011-05-11
A big chain coffee store becomes Alex's competition; Dave runs into his high school teacher.
10: Bo Fight - Aired: 2011-05-18
Alex's string of "girls' nights out" doesn't sit well with Penny; Max pushes Dave to get even.
11: Barefoot Pedaler - Aired: 2011-05-18
A concert outing goes awry.
12: The Shershow Redemption - Aired: 2011-05-25
An old friend gets married, and the bride thinks Alex is a jinx; Penny and Derrick pretend to be engaged.
13: Why Can't You Read Me? - Aired: 2011-08-24
Alex and Jane's sibling rivalry heats up; Dave dates an attractive woman (Bre Blair) with an unusual quirk; Penny gets an assistant
Season 2 (21 Episodes)
1: Blax, Snake, Home - Aired: 2011-09-28
Alex and Dave to decide that they should be honest with each other. Penny buys a new condo and declares that it's "The Year of Penny", the year where everything will start going her way. Max tries to find out why Brad hasn't been hanging out with him lately.
2: Baby Steps - Aired: 2011-10-05
Alex's new T-shirts intended for children end up being a hit with with teenagers. Jane searches for the child she believes was conceived from an egg she donated years ago. Max starts working at Dave's food truck.
3: Yesandwitch - Aired: 2011-10-12
Penny's mom Dana visits, however, Penny learns that her mom's inspiring upbeat attitude is hiding some bad news, which leads Penny to decide to give her mom a reality check. Max plays tour guide to some tourists in his new limo with the help of Brad and Jane.
4: Secrets and Limos - Aired: 2011-10-19
Jane convinces Penny to make a vision board to visualize the path to her dreams, although everything doesn't go according to plan. Brad finds it hard to relate to his stern boss until the guy sees Max's limo. Dave is reluctant to let the gang to meet his new girlfriend.
5: Spooky Endings - Aired: 2011-10-26
Penny, Max, Dave and Alex head to a Halloween warehouse party, where their costumes don't have the effect they anticipated. Meanwhile, Jane and Brad spend their Halloween house sitting for some friends in the suburbs.
6: Lying Around - Aired: 2011-11-02
Brad discovers that Jane's old sorority sister is coming for a visit, so he lies and says he has a work retreat out of town, when he's actually on "staycation" in a fancy hotel in the city. Penny becomes jealous when Alex dates her former boyfriend Liam, and Max and Dave make a commercial to promote the "Steak Me Home Tonight" food truck.
7: The Code War - Aired: 2011-11-16
When Max's high school girlfriend Angie, the girl he dated before he realized he was gay, returns to town, Penny (who was Max's girlfriend in college) starts to feel jealous. Meanwhile, Alex starts to develop an unusual crush on Max. When Dave starts dating Angie, Max becomes angry and declares a "code war". Jane finds out that Brad has a "work wife", so she sets out to obtain a "work husband".
8: Full Court Dress - Aired: 2011-11-23
Jane needs a dress to wear to her charity event, but she's a little leery when Alex offers to design one for her. Penny helps a panicked Max babysit his niece and nephew, and Dave and Brad's new friendship with their oddball mailman, Drew, isn't quite what they had hoped for.
9: Grinches Be Crazy - Aired: 2011-12-07
Max agrees to dress up as Santa for Penny's charity event. Jane accidently gives housekeeper Gita the envelope stuffed with money for their big Xmas getaway to Turks & Caicos, instead of the $200 Christmas tip she had planned. Dave cashes in all the homemade coupons Alex gave him as gifts from past Christmases.
10: The Shrink, the Dare, Her Date and Her Brother - Aired: 2012-01-04
Dave has a surprising reaction when his shrink starts dating Penny. Max and Jane's fight over a sweater leads to a strange competition, and Alex and Brad bond when they discover a shared interest.
11: Meet the Parrots - Aired: 2012-01-11
Dave's father comes to town to introduce his new girlfriend, who turns out to be Penny's mother, Dana. Alex decides to adopt a pet parrot that turns out to be not so charming. Alex enlists Brad and Max's help, as she is convinced the Chinese restaurant next door is a front for a brothel.
12: Makin' Changes - Aired: 2012-01-18
Jane encourages Penny to find a man and then change him to suit her expectations. Alex stages an intervention to stop Dave from his obsession with V-neck shirts.
13: The St. Valentine's Day Maxssacre - Aired: 2012-02-08
Penny has a new boyfriend she wants to dump and Dave is afraid his new girlfriend is about to dump him. Alex goes looking for a party in the sketchy part of town, and Brad's hopes for a perfect night out for Jane are dashed when a dental appointment goes terribly wrong. Max picks up a couple with his limo only to find that one of the passengers is Grant, the boyfriend he broke up with a year ago.
14: Everybody Loves Grant - Aired: 2012-02-15
When the whole gang, with the exception of Dave, falls in love with Grant, Max wonders if he really is good enough to date the "perfect" guy. Meanwhile, Dave sets out to prove he's way cooler than Max's new boyfriend.
15: The Butterfly Effect Effect - Aired: 2012-02-22
The friends wait for Brad and Jane's annual "Spring Smackdown," their yearly blowout of a domestic squabble, to let them know when Max will come out of hibernation and when winter will end.
16: Cocktails & Dreams - Aired: 2012-02-29
Dave gets a liquor license for his food truck, making it a new hot spot. The gang avoids Dave because his signature drink gives them sex dreams about him.
17: The Kerkovich Way - Aired: 2012-03-07
A panicked Alex enlists Jane's help in convincing Dave that something he's certain happened never did using "The Kerkovich Way," an ancient Serbian memory-wiping technique passed down through the Kerkovich clan. Meanwhile, Penny and Max are determined to finally beat an annoyingly perfect couple in the annual Rosalita's Run and Scavenger Hunt.
18: Party of Six - Aired: 2012-03-14
After years of bad luck every time the gang celebrates Penny's birthday, the gang starts to believe the day is cursed.
19: You Snooze, You Bruise - Aired: 2012-03-21
Dave finds himself bullied at the gym by Corey, and former bully Alex coaches him on how to fight back. Meanwhile, the residents at Brad and Jane's condo are fed up with Jane being too controlling as president of their home owners' association, and rise up to challenge her for the job.
20: Big White Lies - Aired: 2012-03-28
Things spiral out of control after Penny tells a white lie to avoid an irritating childhood friend. Dave and Max's lonely and jealous landlord falls for Alex.
21: Four Weddings and a Funeral (Minus Three Weddings and One Funeral) - Aired: 2012-04-04
The gang find themselves at yet another wedding, this time the nuptials of Derrick and Eric. Brad struggles to tell Jane something important, Jane tries to find a way to help Eric hide the fact that the pricey reception must be downscaled, and Max tries to find the courage to perform with his old all-male Madonna cover band. Meanwhile, a dateless Penny is sad that she's at another wedding, alone, until she meets cute guy Chris via Skype.
Season 3 (23 Episodes)
1: Cazsh Dummy Spillionaires - Aired: 2012-10-23
Dave and Alex start seeing each other again; Max tends to Penny after an accident lands her in a full body cast, but when he starts crushing on her physical therapist, he tries to impede her recovery; Brad tries to keep a secret from Jane.
2: Sabado Free-Gante - Aired: 2012-10-30
Dave and Alex's inability to commit to a new apartment proves to be quite a challenge for their real-estate agent, while Jane pulls out all the stops when she takes Penny car shopping. Later, Max shows out-of-work Brad how easy it is to spend a cashless Saturday in Chicago.
3: Boyz II Menorah - Aired: 2012-11-13
Max has become a hit on the Bar Mitzvah circuit as an energetic emcee and allows Brad to partner up with him, but not everything turns out kosher. Meanwhile Dave and Alex make an effort not to take their relationship for granted.
4: More Like Stanksgiving - Aired: 2012-11-20
The gang celebrates Thanksgiving by watching a previously unaired episode of "Real World" they appeared in back in college, and, long after the fact, learn some shocking new dirt about one another.
5: P&P Romance Factory - Aired: 2012-12-04
Penny meets a terrific new guy, Pete, but her frantic attempt to hide the fact that she's wearing a prescription helmet because of her concussion really limits their potential romance. Jane tries to break into the "boys' club" at the car dealership and enlists Brad to be her "trophy wife". Max and Dave's fist bump issues bring back painful childhood memories.
6: To Serb with Love - Aired: 2012-12-11
Jane and Alex's parents throw a big celebration to commemorate the 20th anniversary of the family mattress business, and Jane agonizes over coming up with an amusing toast to spring on her humorless dad. Meanwhile, Alex tells Dave that her parents are unaware that they are once again bedfellows, and Max goes looking for a new BFF since Penny's tied up in her relationship with Pete.
7: No-Ho-Ho - Aired: 2012-12-18
The gang discovers that Jane has been lying about her birthday, and that she was actually born on Christmas but never liked her natal day being trumped by the holiday. With that in mind, they throw her a celebration that is Christmas-free and all about Jane.
8: Fowl Play/Date - Aired: 2013-01-06
After Brad and Penny accidentally break Alex's beloved childhood memento, they try to glue it back together which leads to an even worse situation. Meanwhile, Jane and Dave try a little too hard to find a match for Max.
9: Ordinary Extraordinary Love - Aired: 2013-01-08
When a hot young pop star stops in and buys a dress at Alex's store, Penny helps Alex turns it into a press opportunity. Meanwhile, Max is having an identity crisis, so Jane and Derrick take him on a tour of Chicago's themed gay bars to help him find his niche, and Brad and Dave try to be "men" and fix things around the house.
10: KickBall 2: The Kickening - Aired: 2013-01-13
Alex signs up the gang to participate in the Northside Kickball Classic tournament. However, self-appointed manager Max has difficulty bringing his players up to scratch - Dave has a history of freezing at crucial moments after an unfortunate incident during a previous game, Penny uses the tournament as an opportunity to meet good-looking guys and refuses to put on appropriate footwear, while Jane abandons her friends altogether and started playing for another team.
11: The Ex Factor - Aired: 2013-01-15
When Ryan, Jane's ex, comes to town for a visit, Brad is surprised to learn that Ryan is a woman. Meanwhile Max gets a super cool new roommate, Chase, who immediately upgrades the apartment with expensive furniture and gadgets. The gang is in awe, but when Chase suddenly disappears, they start snooping into his private life.
12: The Marry Prankster - Aired: 2013-01-29
When the gang pranks Max into thinking he won a big lotto jackpot, he vows revenge when they least suspect it. Meanwhile, Brad gets a new job as a CFO, but Jane is not amused when she learns the title is Chief Fun Officer and that Brad is working at a kids' gym.
13: Our Best Friend's Wedding - Aired: 2013-01-29
In order to get Pete to change his mind about eloping with Penny, wannabe matrimonial coordinator Jane spirits the whole gang to a wedding exposition. Once there, Max and Brad wind up at a gay-marriage part of the expo, while Alex and Dave contemplate their own commitment issues.
14: In the Heat of the Noche - Aired: 2013-03-29
Brad uses his skills, plus help from the gang, to prop up Chuckles and Huggs after the gym's loopy owner, Terry tells him it may be closing. Meanwhile, Penny and Max try to break the habit of texting the men in their lives.
15: The Straight Dope - Aired: 2013-03-29
Max meets a cute girl who is a season tickets holder for the Bulls, leaving him no choice but to pretend to be straight. Meanwhile, Alex is tired of everyone dismissing her as the dimwitted blonde, so she becomes well read to prove them wrong and in the process throws off the whole group dynamic.
16: The Incident - Aired: 2013-04-05
When Max tries out Jane and Alex's long-time hairdresser, Krisjahn, he gets some good salon gossip on the girls, but his loose lips may cause World War III between the Kerkovitch sisters. Meanwhile, the Steak Me Home truck is stolen and Dave and Penny try to figure out whodunit.
17: Bros Before Bros - Aired: 2013-04-05
With the wedding coming up, Penny decides to reach out to her estranged dad Roy. The reunion is sufficiently awkward but Alex encourages Penny to be optimistic, while Jane is more skeptical. Meanwhile, Dave enlists Brad and Max's help in sabotaging "The Brazilian" food truck, a.k.a. Dave's #1 nemesis, but Max accidentally falls for the enemy's son and has to choose between his best friend or boyfriend.
18: She Got Game Night - Aired: 2013-04-12
Brad and Jane host a couples game night with Penny, Pete, Max and Scotty and the competitiveness gets a little out of hand. Meanwhile Dave has a big decision to make on the career front, and Alex tries to help but they end up at a psychic instead.
19: The Storm Before the Calm - Aired: 2013-04-12
Penny insists that she's fine after her breakup with Pete, but the gang begin to wonder when she writes a play entitled "Black Plague: A Love Story" and asks Derrick and his theater group to stage it. Meanwhile a marketing group asks Alex and Max to be taste makers.
20: The Ballad of Lon Sarofsky - Aired: 2013-04-19
The gang is shocked when Penny rebounds from her breakup with Pete by having a torrid affair with the last man on earth they'd pick for her -- the Car Czar. To make matters worse, she's temporarily living with Brad and Jane, who end up acting like disapproving parents. Meanwhile the friends pressure Max to get a job so he'll stop sponging off them.
21: Un-sabotagable - Aired: 2013-04-26
Chase, the ex-roommate whose life Max ruined, says he'd like to take revenge and do the same thing to Max, but Max's life is so pathetic it's "un-sabotagable." Max vows to prove him wrong and asks Jane to help him get his act together. Meanwhile, Alex asks the rest of the gang for help when Dave challenges her to finally use her stockpile of Groupons.
22: Deuce Babylove 2: Electric Babydeuce - Aired: 2013-05-03
Penny's mom, Dana, and Dave's dad, Big Dave, are in town visiting, and these two lovebirds are not only going strong, they've decided to adopt a baby together, prompting Penny and Dave to react the only way they know how - irrationally. Meanwhile, Brad and Jane decide to try to join an exclusive tennis club, but unfortunately Max is on the scent and they can't shake him...or Alex.
23: Brothas & Sisters - Aired: 2013-05-03
The third Kerkovich sister, Brooke, is the alpha sister of the group, and Jane has the daunting task of planning a wedding for her more perfect and exquisite older sibling. Meanwhile, Brad is having a tough time himself dealing with Brooke's equally more perfect African American fiance, Elliot, and Alex and Dave have a big secret they're hiding.