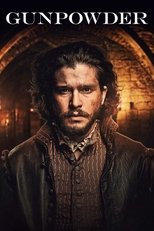 General Information
Glossary: G
First Air Date: October 21st, 2017
Last Air Date: November 4th, 2017
Created By: Ronan Bennett, Daniel West
Star Casts: Kit Harington, Mark Gatiss, Edward Holcroft, Tom Cullen, Peter Mullan, Liv Tyler, Derek Riddell, Shaun Dooley, Robert Emms, Daniel West, Luke Neal, Luke Broughton, David Bamber, Pedro Casablanc, Hugh Alexander, Simon Kunz, Josh Moran, Richard Glover, Philip Hill-Pearson, Andy Lucas, Kate Wood, Tom Sweet, Louis Hannan
Aired On: BBC One
Episode Runtime: 59 minutes
Total Seasons: 1 Season
Total Episodes: 3 Episodes
Type: Miniseries
Status: Ended
Homepage: BBC One - Gunpowder

Last Updated: Tue, 13 Jun 2023 22:30:54 +0000
Sponsored Links
Ratings
User Rating:
Backdrops Gallery (10 Images)
Gunpowder
London, 1605. Robert Catesby, a 33-year old Warwickshire gentleman, devises a plot to blow up Parliament and kill the King.
Seasons and Episodes
Season 1 (3 Episodes)
1: Episode 1 - Aired: 2017-10-21
It is 1603, and as England wars with Spain and the bloody persecution of Catholics intensifies, a young nobleman resolves to avenge his kin and defend his faith by any means necessary.
2: Episode 2 - Aired: 2017-10-28
As the king's network of spies close in on them, Catesby and Wintour attempt to raise an army for their plot across mainland Europe. Returning to London with Guy Fawkes in tow, Catesby assembles his gang of plotters for the first time. They know they must act fast, and the plan is formed - they will strike next week, 5 November, at the opening of Parliament.
3: Episode 3 - Aired: 2017-11-04
On the eve of the 5th of November, Catesby, Fawkes and the plotters load the tunnels below Parliament with barrels of gunpowder. Across the city, Father Garnet is under pressure to reveal Catesby's plot for the good of the Catholic faith. Will the priest be the one to betray Catesby at the eleventh hour?