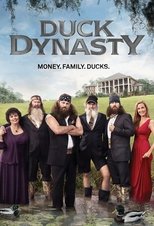 General Information
Glossary: D
First Air Date: March 21st, 2012
Last Air Date: April 5th, 2017
Created By: ---
Star Casts: Korie Robertson, Jase Robertson, Si Robertson, Kay Robertson, Willie Robertson
Aired On: A&E
Episode Runtime: 30 minutes
Total Seasons: 11 Seasons
Total Episodes: 131 Episodes
Type: Reality
Status: Canceled
Homepage: A&E - Duck Dynasty

Last Updated: Thu, 03 Jun 2021 10:31:43 +0000
Sponsored Links
Ratings
User Rating:
Backdrops Gallery (17 Images)
Duck Dynasty
Duck Dynasty is an American reality television series on A&E. It shows the lives of the Robertson family, who became wealthy from their family-operated business, Duck Commander, operated in West Monroe, Louisiana, which makes products for duck hunters, primarily the duck call named Duck Commander. The Robertson men, brothers Phil and Si, and Phil's sons Jase, Willie, and Jep, are known for their long beards. The business began in a family shed, where Phil Robertson spent 25 years making duck calls from Louisiana cedar trees. His son Willie is now the CEO of the company. The family was previously featured on the series Benelli Presents Duck Commander and its spin-off Buck Commander, which still airs on the Outdoor Channel. The show has broken several ratings records on both A&E and cable television as a whole; the fourth season premiere drew 11.8 million viewers, the most-watched nonfiction cable telecast in history.
Seasons and Episodes
Specials (3 Episodes)
1: Sneak Peak: Season 4 - Aired: 2013-08-11
A preview of the fourth season of the series.
2: Sneak Peak: Season 5 - Aired: 2013-12-12
A preview of the fifth season of the series.
3: Duck Commander: Making the Musical - Aired: 2015-06-17
An exclusive behind-the-scenes look is taken at the making of the "Duck Dynasty" musical, which combines country, rock, gospel and pop into the story of the Robertson family, as the Robertsons, the cast and the crew prepare for opening night.
Season 1 (15 Episodes)
1: Family Funny Business - Aired: 2012-03-21
Family Funny Business - Willie gets fed up with Phil and Jase's lax attitudes regarding work in the series premiere of this reality show about a Louisiana family who operate a thriving business manufacturing duck-hunting gear.
2: CEO for a Day - Aired: 2012-03-21
Phil decides to teach his grandkids the value of a hard day's work by building a football field and culminating in a family football game. But Robertson vs. Robertson competition is further sparked between brothers when Willie and Jase make a side bet that Jase can't handle the responsibility of being CEO of a day.
3: High Tech Redneck - Aired: 2012-03-28
After a big order comes in Willie pushes the Duck Commander team to meet the tight deadline, so Jase and the warehouse guys come up with a plan to build a conveyer belt. Elsewhere, Phil and Si declare war on the beavers whose dams are disrupting the water supply.
4: Frog in One - Aired: 2012-03-28
Brotherly competition gets the best of Willie when he ditches his kids' career day to go play golf with Jase. Stepping in for Willie, Phil and Si show up at the school and become the teachers' worst nightmare. Later that night, Jase returns to the golf course to hunt the prized bullfrogs he'd seen earlier. Unfortunately for him, country club security is also there.
5: Redneck Logic - Aired: 2012-04-04
After blowing up one of Phil's dangerously antiquated duck blinds, the Robertson boys hatch a wild plan to build a luxury duck blind in the sky. Meanwhile, Ms. Kay and the Robertson women hold a yard sale and sell some of the boys' most prized possessions, which the boys don't exactly appreciate when they find out.
6: Too Close for Comfort - Aired: 2012-04-04
Jase feels being COO of Duck Commander entitles him to a new office. But when Willie refuses, Jase hatches a plan to build one anyhow. Willie takes Miss Kay and the grandkids to the petting zoo where Miss Kay decides she needs Willie to buy her goats, just like she had growing up on a farm. But, Willie's patience is put to the test when he returns to the warehouse to find that Jase has made some changes.
7: Leave It to Beavers - Aired: 2012-04-11
It's duck blind maintenance time again and the boys have discovered the waterline is low. At the levee, they realize this is the work of Phil's bucktoothed arch nemesis...THE BEAVER. Phil enlists the help of the Robertson men to go on a mission to destroy the pesky vermin. Problem is, they keep coming up beaver-less. Ms. Kay decides she wants to open her own restaurant. As a test run she takes over a local restaurant for one night and recruits the family to help. With her experience feeding a huge family, she figures it will be piece of cake.
8: A Big Duck-ing Call - Aired: 2012-04-11
It's the 40-year anniversary of Duck Commander and this celebration is a redneck Robertson style shindig. To top off the event, Willie decides to construct the world's largest duck call to be revealed at the party. On the home-front, Ms. Kay is tired of the constant upkeep of their house and decides it's high time they spend some of their hard earned money on a brand new home, but house hunting is not Phil's kind of hunting.
9: Sauvignon Beard - Aired: 2012-04-18
Willie decides to expand the Duck Commander brand into the winemaking industry and buys a vineyard...sight unseen. While the family is off helping at the vineyard, Phil and Si take over babysitting duties for the granddaughters. Who will prevail?
10: Plan Bee - Aired: 2012-04-25
While out duck hunting, Willie, Jase, and Uncle Si stumble across what redneck's consider nature's most prized succulent treasure--a beehive dripping with wild honey. Knowing the possibilities are endless for this redneck decadence the men decide to capture the hive. Back at the office, its Martin and Godwin to the rescue when Korie and Jessica get themselves in to some trouble while trying to find duck decoys to use in the Duck Commander carnival game at the West Monroe Harvest Fest.
11: Daddy's Got a Gun - Aired: 2012-05-02
When Willie finds out that his daughter Sadie has a new boyfriend, he wants to get to know him, while instilling some fatherly fear--Robertson style.
12: Fishin' for Business - Aired: 2012-05-09
To prove once and for all who rules the river AND the boardroom, Willie and Jase revive their childhood rivalry and go head-to-head in a fishing competition with the added challenge of having to sell their catch. They bring their sons, John Luke and Cole, for a little lesson in business...and defeating kin. Three generations of Robertson men battle for victory when Phil and Si tag along offering their sage advice...or annoyance. To expand the women's line at Duck Commander, Korie suggests Miss Kay to launch her own apron line. While she excels in most domestic duties, Miss Kay cannot sew, nor can any of the Robertson women. But that doesn't stop them from trying and failing...repeatedly.
13: Redneck Roadtrip - Aired: 2012-05-16
Jase volunteers to take the Duck Commander RV out on pick up, but neglects to mention to Willie, he's taking Si, Martin and Jep along for a road trip. Back home, Phil and Willie have to use some redneck logic when Ms. Kay calls them to get rid of a gator she found in the yard.
14: Winner, Winner Turkey Dinner - Aired: 2012-05-23
Jase and Si embark on a turkey hunt for the annual Robertson men vs. Robertson women cook-off to create a feast of fresh wild game. With Phil's discerning palate as judge, the teams pull out all of the stops with their best country cookin' secrets. Phil decides to visit the Duck Commander office after he hurts his ankle while working on the land. To keep himself occupied, he decides to go work in the office. But it's been a while since Phil has stepped foot in the warehouse and things have changed quite a bit.
15: Willie Stay or Willie Go - Aired: 2012-05-23
When a big business decision must be made affecting Duck Commander, Willie plans an employee retreat. But trust falls and rope courses are not the type of team building that for this group. Phil steps in with the true Robertson way and gets everyone back to nature. The camping trip gets derailed when Si stumbles upon some giant snapping turtles!
Season 2 (13 Episodes)
1: The Grass & the Furious - Aired: 2012-10-10
It's all hands on deck for the Duckmen when an old high school nemesis challenges them to a good old fashion race... at the local lawn mower competition. But Willie and the guys soon find out that this competitive and ridiculous underground sport is nothing short of high octane. Meanwhile Phil has his hands full with his granddaughters when he's called on to construct a playhouse, which he soon uses as an opportunity to teach them about some Robertson family ways.
2: Driving Miss Sadie - Aired: 2012-10-10
With Sadie's (Willie's daughter) driver's license test fast approaching, she finds herself in dire need of lessons. Willie, Jase and Si each set out to correct her glaring failures behind the wheel by teaching her how to drive... Robertson-style. On the other side of West Monroe, Phil decides to play chaperone to John Luke and his girlfriend turning their day date on the river into an awkward afternoon of "Phil-osophy."
3: Truck Commander - Aired: 2012-10-17
After Willie's son (John Luke) leaves Willie's pickup in the driveway with a bone-dry gas tank, Willie and Korie decide that it's time to get the kid his own car. But without a car of his own for the day, Willie is forced to let Uncle Si drive them on their journey to find the perfect vehicle for the teenaged boy. Back on the family land, Jase, Martin and Godwin make a mess of their fishing trip when a mishap puts Phil's boat at the bottom of the swamp.
4: Si-Yonara - Aired: 2012-10-17
The Duck Commander assembly room gets an unexpected shakeup when a disgruntled Si decides to quit his job. But when Willie hires a replacement that clashes with the duck call room, Jase and the guys quickly become equally miserable at work. Meanwhile, Si turns to Phil for work out on the land turning a routine levee repair into a complete disaster.
5: Fowl Play - Aired: 2012-10-24
Willie finds his office in shambles and alerts the authorities that the warehouse has had a break in. But soon Willie discovers that the culprit was his brother Jase, who needed supplies for an early morning frog hunt. Disturbed by his brother's ability to break in so easily, Willie installs a state-of-the-art surveillance system that he uses to become Big Brother to the duck call room throughout the day. At Phil and Ms. Kay's house, Willie's daughter, Sadie is sent to do house chores to help her unplug from her constant texting issues.
6: Sweatin' Bullets - Aired: 2012-10-24
When a heat wave envelops West Monroe the air conditioning unit at the Duck Commander warehouse goes down, turning the duck call assembly room into a boiling sweatshop. Desperate to cool off, the guys leave Willie behind and head to the local lake where they construct their very own redneck waterpark. Meanwhile, Willie hires the local Mr. Fix It, Mountain Man, to get the AC unit up and running once again, which proves to be a painstakingly slow process.
7: Spring Pong Cleaning - Aired: 2012-11-07
After Korie decides the junk piles in the Duck Commander warehouse are beginning to reach critical mass, she calls on Willie and the guys to do a little company spring-cleaning. But the discovery of an old Ping-Pong table deep within the clutter quickly turns the chore into an all day table tennis tournament. Meanwhile, Uncle Si realizes that he's many years overdue for an appointment with the local eye doctor and ventures out for some new glasses.
8: Good Morning, West Monroe - Aired: 2012-11-07
After attending a local radio show as a guest, Willie sees an opportunity to host a show of his own. When the station gives him the opportunity, Willie makes the mistake of bringing Uncle Si on the air with him. Jase gets fined by his neighborhood homeowners association for a multitude of local infractions, and decides to fight his case like a true Robertson.
9: Samurai Si - Aired: 2012-11-14
Willie receives a special gift from a Japanese business associate - a "priceless" samurai sword, which Willie keeps out of the hands of Jase and the guys. But when Willie leaves the office, Jase and Si can't help but put the weapon to the test and soon they find themselves searching for a repair shop that can handle ancient Japanese steel. Back home, Willie and Phil decide to take his daughter Sadie out for some shooting lessons.
10: Of Mattresses and Men - Aired: 2012-11-14
Jase, Si and the guys from the duck call room take a field trip to a brand new local donut shop and quickly find out who amongst them can eat the most delicious treats. There, Si enters a raffle to win a brand new camper and when he hits the jackpot Si soon converts his new prize into his own personal office. Meanwhile, Willie gets roped into a furniture-buying excursion with Phil and Miss Kay, which quickly turns awkward.
11: Duck No We Won't Go - Aired: 2012-11-28
Willie pushes his work force too far after implementing new "motivational work tactics," and the guys rise up against him and go on strike. But creating a picket line Duck Commander-style isn't as effective as they hoped. Miss Kay decides to take her home cookin' to the streets of West Monroe with her very own food truck.
12: Drag Me to Glory - Aired: 2012-11-28
When NASCAR sensation Clint Bowyer pays a visit to the Duck Commander warehouse, Willie and the guys are fired up to spend the day hanging out with the professional racecar driver. But too much enthusiasm about the celebrity's mode of transportation turns into a drag race showdown between Willie and Clint. Phil and Si have their hands full fixing Miss Kay's barbecue when a trip to the outdoor grill store turns disastrous.
13: I'm Dreaming of a Redneck Christmas - Aired: 2012-12-05
It's Willie's turn to play Santa Claus at the local church this year but Uncle Si crashes the party and the event goes south in a hurry. Meanwhile, the family gathers at Phil and Miss Kay's house to celebrate the holidays in true redneck fashion.
Season 3 (13 Episodes)
1: Duck Season Eve - Aired: 2013-02-27
Tomorrow is the opening day of Duck Season and the men are carrying on their tradition of camping on the Robertson Land the night before... including Willie, who typically opts out of "roughing it." But when Willie shows up to meet the guys in the Duck Commander RV, the camp is divided between those who want comfort, and those that will rough it. Back at Phil and Miss Kay's, Phil has a tradition of his own that he'd like to carry on before Duck Season--getting a little loving from Miss Kay. But because one of his other traditions is to be unbathed before Duck Season, Miss Kay isn't allowing it.
2: Can't Hardly Weight - Aired: 2013-02-27
Gearing up for his high school reunion, Willie realizes that he could stand to lose a few pounds. Jase and Korie set out to help him drop some weight and the strenuous battle of man-versus-waistline begins. Meanwhile Si is convinced that Phil's hunting dogs don't like him and he goes searching for his own canine companion.
3: Shot Thru the Heart - Aired: 2013-03-06
The guys learn from Willie that John Luke is going through his first break up. In order to make him feel better the men decide to take John Luke hunting for nutria, and impart their relationship wisdom. Phil and Kay have a famous pet photographer come to their house to take pictures of them and their canine pets. But having a yuppy pet photographer from the city interacting with country born and raised Phil Robertson becomes interesting.
4: Here Lizard, Lizard - Aired: 2013-03-06
When the warehouse guys new office pet (a lizard) escapes, they try all they can in order to catch the wily reptile. Proving impossible, the guys finally decide to bring in the big guns to help trap it--Mr. Phil Robertson. On the other side of town, Willie and Si have invited themselves to a ride-along with the West Monroe Police where they try their hand at being law dogs.
5: Hallu-Si-Nations - Aired: 2013-03-13
With Willie out-of-town, the guys decide to flake off work and leave to brush up the duck blinds on the Robertson land. While out, Si believes he spots what he thinks is the infamous "Black Panther," which leads the naysaying men on a mission to prove that what Si saw was an apparition of his imagination. Back at Phil's house, Phil enlists the help of his football playing nephew and his fellow teammate to do chores, citing that this will "make them better football players.
6: Let's Go Hunting, Deer - Aired: 2013-03-13
Willie and Jase invite Korie and Missy along on a deer hunt because they believe their wives have become too "city." The Do's' and `Don't's of hunting are doled out in the woods and subsequently broken creating arguments husbands and wives know entirely too well when dealing with the opposite sex. At Phil and Kay's, Miss Kay decides she wants to frame Phil's original blueprints from the first duck call he created. Only problem is finding it first amongst her hoards of belongings. Si pitches in the search effort as well only to be distracted by the treasures he keeps finding amongst Miss Kay's junk.
7: Tickets To The Fun Show - Aired: 2013-03-20
During Duck Commander's "Casino Night" party for the sale of their 5 millionth duck call, Si Robertson wins the grand prize of $2000 and decides to buy a massage chair for the duck call room. The massage chair becomes a detriment to the workflow of Duck Commander, so Willie takes Si around for a replacement prize. Phil takes Jase and the boys to his secret fishing pond on a neighbor's property. Only problem is, once at the water, the men spot a beaver dam. This means one thing: war!
8: Duck Be a Lady - Aired: 2013-03-20
Sadie, has a homecoming dance coming up, but Willie doesn't approve of her dress selection. Willie decides to take Sadie out to find her a new "appropriate" dress. Jase is in a bit of a predicament when the coffee machine at Duck Commander breaks. Jep, the younger and more hip of the Robertsons, suggests they try a new coffee shop.
9: Ring Around the Redneck - Aired: 2013-03-27
Though Jase lost his wedding ring long ago, Missy decides it's time for Jase to replace it with a new one. When Jase is duck hunting, once again, he loses the ring and is forced to come up with a game plan of how to approach and appease Missy with the loss. Trying to help Jase find the ring, Si goes back to retrieve his metal detector. But Si is distracted when he believes he found the treasure he buried in his yard years back when he returned from Vietnam.
10: Bass Man Standing - Aired: 2013-04-03
The Duck Commander team is invited to unveil a wing of the local Bass Pro shop that will feature their products. Meanwhile, Miss Kay attempts to get some quality time in with her grandkids when she invites herself out with John Luke, Sadie and their friends.
11: Si-amese Twins - Aired: 2013-04-10
Willie calls the team into work on a Saturday afternoon for an HR training session, but the seminar quickly dissolves from unproductive to complete disaster. When Phil and Kay set out on a long drive to purchase a brand new washer and dryer, they find themselves lost on the outskirts of town. Unwilling to ask for directions, the trip home becomes an epic journey.
12: Battle of the Brothers - Aired: 2013-04-17
Willie's suspicious behavior from dying his beard to buying a new motorcycle, makes Jase come to the conclusion that Willie is having a mid-life crisis. Jase's help turns into a competition amongst the Robertson brothers to see who is most fit in body, mind, and endurance. Then, after discovering Phil and Kay's house has a mouse infestation, Miss Kay convinces Phil they need a cat to help them rid the mice problem.
13: Aloha, Robertsons! - Aired: 2013-04-24
After all their hard work, Willie decides to take the entire Robertson clan on a family vacation to Hawaii. But Willie's daily itinerary for the trip gets constantly undermined by the family's desire to participate in their own island activities.
Season 4 (11 Episodes)
1: Till Duck Do Us Part - Aired: 2013-08-14
Everyone comes together to plan a surprise wedding for Phil and Kay, setting up a special ceremony on their land, which the whole family attends. Si distracts Phil and Kay by taking them on a "trip down memory lane" to different places that were meaningful in their relationship.
2: So You Think You Can Date? - Aired: 2013-08-21
After discovering that Martin has to miss a Friday night poker game for a planned date, the guys (as well as their wives) take turns figuring out the best way to coach him for romance. When babysitting for Jep and Jessica turns into a rocky road, Phil tries to teach his granddaughters how to fish--a useful skill. But even at this young age, the girls outsmart him and have him doing all the work.
3: Hot Tub Grime Machine - Aired: 2013-08-28
The guys realize that Godwin has never really asked them for a favor, even though they are all always helping each other out. Godwin asks them to help him get a hot tub, so they set out to help him pick one up. Phil and Kay teach Sadie and John Luke how to make May Haw jelly.
4: A-Jase-ent Living - Aired: 2013-09-04
Due to construction at Jase and Missy's house, Willie and Korie invite Jase and the kids to live with them while Missy is out of town visiting friends. What seems like a good gesture of Willie and Korie's part turns into conflict between two brothers due to a lack of personal space. Then, what begins in the duck call room as a series of "Gentlemen's Bets," turns into a series of bets outside the Duck Call Room as well, eventually leading them to the ultimate challenge at Phil and Kay's house--helping Phil get a wheelbarrow down from a tree.
5: Termite be a Problem - Aired: 2013-09-11
Because of a termite problem at Duck Commander, the guys are forced to find a different location to work from--Godwin's House. But while at Godwin's house, Godwin gets a taxidermied gift from a past relative, which sends them on a mission to find out how much it is worth. Miss Kay needs help with her Golden 60's club, so she enlists Korie and Willie to help her out.
6: John Luke After Dentist - Aired: 2013-09-18
John Luke and Sadie are getting some dental work done, complete with sedation, and it's up to Willie and Korie to take care of them through the process--including getting them back home safely. Phil goes to DC to recruit Jase and Jep to help him take care of a cottonmouth den and finds them emptying the contents of the broken fridge into trash bags. They set out to dump the trash but keep running into problems.
7: Scoot Along Si - Aired: 2013-10-02
Si shows up to work on a mobility scooter, claiming to have an invisible injury from a fender bender with Willie. After losing her beloved turtle "Mr. T", Ms.Kay enlists Phil on a mission to find a new pet turtle.
8: Jerky Boys - Aired: 2013-10-09
A decision to try and make some duck jerky leads the boys to Godwin's garage and a minibike race. Phil and Kay have made Willie the executor of their will, and Phil wants to show Willie what he and his brothers will inherit when he and Kay pass away.
9: Going Si-ral - Aired: 2013-10-16
Si discovers Youtube, and, after watching a series of instructional videos, decides he can make something better. Jase, Jep, Godwin, and Martin help Si shoot an instructional golf video, and upload Si's "four point philosophy" to the web. John Luke totals Willie's truck, and Willie realizes he may be raising the two worst drivers in all of Louisiana. Willie then remembers that all kids are trouble when he takes his niece and nephew for a ride in his loaner, a 2014 Chevy Silverado, and they cover it in ice cream.
10: Quack O'Lanterns - Aired: 2013-10-23
The Robertsons host a Halloween event at Duck Commander, where they all come together to transform the warehouse into a "scarehouse." Everyone dresses up and Willie desperately tries to be the scariest, but none of the kids are afraid of him. The youngest grandkids help Kay make treats while Phil puts his own twist on Halloween decorating by making a jack-o-lantern with a shotgun.
11: O Little Town of West Monroe - Aired: 2013-12-11
The Robertsons perform a live nativity for their Church for Christmas, so the wives organize rehearsals to ensure that they pull off a great event. However, rehearsals get off to a bumpy start as the guys can't stop sharing their opinions. In between rehearsals, Willie and Jase struggle to get their wives the perfect Christmas gifts and they unenthusiastically take Jep's advice.
Season 5 (10 Episodes)
1: Boomerang Becca - Aired: 2014-01-15
Rebecca comes home for a visit after finishing a fashion internship in Los Angeles, but Willie starts wondering how long she plans to stay. She later surprises him with news of her plan to start her own business. After Si contracts what he believes to be bird flu, Phil and Miss Kay let him stay with them while he recovers and end up trying not to let him drive them crazy.
2: Willie's Number Two - Aired: 2014-01-15
Willie hires Korie's cousin John David as a personal assistant, but Jase, Martin, and Godwin rebel against the idea of having an outsider giving them orders. Si organizes a boring, confusing treasure hunt for Jep's children to keep them occupied while Jessica gets over a cold.
3: Life of Si - Aired: 2014-01-22
Taking a hint from Jep, Si outfits himself with a pair of wearable cameras so he can record every moment of his daily life. He drives the guys crazy with his nonstop commentary during a deer hunt, treating it as if it were an epic war/survival movie. Willie's plans to take John Luke and Sadie to an LSU football game run afoul of heavy traffic and a balky GPS.
4: From Duck 'Til Dawn - Aired: 2014-01-29
Willie volunteers to join the guys for their latest all-night packing session, but ends up helping Jase track down faulty smoke detectors and falling victim to a prank. Phil gets more than he bargained for when his granddaughters talk him into letting them sleep over with him and Miss Kay.
5: Burger Commander - Aired: 2014-02-05
Jase challenges Willie to a hamburger cook-off, but their very different strategies lead to end results so bad that neither of the judges (Martin and Godwin) wants to eat them. When Jessica decides to take up decoupage, Jep goes hunting for materials and ends up getting tricked by Phil into cleaning the junk out of one of his storage sheds.
6: G.I. SI - Aired: 2014-02-19
When Willie and Jase argue over an old GI Joe toy, it leads them into a debate over who would make a better soldier. To settle the score, Willie and Jase head out to the woods with their friends and children for a paintball match, but the game is cut short when Si gets stuck in a marsh and needs to be rescued. Meanwhile, Jep recruits Martin to help him lay a sidewalk in his front yard, but when they run into some problems, Jep must call on Phil to come save the day.
7: Jase and the Argonauts - Aired: 2014-02-26
Jase spends company funds on an all-terrain vehicle as a means of motivating the workers; Kay becomes a text-messaging menace after Willie buys her a new cell phone.
8: Fowl Playhouse - Aired: 2014-03-05
Jase and the guys build a playhouse for Jep's children, but the finished structure ends up looking like a duck blind; Phil and Si tease Willie when a project takes longer than expected to complete.
9: The Big LeCOWski - Aired: 2014-03-19
Sadie spends a day at Duck Commander to learn how a successful company operates; Jase devises a cow blind and puts his invention to the test; Priscilla and Meritt are introduced to mutton busting.
10: Stand by Mia - Aired: 2014-03-26
The Robertsons plan a family reunion to give Mia a grand send-off before her surgery.
Season 6 (9 Episodes)
1: Governor's Travels - Aired: 2014-06-11
An impending visit by Bobby Jindal, Governor of Louisiana, to present an award to Duck Commander throws everyone into chaos. Korie and Sadie try to find the perfect outfit for Miss Kay with little help from Phil, Willie and Si offer less-than-reliable coaching tips for an introductory speech John Luke has to make, and the guys goof off during a warehouse cleanup and give him some advice of their own. Governor Jindal surprises Willie by playing a little warehouse basketball with the guys before the award ceremony.
2: Quack and Gown - Aired: 2014-06-18
The night before Reed's high school graduation, Willie, Jase, and Si take him frog hunting and dispense a few bits of unusual advice for his future. Jep leads Miss Kay, Korie, and Jessica on a run to toilet-paper Jase and Missy's house, but Missy catches them in the act.
3: Hands on a Woodchipper - Aired: 2014-06-25
Willie sponsors a contest for Mountain Man's radio show, in which the last person with their hands on a wood chipper wins it. He and Si end up as the only contestants, with Willie on the receiving end of taunts from both Si and Jase. An overly protective Jep insists on chaperoning Lily during her miniature golf play date with a boy and challenges him to a game.
4: Quackdraft - Aired: 2014-07-02
Willie's old friend, now a fire chief, offers to let the brothers undergo some training drills - which turn out to be far more physically demanding than any of them expected. Miss Kay's plan to lay flowers on her grandmother's grave turns into a hunt for the ideal sites for herself, Phil, and Si.
5: Brand of Brothers - Aired: 2014-07-09
When Willie starts thinking about changing the Duck Commander logo, Jase and the guys try to show him that they can do the job as well as any professional design firm. Bella turns to Phil for help on a school project, only to have him lead her and Willie on a rambling trip through both the woods and his memory.
6: De-Bug Life - Aired: 2014-07-16
Phil and the guys set out to clean out all the duck blinds, turning up an assortment of odd wildlife and old garbage along the way. When they find an infestation of fire ants in one blind, Jase takes extreme measures to wipe them out. Si surprises Willie and the rest of the family with unorthodox advertising tricks that bring in business for a church fundraiser car wash.
7: Men vs. Wild - Aired: 2014-07-30
Egged on by Si to prove their wilderness skills, the brothers hold a race through the woods, with Jep and Alan against Willie and Jase. Both teams have a rough time finding their way, and it takes a sneaky trick to decide the victory. Going overboard with his newfound passion for coupon-clipping, Si sets out with Miss Kay to buy everything in sight at the grocery store.
8: Return of the Beavers - Aired: 2014-08-06
Phil recruits Jase, Jep, Si, and John Luke for his campaign to wipe out the latest beaver infestation on the family land. They have some dynamite, but no safety fuses, and must resort to Si's homemade napalm in order to destroy the main beaver dam. Willie decides to join Bella in her introductory karate class, but his less-than-serious attitude quickly gets on the instructor's nerves and leads to painful embarrassment.
9: Lake Boss - Aired: 2014-08-13
For Willie's birthday, Jase organizes a family trip to Lake D'Arbonne, a favorite hangout of the brothers in their youth. The outing gets off to a rough start, with Jase haggling to rent a boat, no one being able to find the key to the lake house, and Phil recruiting Miss Kay and his granddaughters to catch a raccoon running loose in the house. Jase's attempts to draw Willie into fun activities fall flat until he and Jep spot a man using a water-powered jet pack and set up a chance for Willie to use it as his last and best birthday present.
Season 7 (10 Episodes)
1: Glory Is the Reward of Mallard - Aired: 2014-11-19
When Willie takes a business trip to Scotland to expand his duck call business, he brings the entire family along so they can reconnect with their Scottish roots. But when Willie organizes a bus tour to trace his family heritage, he discovers much more than he expected. Meanwhile, Jase brings a group of people to the Highland Games and winds up participating, while Jep and Jessica try to sneak away for a romantic getaway, only to find themselves with Uncle Si in tow. (1-hr)
2: Good Night and Good Duck - Aired: 2014-11-26
During a takeover of a local TV show, Robertson family members share their tips for Thanksgiving.
3: Quack in the Saddle - Aired: 2014-12-03
The guys go to a horse race and Kay buys a new birdbath.
4: A Home for the Holidays - Aired: 2014-12-10
The Robertsons help out the mother of a longtime employee during the yuletide season; Jep, Jase, Martin and Godwin take part in a hammering competition; Kay and Si interrupt Willie's recording of a Christmas song.
5: The Cannonball Runs - Aired: 2015-01-07
Jase enters an outhouse race, where the Robertsons face an unexpected rival; Willie enlists the ladies to be taste testers as he tries to create the world's best bologna sandwich for his Duck Diner.
6: Mo Math, Mo Problems - Aired: 2015-01-14
Sadie's homework gets interrupted when Willie and Jase argue whether the latter can outrun a truck; Si steps in to help when Kay's compulsive hoarding becomes an issue.
7: Coop! There It Is! - Aired: 2015-01-21
The guys decide to renovate Jep's old chicken coop; Uncle Si acts strangely on a fishing trip after he drinks too much expired soda.
8: Friday Afternoon Lights - Aired: 2015-01-28
Lil' Will's football team challenges assistant coach Willie and the adults to a scrimmage; Jep and Si join Kay for a water aerobics class at a local health club.
9: Master and Duck Commander - Aired: 2015-02-04
Jase recruits the guys to help him turn a friend's old pontoon boat into a floating duck blind, despite their skepticism and the locals' puzzled reactions. Willie schedules obedience training for Bobo, but the session is a disappointment due to both Bobo and Miss Kay getting easily distracted.
10: Sweet Home Louisiana - Aired: 2015-02-11
When Jep is diagnosed with encephalitis and meningitis, the rest of the family pitches in to decorate his and Jessica's new house while he recovers. On the hunt for Jep's meat smoker at a self-storage facility warehouse, Willie, Alan, and Phil find that he shares Miss Kay's hoarding tendencies. As the brothers' wives commandeer the decorating effort, Jase, Si, Martin, and Godwin visit an auction house in search of the perfect housewarming present.
Season 8 (9 Episodes)
1: Grooming the Groom - Aired: 2015-06-24
No overview available.
2: Induckpendence Day - Aired: 2015-07-01
Jase and the guys plan a fireworks extravaganza for the Robertson family's Fourth of July barbecue.
3: Search n' Decoy - Aired: 2015-07-08
The guys repaint old decoys in an attempt to trick Phil; Willie bowls against Kay's club.
4: Wild Wild Pest - Aired: 2015-07-15
Jase and the guys remove pests from other people's property; Willie offers Sadie and John Luke jobs.
5: Pranks for Everything - Aired: 2015-07-22
Jokesters Willie, Jase and Jep help Alan at the church; Kay has a class with a famous artist.
6: Bachelor Party Blowout - Aired: 2015-07-29
Martin's bachelor party celebration gets interesting when the guys discover black powder weapons.
7: The Ducket List - Aired: 2015-08-05
After Uncle Si has a brush with death, he decides to create a bucket list; Kay tries to prove that she graduated from high school.
8: Pit Perfect - Aired: 2015-08-12
When Duck Commander sponsors a NASCAR race, Jase and the guys attempt to work as a pit crew; Willie and Korie challenge John Luke and his fiancée to a tennis match.
9: John Luke Gets Hitched - Aired: 2015-08-19
In this very special wedding episode, John Luke Robertson is getting married to his fiancée Mary Kate, and our cameras are with him every step of the way. From wedding planning and dress shopping, to the rehearsal dinner and the big wedding day, it's a joyous time for the Robertson family as guests from all over the world come to bear witness on this momentous occasion.
Season 9 (11 Episodes)
1: Inlawful Entry - Aired: 2016-01-13
When Missy's parents visit, her father convinces Jase to take him on a quail hunt. But while their "bonding hunt" yields very few quail, it does bring them closer together as friends. Meanwhile, Willie helps John Luke start his own snow cone business, but in order to make a profit, they'll have to overcome some growing pains.
2: Flock and Key - Aired: 2016-01-13
Si recruits his nephews to help him transport a storage container to his backyard, but things take a turn when Jep becomes locked inside the box. Meanwhile, Jase helps Mia prepare for her cheerleading competition, but the only problem is he has no idea what he's doing.
3: Ball in the Family - Aired: 2016-01-20
When Willie's old rival Phillip McMillan challenges him to a game of dodgeball, Willie recruits his family members to settle a score once and for all. Meanwhile, Si thinks his cat is cheating on him with another family, so he recruits Miss Kay and Mountain Man to help find out.
4: Drone Survivor - Aired: 2016-01-20
When Jase and Phil make a bet about whether or not human beings in a duck blind are visible from the air, Jep buys a drone copter to get a "bird's eye" view, but ends up losing it in the process. Meanwhile, Willie brings Si to the chiropractor for an overdue spinal adjustment.
5: Alan in Charge - Aired: 2016-01-27
Jase and the guys convince Willie to hire his older brother Alan to work at Duck Commander, but when Alan begins micromanaging everyone, they quickly change their mind. Meanwhile, the ladies take a self-defense class and use John Luke as a punching bag.
6: Renaissance Men - Aired: 2016-01-27
When the Robertsons throw a Renaissance Fair birthday party for Godwin, various family members compete in a tournament to win knighthood. Meanwhile, Jep and Jessica visit a local falconer in hopes of obtaining a bird of prey for Godwin's party.
7: Heroes Welcome - Aired: 2016-02-03
In this special episode, the Duck Commander team surprises two wounded veterans with a trip to Monroe so they can be in an episode of Duck Dynasty. To show their support, the Robertson family stages a "color run" to bring awareness to our wounded soldiers.
8: Pie Hard - Aired: 2016-02-10
Willie and Alan agree to help Miss Kay open her own bakery, but things take a turn when it Kay is asked to hand over her secret recipes. Meanwhile, the guys in the duck call room take an extended lunch break by driving to Mississippi for fried green tomato sandwiches.
9: Van He'llsing - Aired: 2016-02-17
Reed, pursuing a career as a singer-songwriter, comes home from Nashville for an album release party. Though his long hair, tattoos, and broken-down 1960s-era van catch Jase and Missy by surprise, they and the rest of the family turn out to show their support. Willie brings in professional wrestler Kurt Angle to help toughen River up, but Jep's hero worship and Willie's competitive streak get the better of them both on the wrestling mat.
10: Toad to Perdition - Aired: 2016-02-24
The brothers' wives challenge them to a frog hunt, with a night of dancing on the line if the wives catch more. Even though they secretly bring in Phil for help, the hunt proves tougher than expected for both teams as night falls. As John Luke and Mary Kate start packing (and overpacking) for college, they get a flood of conflicting advice from Si and Miss Kay over what to take and leave at home.
11: RV There Yet? - Aired: 2016-03-02
Willie organizes a road trip to take John Luke and Mary Kate to Liberty University for their first semester. Korie, Sadie, Jase, Missy, and Si come along for the ride. During a visit with Willie's friend Colt Ford in Nashville, Si drives the family crazy with his dreams of being a rock star. A housing assignment mix-up leaves John Luke and Mary Kate without a place to stay until their house is ready, so Willie leaves the Duck Commander RV with them. As the family flies home, they stop in Nashville again so Si can indulge his performing fantasy onstage with Colt. To celebrate River's seventh birthday, Jep and Jessica help him film and star in a superhero movie. Phil, Miss Kay, Martin, and Godwin end up being dragged into Jep's grandiose artistic vision, which slowly deteriorates into egotism and utter chaos.
Season 10 (14 Episodes)
1: Willie & Korie's Anniversorry - Aired: 2016-07-06
The Robertson family throws a party for Willie & Korie's 25th anniversary, but things take a dramatic turn when Willie and Korie reveal a big secret. Meanwhile, when Jase blames Uncle Si for getting him a parking ticket, they end up bringing the matter before a judge in court.
2: Statue of Imitations - Aired: 2016-07-06
When Willie asks a local chainsaw artist to make him a statue, he gets a big surprise when it's revealed that the statue is of an unlikely subject -- Willie himself. Meanwhile, Jep and Jessica attempt to help Kay with her hoarding by selling some of her items online, but things take a turn when Kay begins buying more stuff than she sells.
3: A Decent Proposal - Aired: 2016-07-13
On a trip to New York, Jase's son Reed proposes to his girlfriend, which inspires his father to fan the flames of romance back home with Missy. Meanwhile, when Sadie asks Willie to be a guest lecturer at her business class, things get derailed when Uncle Si tags along and uses it as an opportunity to promote his new invention.
4: Father Knows Pest - Aired: 2016-07-13
Unsettled by the appearance of a destructive beaver in the neighborhood, the community watch leader enlists Jase's help in solving the problem.
5: Wild Wild West Monroe - Aired: 2016-07-20
When Jase and Jep get into an argument over which of them is the rightful heir to their grandfather's old rifle, they decide to settle the argument with a marksmanship contest. Meanwhile, Willie and Korie help Rebecca prepare for her trip to Taiwan with her new fiancée by rehearsing the customary Taiwanese engagement ceremony.
6: Half in the Bag - Aired: 2016-07-20
After Si has started moonlighting as a grocery bagger, the guys show up at the store and their teasing inadvertently causes Si to lose his job and his chance to enter a local bagging competition. To make up for it, they create their own competition to help Si get his job back. Meanwhile, Korie bribes Willie to get some necessary dental work done.
7: There Will Be Flood - Aired: 2016-07-27
When a large storm hits Monroe, most of the adults head to Phil and Kay's to help protect their house from flooding while Jess, Sadie, Rebecca and Cole babysit the kids. Meanwhile, Jep, Si, Martin and Godwin try to protect the Duck Commander inventory from a leaking warehouse roof.
8: Bingo Star - Aired: 2016-07-27
Willie accompanies Kay to a local bingo tournament and gets seduced by the game, eventually embarrassing himself and Kay with his enthusiasm.
9: Sadie's Choice - Aired: 2016-08-03
Willie takes Sadie on a tour of a local college in hopes of convincing her to stay nearby after her impending high school graduation.
10: Children of the Cornbread - Aired: 2016-08-03
When the Robertson brothers debate which of their wives makes the best cornbread, it escalates into a full-on cornbread cook off. Meanwhile, when Jep, Martin, and Godwin play a practical joke on Uncle Si, it ends up being Si who has the last laugh.
11: Whole Lotta Bull - Aired: 2016-08-10
The guys enjoy a one-day rodeo fantasy camp where they learn the ins and outs of riding, roping and clowning.
12: Here Comes the Son - Aired: 2016-08-10
After leaving school to pursue music, Jase feels that Reed needs some structure in his life, so he hires him to take his place at Duck Commander.
13: Bro'd Trip - Aired: 2016-08-17
Jase accompanies Willie on a business trip to Arkansas to pitch a new product and has unorthodox sales strategies. Back in Monroe, Jep and Si have to track down an important item of Willie's that they accidentally shipped out.
14: Techs and Balances - Aired: 2016-08-24
Willie thinks his kids have been spending too much time on their phones and other devices so he initiates a "No-Tech Week," but when he has to participate too it ends up being harder than he thought. There's a lice outbreak at Duck Commander forcing the guys to try to stop it before it spreads any further.
Season 11 (16 Episodes)
1: The West Monroe Wing - Aired: 2016-11-16
Willie and Jase run against each other to become president of their neighborhood HOA. Jep, Jess and Ms. Kay work on a Duck Commander themed display for the local zoo.
2: Automation Frustration - Aired: 2016-11-23
Willie buys a 3D printer for the office that starts off as a fun distraction for the guys until it appears the printer could soon replace their jobs. Si, upset that Willie invested in the 3D printer and didn't give him a raise, invests in John Luke's Sno-Cone stand.
3: Razing the Snakes - Aired: 2016-11-30
Jase, Jep, Si and Cole try to fight back a growing population of cottonmouth snakes on Phil's property. Meanwhile, Willie uses his business expertise to help Rebecca improve her clothing store.
4: Uneasy Rider - Aired: 2016-12-07
Willie puts Little Will on a budget for his first car but it backfires when Will decides to get a motorcycle instead. Jase and the guys are inspired to design a product using zip lines that will revolutionize duck hunting.
5: Good Willie Hunting - Aired: 2016-12-14
No overview available.
6: Sleep Cover - Aired: 2016-12-21
With Korie still in Africa, Willie and Jep must step in and supervise Bella's sleepover. When a couple boys play a prank on the girls, Willie and Jep prove to be the perfect chaperones for the task. Meanwhile, Jase takes Si, Martin and Godwin for a round of night golf.
7: Drive-In Revivin' - Aired: 2016-12-28
Willie faces the challenge of coming up with a romantic gesture for Korie without spending any money; Jase and Missy compete to see who can find a girlfriend for Mountain Man.
8: Fishful Thinking - Aired: 2017-01-04
Jase's hopes to win the inaugural Duck Commander Fishing Tournament is buoyed when he is able to enlist the help of legendary angler Bill Dance. Meanwhile, Willie's vanity over his greying beard leads him to make a questionable decision.
9: When Doves Fry - Aired: 2017-01-11
Jase and Jep make a deal with Mia and Merritt to get them to go dove hunting with them. Si tries to make some extra cash by starting a West Monroe tour.
10: Carpnado - Aired: 2017-01-18
Jumping Asian carp have invaded Monroe's waters so Jase and the guys set out to try to stop them from spreading further. Meanwhile, Willie and Si have to run Willie's Duck Diner for the day.
11: The Campfire Diaries - Aired: 2017-03-01
The family spends a weekend at their childhood summer camp, reliving old memories and working to repair a tennis court Willie built twenty years ago. While at the camp, Jep tries to pass a lifeguard swimming test he failed as a teenager.
12: Rowdy's Big Day - Aired: 2017-03-08
Rowdy's adoption is finalized and he officially becomes a Robertson. Jase gets his first massage and enjoys it more than he expected.
13: Disappearing Acts - Aired: 2017-03-15
Willie and Jase lose Si's teacup, then are put through great lengths to find it; Jep is pressed into service as a magician when entertainment plans for Gus's first birthday party fall through.
14: Dance Dads - Aired: 2017-03-22
Willie, Korie, Jase and Missy receive dance lessons from Sadie to prepare for Reed and Rebecca's upcoming weddings; Jase's failure to renew his ordainment in a timely manner threatens his plan to perform Reed's wedding ceremony.
15: End of an Era - Aired: 2017-03-29
When Si decides to retire to pursue a music career, the family organizes a party in his honor. Meanwhile, Willie, Phil and Jase take a road trip to try to recreate an old duck call for Si's retirement gift. (Surprise performance from ZZ Top!)
16: Looking Back and Talking Quack - Aired: 2017-04-05
The Robertson family takes a look back at 130 episodes of Duck Dynasty, discussing their favorite memories from the series and how the show changed their lives, as well as revealing some moments never before seen on television.